Most people naturally assume a "beginner" motorcycle as a very small capacity machine and whereas these do fit the bill, they aren't the only ones. Regardless of the engine size, a beginning motorbike should be is easy to operate, easy to maintain and is very forgiving if you get things a little wrong
I'll be discussing the latest models of bikes from several categories that, as I've mentioned above, fit nicely into the guise of "beginning" bikes in this guide. See also our guide on the Sportster years to avoid.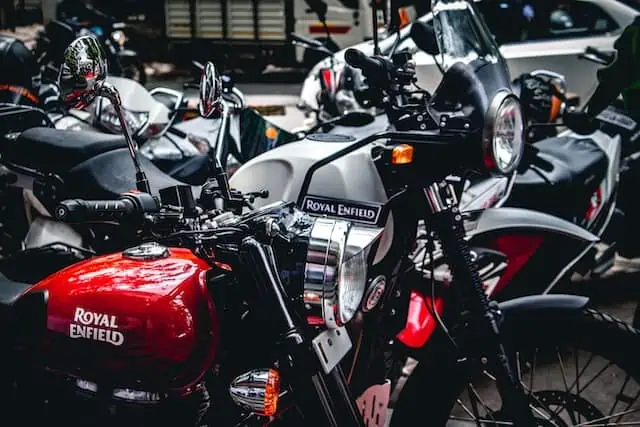 A collection of Royal Enfield motorcycles at the factory in India.
Yamaha's MT-07 has been a popular option since its release in 2015 owing to its strong parallel-twin engine, edgy naked design, and lightweight portability. Now on it's third generation, it has demonstrated that it is equally good as a first bike, a commuter, or even a tourer.
The parallel-twin engine houses a rich torque curve that pushes nicely in the low to mid-range, so any sharp power delivery from an overzealous flick of the right wrist that can occasionally occur can be surprising but doesn't cause any concern. It has the capacity to properly meet the demands of riders of all skill levels, it yet retains its characteristic lightness and ease of use.
An MT-09-inspired visage and LED headlights are present up front. It's a feature that, ever since the switch from the previous model, has sparked a spirited discussion among MT riders.
In terms of electronics, only ABS is included; there is no quick-shifter, ride-by-wire, or anti-hopping clutch. These are all factors that could be helpful to many people wanting to buy an MT and might play against it when compared to some of its more expensive competition.
The Yamaha MT-07
Engine: 689cc Liquid cooled parallel twin
Power: 73.4 bhp / 54 kW @ 8,750rpm
Torque: 67 Nm / 49.4 lb-ft @ 6,500 rpm
Gearbox: 6 Speed Manual
Top speed: 133 mph / 214 kph
Fuel Tank: 14 L / 3.7 US Gal
Seat height: 805 mm / 31.7 inches
Wet weight: 184 kg / 403 lbs
I've had two of the three Honda CB500X variants, including one of the first to arrive in the UK, and it just keeps getting better. Every one I've bought and rode has become superior than the previous model, and the newest 2022 model seems to be following suit.
The 471-cc parallel-twin engine has extremely smooth power delivery, aided by a light slipper clutch, all to keep gear changing and seamless as possible. It's brand-new Showa inverted front forks paired with the Pro-link rear suspension gives it a much-needed upgrade allowing it to now function if you decide to take it off the tarmac.
Also upgraded, the 2022 Honda CB500X now sports dual front disc brakes, doubling its stopping power pair with a single rear caliper and Honda's improved ABS system.
Its visuals have remained the same form the 2019 variant, with it's single, sharp LED headlight, large adventure windscreen and fairings shaped with nods to Honda's Adventure Flagship bike, the Africa Twin.
The Honda CB500X has been a fantastic motorcycle since it was first introduced in 2013, and with the regular upgrades Honda makes every three years, the CB500X is unquestionably at the top of the heap in the mid-range adventure style class while still being user-friendly enough for everyone to enjoy.
The Honda CB500X in it's distinctive Candy Red paint work
Engine: 471cc Liquid cooled parallel twin
Power: 46.9bhp / 35kW @ 8,900rpm
Torque: 43 Nm / 31.7 lb-ft @ 6,500 rpm
Gearbox: 6 Speed Manual
Top speed: 113 mph / 182 kph
Fuel Tank: 17.5 L / 4.62 Gal
Seat height: 831 mm / 32.7 inches
Wet weight: 199 kg / 439 lbs
One of the most popular and best-selling motorcycles of all time is the Suzuki SV650. In fact, the motorcycle industry was so outraged when Suzuki stopped making the SV650 in 2012 after 13 years of manufacturing that under pressure, the manufacturer stated at EICMA in November 2015 that the model will return in 2016 with upgrades.
As promised, the SV650 made a comeback in 2016 with the original naked version's more traditional appearance. Its reliable 645cc V-twin engine pulls smoothly to its 10,000 rpm redline and provides ample of low-to-midrange power for overtaking traffic. The bike's low-rpm assist, which adjusts engine speed to help prevent stalling before launch, is a helpful feature for novice riders. The Easy Start System doesn't need you to engage the clutch; it just runs the motor till the bike starts up with a single button click.
Two four-pot Tokico callipers that squeeze two floating stainless steel discs are used for braking, while a single one-pot calliper and disc are used for braking at the back. The technology gives the SV650 strong stopping power, although they lack the first "bite" and seem more gradual. Certainly not class leading but good enough.
Suspension is handled by a telescopic fork and link-type rear shock for a firm and sporty ride. With the exception of the rear preload, none of these parts can be adjusted.
Standard features include a simple LCD display, halogen headlight, and LED taillight. While the UK exclusively provides the ABS variant, the US offers both ABS and non-ABS versions.
Suzuki were forced to bring the popular SV650 back into production in 2016.
Engine: 645 cc Liquid cooled L-twin
Power: 69.3 bhp / 51.6 kW @ 8,530rpm
Torque: 59.9 Nm / 44.2 lb-ft @ 8,000 rpm
Gearbox: 6 Speed Manual
Top speed: 130 mph / 209 kph
Fuel Tank: 14.5 L / 3.8 Gal
Seat height: 785 mm / 30.9 inches
Wet weight: 197 kg / 437 lbs
Being a direct port from the Indian market gave the Royal Enfield Himalayan less credibility and a poorer overall quality when it first launched. Fast forward to today and you can see that Royal Enfield took these lessons on board and now have produced a bike that not only has a huge following but is an extremely capable machine.
With no real plastics or fairings, alongside the basic crash bars and block engine it definitely looks made to take a few knocks and falls. There's a distinctive old school look about the thing with its simple no frills attached design.
Take a step closer and the dash is perhaps the nicest I've seen on a motorcycle. The digital compass is my particular favourite feature; it really appeals to the nomad in me. Taken as a whole, they appear to be a well-made diver's watch. If I had to find fault with it, I would like a digital speedometer over an analogue one and larger lights for the neutral, indicators, etc. But there is no doubt; it is a work of art.
Handling-wise it feels light and nimble when you ride, as such it feels more vulnerable and more exposed on the faster dual carriageways and motorways and with the lack of a taller windscreen or bulkier fairings, buffering is a significant problem. All these features make more sense when you pop off the tarmac and onto the dirt. Here the lightness allowed the Himalayan to skip along the tracks quite happily and the lack of a larger screen or fairings become irrelevant as you wizz along the tracks. It also gives you something less to damage when your talent runs out.
The handling is marginally impacted both on and off-road by the suspension, which has a soft front end and a strong back end. The front wheel seemed lighter and looser as a result, creating the sense that it wasn't well planted and wasn't tracking true. Thankfully this is likely to be just a simple setup adjustment until the balance is correct.
With the exception of a few areas that might be improved, it's a terrific small all-rounder, a real 50/50 machine, making it ideal for adventure travel. Its no-nonsense design and engineering are a welcome change in the adventure bike industry. Those who are new to riding, especially those who are new to off-road riding, are attracted to it due to its seat height and weight since they don't want to have to wrestle with a heavy lump, let alone pick it up off the ground.
The Royal Enfield Himalayan, at home in the desert
Engine: 411 cc air cooled single
Power: 24.3 bhp / 18 kW @ 6,500 rpm
Torque: 32 Nm / 23.2 lb-ft @ 4,500 rpm
Gearbox: 5 Speed Manual
Top speed: 85 mph / 140 kph
Fuel Tank: 15 L / 3.9 Gal
Seat height: 800 mm / 31.5 inches
Wet weight: 191 kg / 421 lbs
Triumph updated the original Scrambler in 2017 and switched from utilising the Bonneville as the Scrambler's base to its Street Twin. This meant that the new Scrambler would gain 35 cc and 5 bhp in capacity and output, respectively, from the 900cc liquid-cooled Street Twin engine.
From afar, the Scrambler does not appear to have changed much from its predecessor, but if you look closely, you will notice the vast array of improvements Triumph has made. The elevated pipes are of a newer design, the new liquid-cooled engine's radiator can be seen, the handlebars are somewhat broader, and the entire bike is smaller than the earlier model, with a smaller 12 litre tank as well.
Triumph fitted a fully new electronics package with traction control, ride-by-wire, and an LCD multi-functional display layout to make the bike more rider-friendly. The clutch became slip-assisted, the forks and rear shocks were lengthened without lowering the seat height, the braking system was overhauled to boost stopping power, and a switchable ABS system was introduced.
With all these upgrades, the Scrambler now offers improved handling, a smoother ride, and stronger and safer braking—perfect features for a beginner rider transitioning to a bigger bike. Dual-sport tyres are still included, but this time they serve a purpose. The Scrambler is capable of navigating "light off-road surfaces," according to Triumph's official presentation. Now that basic trails and gravel are an option, a beginner rider can now try a new style of motorcycling however keep in mind that the suspension will let you know when you push it past its limits, and it no longer wants to play.

Happy on the road or trails, the Triumph Scrambler
Engine: 900cc Liquid cooled parallel twin
Power: 64 bhp / 48 kW @ 7,500rpm
Torque: 59.9 Nm / 44.2 lb-ft @ 8,000 rpm
Gearbox: 6 Speed Manual
Top speed: 110 mph / 177 kph
Fuel Tank: 12L / 3.2 Gal
Seat height: 790mm / 31.1 inches
Dry weight: 203kg / 448 lbs
In an effort to slide into the mid-engine cruiser market, Kawasaki developed the Vulcan S 650. With the Vulcan S, Kawasaki appears to have a certain mindset. The popular ER-6-derived 649 cc liquid-cooled parallel-twin engine that Kawasaki has been employing in the majority of its line-up for years was placed at its heart with a few tweaks.
The overall power is down, however the torque is still at a comfortable 63 Nm, where it was with the ER-6. A more conventional V-twin cruiser engine typically has its mid-range torque kick in between 4,000 rpm and 5,000 rpm, but this engine behaves and feels differently. It may feel a little dull or weaker in comparison to the higher revving, more powerful engines some of its competitors put out, but you'll sleep well knowing the engine has been around for a long time and that boring is great for those starting out.
It takes a little getting accustomed to the riding position because the Vulcan's foot-pegs are more forward than you would think, but once you do, you'll find it to be a comfortable riding posture for short to mid-distance trips thanks to the seat; plush and accommodating. But if you stay in it for too long, your buttocks may start to argue with you, so make sure to stop every few hours.
The Kawasaki Vulcan S 650's single front disc and two-pot brake calipers aren't the greatest on the market or what Kawasaki themselves could provide, but the braking system does get the job done. In case you exert a little too much effort, the Dual channel ABS that comes with the Vulcan S functions really well in gradually bring the bike to a stop. The American market does offer the Vulcan S with or without ABS.
On the Kawasaki Vulcan S 650, electronics and equipment are straightforward. Dual channel ABS, a computerised dash unit with plenty of data, an electric starter, and all-around lighting are included. No, those are not LEDs either. Other than the absence of LEDS, I really appreciate how straightforward this is. Less electronics means fewer problems down the line and you can always add your own accessories later.
At home on the road, the Kawasaki Vulcan S cruiser
Engine: 649 cc Liquid-cooled parallel-twin
Power: 61 bhp / 44.7 kW @ 7,500 rpm
Torque: 63 Nm / 46.5 lb ft @ 6,600 rpm
Gearbox: 6 speed manual
Top speed: 100 mph / 161 kph
Fuel capacity: 14 L / 3.7 US Gal
Seat height: 705 mm / 27.75 inches
Wet weight: 228kg / 503 lb
Royal Enfield have gone for a two-for-one special. That's two classic bikes built on the same platform. The Interceptor maintains the traditional styling and a sit-up straight, comfortable riding position. The more outgoing sibling of the Interceptor is the Continental GT. This forces you to lean forward with its lower clip-on handlebars, creating that distinctive head-down sports bike posture by angling a more aggressive body position.
The GT 650s parallel-twin engine, the first all-new engine from Royal Enfield in a few of years, does an excellent job of minimising vibrations. It features a mild and steady power delivery, which is perfect if this is your first time upgrading to a bigger motorbike.
The Interceptor/Continental GT follows the principle that less is more, much like the rest of the Royal Enfield line. With the exception of the Bosch dual-channel ABS, there is no additional electronic ingenuity to assist the rider. Even the rpm counter and speedometer remain analogue, but adding a fuel gauge would have been helpful.
Depending on the rider's weight and riding style, the 41mm front forks and 88mm dual coil-over rear suspension feature 5-stage adjustable preload to guarantee a safe and comfortable ride. Twin-pot ByBre brakes also guarantee that this urban classic can stop when it matters.
It's no surprise that the Interceptor was the best-selling bike in the UK in June 2020 at under £7k for a brand-new model.

The Royal Enfield Interceptor takes that classic look and combines it with modern engineering for a flawless ride
Engine: 648 cc air and oil-cooled parallel-twin
Power: 47 bhp / 34.5 kW @ 7,150 rpm
Torque: 52 Nm / 38.3 lb ft @ 5,250 rpm
Gearbox: 6 speed manual
Top speed: 105 mph / 169 kph
Fuel capacity: 13.7 L / 3.62 US Gal – 12.5 L / 3.3 US Gal
Seat height: 804 mm / 31.1 inches
Wet weight: 202kg / 445 lb
The Vitpilen, or 'white arrow' in the Swedish motorcycle company's native tongue, shares most of its components with the KTM Duke 390. Knowing this gives you the comfort that you'll be getting a quality, performance machine.
I'll be the first to put my hand up and admit that I don't particularly like KTM's designs. Consequently, Husqvarna utilized the best mechanical components of the Duke and added some Swedish flare to the design. With its fluid lines, LED headlamp and halo, and minimalist smooth panel finish, it has a futuristic appearance that is reminiscent of an iPhone.
Before I get carried away on its modern styling, it does still hold its retro/cafe racer roots. The single-round headlight, spoked wheels, the single-piece flat seat merging into a slim rear end.
With hydraulic ByBre brake callipers and 320mm front and 230mm rear perforated steel discs, the Vitpilen 401 offers a controlled and secure braking performance. Additionally equipped with a Bosch ABS system, the Vitpilen 401 offers the maximum level of safety under all braking circumstances.
The rear shock of the Vitpilen 401 suspension, which has a progressive damping system, is produced by WP and is directly connected to the swingarm. Combined with the 43 mm open cartridge front inverted forks, the suspension system makes every road surface seem as silky-smooth as possible.
With the recent price drop, the Vitpilen is now cheaper than the KTM and would certainly get my vote and money.

The sleek, futuristic lines of the Husqvarna Vitpilen
Engine: 373 cc Liquid-cooled single
Power: 44 bhp / 32 kW @ 9,000 rpm
Torque: 37 Nm / 27 lb ft @ 7,000 rpm
Gearbox: 6 speed manual
Top speed: 105 mph / 169 kph
Fuel capacity: 9.5 L / 2.51 US Gal
Seat height: 835 mm / 32.9 inches
Wet weight: 163 kg / 359 lb
Final Thoughts
I've covered a nice mix of motorcycles through this guide. There are many more out there and to cover them all I'd need a lot more time, plus there is such thing as information overload.
Depending on the licencing route you choose, this guide should have provided you with a good place to start whether you're shopping for your very first motorbike or first large bike.
Your first bike is important, very important. It cannot be emphasised enough that taking your time to research and test ride may make or break your experience and decision to continue your own motorcycle life adventure. However, knowledge is ammunition, and after reading this, you should feel more prepared to make that first, all-important decision.
What is a beginner motorcycle?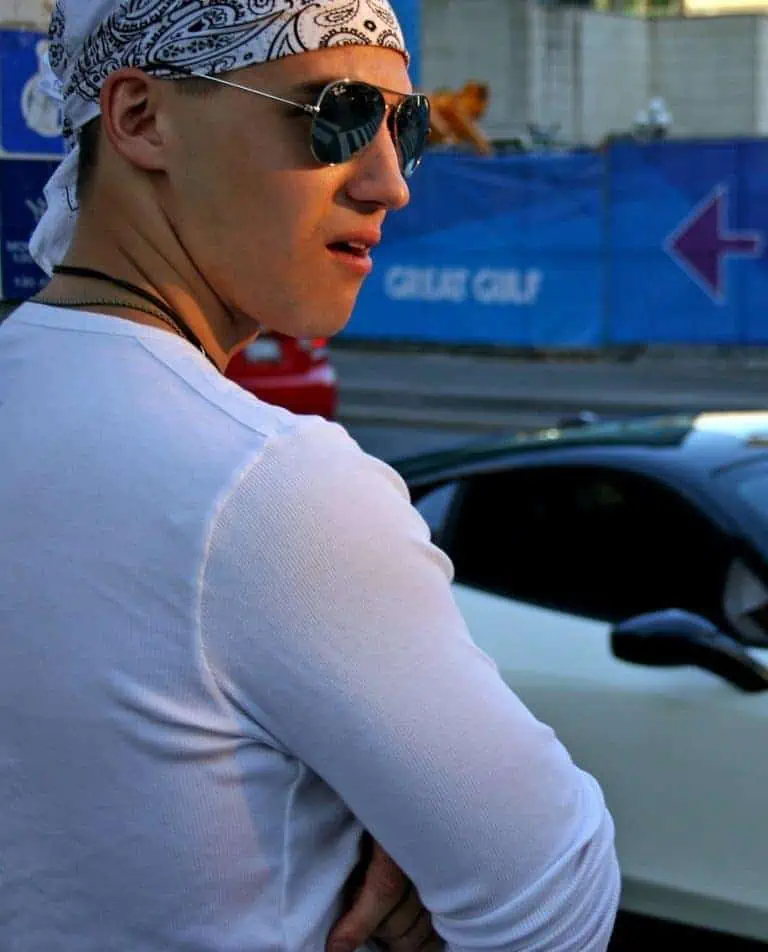 Jim Wicks is the founder of MotorVehicleHQ. With over two decades of experience in the automotive industry and a degree in Automotive Technology, Jim is a certified car expert who has worked in various roles ranging from a mechanic, car dealership manager, to a racing car driver. He has owned more than 20 cars over the past 15 years. Ask him about any vehicle you see on the road and he can tell you the make, model and year. He loves the aesthetics of all things cars, and keeps his vehicles in pristine condition.
In his free time, Jim enjoys getting his hands dirty under the hood of a classic car or taking long drives along the country roads. His favorite car? A 1967 Shelby GT500, a true classic that, according to Jim, "represents the pure essence of American muscle."