Every motorcycle rider has a different perspective on what it means to ride. Some people ride to unwind. Some people ride because it gives them a sense of independence. Some people commute mostly by bike.
There is a group of bikers, though, that only ride for the rush. Riders who want to reach redline at 16,500 RPM and who don't mind having to change the knee pucks in their one-piece leathers after extensive track use. those that desire to move very quickly.
The urge for speed is as old as man himself. But with the most recent technical developments, which are driving road vehicles to speeds unheard of decades before, that need is increasingly being satisfied today. And riding on two swift wheels is the best way to experience the sense and exhilaration of moving quickly.
Superbikes have always been a symbol of absolute freedom because they combine raw power with the rush of being outside without the security of a metal cage. Since they are the most technologically advanced motorcycles in the world and have improved features and components that have evolved from their race-breed predecessors, they have recently gotten even better.
While all motorbikes have improved in several ways, sports bikes have excelled above all other vehicles by repeatedly shattering speed records.
We've compiled some of the top sports bike models available today to quench your craving for speed, driven by the same curiosity that brought you here.
1. The Yamaha YZF-R1M
The Yamaha YZF-R1M is a remarkably impressive two-wheeled race bike that is also street-legal, so you can enjoy yourself to your heart's content outside of the confines of the racetrack.
The top-of-the-line M spec for this supersport motorcycle includes a fully equipped carbon fiber bodywork, premium Ohlins suspension front and back, 10 spoke cast magnesium wheels, GP-spec radial-mount braking system, onboard data logger, chip-controlled throttle, and last but not least, the top-tier 998cc inline-four from MotoGP.

The Yamaha YZF-R1M by Rainmaker47 / CC BY-SA 4.0. The top-tier M spec for this supersport motorcycle includes a fully loaded carbon fiber bodywork, premium Ohlins front, and rear suspension, 10 spoke cast magnesium wheels, GP-spec radial-mount braking system, onboard data logger, chip-controlled throttle, and last but not least, the top-tier 998cc inline-four from MotoGP.
Since its original 150 horsepower and ultra-lightweight design changed the class rules in 1998, Yamaha's iconic R1 has been at the top of the Japanese superbikes tree.
This most recent incarnation of the MotoGP M1-like variant, which has been upgraded across five different iterations since debuting in 2015, is distinguished by its small GP aesthetics, impressive 197 horsepower, and cutting-edge technology.
However, the 2020 update and refresh enhanced the appearance and made it Euro5 compatible without sacrificing its 197 bhp peak power. In reality, it had begun to lag behind the group once more, particularly the class leaders from Ducati, BMW, and Kawasaki.
The latest R1, especially in higher spec, semi-active Ohlins suspension-equipped R1-M form (costing £22,599), arguably remains the closest thing to a Japanese MotoGP bike you can buy. And who doesn't fancy playing at being Rossi? Its dash may not quite match the latest big-screen color TFTs from the likes of the S1000RR and V4 Panigale, but it still manages to be compact and extreme.
2. The Ducati Panigale V4 A
With its spectacular design elements and bright red body, the Ducati Panigale V4 S is probably the most attractive motorcycle the company has ever produced.
The bike draws on the brand's Desmosedici GP MotoGP race bike and takes advantage of their team's WorldSBK championship experience. It boasts a very sophisticated chassis design with a V4 engine that is highly powerful. It has an angle-sided swingarm and an exhaust that follows the rest of the body's spectacular lines.
Modern technological features and rider assistance are included, along with a beautiful TFT display, lean angle-aware quick shifter, slide control, cornering ABS, and Ohlins electrically adjustable suspension.
3. The Suzuki GSX-R 1000 R
The Suzuki GSX-R 1000 R, a freshly released superbike that has already cemented its place as a legend and one of the most potent vehicles available today, is another icon in the world of superbikes.
It has a 999.8cc inline-four engine that produces 200 hp, 87 lb-ft of torque, and a top speed of 190 mph.
The bike's advanced twin-spar aluminum frame is the foundation for its incredible electronics package, which also includes a track-focused ABS mode, an inertial measurement unit, an adjustable traction control system, a bi-directional quick shifter, the brand's exclusive Drive Mode Selector, and a launch control system.
Why wouldn't you enjoy this bike? It even costs almost half as much as a Kawasaki Ninja H2, making it a true find.
Since releasing the class-leading first GSX-R1000K1 in 2001, Suzuki had been one of the "big hitters" in the 1000cc superbike category.
Nevertheless, despite following highs like the 2005 K5 edition, the GSX-R started to lag after 2007, growing heavier and bulkier while maintaining its excellent road bike status and becoming less competitive on the track.

The Suzuki GSX-R 1000 R by Delehanty. The bike's incredible electronics package, which also includes a track-focused ABS mode, an inertial measurement unit, an adjustable traction control system, a bi-directional quick shifter, the company's exclusive Drive Mode Selector, and a launch control system, are built on an advanced twin-spar aluminum frame.
All of this made significant news in 2017 when a brand-new, "Gixxer" inspired by MotoGP appeared. There were two versions available: a base, inexpensive GSX-R that has since been discontinued, and this "R" variant with variable valve timing and higher-quality cycle parts that made headlines and won the Senior TT that year with Michael Dunlop.
4. The Aprilia RSV4 Factory 1100
The RSV4 Factory 1100 is the work of Aprilia's most skilled crew; it is a true road rocket with an incredible V4 engine that epitomizes everything a true sports bike should look, feel, and ride like.
Only the best parts are used, including an Akrapovic exhaust system, carbon fiber parts, forged aluminum wheels, a tail cowl, and one of the best electronics packages currently on the market.
Through adjustable traction, launch control, wheelie control, a rapid shifter, and a racing-style display, the bike is well-controlled.
5. The Kawasaki Ninja H2
The Kawasaki Ninja H2, the H2R track beast's more street-friendly and legal counterpart, is a popular motorcycle these days thanks to its astounding feats and records and futuristic bodywork.
It has a powerful supercharged 998ccinline-four DOHC engine with a top speed of almost 200 mph and an impressive 200 horsepower or 210 with ram air intake.
The Ninja H2 has all the newest technological innovations and has inherited a lot of technology from its track-focused sibling, the H2R, which is now the fastest production motorbike.
6. The BMW M 1000 RR
The superior BMW S 1000 RR, the M package, is the ideal representation of German knowledge and experience. The already gorgeous bike was brought even farther toward perfection.
The M 1000 RR is street-legal and the closest thing to the BWM race bikes in the World SBK championship.
The M Division ECU and IMU with several ride modes, titanium exhaust, machined, lightweight monoblock aluminum swingarm, carbon fiber aerodynamic winglets, M carbon wheels, and M carbon brakes are all included.
7. The Kawasaki ZX-10R
The Kawasaki ZX-10R's most recent model features some of the best improvements that their R&D team could have made to the model designed solely for racing.
The bike has a quick-shifter, adjustable electronic throttle valves, a 6-axis IMU, a Kawasaki Intelligent ABS unit, a redesigned cornering management system that makes the bike even better in the twisties, and a full launch control system as standard.
The launch control mechanism prevents wheelies by keeping the bike on the road as it accelerates.
The Kawasaki ZX-10R by Daniel Hartwig / CC BY 2.0. The motorcycle sports a quick-shifter, programmable electronic throttle valves, a 6-axis IMU, a Kawasaki Intelligent ABS unit, a revised cornering management system that makes the motorcycle even better in twisties, and a full launch control system as standard. By maintaining the bike's position on the road while it accelerates, the launch control device stops wheelies.
Since its 2011 launch and subsequent iterations, Kawasaki's ZX-10R has essentially held the title of best superbike on the track in the entire world. This most recent iteration features 197 horsepower and a track attitude unmatched by any other motorcycle.
The ZX-10R was the bike to buy if you wanted a track-ready, rev-hungry, electronics-loaded racer clone, as evidenced by its seven world superbike championships, including six straight for Ulsterman Jonathan Rea since.
It promises to improve even more in 2021 thanks to an aerodynamic facelift and other minor changes, and true track aficionados have the option to go even further with the RR version, which costs a staggering £24,799 and comes with lightweight Marchesini forged wheels, titanium engine parts, and more. This is the closest thing to a tried-and-true superbike king there is.
8. The Honda CBR1000RR-R Fireblade SP
Honda's bikes were unassailable by the opposition for a very long period, and they were a mainstay in the supersport and superbike classifications. But then, something happened, and they lagged.
They recently succeeded in changing that once more and returning to the top, as seen by their CBR 1000 RR-R Fireblade SP.
The new Fireblade is a state-of-the-artwork of technological art with some of the best characteristics a race bike could have right now, including a top-notch tech package, a 189hp 999cc inline-four, and a redesigned bodywork with winglets for better aerodynamics.
9. The  Ducati Panigale V2
The Ducati Panigale V2 had a 955cc superquadro V-twin engine with 155 horsepower before the Panigale V4. The bike is slightly lighter and has a slimmer look than its most recent brother.
It is a recreation of what made the original Panigale so great and is nicer to the rider as well as the rider's budget.
In the superbike category, revolutionary motorcycles don't appear all that frequently. The first Honda CBR900RR FireBlade debuted in the early 1990s, and the Ducati 916 arrived in 1994.
The first GSX-R1000 debuted in 2001, following the first R1 in 1998. But this, Ducati's brand-new V4 successor for its several, industry-leading V-twin models, is on par with them all. Its significance as a V4 in place of Ducati's V-twin legacy comes first.
Then there is its specification: a class-leading 214 horsepower at the crank that translates to a class-leading 198 horsepower at the rear wheel; a peerless chassis slathered with semi-active Ohlins (in this S form, the base model does without); the most recent Brembo Stylema calipers; Marchesini wheels; and class-leading electronics, all controlled by a flashing, full-color TFT display.
The finest part, however, is how everything functions and moves along because it is unlike anything else. The Panigale V4 does it in every way—its appearance, specifications, performance, and, yes, its price, which is close to £25K. Most superbikes can do this. It's worth it, though, boy.
10. The BMW S 1000 RR
One of the most beautiful motorcycles in the entire world is the BMW S 1000 RR. Everyone was amazed at it when it was initially published, and it continues to be impressive in its most recent version.

The BMW S 1000 RR by Stefan Krause, Germany / CC BY-SA 3.0. The BMW is notable for its real-world road manners, prestige badge, stylish dealer network, and decent residuals in addition to its raw power and dynamism. In addition to Ducati's V4 Panigale, Honda's newest Fireblade, and the recently revised (and WSB-dominating) Kawasaki ZX-10R, it is not always the cheapest and has not yet achieved success in WSB.
The S 1000 RR is a genuine beast, propelling the rider to a sweet dream speed of 185 mph with its 205 horsepower and 83 ft-lbs of torque.
Ten years after the release of the first, ground-breaking S1000RR, BMW has developed a brand-new, third-generation model that not only does away with the contentious asymmetrical headlights but is also superior in every way.
BMW's new flagship is lighter, more aerodynamic, sharper-steering, and more sophisticated than ever before. Even more shockingly, it is also simpler to ride, roomier, more comfortable, and more secure.
The BMW stands out not just for its raw power and dynamism, but even more so for its real-world road manners, prestige badge, chic dealer network, and respectable residuals. It is never the cheapest, has yet to be successful in WSB, and admittedly faces fierce competition from the likes of not only Ducati's V4 Panigale but also Honda's latest Fireblade and the newly-updated (and WSB-dominating) Kawasaki ZX-10R
Additionally, BMW has its customary extensive list of accessories and even a new M1000RR variant if you still want more.
11. The MV Agusta Superveloce 800
It looks excellent and is retro. One of the most attractive sporting motorcycles available. Additionally, it has a lot of capabilities. The MV Agusta Superveloce 800 is a magnificent vehicle with a top speed of 149 mph and 147 horsepower.
It is based on the popular F3 800 platform and features a trellis frame, a single-sided swingarm, as well as all the latest conveniences while maintaining the classic GP appearance.
12. KTM RC390
The KTM RC390 has several nice improvements over the previous model. The powertrain has been updated, the cosmetic features have been redone, and the chassis is brand-new.
The RC 390 is a high-performance two-wheeled vehicle with a powerful 373cc single-cylinder engine, but it's also forgiving, allowing new riders to learn from some of their mistakes.
Even though the RC 390 costs one of the least money on the market—just around $6,000—it has a ton of high-quality features. Slipper clutch, fast shifter, WP APEX suspension, traction control, cornering ABS with supermoto mode, LED lighting, TFT display, smartphone connectivity through the KTM MY RIDE app, and more are all included.
The RC 390 is a straightforward, lightweight, tiny single-cylinder Sportster inspired by the Austrian company's Moto3 race bike and based on the powerplant and running gear of their lively, looney 390 Duke. It is arguably the rawest, purest, and most concentrated A2-compliant Sportster of all.
As a result, it is compact, narrowly focused, and a lot of fun—if you're little and prefer your thrills in small doses.
Few bikes are as quick, lively, or entertaining through medium-speed twisties as the RC, despite having a single engine with 44 horsepower that isn't as thrilling as a "multi" but yet has enough power to beat "the ton."
The RC is also about as intimidating-free as sports bikes can be for inexperienced riders thanks to its lightweight and tiny size. It is not inexpensive, and because it is so simple, you may worry a little about where your money is going, but it is still one of the best.
The KTM RC390 by 28pg / CC BY-SA 4.0. The RC 390 is one of the most affordable models on the market, coming in at just under $6,000. Despite this, it offers a ton of high-end features. The KTM MY RIDE app for smartphones enables smartphone connectivity, and other features including a slipper clutch, fast shifter, WP APEX suspension, traction control, cornering ABS with supermoto mode, LED lighting, and TFT display are also present.
13. The Aprilia RS660
The RS660, a track-ready supersport machine from the Italians at Aprilia, is a fantastic outcome of the company's many years of experience competing in the two top motorsports divisions.
The 660cc engine's 100 horsepower may not seem like much compared to other competitors, but this is an amazingly good street rocket with snappy handling that provides inexperienced riders the ability to progressively improve their talent in a relatively safe way.
The bike's safety features are remarkable, making it a terrific option for both novice and experienced riders.
The all-new RS660 from Aprilia is revolutionary. It manages to be a real, elegant, and fun road Sportster while also being affordable and approachable for relative beginners. It has a 100bhp middleweight twin that is effectively "half" the V4 from the RSV4 1100 V4.
It handles incredibly well thanks to its short wheelbase, precise steering geometry, small weight, and high-quality suspension. However, it also has surprisingly good ergonomics and is relaxed and comfortable.
The new engine has superb fueling, and a synchronized quick-shifter sounds amazing is responsive, and is a lot of fun to thrash. The plus is that you won't be exceeding the speed limit and risking a jail sentence if you get caught when you gaze down at the full-color TFT dash.
The RS660 is fairly fast—I'd say the top speed is around 140 mph—but unlike an RSV4, it's not particularly frightful on the road. The result is a versatile, enjoyable, and appealing road bike with a traditionally Aprilia athletic edge that will appeal to both novice and expert riders.
14. The Triumph Daytona Moto2 765
Most of us don't consider Triumph to be one of the top superbike manufacturers, but they're still really amazing, especially with their brand-new Daytona Moto2 765.
The British inline-three motorcycle with a 765cc engine has every opportunity to wow on the track and off it. It is a street-legal version of the company's Moto2 bike, updated with new bodywork and outfitted with all the cutting-edge technology such a bike needs.
This one is a rocket and an excellent one, weighing only 363 pounds and having 128 horsepower.
15. The Kawasaki Ninja ZX-25R
The Kawasaki ZX-25R, a motorcycle with a modest displacement and the Ninja moniker, is still gaining popularity alongside its larger brothers. You should think of the 250cc inline-four as being quick, nimble, and entertaining because it can achieve a whopping 17,000 rpm while weighing a respectable almost 400 lbs.
Despite having a tiny engine size, the Ninja ZX-25R has the appearance and personality of a big-bore superbike. It has a top speed of 117 mph, 43.5 horsepower, and 15.6 ft-lbs of torque.
The Yamaha mentioned above might be yours for about $8,550, which is a pretty excellent thing.
16. The Yamaha YZF-R7
The Yamaha YZF-R7 was created as a result of the Japanese motorcycle manufacturer's ambition to create a more usable and practical superbike since, despite their race track purity, they perform poorly on urban streets.
The result is an engine that runs wonderfully well on the street without losing the racing behaviors of its race track-only cousin. The YZF-R7 was constructed on the tried and true MT-07 parallel twin platform with the bodywork from the YZF-R6 model.
But for many people, the price of this bike—which is only under $9,000—is certainly the most intriguing factor.

The Yamaha YZF-R7 by MAF00611 / CC BY-SA 4.0. The engine retains the racing characteristics of its race track-only cousin while running fantastically well on the street. The bodywork from the YZF-R6 model was used to build the YZF-R7 on the tried-and-true MT-07 parallel twin base.
17. The Aprilia RS 125 GP Replica
One of the best 125cc super sports available is the Aprilia RS 125 GP Replica, another bike with a modest displacement. Additionally, it appears fantastic in the race livery inspired by Aprilia's RS-GP MotoGP bike.
A fast shifter and the monoposto tail cowl are standard equipment, and the vehicle has a top speed of 70 mph and performance ratings of 14.75 horsepower and 8.26 ft-lbs of torque.
When you're 17 and can only buy an A1-compliant 15-bhp 125, the definition of a sports bike changes a little bit. Styling and cachet still matter, but utility and price are just as significant.
Although Yamaha's best-selling R125 continues to be well-liked, the stunning RS 125 from Italian manufacturer Aprilia is unquestionably the generation's "poster bike."
The RS, which effectively served as the Ducati of the 125cc class, established its reputation in the 1990s with a two-stroke engine that sounded like the 125GP and had an aluminum twin-beam frame, cycle parts, and appearance to match.
And although since 2011, Euro laws have forced it to switch to a quieter, four-stroke engine, its styling is similar to that of the RSV4, it has high-quality brakes and suspension, and it has GP heritage, so it is still the model that people covet the most.
A brand-new RS 125 costs £4499 today, but the GP Replica costs £100 extra and has a full MotoGP livery.
18. The Vins Motors Duecinquanta Strada
Even among motorcycle enthusiasts, the Vins Motors Duecinquanta Strada is not a very well-known name, yet it has several impressive statistics.
Think about the 250cc V-top Twin's speed of 130 mph, 75 horsepower, and the incredible weight of 209 pounds before moving on to the next entry. These numbers translate to a power-to-weight ratio of 0.71 hp/kg, making the bike an incredibly entertaining motorcycle to own.
19. The Zero SR/A
Although the electric Zero SR/S may not be as enticing to all riders as motorcycles fueled by gasoline, it is nevertheless important to examine because it offers a lot. and still more.
The SR/S from California-based EV manufacturer Zero Motorcycles has 110 horsepower and 140 ft-lbs of torque, which is more than enough for some enjoyable riding.
The bike's 200-mile range, one-hour charging time, and highly comfortable riding position make it an excellent choice for a daily usage bike rather than just a weekend toy.
20. The Honda CBR 600 RR
One of the best bikes ever made, the Honda CBR 600 RR has the perfect engine size to fit most riders and enough performance to fulfill most people's desires for two-wheeled transportation.
Because of the bike's excellent handling and powerful 600c inline-four, it has come to symbolize what sports riding is all about. The bike's agility and strong brakes contribute to a feeling of security.
Given the lengthy period Honda spent competing in both World SBK and MotoGP, it's not surprising that it's so good.
The Honda CBR 600 RR by Rich Niewiroski Jr. / CC BY 2.5. The bike has come to represent everything that sports riding is about due to its superb handling and potent 600c inline-four. The bike's quickness and powerful brakes add to the sensation of security. It's not unexpected that it's that good considering how long Honda spent competing in both World SBK and MotoGP.
21. The Kawasaki Ninja 650
It can be a little scary to jump right up to a 150bhp+, liter-class superbike once you've qualified for your full license. That's where novice-friendly, middleweight sportsters like the Ninja 650 come in.
It's a fully upgraded version of the old ER6f that was first introduced in 2017 and then revised and refreshed in 2020. As such, it is built around the well-known, obedient, and free-revving 649cc parallel twin that rules Minitwin racing, especially in the newly renamed Junior TT.
Redesigned to produce a useful 67bhp, it is now housed in a lighter, tubular steel chassis that takes inspiration from the Ninja H2. It also features a new rear suspension, dual wavy discs, and racy, all-new bodywork that resembles a cross between the Kawasaki ZX-10R and the Ninja H2.
The finished product has a terrific overall appearance, is fairly equipped, light, nimble, and upright enough to be a breeze to ride, is reasonably adaptable but still a lot of fun to thrash, and is also brilliantly designed. There are a few better options as stepping stones to sports bikes with 100 horsepower or more.
22. The Honda CBR1000RR-R Fireblade
The legendary Fireblade returned with a bang in 2020 after spending a decade in the superbike doldrums and the false promise of an entirely new 2017 model that lacked the raw power to shock the elite nor electronics smart enough to make up for it.
With 201 horsepower, well-organized electronics, and a sharper, racier design derived from Honda's MotoGP experience, it contrasts with more recent "Blades" by being focused on winning on the track, which it has already done admirably.
The drawback of that is, of course, that (like most superbikes, to be honest), it is extreme, obnoxious, and doesn't make much sense on the road.
The most recent Blade makes you forget that earlier models also possessed flexibility and comfort that made them excellent road bikes because they are more powerful than others and lack the ShiftCam-supplied oomph of BMW's most recent S1000RR. However, this newest Fireblade is the sharpest yet as a track weapon.
The Conclusion
These are your greatest options today if you want to move quickly on two wheels. You have a lot of options, and it's difficult to choose between MotoGP-derived beasts and small-capacity, ultra-lightweight road rockets. Which sports bike is your favorite?
The Honda CBR 600 RR by Rich Niewiroski Jr. / CC BY 2.5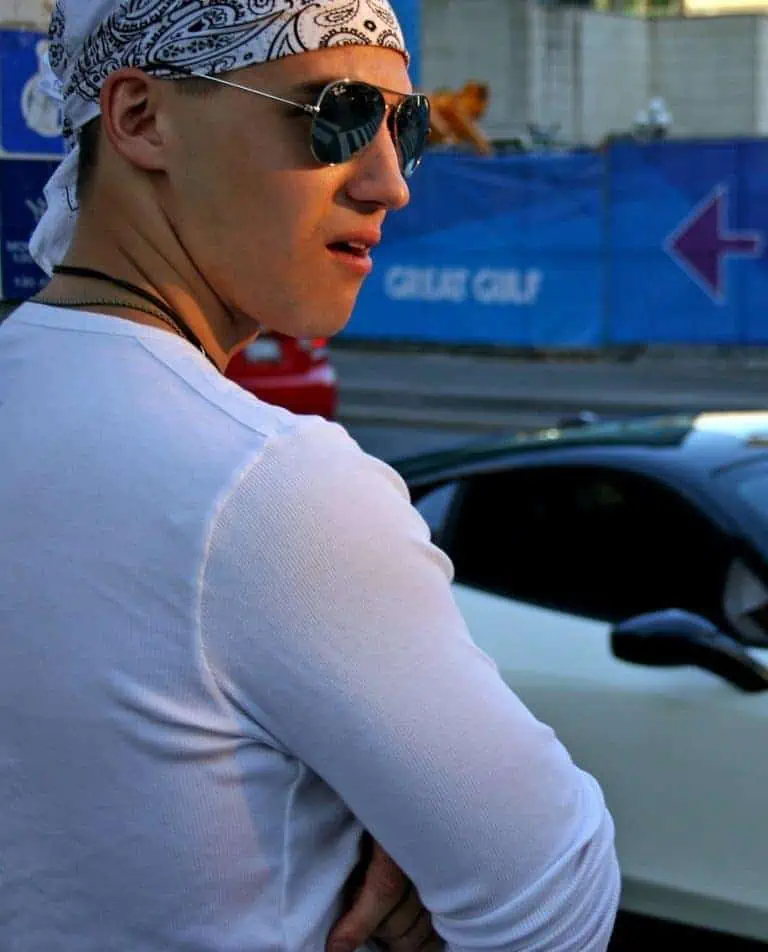 Jim Wicks is the founder of MotorVehicleHQ. With over two decades of experience in the automotive industry and a degree in Automotive Technology, Jim is a certified car expert who has worked in various roles ranging from a mechanic, car dealership manager, to a racing car driver. He has owned more than 20 cars over the past 15 years. Ask him about any vehicle you see on the road and he can tell you the make, model and year. He loves the aesthetics of all things cars, and keeps his vehicles in pristine condition.
In his free time, Jim enjoys getting his hands dirty under the hood of a classic car or taking long drives along the country roads. His favorite car? A 1967 Shelby GT500, a true classic that, according to Jim, "represents the pure essence of American muscle."