Are you looking to purchase a vehicle with a 4.7 Dodge engine? You're at the proper place because we'll be talking about this engine. You may learn about past performance, technical details, and a list of typical issues with this engine.
We also have a list of modifications you may apply to get more power out of the engine if you do decide to purchase a vehicle with this engine.
The 4.7 Dodge engine has received mixed reviews from owners since it was introduced in 1999 despite being a strong, durable, and efficient vehicle with a respectable power output (310 horsepower and 330 pound-feet of torque).
However, the majority of its technical issues are brought about by a failure to do routine maintenance, which will cause any engine to burn out too soon.
Reviews for the 4.7 Dodge engine celebrate its advantages but also decry it. For some people, it might be the perfect engine, but for others, it might be a problematic engine.
The Chrysler PowerTech engine, often known as the 4.7 Dodge engine, is potent and durable. It is susceptible to typical engine problems just like any other engine. However, the majority of Dodge engine issues are a direct result of the prior level of maintenance.
In this article, we'll examine a variety of 4.7 Dodge engine issues and potential fixes. By the time this writing is through, you will be able to help your 4.7 Dodge engine.
The 4.7 Dodge Engine's History
The 4.7L V8 gasoline engine in a Dodge is powered by gasoline. Although the engine was produced by Chrysler, various Dodge cars were equipped with it. As a result, it's frequently called the 4.7 Dodge engine. Known as the Magnum engine and sometimes referred to as the Chrysler PowerTech engine.
Created by American Motors Corporation (AMC), this engine is now assigned to Chrysler and was produced in Detroit's beloved Motor City. The second-generation Jeep Grand Cherokee was where the engine made its debut in 1999. After then, this engine was used in several Dodge, Jeep, and even Mitsubishi vehicles.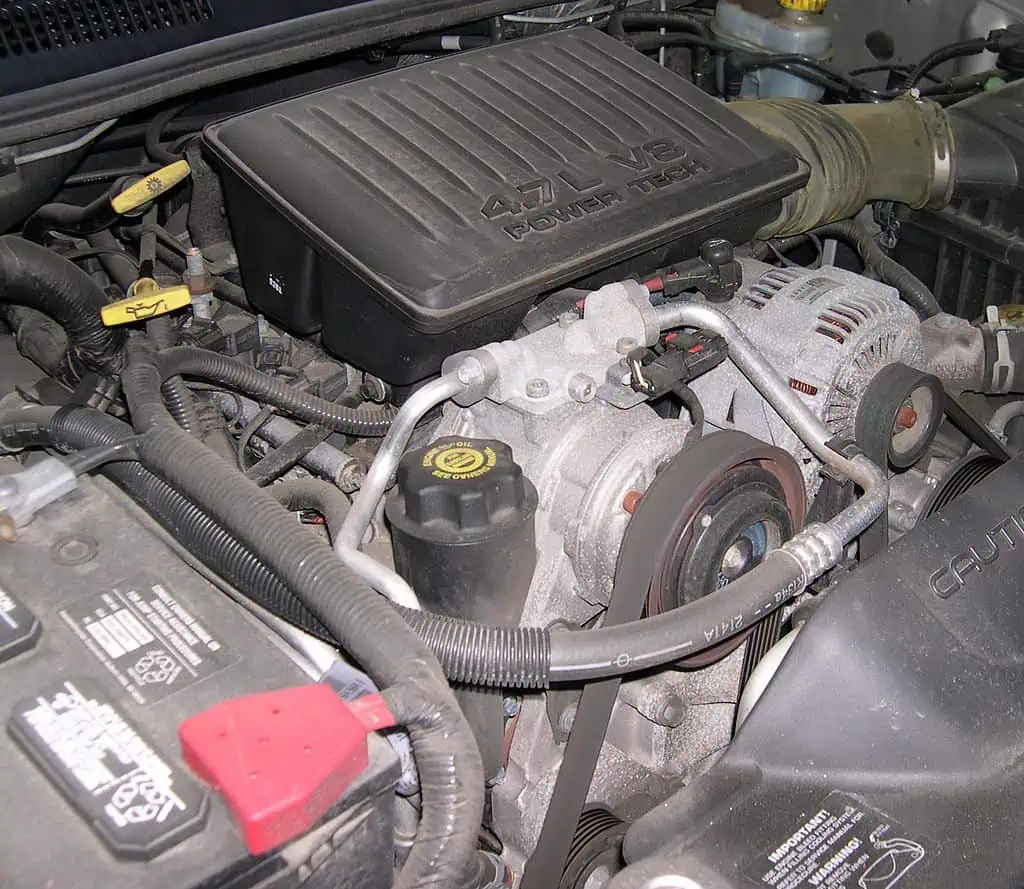 Jeep Grand Cherokee WJ 47 Power Tech V by Sfoskett~commonswiki / CC BY-SA 3.0. Reviews of the 4.7 Dodge engine praise and criticize it in equal measure. It might be the ideal engine for certain people, but it might also be a problematic engine for others.
The Chrysler PowerTech engine comes in three variations. The 4.7L V8 is the first, followed by the 4.7L "HO," or high-output version. And lastly, a smaller 3.7 V6 PowerTech engine, which is the same engine but has two fewer cylinders.
A 2008 update for the 4.7L V8 "HO" engine included a new combustion system design, a modified camshaft profile, and other improvements that increased the engine's power. 3 million units of the engine were constructed throughout its 15-year production run, which ended in 2013.
Since then, Chrysler has switched it out with more recent iterations of its 3rd-generation Hemi engine. Before moving on, we should clarify that throughout the text, we may refer to this engine as either the PowerTech or the Dodge engine.
What Autos are Powered By a 4.7 Dodge Engine?
From 1999 through 2009, the Jeep Grand Cherokee served as the 4.7L's premier model. From 2007 to 2009, Dodge also installed a 4.7L in a Jeep Commander. The 4.0L inline-six used in Wranglers is less powerful.
For Dodge nameplates, the Durango, Dakota, and Ram 1500 all had 4.7L engines between 2000 and 2009, 2000 to 2007, and 2002 to 2007.
4.7L engines were also available in the Mitsubishi Raider from 2006 to 2007 and the Chrysler Aspen from 2007 to 2009.
You might come across a few trucks, vans, and SUVs on the secondhand car market that has 4.7L engines installed in place of the originals. However, if you're looking for a 4.7L PowerTech, you'll often be looking for Dodges and Jeeps from the 2000s.
What are the Specifications for a 4.7 Dodge Engine?
The 4.7L (286.7 ci) Dodge engine is a Chrysler PowerTech that comes in V6 and V8 versions. Its 286.7 cubic inches, cast iron construction with aluminum heads, 3.66 x 3.405 bore and stroke, and horsepower range from 235 to 235+ depending on the vehicle's make and model.
Continue reading if you're interested in learning more about the 4.7L, have any inquiries, or are thinking about purchasing a Jeep or Dodge from the 2000s. There is a reason why truck and SUV drivers continue to appreciate these engines today.
4.7 Dodge Engine: How Much Horsepower Does It Produce?
Although there are three engines available for the 2009 Dodge Ram, the 3.7-liter V6 produces 210 horsepower and 235 pound-feet of torque. The 2009 Dodge Ram's 4.7-liter V8 center engine produces 310 horsepower and 330 pound-feet of torque.
With such reliable power, the engine provides fuel efficiency that may lead one to consider the Dodge 2009 Ram's third engine. The 5.7-liter Hemi V8 is the third engine, and it produces 390 horsepower and 407 pound-feet of torque.
The First-Generation 4.7 Dodge Engine
The PowerTech engine has a 4.7L (4,698cc) or 286 cubic inch displacement with a 3.66 in x 3.405 in bore and stroke (93mmx 86.5mm). The engine has two valves per cylinder, a cast-iron block, and aluminum heads. Future iterations of the engine will have a higher compression ratio than this one, which is 9.0:1.
The 4.7 Dodge engine's initial output was 235 horsepower at 4,600 revolutions per minute, with a maximum of 6,000. At 4,000 rpm, the torque reaches its maximum of 295 lb-ft or 400 Nm.
All of this power is delivered using a four- or five-speed automatic transmission; certain automobiles also have a five-speed manual transmission option. Although the engine isn't very strong by today's standards, it was more than adequate in the early 2000s.
The PowerTech engine's fuel consumption varies from vehicle to vehicle because the size and weight of the vehicle might have an impact. But you may anticipate the PowerTech engine to achieve between 14 and 17 mpg. Here is a list of vehicles powered by this engine: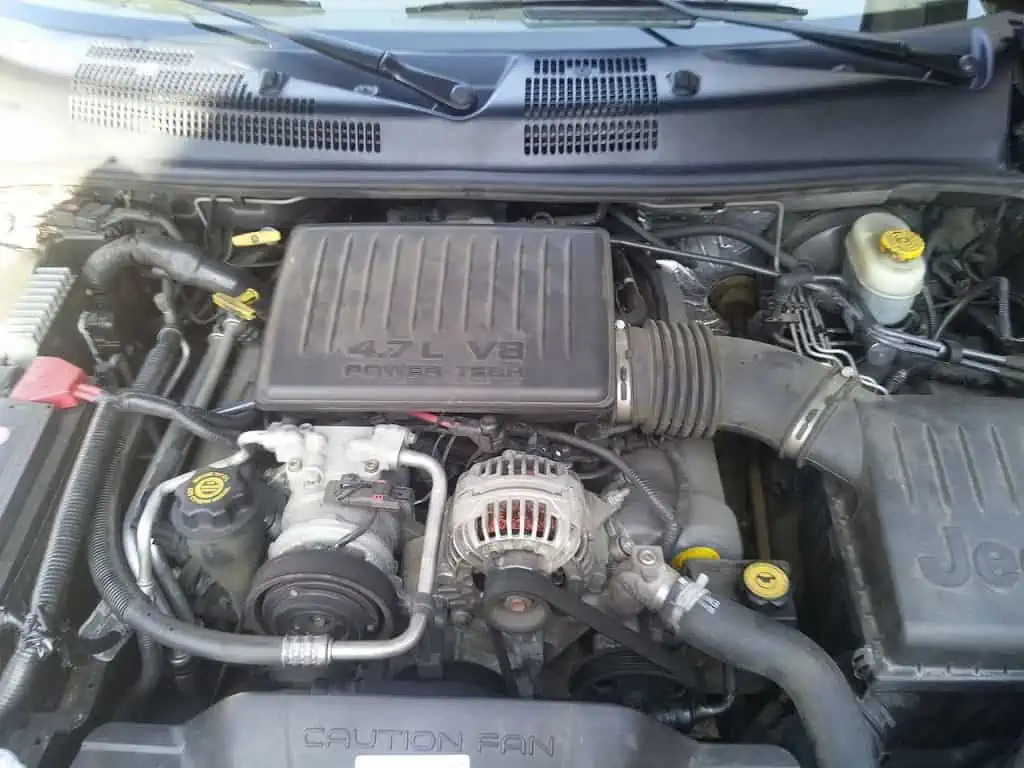 4.7 Powertech engine Jeep WJ by Anto1203 / CC BY-SA 4.0. The initial power of the 4.7 Dodge engine was 235 horsepower at 4,600 rpm, with a top speed of 6,000. The torque reaches its maximum of 295 lb-ft or 400 Nm at 4,000 rpm.
Jeep Grand Cherokee, 1999–2009
Jeep Commander, 2006–2009
Ram 1500 Dodge, 2002–2007
Mitsubishi Raider 2006–2007
Chrysler Aspen, 2007–2009
The Second-Generation 4.7 Dodge Engine
In 2002, Chrysler improved their PowerTech engine and gave it the "HO" (High-Output) moniker. This modification made the 4.7 V8 more potent, as the name suggests. With a greater compression ratio of 9.7:1 and an increase in power of 30 horsepower, the engine now produces 265 horsepower.
Additionally, the torque ratings are larger, at about 330 lb-ft (447Nm). An SAE 5W-30 oil is required for the engine if it is a HO or first-generation engine. Vehicles with this engine include:
Jeep Grand Cherokee, 2007–2008
Dodge Dakota & Dodge Ram 1500, 2007–2008
The Third Generation 4.7 Dodge Engine
The 4.7L V8 received its last modification from Chrysler in 2008. There have been considerable advancements to the engine, which Chrysler refers to internally as the Corsair.
This incorporates a revised combustion system design, dual spark plugs for each cylinder, a greater compression ratio of 9.8:0, and an enhanced camshaft and intake manifold. The 4.7L V8 with a single overhead camshaft, or SOHC, was otherwise unchanged. This time, SAE 5W-20 oil is required to grease the engine.
All of these improvements increased power, allowing the Corsair engine to reach a maximum output of 310 horsepower and 334 lb-ft (453 Nm) of torque.
Despite having 310 horsepower, it is still not very powerful by today's standards, especially when you take into account the large displacement. But the most recent upgrade does bring the engine up to date, and greater power is always a good thing.
The same Dodge cars that used the second-generation engine continued to use the Corsair engine, whereas Jeep switched to the Hemi 5.7L V8 starting in 2008. Dodge has since used third-generation Hemi engines after Chrysler eventually discontinued making the engine in 2013.
What Is the Firing Order of a 4.7 Dodge Engine?
Another thing about the 4.7 Dodge engine is that the majority of you are interested in learning how it fires. Please take note that the actual firing order may change from vehicle to vehicle. To put it another way, while a Jeep, a Chrysler, and a Dodge might all have 4.7 Dodge engines in common, their firing orders might be a little different.
The firing order is stamped someplace close to the engine on the majority of these 4.7 Dodge engines, as is the case with certain engines from other automakers. For instance, on the intake manifold, directly behind the air cleaner, on some RAM 1500 models, the precise firing order (as well as cylinder location) is stamped.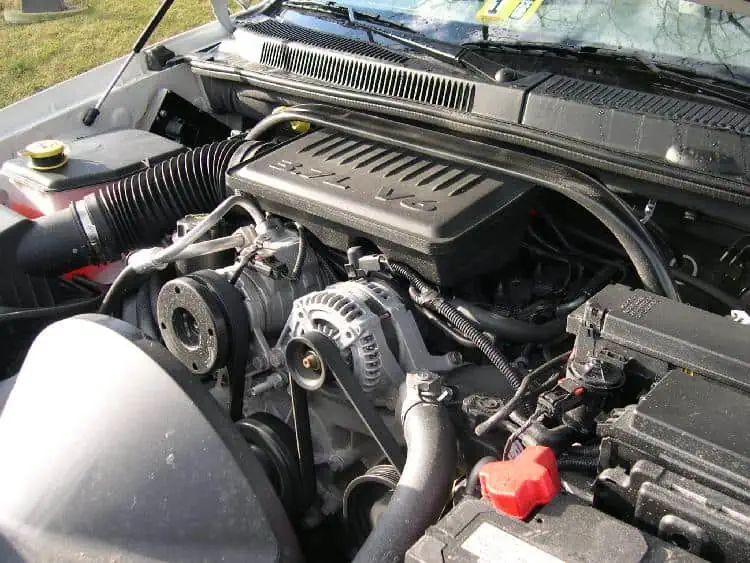 Chrysler PowerTech 4.7 L V6 in a 2005 Jeep Grand Cherokee by Sfoskett~commonswiki / CC BY-SA 3.0. The 4.7 Dodge engine, also known as the Chrysler PowerTech engine, is strong and long-lasting. Like any other engine, it is prone to common engine issues.
Their firing orders are comparable in most (but perhaps not all) of the 4.7 Dodge engines produced. These are cylinders 1, 8, 4, 3, 6, 5, 7, and, lastly, 2 (in ascending order from left to right). Make sure to examine and establish the firing sequence first because these could be different from other models.
Which are the Common 4.7 Dodge Engine Issues?
Every engine, including the PowerTech engine, has a list of typical issues. These are the typical issues you should be aware of if you intend to purchase a vehicle with this engine:
1.  Overheating and Cooling System Problems
This isn't a problem unique to the 4.7 Dodge engine, to be clear; pretty much any engine will experience cooling system problems throughout its lifetime. Nevertheless, they can materialize.
The water pump, radiator, cooling fan, thermostat, hoses, and other parts make up the cooling system for the engine. Over time, any of these parts may deteriorate.
Depending on which components break down first, you'll experience various symptoms. You will notice a coolant leak from cracked coolant hoses, which will lower the amount of coolant in your cooling system.
Your car will overheat and the temperature will rise if the coolant pump or thermostat fails. In any case, it is essential to stop if you experience any of these symptoms to avoid further engine damage.
To help you understand how to manage the cooling system on an engine, you can find fantastic videos on YouTube and see the first-hand experience of dealing with the 4.7 Dodge engine:
Replacement of the Cooling System
You'll need to swap out the components if the cooling system breaks. Depending on which component of the system has failed, the price will change. For instance, the price to replace the radiator might range from $500 to $700, including labor. A replacement thermostat often costs less, around $300 including labor.
PowerTech replacement parts shouldn't be hard to find, and if you want to save some money, you can hunt for used or refurbished parts. If you're willing, you can save money on labor by taking on some cooling system replacement chores yourself.
The majority of cooling systems have a lifespan of up to 10 years before needing replacement or additional maintenance. To keep it in good shape and avoid unexpected breakdowns, ensure sure the cooling system is regularly maintained.
Generally speaking, you should inspect the radiator around every two years. Every 100,000 miles or so, you can cleanse the system to make sure it is clean.
2. Issues with the Head Gasket
Head gasket issues have been reported with the 4.7 Dodge engine. While age and mileage are the traditional culprits, other issues might also cause the head gasket to prematurely blow.
Engine overheating can seriously harm the head gasket, eventually resulting in a blown head gasket.
The head gasket itself acts as a seal to join the cylinder heads and engine block. Steel, composite, and granite are just a few of the materials that can be used to create them.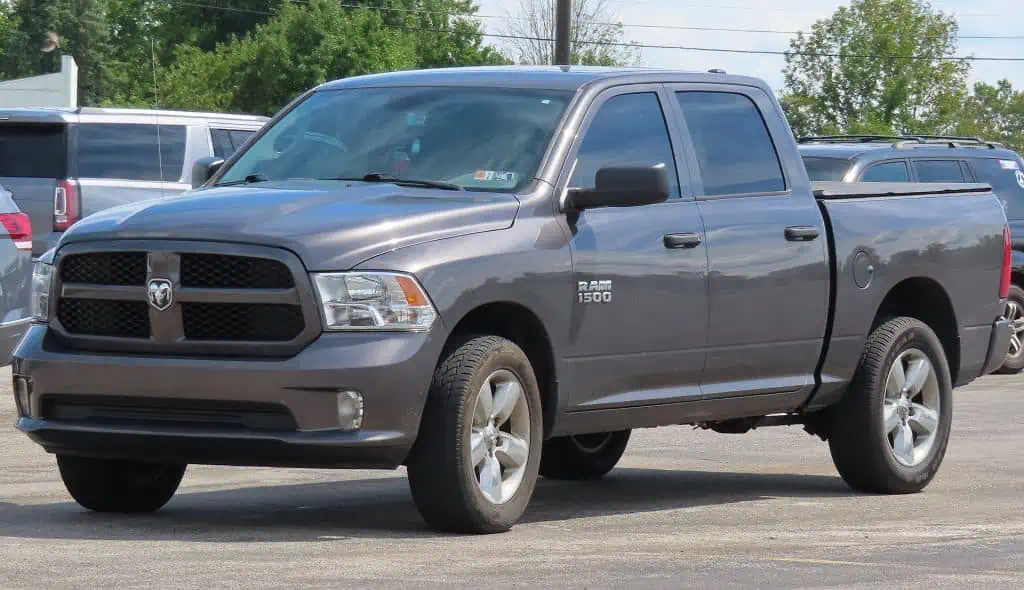 2017 Ram 1500 with a 4.7 Dodge engine by MercurySable99 / CC BY-SA 4.0. The 4.7 Dodge engine is neither the most powerful engine you will encounter, nor is it a very good engine by today's standards. The first-generation vehicle in particular only generates 245 horsepower. In contrast, the early 2000s Dodge Ram 1500 with a 5.7L Hemi V8 engine had 345 horsepower.
The 4.7 Dodge engine is constructed of stainless steel, which is a very durable material. You don't want oil or coolant to leak into the engine's cylinder, therefore the head gasket serves as a seal to stop that from happening.
The engine will experience issues as soon as the head gasket is damaged, or "blown," as we frequently hear it described. This involves overheating, coolant loss, and thick, white exhaust smoke.
Compression loss in the engine from a blown head gasket will also affect performance and fuel efficiency. We advise fixing a blown head gasket right away to stop the engine from suffering additional harm.
Cost of Replacing a Head Gasket
Head gaskets are reasonably priced, costing roughly $300 for the component alone. However, labor costs might be high and can increase the overall cost to about $1,500.
Because it will take your mechanic between 6 and 10 hours to completely disassemble the engine and then put it back together to replace the head gasket, this is why.
Since it's a time-consuming process and you run the risk of further damaging the engine if you don't know what you're doing, we don't advise doing it yourself. If you need to replace the head gasket, your only choice is to pay the steep price.
However, if the head gasket leak is still slight, there is an alternative. You can use a head gasket sealer, such as the Bar's Leaks HG-1, to temporarily seal your head gasket.
This fix, though, is just temporary. You can use these seals if you catch the symptoms early and the damage is still minimal. However, employing a head gasket sealer won't assist at all if the damage is extensive.
Add the seal liquid to your coolant tank to apply this. Then, idling the automobile for 15 minutes will allow it to circulate through the system.
3. A Bad Valve Seat
The engine valve is in charge of allowing fuel and air to enter and exit the engine's cylinder. The function of the valve seat is to aid in sealing the valves when they are closed.
Engine compression will be lost if these valve seats fail, as the valves won't fully seal. If this is not corrected, performance and fuel efficiency problems will develop, which could result in more severe damage.
It has been observed that the 4.7 Dodge engine has this problem, which is frequently related to overheating issues. Therefore, the cooling system is much more important to pay attention to.
Additionally, it is said that this problem primarily impacts previous versions of the engine. Fortunately, this isn't a typical issue, but if you ignore the cooling system problems with the engine, it could happen.
Replacement of Valve Seat
You will either require a head rebuild or a new cylinder head to solve the issue because the PowerTech engine's valve seats are machined in the cylinder head. Of course, this is expensive and can go as high as $1,000. Given how expensive it is, it is sensible to take the necessary precautions to prevent this pricey repair task.
4. Leaks In Valve Cover Gaskets
The 4.7 Dodge engine is known to frequently experience problems with the valve cover. This is particularly true if the vehicle has a lot of miles on it and is getting older. Over time, the rubber valve cover gaskets may stiffen and split, leading to oil leaks. Usually, it's not serious and won't need quick care.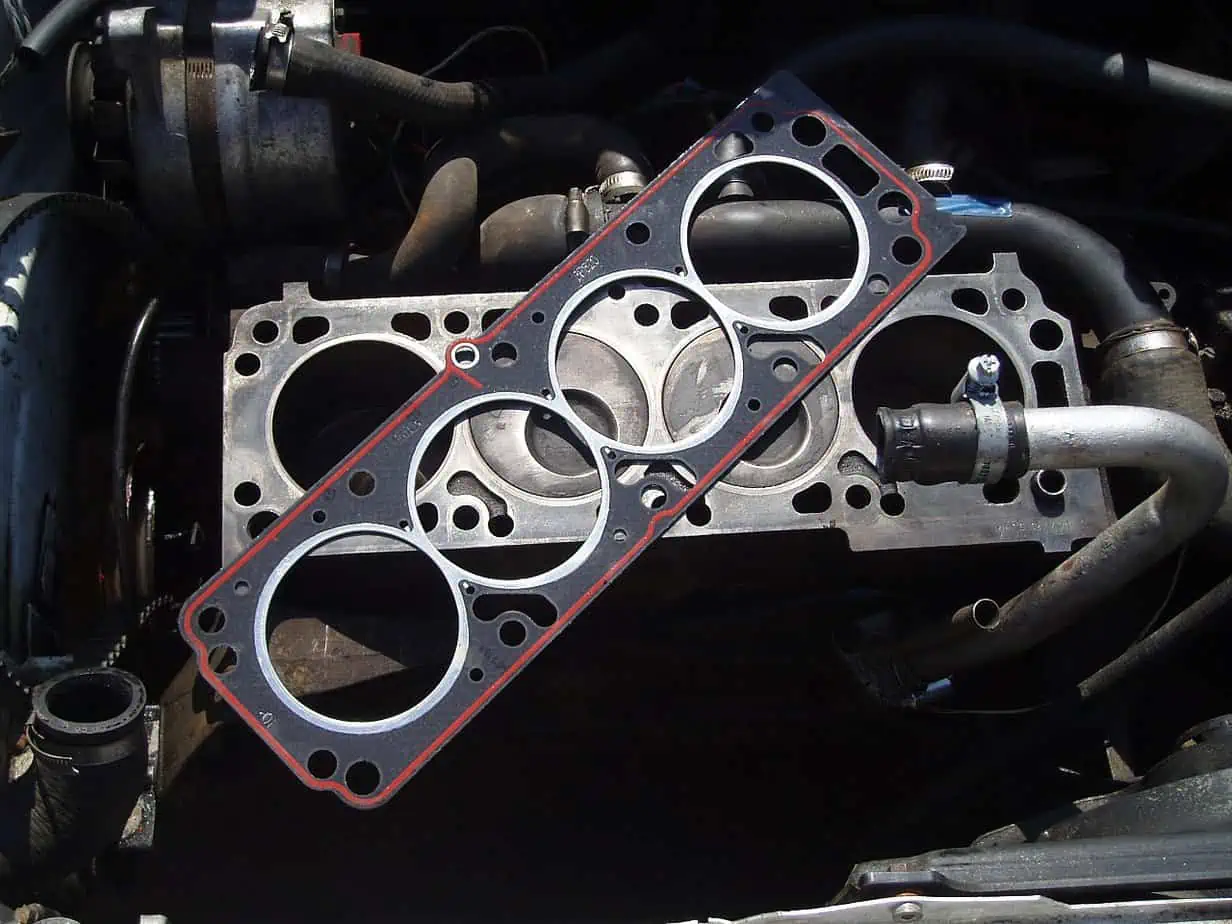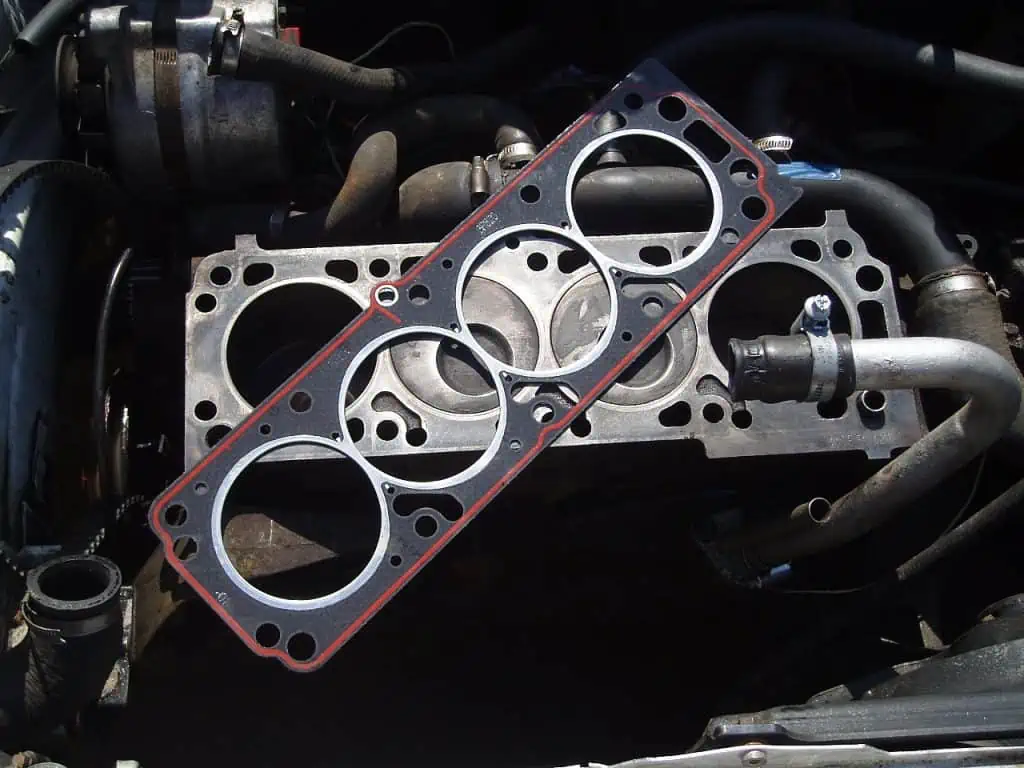 Head gasket (in dark gray with a red border) sitting on top of an inline-four engine block by Collard / CC BY-SA 3.0. The 4.7 Dodge engine has been associated with head gasket problems. While age and mileage are the usual offenders, other problems could potentially result in the head gasket blowing too soon.
But over time, it can get worse and do more harm. Once the issue worsens, you will start to see visible oil leaks, a burning oil odor, and smoke. Keep an eye on the engine compartment to check for any oil leaks near the valve covers. There is a leak if there is oil.
Replacement of the Valve Cover Gasket
The cost of a set of valve cover gaskets for the 4.7-liter Dodge engine is typically between $120 and $200. (there are two of them, one on each side of the V8). However, replacing the valve cover gasket requires a lot of labor, and that labor may cost you an additional $400 to $600.
With the right equipment and instructions, you might be able to complete this project on your own if you're confident in your DIY abilities. However, if you're unsure of your technical prowess, we don't advise attempting this on your own.
YouTube videos may help you get an idea of how to accomplish it if you're confident and want to try it yourself:
5. Failure of the Engine
The age of your engine has a direct bearing on the likelihood of engine failure with the 4.7 Dodge engine. Engine failure typically occurs when an engine has operated for more than 70,000 kilometers.
Given this, if the engine owner ignores oil sludge, there is a high danger of engine failure. Additionally, there are problems with acceleration. Additionally, sludge causes engine overheating. The system will then develop cracks as a result of this.
Rebuilding the Engine
Therefore, it is likely that you have owned your 4.7 Dodge engine for a considerable amount of time if you are experiencing engine trouble. The age of the engine may contribute to engine failure. How then do you fix this? To keep the engine operating, you might consider replacing certain engine components.
However, you will eventually need to replace the entire engine. Fortunately, you will notice symptoms that indicate your 4.7 Dodge engine needs to be replaced. Furthermore, you might be able to get a replacement engine for a really good price.
6. Sludge In the Engine Oil
Your 4.7 Dodge engine's performance may be hampered by buildup or sludge. Your engine's performance will start to drastically diminish once the engine oil thickens.
You'll start to notice oil sludge, which will negatively affect your vehicle's performance. Sludge made of motor oil can also result in transmission problems and engine failure.
Changing the Engine Oil
Regular oil changes are the greatest approach to reducing oil sludge. With ANY engine, this is a fantastic rule to abide by. Get that oil changed after determining that the 4.7 Dodge engine has oil sludge.
You might want to get another oil change if you already had one. Change your filters regularly. Your mechanic might even advise switching to high-quality oil when changing your own.
7. Formation of Foam In the Engine Oil
Have you recently taken your 4.7 Dodge engine's oil cap off and discovered foam at the bottom? This typically occurs when air is discovered in areas where it shouldn't be, leading to bubbles.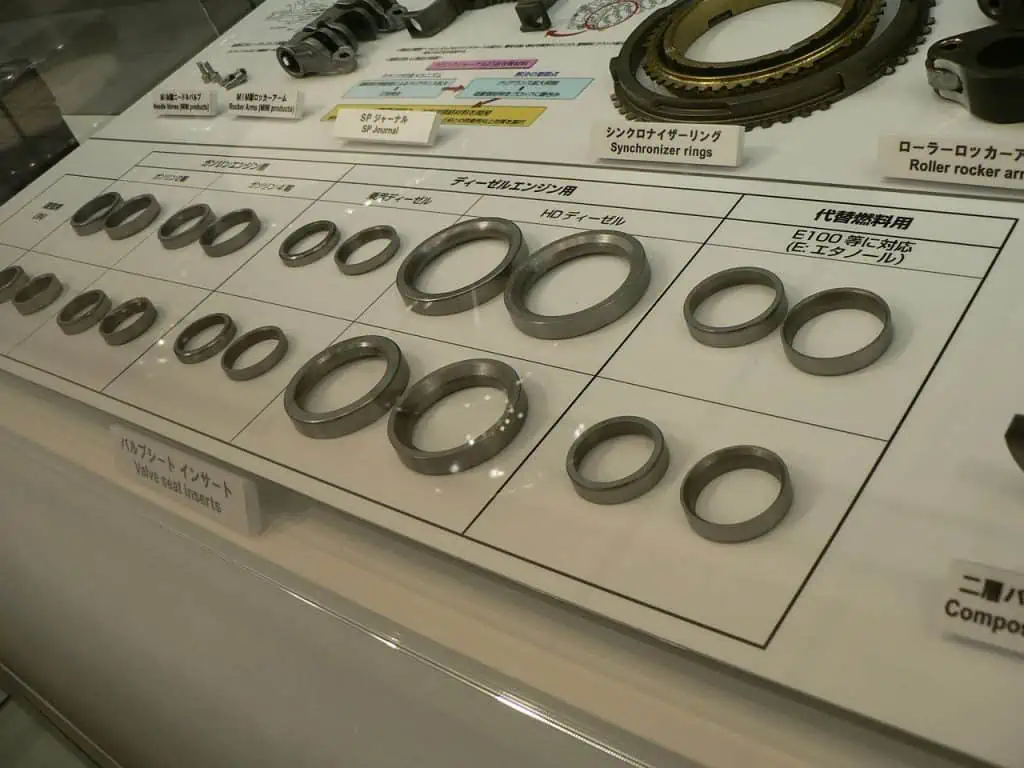 Valve seats in the exhibition by 160SX / CC BY-SA 3.0. It is up to the engine valve to control how much gasoline and air can enter and leave the engine's cylinder. The valve seat's purpose is to help the valves seal when they are closed.
Oil foam can also develop when your engine oil has an excessive amount of moisture or humidity. This problem typically occurs when your engine is not fully warmed up before you start your car.
Repairing the Vacuum Seal on the Engine
You must take your car to a reliable mechanic to have the oil foam problem fixed. She or he will have to fix the vacuum seal on the engine. After that, you might think about doing the following to prevent oil foam:
First, make sure you give your engine enough time to run while operating your car.
Second, make an effort to spend money on high-quality synthetic oil. Find out from your mechanic which oil is best for your car and its 4.7 Dodge engine.
The 4.7 Dodge Engine: Is It a Reliable Engine?
Every engine has advantages and disadvantages, but the PowerTech V8 doesn't seem to have any major reliability horror stories.
The cooling system and valve covers may experience problems, but this is true of every engine with high mileage. To avoid unexpected major difficulties, it's important to take good care of the engine and make sure to service and repair it as needed.
Having said that, there are two drawbacks to the engine that we'd like to mention. The first is fuel efficiency. As previously indicated, vehicles powered by the PowerTech 4.7 Dodge engine get only 14 to 17 mpg on average, which isn't very good.
The 5.7 Hemi V8 from Dodge, which has a greater displacement and higher power, can achieve between 14 and 21 mpg in contemporary trucks and vehicles.
The 4.7 Dodge engine is not the most potent engine you will come across, and by today's standards, it is not a very decent engine. Particularly the first-generation model, which only produces 245 horsepower. In contrast, the 5.7L Hemi V8-powered Dodge Ram 1500 from the early 2000s had 345 horsepower.
The 2009 iteration of the engine, meanwhile, may produce 360 to 390 horsepower, depending on the vehicle. And while the 2009 iteration of the engine uses less fuel than the PowerTech 4.7 Dodge engine, the older Hemi V8 uses more.
Additionally, enthusiasts frequently contrast the PowerTech V8 with the Mopar 360, also referred to as the Chrysler 5.9L V8. But from what we can gather, PowerTech is a better choice. Due to its larger displacement, the Mopar engine uses more fuel while producing the same amount of power.
Performance Upgrades on a 4.7 Dodge Engine
Okay, so if you choose the PowerTech 4.7 Dodge engine over a Hemi or a Mopar 360, that is. However, you want to raise the power output because you're not happy with it. How can you achieve that? You can choose from a few possibilities, I suppose.
1. Cold Air Intake for the Engine
The simplest performance enhancement you can do to any car is probably a cold air intake. As it often sits farther from the engine, this style of intake can draw in colder air to feed into the engine.
Why is colder air preferable? Because cold air is denser than warm air, you may put more of it in the engine, which will increase pressure and boost power.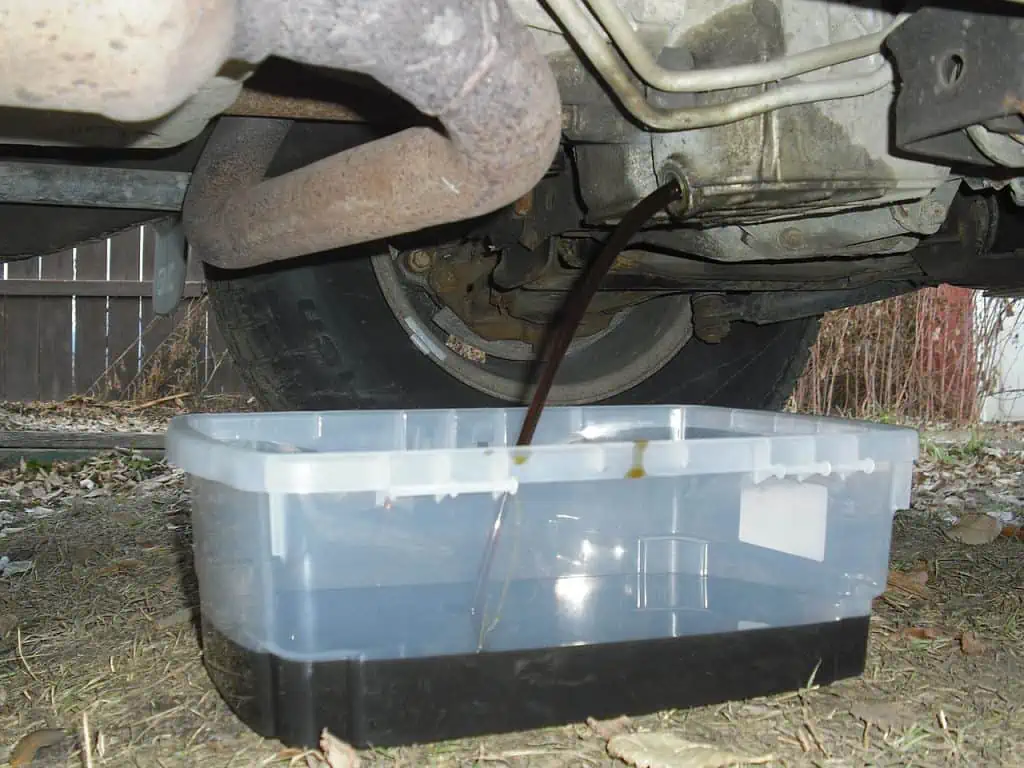 Performance issues with your 4.7 Dodge engine could be caused by buildup or sludge. Once the engine oil thickens, your engine's performance will start to decline significantly.
Try doing some research on Dodge forums to see if owners have reported a big gain in engine power after adding a cold air intake. There have been discussions online on whether or not the cold air intake can boost engine power output.
These intakes typically function best when the engine has also undergone additional modifications. A cold air inlet will often increase your horsepower by 8 to 20.
However, they can be fairly expensive; a K&N filter for a 2002 Dodge Ram 1500 costs about $500, for instance. Do your study to ensure that your purchase won't be in vain.
By going online and watching different YouTube videos, you can find out more information on air intake. There are excellent videos to watch to understand how air intake modification works especially for those that use any of the Dodge vehicles that utilize the 4.7 engine.
2. A Performance Control Module
A Performance Control Module, often known as a PCM, enables you to change the fuel-to-air ratio that enters the engine. Your engine's horsepower can be increased by adding more gasoline to the mixture, but you can also change it to have a leaner mixture if you want to improve fuel economy.
Owners of Dodge and Jeep vehicles appear to prefer the Jet PCM, which can be had for about $250. Hypertech also produces a PCM, and they appear to have a solid reputation. Before purchasing a PCM, we advise researching owner discussion boards.
3. A Performance Exhaust
Our next suggestion is to upgrade your exhaust system after you've given your PowerTech engine more power. A performance exhaust can increase exhaust gas flow, lowering engine backpressure.
Although there is no exact number, a performance exhaust often boosts an engine's output by up to 10%. Not to mention how good they sound. Just watch their volume so your neighbor doesn't complain.
Magnaflow and Borla both produce exhaust systems for the 4.7 Dodge engine; you can look them up. Typically, prices start at around $690.
4. Additional Modifications
The 4.7 Dodge engine is open to a plethora of additional alterations. Greater spark plugs are relatively inexpensive, have somewhat better performance, and can last longer.
Forged internals and a supercharger can offer you the extra power you so desperately want if you're looking to spend more money. Your car's horsepower can be considerably increased with a supercharger package.
However, if you have a long list of modifications planned, we advise checking with other 4.7 Dodge engine owners and speaking with them. This will allow you to confirm that the modifications are a solid idea and won't affect the vehicle's dependability.
The Conclusion
The Chrysler PowerTech V8 engine, often known as the 4.7 Dodge engine, is respectable. It offers respectable power (particularly the 2008 model) and moderately respectable fuel efficiency for a big engine.
There are no horror stories comparable to Subaru's infamous head gasket issues in the early 2000s, even though they are not the most reliable engines.
The PowerTech engine's ability to run on E85 ethanol is another advantage because it is a flex-fuel engine. Even though ethanol can occasionally be less expensive than gasoline, engines are typically thirstier when using it. But if you run out of gas or, for some other reason, can't find any, at least you can use E85.
In any case, we advise taking a look at Dodge's 5.7L Hemi V8 as well if you're considering purchasing a vehicle with the 4.7 Dodge engine. The 5.7L V8 variant was available on vehicles like the Jeep Grand Cherokee, Dodge Durango, and Dodge Ram 1500, and it does seem more interesting.
As previously discussed, early Hemi V8 models had greater power but are thirstier. Additionally, 5.7L "Eagle" engines found in automobiles from 2009 and after produce significantly more power while using around the same amount of fuel as 4.7 Dodge engines. These larger Hemi V8s might be worth taking into consideration.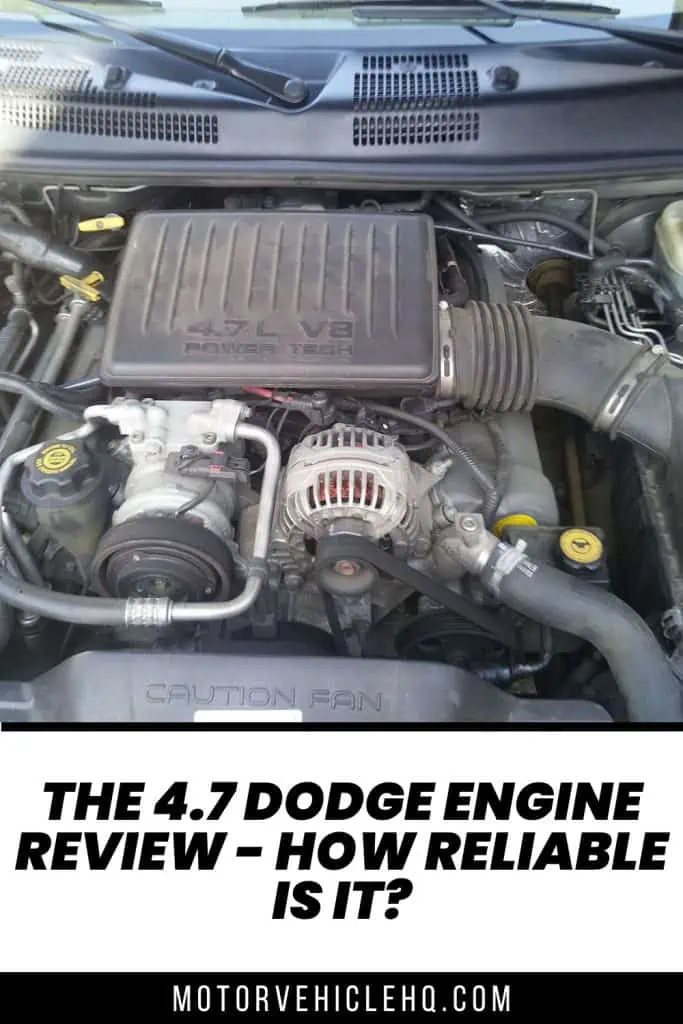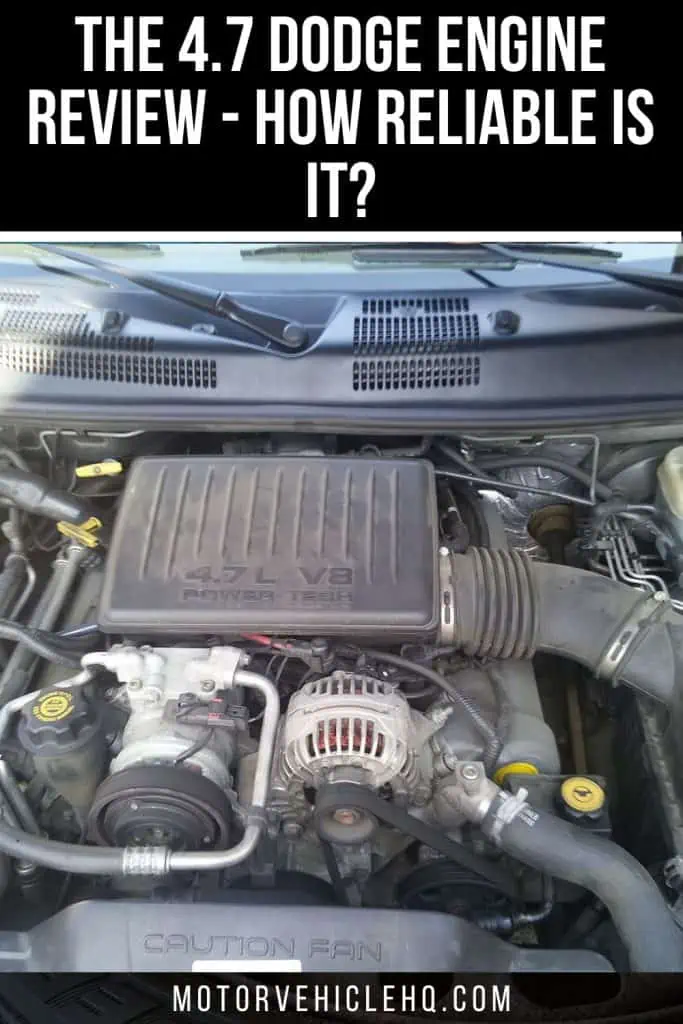 4.7 Powertech engine Jeep WJ by Anto1203 / CC BY-SA 4.0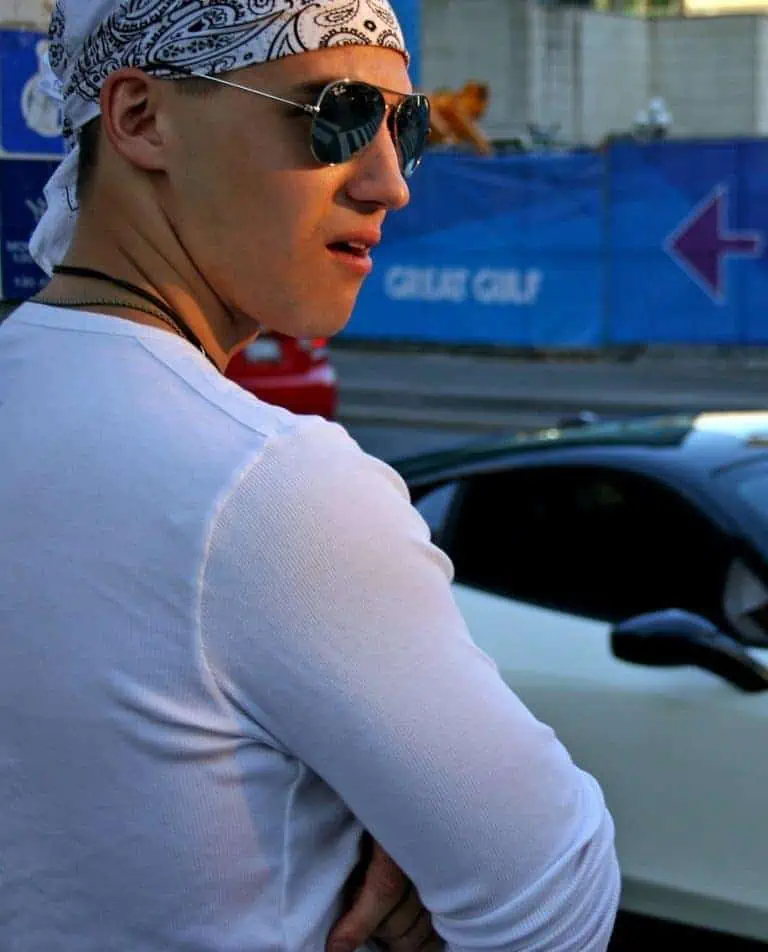 Jim Wicks is the founder of MotorVehicleHQ. With over two decades of experience in the automotive industry and a degree in Automotive Technology, Jim is a certified car expert who has worked in various roles ranging from a mechanic, car dealership manager, to a racing car driver. He has owned more than 20 cars over the past 15 years. Ask him about any vehicle you see on the road and he can tell you the make, model and year. He loves the aesthetics of all things cars, and keeps his vehicles in pristine condition.
In his free time, Jim enjoys getting his hands dirty under the hood of a classic car or taking long drives along the country roads. His favorite car? A 1967 Shelby GT500, a true classic that, according to Jim, "represents the pure essence of American muscle."