Is your car making a clicking noise when accelerating? The problem can be hard to pinpoint. It may seem like the noise is coming from underneath the vehicle, but it could be coming from other parts, like the wheels or rear axle.
If you're hearing a clicking sound when accelerating, you should figure out the cause before things get worse. In this article, we'll go over twelve of the most common causes of a clicking sound when your car accelerates and how to fix them.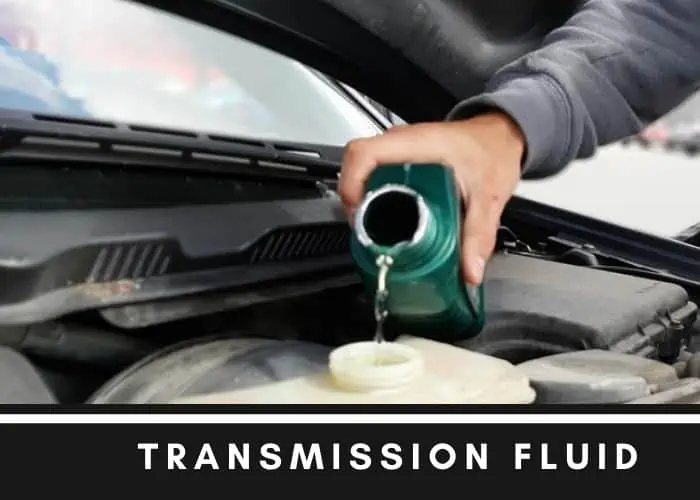 The transmission fluid also cools the engine and protects the seals and gaskets that keep your car's engine in place. Transmission fluid is different from other types of lubricants because it contains additives that help prevent corrosion and rusting inside your vehicle's transmission.
#1. Low Transmission Fluid
If your transmission fluid is low, top it up with the recommended fluid. If you have a full tank and it's still making noise, it could be an issue with your transmission fluid. To check this:
Check if the transmission fluid level is correct by reading the dipstick or referring to the manual.
If it needs topping up, add the recommended quantity of new automatic transmission fluid until it reaches or passes full on your dipstick/instructions (referring to manufacturer specifications). Don't overfill it. Overfilling can cause leaks and damage your vehicle's drivetrain components, such as clutches and bands that aren't supposed to come into contact with dirty fluids like automotive transmission oil.
#2. Loose Exhaust Heat Shield
Loose heat shields are another common source of exhaust noises. When the shield becomes loose, it will not provide a tight seal around the muffler and can cause exhaust to rub against the frame. It will create a lot of noise at idle and low speeds but won't be noticeable at high speeds because of wind noise from driving fast or open windows on other cars.
In this case, you can try tightening up your vehicle's exhaust system by checking for leaks in your hangers and ensuring everything is secure before you take it into a professional inspection or repair job.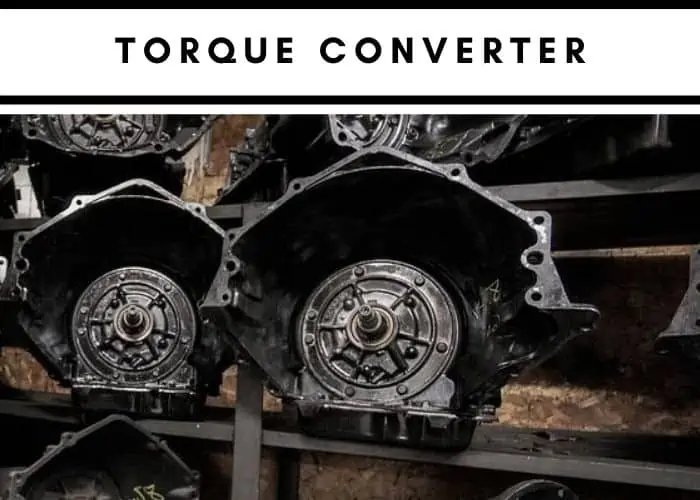 A torque converter is a device that allows an automobile engine to generate rotational power by converting the linear motion of the engine's crankshaft into a rotary motion. The torque converter works with the transmission and a fluid coupling, which allows it to produce power at all speeds.
#3. Faulty Torque Converter
In a nutshell, the torque converter is part of your transmission. It's a device that transfers power from the transmission to the driveshaft — the car part that moves its wheels.
The torque converter does this by multiplying engine output and sending it through this special fluid inside itself.
It means you get more power when accelerating than what you started with in terms of RPMs and horsepower, but there should be enough pressure built-up for this process to work properly.
If there's too much resistance or not enough oil flow, then there may be clicking noises inside the torque converter itself.
#4. Bad U-Joints
If you hear a clicking noise when a car accelerates or decelerates, your U-joints may be failing.
What are U-joints? They're the joints where the axle meets the driveshaft and transfer case. These components allow your car to turn corners smoothly, which is why they're often called universal joints.
When they fail, they can cause issues like vibrations, clunking sounds (in tires), and trouble accelerating and/or shifting gears smoothly.
Why do these parts fail? They can wear out over time due to normal wear and tear — but if you've had extensive damage during an accident, this can accelerate the failure rate.
Some factors will almost certainly cause failure: overheating from going off-road in harsh conditions; using cheap aftermarket parts instead of genuine factory ones; poor maintenance habits (like not replacing worn parts).
Regardless of the failure reason, bad U-joints will eventually start making noise when accelerating because they'll be unable to handle all of your engine's torque sent through them.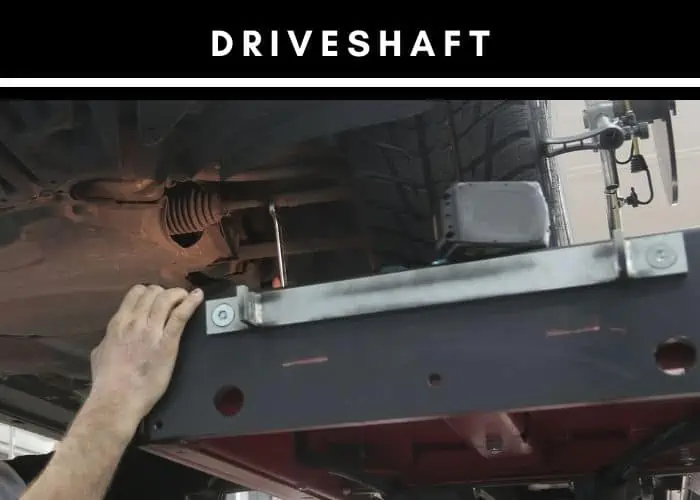 A driveshaft is a long shaft that connects the engine to the rear wheels of a car. This helps transfer power from the engine to the wheels, which makes it possible to move your car forward.
#5. Driveshaft Issues
You'll find three major parts to the driveshaft: differential, transmission, and axle. The differential transfers power from the engine to the wheels.
It also provides torque to both sides of the vehicle using spider gear. It is located right above each wheel hub.
The transmission transmits power from its input shaft (which attaches to your engine) into its output shaft (which attaches to your axle).
The axles connect your tires with your transmission so that you can drive smoothly along roads and highways without feeling any vibrations or bumps.
The driveshaft is the part of your car that connects the engine to the wheels, so your vehicle needs to run smoothly.
Driveshaft issues can include:
Bent or broken driveshafts.
Broken universal joints on the driveshaft.
A cracked or broken case on the driveshaft housing.
Loose or broken bolts, nuts, and washers that hold the driveshaft together.
#6. Worn Axles
The axles are the shafts that connect the wheels to the transmission. If you hear a clicking noise while accelerating your car, worn or broken axles are likely the cause.
Axles can wear out from years of use, causing them to break or wear down. It's crucial to repair or replace your axle if you notice this issue as it may impact your vehicle's performance and safety.
If you're having trouble shifting gears while in motion, and suspect that it has something to do with your transmission, then we recommend working with an expert at your local shops to diagnose and fix any issues.
#7. Bad Wheel Bearings
If you hear a clicking sound while accelerating, bad wheel bearings might cause it. Wheel bearings keep your wheels rolling smoothly and securely, but if they're damaged or worn out, they can make a noisy clicking noise as the wheels turn.
The good news is that there are plenty of ways to fix this problem — most easily, by replacing the old bearing with a new one.
You'll want to contact an auto mechanic who knows how to do it (or learn from YouTube videos yourself).
You might also be able to lubricate your old bearing; if so, try pouring some WD-40 into each corner before turning it slowly with your hands until it stops making noise and feels smooth again.
One last thing: If none of these solutions work, then talk with an expert — they have years' worth of experience fixing everything under the hood.

Your car's brake pads have a crucial job: to stop your vehicle when you step on the brake pedal. You may not think much about them because they're usually pretty reliable. But there are some things that can go wrong with them, and it's important to know what those problems are so that you'll be able to take care of them quickly and easily.
#8. Worn Brake Pads
If you're hearing a clicking noise while accelerating, the first thing to check is your brake pads. Brake pads are the part of the brake system that makes contact with your vehicle's disc or drum brakes to slow it down.
The combination is of organic and inorganic materials, depending on what brake pad you have — some are naturally more prone to wear than others.
If your brakes start making a lot of noise when you step on them or apply the gas pedal, this could indicate that your brake pads need replacing.
The sound is caused by metal-on-metal contact as they scrape against each other while driving; if this happens too frequently over time, it will wear down both parts until they no longer work properly.
#9. Dielectric Grease on Rotors
If your rotors are warped, the pads will wear unevenly. It causes the rotor to vibrate against the brake pad and creates a clicking noise while you accelerate.
To fix this problem, first, check that there is no dielectric grease on your rotors. If there is, clean it off with mineral spirits and a rag or paper towels.
Then replace the pads if they wear out to less than half their thickness (1/8-inch).
Also, consider resurfacing your rotors if warping has damaged only one side; this makes them look smooth again and can help prevent further wear on more expensive replacement pads.
#10. Air in the Brake Lines
Air in the brake lines is another possible reason for a clicking noise when you accelerate.
The air bubbles forming because of moisture absorption cause the fluid to expand, which you can hear as a clicking sound.
It could also cause other problems, such as insufficient braking power, so you should get a mechanic to check it out if you notice this problem.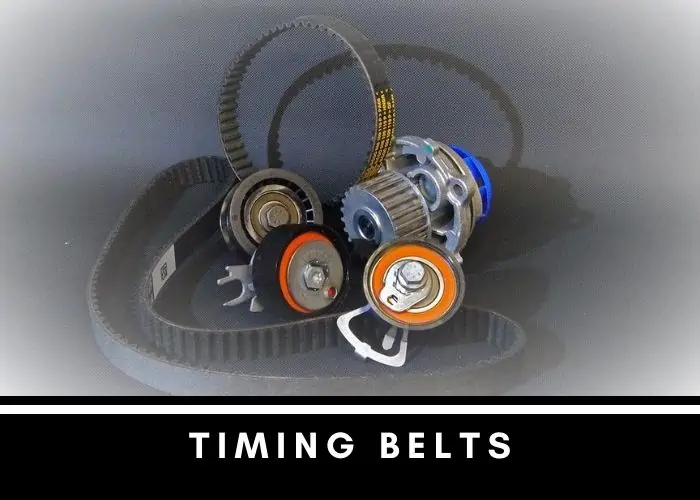 A timing belt is a rubber belt that keeps the crankshaft and camshaft in time with the valves and pistons. It's what allows your engine to run, so it's important to replace it every 60,000 miles or so, depending on the type of car you have.
#11. Timing Belts
The engine's timing belt can cause clicking sound while accelerating. The timing belt keeps the camshaft and crankshaft in sync, which allows your car to run smoothly.
The timing belt is a long rubber strip that connects the crankshaft pulley to the camshaft pulley. As you accelerate, this belt makes a noise as it moves over each pulley.
#12. Oil Pump Pickup Screen
The oil pump pickup screen is a small screen that you can locate inside the oil pump. It's made of metal mesh and filters out debris before reaching the bearings.
The oil pump, which pressurizes engine oil and sends it through the engine for lubrication, has two main components: a rotor and a stator.
The rotor spins within the stator to create suction, pumping up engine oil through lines to various parts of your car's engine system.
The screen is easily replaced if damaged or clogged with dirt particles. It may require special tools or techniques when replacing it yourself due to its location in tight spaces inside the engine compartment (such as under the hood).
Solutions for Clicking Noise When Accelerating
Below are some possible solutions for a clicking noise when you accelerate your car
Fix a Malfunctioning CV Joint
It's crucial to check for wear in CV joint parts regularly so that you can replace them before they cause damage.
Checking for wear by inspecting how smoothly each part moves when you turn it by hand or put it under pressure from another object, such as a hammer or wrench.
The best way to lubricate these pieces is to apply an oil-based lubricant onto all surfaces that rub against each other during operation and then allow it time (usually overnight) so that all moving parts are covered evenly with protection before driving again.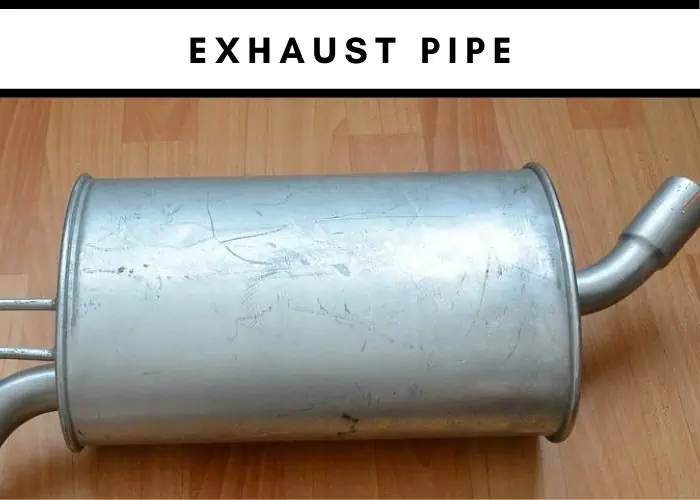 The exhaust pipe has two main functions: it removes harmful gasses from the engine, and it helps keep the engine running smoothly. The exhaust pipe works by allowing air in, which cools down the gasses and keeps them moving out of the engine.
Replace the Exhaust Pipe if It Is Loose
If you've checked the exhaust system and it's in good condition, look for any loose or missing clamps.
If the clamp is missing, the muffler might be rubbing against another part of the car.
If this happens, replace all the clamps on your system to remedy this problem.
Check for any cracks or leaks in both pipes and mufflers.
Look for loose hangers (hooks) that hold up your exhaust pipe from underneath your car — if one of these becomes loose, it can cause noise due to vibrations in your exhaust pipe when accelerating at high speeds. Replace any damaged hangers as soon as possible so they don't affect performance.
Fix Engine or Transmission Mount if Loose
If an engine or transmission mount is loose, it can cause vibrations that give off a clicking noise as you accelerate your car and may require the replacement of the mounts entirely.
Second, ensure no bolts are missing from your wheels or hubcaps. A lack of proper fasteners can result in vibration and other issues that cause a clicking sound when accelerating your vehicle.
Replace or Clean Fan Belts
Check the fan belt for any cracking or fraying. The fan belt is a rubber or synthetic material that gets warm when you use it. This heat can cause the belt to crack. If this is the case, you'll need to replace the belt with a new one from an auto parts store.
Check for oil or grease on the smoke-stained portion of your engine (i.e., where all those dirty fans are). This oily residue can make its way onto your fan belts and cause them to slip. To fix this problem, remove all traces of oil before it causes further damage by using dishwashing soap and water (or another degreaser) on a rag and wiping down all surfaces where lubrication may have transferred over from another part of your vehicle (such as gears). Once clean, dry off any remaining moisture with another clean rag before putting everything back together again.
Fix the Heat Shield on the Exhaust System
The heat shield on the exhaust system can be loose or broken, so check to ensure it's in good shape.
If you find that your heat shield needs replacing, you'll want to take your car to a mechanic for that job. The auto shop can tell you whether it needs repair before buying a new part.
Test and Clean Fuel Injectors if There Are Any Issues
Check the fuel injectors for any signs of damage, such as corrosion or deposits. You may also want to run a quick test on them: simply removing and reinserting each plug, in turn, should tell you if there are any issues with your car's engine.
Once you've confirmed that there isn't anything wrong with your fuel injectors, you can proceed with cleaning them.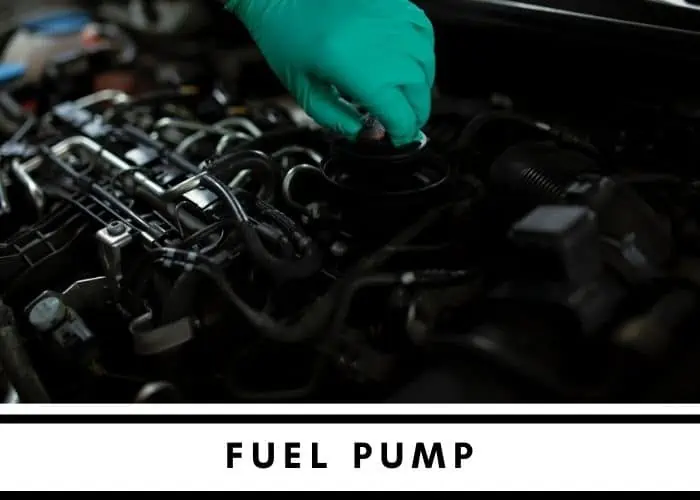 A fuel pump is a device that pumps fuel from the tank of an automobile to the engine. It transfers fuel through a tube or pipe between the tank and the engine, thus allowing the engine to run by introducing fuel into it. When you start your car, the fuel pump is engaged automatically. When it fails, you will notice that your car will not start or run smoothly.
Fix Issues With Your Fuel Pump
If the fuel line is loose, the fuel pump will not operate correctly, causing a clicking noise when accelerating. It can be easily fixed by tightening the fittings on both ends of your gas line.
Ensure that you fully charge your car's battery before attempting these tests to ensure that you have enough power for them to work.
Inspect the Clamps Holding Your Exhaust System in Place
To check if any of these issues are causing a problem:
Look for cracks or damage to any of the exhaust system clamps; this could indicate they need replacing.
Check for signs of corrosion on any of the parts that make up your clamping system; this may mean they need cleaning or repairing.
Look at how tightly each clamp is; if one appears over-tightened, loosen it slightly (but not so much that you lose its grip).
Check and Replace Frame and Suspension Components if Damaged
A thorough inspection of these components should be part of any routine checkup for your car, but you may also need to have them replaced if you notice cracks or other signs of damage.
If you have access to an oscilloscope, you can use it to check whether there are problems with the suspension while accelerating.
An oscilloscope measures voltage fluctuations to detect electrical signals, such as those responsible for making noise when driving on rough terrain.
Look at the Wheel Bearings and Axle Shafts for Any Leaks or Breakage
If there is no oil in your car's axle shafts, it will create a clicking noise when you accelerate because there will be nothing to stop friction against each other.
You can inspect these components visually by looking at them under your car; however, tapping on each end could also determine if there is any looseness — this can help determine if new parts need replacing.
Conclusion
So there you have it. A dozen reasons your car may be making a clicking noise when accelerating. While most of these are easy repairs, it's always important to know what's happening before making any repairs.
Whatever the cause of the noise is, as long as there's no severe damage to other components in the car, then fixing it should be relatively easy with some tools and knowledge.
You'll also save time trying out different options before getting professional help or making costly repairs.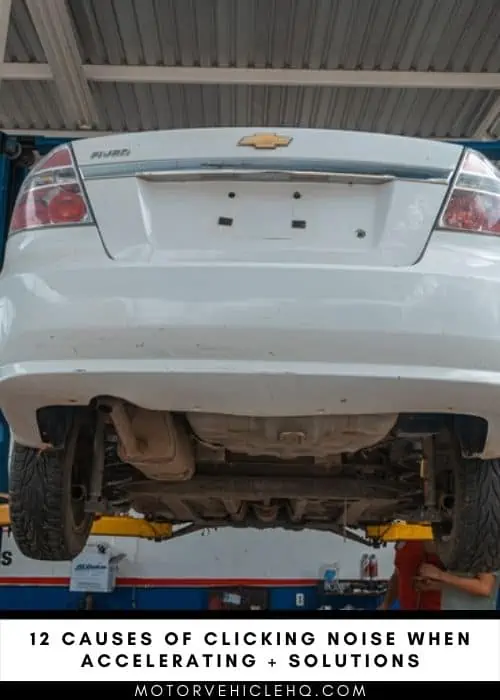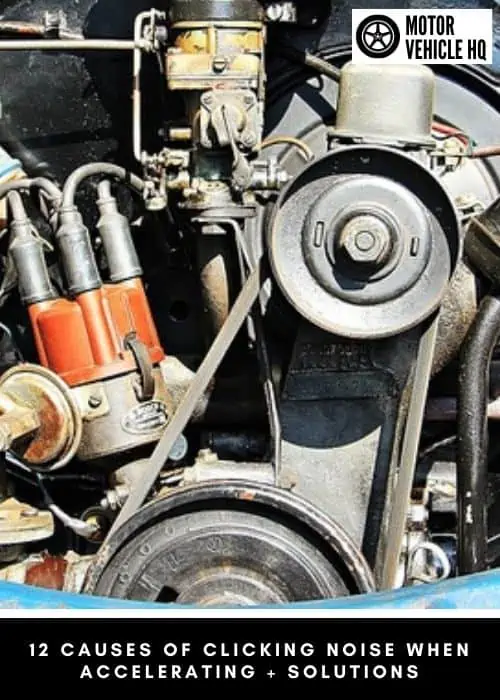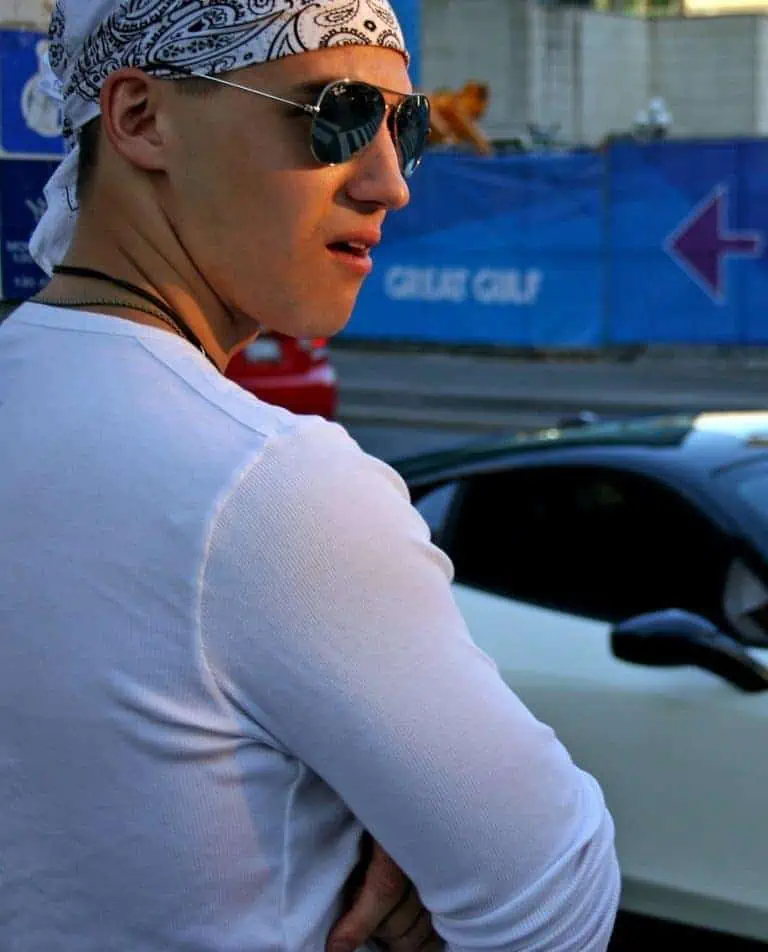 Jim Wicks is the founder of MotorVehicleHQ. With over two decades of experience in the automotive industry and a degree in Automotive Technology, Jim is a certified car expert who has worked in various roles ranging from a mechanic, car dealership manager, to a racing car driver. He has owned more than 20 cars over the past 15 years. Ask him about any vehicle you see on the road and he can tell you the make, model and year. He loves the aesthetics of all things cars, and keeps his vehicles in pristine condition.
In his free time, Jim enjoys getting his hands dirty under the hood of a classic car or taking long drives along the country roads. His favorite car? A 1967 Shelby GT500, a true classic that, according to Jim, "represents the pure essence of American muscle."