Whether you're buying or renting a car for personal use, understanding the economy vs compact car distinction will come in handy.
They are both smaller than your standard sedan and cheaper to maintain. Economy and compact cars have a certain fuel efficiency level you won't usually get from bigger cars and sport utility vehicles, as they often weigh within the 2,600-pound mark.
One thing you'll notice when comparing economy vs. compact cars is that they have a share of differences, which are worth looking into if you plan on buying or renting.
Let's take a look at the essential differences between economy vs. compact cars.
| | | |
| --- | --- | --- |
| FEATURES | COMPACT CAR | ECONOMY CAR |
| Seating Space | Up to 5 adults | Up to 4 adults |
| Luggage Space | 1 Large luggage and 2 medium luggage | 1 medium luggage and small bags |
| Fuel Consumption  | 25 and 30 miles per gallon | 30 – 50 miles for every gallon |
| Road Performance  | Better acceleration due to larger engine | Lower maximum speed due to engine capacity |
| Maintenance costs  | Around $1400* for the first five years at 7,500 miles annually | Around $1,285** on the first five years at 7,500 miles annually |
*Based on the Honda Civic 
** Based on the Mitsubishi Mirage 
As you can see, both cars have their strengths and weaknesses. That's why you can't just dismiss one over the other, deciding which is better in the economy vs. compact cars debate.
1. Seating Space
Seating is a concern for many car users, as it is one of the considerations when choosing a car. If you regularly travel with a small group, compact and economy cars are a good choice, as they provide sufficient seating space. But when comparing economy vs. compact cars with their seating, there are details to remember.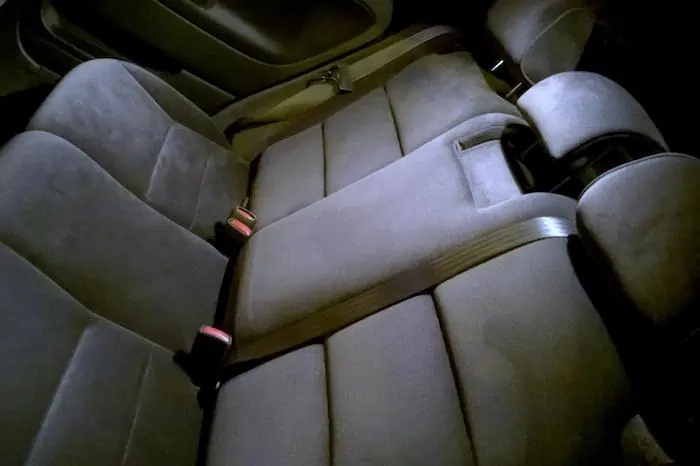 The backseat of a compact car is wider and can seat three adults decently, unlike compact cars that can be tight for the same passenger load. 
With economy cars, you can expect smaller seating space, usually suitable for two adults in the front, including the driver, and up to three children sitting comfortably at the back.
Seating three adults in the back will be tight but can be done.
Meanwhile, compact cars have wider seating, with two adults in front and three adults comfortably in the backseat.
You can also put four children in the backseat with minimal discomfort.
Now, regarding backseats, remember that there are laws that prescribe child restraint systems, such as booster seats for toddlers and children. That will be a factor to consider when choosing which car to get.
Remember that you should use one seatbelt to secure one child in a child restraint system, so keep that in mind.
With that in mind, economy cars give you enough room for up to two child seats, while compact cars give you space for three child seats.
Legroom is another consideration when comparing economy vs. compact cars.
For child passengers, that shouldn't be a problem. But for adult passengers, that is a factor to consider. 
Economy cars don't have much legroom, due to their form factor, unlike compact cars that would have better legroom, depending on the model.
2. Luggage Space
Comparing the luggage space of economy vs. compact cars, economy cars will have smaller cargo spaces than compact cars. You can usually put one medium-sized luggage and a few small bags.
A considerable percentage of economy cars are hatchbacks, which lets you fold the backseat for more space.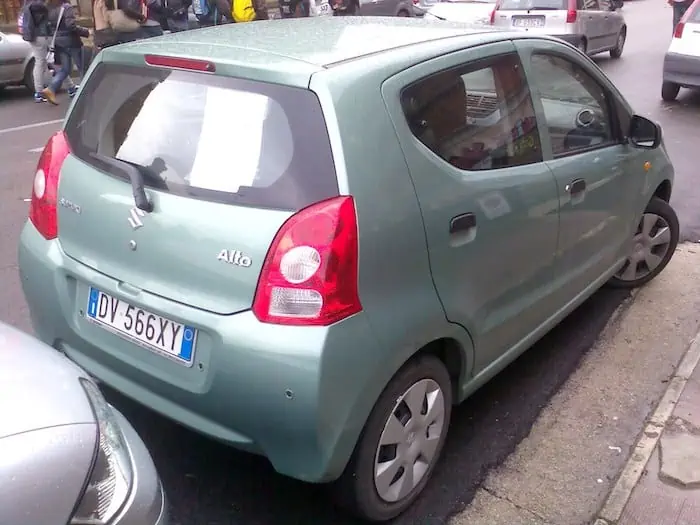 The Suzuki Alto, a popular economy car in Asia and Europe, does not feature much space at the back. You can add more space by folding the backseats and removing the cover that flips with the door.
For compact cars, the trunk space is suitable for one large suitcase and at most two medium-sized luggage. You can expand this more if you use a hatchback compact car.
Sedan compact cars don't get the advantage of that expansion in space, but get the benefit of added space without sacrificing passenger capacity.
3. Fuel Consumption And Capacity
Another factor to consider for economy vs. compact cars is fuel consumption and capacity. Like any other car in the market, fuel consumption matters when buying or renting a car. You wouldn't want something that quickly eats through your fuel budget.
Economy cars tend to give you anywhere from 30 – 50 miles for every gallon, depending on road conditions.
A compact car can consume between 25 and 30 miles per gallon.
As economy cars are smaller and lighter, you get more value for money when using them as a daily driver.
It's also worth noting that compact cars have a larger gas tank, making them ideal for longer trips. And with the broader legroom, your passengers won't complain during long drives.

Fuel economy should always be a consideration when choosing a car. Economy cars have better mileage, while compact cars have larger tank capacities. 
All in all, when it comes to fuel consumption of economy vs. compact cars, the former has a more efficient consumption, while the latter has the edge of a larger fuel tank.
4. Performance on the Road
Road performance is another consideration to look at when comparing economy vs. compact cars. 
Economy cars are best used for city driving and short trips. Often, the top speed is low, and some motorists say the acceleration is average, which can be a problem on freeways.
This weakness is attributed to the low-powered engines used on these cars. Likewise, their handling isn't that ideal for long drives.
Compact cars have more powerful engines that give them better acceleration, making them also ideal for long trips.
Handling is much better on compact cars, as their mass provides balance when navigating curves during long drives.
Maneuverability for economy vs. compact cars, however, will find the former at an advantage.
Due to the smaller form, economy cars will have no problem going through more narrow roads and alleys in the city.
You can even squeeze in easily when parallel parking in tight spaces.
 Compact cars don't get this advantage due to the larger and longer form factor.

One of the notable advantages of economy cars is the ease of parking. You can easily do parallel parking, unlike other four-wheeled vehicles. Compact cars, meanwhile, have a few extra inches of length, which can be a problem when parking. 
5. Price, Including After-Sales Maintenance
Like any other acquisition, price plays a factor in choosing between economy vs. compact cars. Economy cars tend to be cheaper than compact cars, considering the features you get. When it comes to daily fuel consumption, you still get more value for your money.
Compact cars cost more, and fuel consumption is higher than economy cars. But that does not mean you don't get value for your money with a compact car.
Remember that the extra amount you pay provides better features, such as a more powerful engine, larger cargo space, and more comfortable seating.
And, like any other machine, you also need to factor in the maintenance costs of your car. Now, maintenance costs vary for each shop and car.
A change-oil might cost the same for both cars, but there are other considerations in maintenance, such as battery replacement and brake pad replacement, among others.
But there are other aspects of maintenance that can spell a difference. Let's look at the Mitsubishi Mirage, an economy car, and the Honda Civic, a compact sedan.
You can expect to spend around $1,285 on the Mitsubishi Mirage in the first five years. In its fight year, there's a 7.3 percent probability that it will undergo major repair.
The Honda Civic's projected maintenance cost of $1,400 in the first five years. The likelihood of major repair is pegged at 7.6 percent.

Car tires are one of the things that need replacement in a car, usually every five years. Economy cars use smaller tires, which are cheaper. 
Now, if you're only looking to rent a car, you don't have to deal with maintenance directly unless some major damage occurs. And usually, the cost of maintenance of these cars is tucked into the fees you pay when renting a car.
Economy cars still come out as the better choice for the price compared to compact cars.
Compact cars give you more features for a higher cost but also have higher maintenance fees.
All in all, regarding what you get for every penny spent on economy vs. compact cars, both cars ensure that your money is well-spent. 
Notable Economy Cars
Mitsubishi Mirage

File:Mitsubishi Space Star (2019) Auto Zuerich 2021 IMG 0244.jpg by Alexander Migl / CC BY-SA 4.0
The Mitsubishi Space Star is one of the variants of the Mirage, which was released in Portugal. 
The Mitsubishi Mirage is a popular choice for economy cars, considering their price and fuel efficiency. You won't have trouble navigating narrow streets as they are small hatchbacks.
The Mitsubishi Mirage provides value for money thanks to its fuel efficiency, which gives you 43 miles per gallon. 
Loaded with a 1.2 L engine, the Mitsubishi Mirage has enough power to accelerate on open roads, making it also ideal for long drives.
Handling is quite decent, considering its size.
Considering the cost of the vehicle, the Mirage provides value for money for the space you get, fuel efficiency, and power.
Suzuki Alto

File:Suzuki ALTO HYBRID X (front).jpg by Tokumeigakarinoaoshima / CC BY-SA 4.0
The Suzuki Alto Hybrid is a mild-hybrid economy car that lets you switch to electric mode once a certain speed has been met. 
The Suzuki Alto is known in its home country, Japan, as a Kei car, a type of automobile designed to be cheap and ramp up the car industry of the country post World War II. Because of its size, the Suzuki Alto is one of the best representations of the Kei car or economy vehicle.
One notable feature of the Suzuki Alto is that it comes with a mild-hybrid version and does away with the manual transmission in favor of the CVT system.
Both variants of the Suzuki Alto use 0.66 L engines and can go as far as 52 miles per gallon.
Due to its size, the Suzuki Alto shines with its ease of parking due to its length and width. 
If you are looking at trying out an economy car, the Suzuki Alto proves itself as a good option, especially with the mild-hybrid variant.
Fiat Panda

File:Fiat Panda in Mechelen NL.jpg by Charles01 / CC BY-SA 4.0
The Fiat Panda has many variants and is a popular choice in European countries. 
The Fiat Panda is a line of economy cars with many variants. Each model varies based on its design and purpose.
The engine varies per variant and fuel type, with displacements that range from 0.9 to 1.2 L. 
Fuel consumption varies depending on the model but can range from 40 – 50 miles per gallon. 
The Fiat Panda offers diesel, unleaded, and liquified petroleum gasoline variants (LPG). 
This car also has a 4×4 variant, which can take on rugged terrains without sacrificing its small form. 
For those who want more options within a brand and model, the Fiat Panda is worth looking into.
Notable Compact Cars
Honda Civic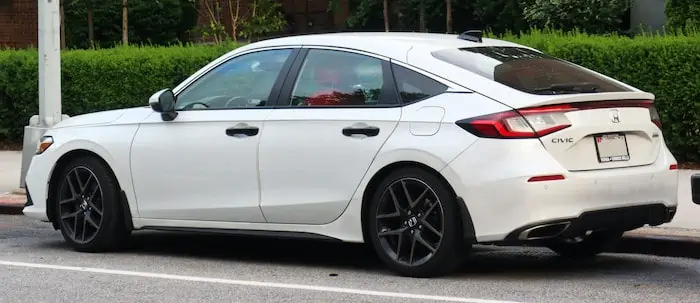 File:2022 Honda Civic Sport Touring liftback, rear 6.18.22.jpg by Kevauto / CC BY-SA 4.0
The Honda Civic is a popular choice, thanks to its sporty looks that can turn heads. 
The Honda Civic is perhaps one of today's most successful compact car lines. Already on its eleventh version, the Honda Civic continues to evolve and cater to the tastes of different car users worldwide.
The Honda Civic has different variants, such as the lift-back, which subscribes more to those who prefer a sporty look, and a traditional sedan that reeks of formality and elegance.
Most Honda Civic variants, including their hybrid variant, use a 1.5 L engine. You can go as far as 40 miles per gallon.
The hybrid variant, Civic e:HEV, is available in Japan, Thailand, and select European countries.
You can't go wrong with the Honda Civic if you're looking for premium looks in a compact car package.
Hyundai Elantra

File:00 Hyundai Avante (CN7).jpg by Benespit / CC BY-SA 4.0
The Hyundai Elantra, one of the long-running car models in the market, also goes by the name Avante in some countries. Elantra is used in countries where the Audi Avant is also sold. 
For those looking for a slightly cheaper alternative to the Honda Civic, the Hyundai Elantra is a strong contender for that title.
The Elantra comes in different versions, with engine capacity that ranges from 1.5 L to 2 L.
If you're looking for fuel economy, the Elantra can go as far as 43 miles per gallon, which is at par with the Mitsubishi Mirage economy car.
Like the Civic, the Elantra has a hybrid version and an LPG-fuel model, which gives you more options.
The Elantra is indeed elegance at a more affordable price.
Kia Forte

File:2019 Kia Forte S front 3.20.19.jpg by Kevauto / CC BY-SA 4.0
The Kia Forte brand might not be as old as other established compact car brands, but it remains a formidable car in its niche. 
The Kia Forte is a younger breed of compact sedans, having been in the market since 2008. It's a popular model on different continents and was brought to the United States only in 2017.
The Kia Forte has different engine capacities ranging from 1.5 to 2 liters. The Kia Forte can also go as far as 41 miles per gallon. 
There are two variants for the Kia Forte: a four-door sedan and a five-door hatchback. But make no mistake about the hatchback variant, as it offers good cargo space, unlike economy cars.
Aside from having a hybrid variant, the Kia Forte also offers a diesel engine-loaded model. 
The Kia Forte makes a reasonable budget compact car, and its variants can cover different needs.
Final Thoughts
When comparing economy vs. compact cars, both have their strengths and weaknesses. Considering these differences, you can't say one is better than the other. So which one should you get?
A compact car is better if you see yourself carrying more or driving adults frequently. That is the way to go for those also seeking comfort regarding legroom.
If you only see yourself moving within the city and space is a luxury, an economy car makes more sense to have, whether buying or renting one. If your budget is tight, and you don't see yourself carrying a lot daily, then you can't go wrong in this direction.

At the end of the day, the better option is the one that meets your budget and will help you get from point A to point B without any inconveniences.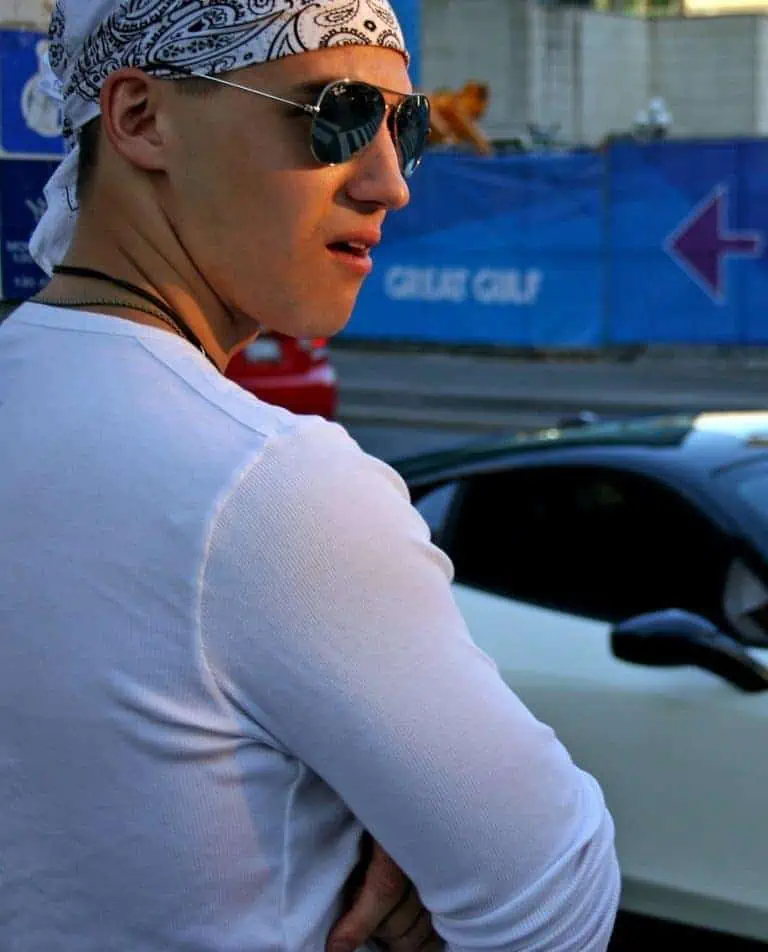 Jim Wicks is the founder of MotorVehicleHQ. With over two decades of experience in the automotive industry and a degree in Automotive Technology, Jim is a certified car expert who has worked in various roles ranging from a mechanic, car dealership manager, to a racing car driver. He has owned more than 20 cars over the past 15 years. Ask him about any vehicle you see on the road and he can tell you the make, model and year. He loves the aesthetics of all things cars, and keeps his vehicles in pristine condition.
In his free time, Jim enjoys getting his hands dirty under the hood of a classic car or taking long drives along the country roads. His favorite car? A 1967 Shelby GT500, a true classic that, according to Jim, "represents the pure essence of American muscle."