Have you found yourself wandering around a parking lot trying to figure out where you parked your car? Or do you wish you could keep a closer eye on your kids when they're out with the family car? All of these can be quickly done by tracking the car with a GPS using your phone.
The Global Positioning System, or GPS, is powered by a global radio navigation system made up of at least 24 operational satellites that continually orbit Earth. Tracking your car with GPS can help provide real-time or historic navigation data regardless of the distance your vehicle has covered.
Being able to use your phone to track your car from anywhere and at any time gives you a greater sense of security and control. The data can be utilized in various ways, including to report information such as speed, direction, idle time, diagnostics and breadcrumb trails of where your car has traveled.
There are many car tracking options available for you to choose from, and you don't even need to purchase any high-end smartphone or equipment. Provided that it has GPS functionality and good cellular network coverage, then it should work fine. Plus, you can get all the features and capabilities you need free of charge.
In this article, we will guide you on how to track a car using your phone. Below are some of the common options you can use:
Google Maps
Google Maps is a common feature of both Android and iPhone devices. A lot of people only use Google Maps to go from point A to point B without checking to see what other features are contained in it. Did you know you can use Google Maps to mark your parking spot? This feature is convenient and will save you from wandering around parking lots looking for where you parked your car.
The steps to activate this feature depend on what type of device you are using. For an Android device, simply tap the blue pin where it shows your current location. Before leaving your parking spot, tap on the bottom and select More Info. Enter details about the location in the note provided and add photos if you want to find the car based on your surroundings. You can also select an option to add time left if you are parked at a meter.
For an iPhone, you only need to tap on the blue pin to reveal your location and set the parking spot. It is pretty straightforward, and if you swipe it, you can add more details about the location.
Whether using an Android or an iPhone device, you can easily navigate the parking spot whenever you are ready. However, this feature is only helpful for finding a parked car and doesn't do much to track a car when it is in someone else's control.
Native Android Features

Most Android devices, especially those released after 2014, come with a unique built-in feature called Find My Device. This feature was formerly known as Find My Android until it was renamed. It is one of the few best options for those looking for how to track a car using an Android device.
If you are using a device that runs Android 4.0 Ice Cream Sandwich or later, you should be able to install the Find My Device app. That means roughly over 99% of active Android devices — over 2.5 billion devices worldwide — are eligible to install the Find My Device app.
Find My Device easily enables you remotely track, lock, and erase the data on a lost or stolen phone. It is an innovative tool that can also help you track your car or that of your loved one. However, you will need to have a dedicated phone safely hidden somewhere in your car for that sole purpose.
The service works by pinging the tracked phone's device so that you can retrieve the location. The device's location will be displayed on the Google web interface, so you can see where the device is at every point in time. To access these features on your device, you must set up a Google account.
Find My Device should be installed out of the box on your android device, but you can manually download it from the Play Store. After downloading and installing it, proceed to activate it on your device by taking the following steps:
Tap on "Lock Screen and Security"
Find the option for "Other Security Settings."
Select "Device Admin Apps"
Select Find My Device – Activate – Close.
After installation, you will need to go through your Google account to be able to sign in to Find My Device. If you're signed in to more than one account on your phone, you will see a drop-down menu where you can select which account you would like to associate with your phone.
Open Find My Device from your home screen or app drawer.
Select the Google account you want to use the service with.
Hit the Continue as button.
Enter your Google account password.
Tap Sign in.
Give location access to the service.
Once you're signed in to Find My Device, a map showing your current location as well as the make and model of your phone will be on display. There is also a menu highlighting two options for you to pick from  — Play Sound and Enable Lock & Erase. Selecting Enable Lock & Erase allows you to start using the function.
If you've signed into more than one phone, you can select any of the devices you want by surfing through the list at the top of the screen.
Open Find My Device from your home screen or app drawer.
Select your phone from the list of devices at the top of the screen.
See if your phone is discoverable.
If you're not able to find your phone or if it says that the device is unavailable, there's a good chance that the location services are disabled. Find My Device relies on GPS to track your phone, so it is best to enable location services before hiding the tracked phone in your car.
Open Settings from your home screen or app drawer.
Tap Location.
Toggle Enable location services.
You can also access the Find My Device dashboard from your web browser by signing in through your Google account. If you want to see the device's location in real-time, simply connect the device to the system.
Alternatively, you can try locating the phone remotely through the Find My Device website. First, you will need to sign in to the Google account that you initially used to set up Find My Device. It only takes a few seconds, but the service should be able to track your phone. Another option is to do a Google search for "find my phone" to locate your device.
Go to the Find My Device website.
Sign in to your Google account.
Check if your device is visible.
The most exciting thing about Find My Device is that it is easily accessible. If you need to locate your phone, simply go to the Find My Device website or log in to the service from another phone.
Once you've signed in to the website and located your phone, you can use the Play Sound option, which plays a loud continuous tone on your phone at full volume for five minutes even if the ringer was turned off. As soon as you've successfully found your phone, you can hit the power button to stop the ringing.
Locate your phone on Find My Device.
Tap Play Sound.
Your device will start ringing. You can hit the power button to stop the sound.
Apple Maps
Apple Maps is only available on iOS devices and was originally launched in 2012 (iOS 6). You can use the information button to switch between Transit, Map, Satellite views, and even turn on/off the traffic.
If you would like to locate your car, you can simply go to Apple Maps and activate tracking functions to start using it. This feature is beneficial for situations like when you aren't sure where you've parked your vehicle.
To use this feature, simply follow the steps outlined below:
On your iPhone Menu
Navigate to Settings – Privacy – Location Services
Turn on Location Services
Navigate to Settings – Maps
Switch on Show Parked Location
Drop a pin on the map to set your parking spot when you step out of your car. Once you're ready to find your car, simply enter the app and get directions to the pin. Note that you can only use this feature for finding parked cars, and it doesn't do much to track a car when it is in someone else's control.
Apple Maps also has full Siri integration where you can use the voice command to ask Apple's personal assistant for directions. It synchronizes with your region's day/night cycle and displays a "Light" mode during the daytime and a "Dark" mode at night. It also has an absolutely stunning 3D Flyover view which combines satellite imagery with 3D models to create a truly impressive view of major cities.
Find My Car – GPS Navigation
This is another handy app that is available for Android users. Find My Car is designed solely for helping you remember where you parked your car. All you simply need to do is save your  location with a GPS.
Find My Car allows you to leave a note of any landmarks in the area about your car's current location, so it'll be easier to find later. To use the app, tap on the Park button and make a note or take a photo of the current location.
When you want to find your parked car again, just open the app and click on Find My Car. The GPS Navigation will provide you with step by step walking directions to steer you into the parking spot.
Prey
Prey is another handy application that is very similar to Find My Device. The interesting thing about this security app is that it is not tied to a single device which means it can be used across multiple devices. It is an easy-to-use application that is compatible with Android, iPhone, Mac, Windows and Linux platforms.
You can practically use it to track any device you want. It is designed to serve as an anti-loss and anti-theft app, and it serves its purpose beautifully. It also has a web interface where you can log into the app from any computer and use it to track your car.
Built-in GPS Tracker
Most modern cars have built-in GPS tracking as part of their suite of connectivity features. They usually give a free year or more of service with the purchase of a new vehicle. You can also buy a dedicated GPS tracker and install it inside your car. GPS trackers are small, portable devices that allow you to monitor and locate your car when needed. They can also provide insights for instant location, speed, and direction data.
If you have a built-in GPS tracker, simply sign up and open the app on your phone. All GPS trackers receive the same data from a network of satellites in the sky. They find the car's location and then communicate the data using the cellular network to a smartphone application.
Car brands with built-in GPS tracking available:
FordPass – Ford
Uconnect – Dodge, Ram, Chrysler, Jeep
HondaLink – Honda
NissanConnect – Nissan
OnStar – Cadillac, Buick, GMC, Chevrolet
Mbrace – Mercedes
Safety Connect – Toyota
Enform – Lexus
BMW Assist – BMW
Lexus – Enform
Lincoln – Lincoln Connect
If you don't have a built-in tracker and want to install a dedicated GPS tracker instead, you can install it under floor mats or seats, in the rear or front bumper, in the wheel wells outside the vehicle, or the glove compartment or dash.
Conclusion
GPS isn't just for finding your own location, it can be used for car tracking as well. Knowing how to track a car with GPS using your phone is an important skill that can be very useful in emergency situations. Whether you want to track one vehicle, or an entire fleet, you can track your vehicle's locations in seconds and keep track of their movement in realtime from your personal smartphone, computer, or tablet.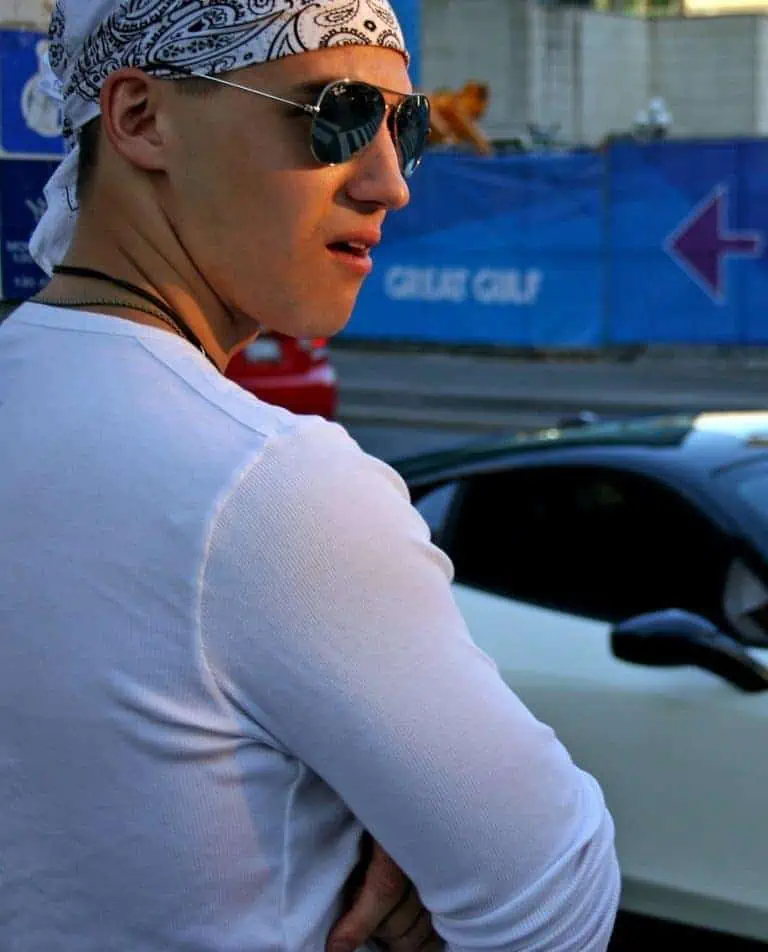 Jim Wicks is the founder of MotorVehicleHQ. With over two decades of experience in the automotive industry and a degree in Automotive Technology, Jim is a certified car expert who has worked in various roles ranging from a mechanic, car dealership manager, to a racing car driver. He has owned more than 20 cars over the past 15 years. Ask him about any vehicle you see on the road and he can tell you the make, model and year. He loves the aesthetics of all things cars, and keeps his vehicles in pristine condition.
In his free time, Jim enjoys getting his hands dirty under the hood of a classic car or taking long drives along the country roads. His favorite car? A 1967 Shelby GT500, a true classic that, according to Jim, "represents the pure essence of American muscle."