Many commentators on the internet would love to detest Kia. Any appreciation given to the Korean brand in an online forum or comment section would be immediately dismissed as propaganda. Why? Because Kia made subpar cars at one point a few years ago, and the Kia reliability was mired in the muck.
Since this hasn't been the case in more than a decade, the momentum has turned in the other direction.
It has not been easy for Kia to enter the US market or other major markets across the world. The company's original lineup for America was stacked with subpar automobiles.
Apart from being inexpensive, the cars did little to draw notice from the general people. Company management realized they needed to increase the bar for brand excellence when faced with a reputation that urgently needed to improve.
The Korean manufacturer has invested billions of dollars in the design, development, and production of its cars to capture the brand. Since then, this has developed into a respectable rival to the reliability monarchs Toyota and Honda.
No matter how much Kia automobiles advance, though, it is challenging to persuade consumers to disregard Kia's reliability. This does not imply that there aren't any issues; like with every significant automobile manufacturer, there are a number of them.
So let's attempt to refute the rumor and conjecture regarding Kia's lack of dependability. You'll know what to look for and can go into your next car search with confidence after reading this.
Is Kia a Reliable Car?
As the Korean carmaker Hyundai's sister firm, Kia provides a competitive alternative with cheap entry and operational costs.
The Kia Sportage SUV is the brand's best-selling vehicle. It offers one of the most affordable starting prices for a family-friendly SUV. Due to this, vehicles like the Jeep Renegade and Toyota RAV4 compete with one another.
The Rio, a smaller vehicle for individuals seeking something understated and comfy, is one of the other popular Kia vehicles. The Kia Niro and Kia Soul are available when you raise the chain a little bit. Electric and hybrid vehicles are also available on the market.
Kia has gone a long way since the brand's inception in the early 2000s. It has developed numerous crucial technologies. with a wide range of new safety enhancements, enhanced performance across the board, and variety. One of the cheapest and family-friendly car brands available is Kia.

2019 Kia Optima by Vauxford / CC BY-SA 4.0. Over the years, the popular Kia Optima sedan has undergone several modifications, and for good reason.
What are the Reliability Ratings for Kia?
Reliability is undoubtedly one of the criteria that should be at the top of your list when considering a used Kia purchase.
In a recent Consumer Reports publication, Kia was listed as the 15th best car brand out of 26 well-known brands. It has a 45 dependability rating.
With scores of 83 and 74, respectively, Mazda and Toyota had the greatest rating in comparison. Lincoln ranks last with a score of 8, and Tesla is second-to-last with a score of 29.
Audi, which received a score of 46, along with Chevrolet and Volvo are among the vehicles that came in just a few points below the Kia.
Another element is the typical cost of repairs. Kia vehicle repair costs are higher than normal each year. The Kia Rio's price falls from $434 to $533, while the Kia Sorento's is $533.
Although purchasing a used Kia has a minimum initial investment, it is important to consider the potential cost of maintenance.
How Is the Reliability of Kia Evaluated?
When rating a car model's reliability, a variety of aspects are taken into account. These consist of:
Position in the industry: This is the automotive industry's brand reputation.
The coverage: Depending on the extended warranty policies that are offered. This covers the conditions of the policy and any additional advantages, such as roadside help.
The cost: Companies that provide more affordable coverage typically receive a higher rating.
Criticism response: Professional auto critics' viewpoints also play a role.
Customer support: Customer evaluations, answers, and help ratings are used to determine this.
Why Does Kia Rate So High In Reliability?
Significant advancements achieved by Kia in recent years have helped to restore its reputation. The Kia model is now regarded as a trustworthy and useful family vehicle.
Despite not being known for luxury, the brand has advanced significantly in terms of dependability. The lengthy warranty duration is one of Kia's best qualities. The majority of Kia vehicles come with a five-year basic warranty and a ten-year powertrain warranty.
Kia outperforms the industry standard in this area, which is a three-year or five-year warranty. Owners of Kias have reported extremely few mechanical problems during the first three years of ownership, earning the brand a 4.0 out of 5.0 rating on RepairPal.
According to reports, a well-maintained car should have a trouble-free operation for up to ten years.
What Models of Kia are the Most Reliable?
Each of the Kia models has been something we've watched with curiosity. We have also had some mixed experiences with earlier Kia models. The 10 years' worth of the most dependable Kia cars is shown below.
1. Optima – Kia
The well-loved Kia Optima sedan has seen several improvements over the years, and for good cause.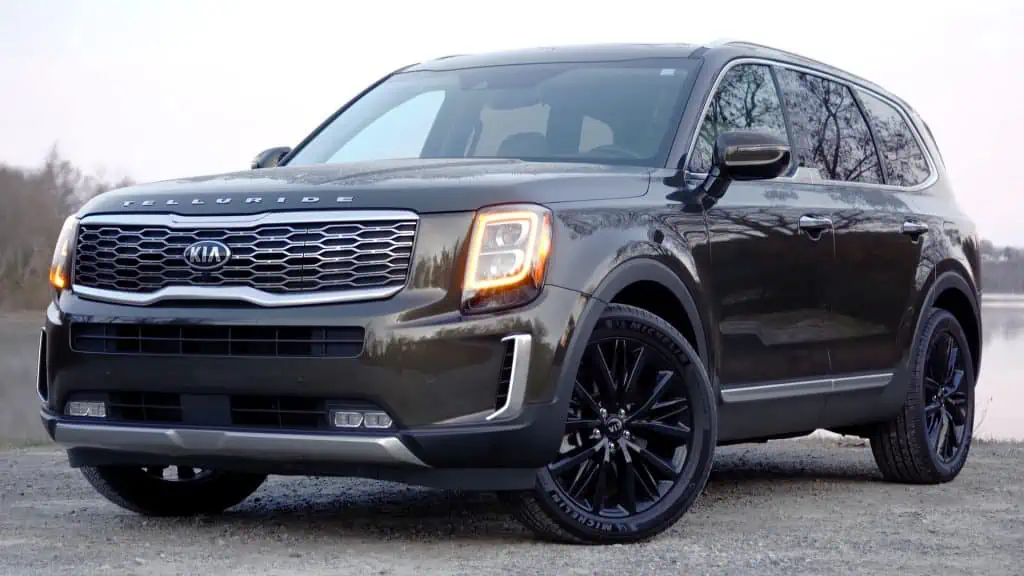 2020 Kia Telluride by Gold Pony / CC BY 3.0. Despite the Kia Telluride's recent arrival on the market, it is already considered one of the best SUVs available, if not the new benchmark for all SUVs, according to customer reviews and accolades.
When it first appeared on the scene at the turn of the millennium, many people thought its performance, design, safety, and reliability made it boring and threatening.
However, after the Optima's initial issues, Kia swiftly bounced back and has since improved the vehicle to rank among the most dependable choices available from the Korean manufacturer.
Nevertheless, we advise avoiding the first and second generations. If you treat your existing third, fourth, and fifth-generation Optimas with care, they will serve you well for many years.
2. Telluride – Kia
The Kia Telluride may be a newcomer to the market, but based on user reviews and acclaim, it is already regarded as one of the greatest SUVs available, if not the new standard for all SUVs.
The Telluride is maybe the best vehicle Kia has ever made thanks to its roomy seats, straightforward, powerful engine, and the culmination of decades of quality development.
In addition, the Telluride comes with a 10-year or 100,000-mile drivetrain guarantee in addition to the brand's standard 5-year or 60,000-mile warranty.
3. Sportage – Kia
The Sportage was Kia's SUV before the Telluride. However, it experienced a gloomy beginning, just like the Optima.
The original Sportage ended up in the scrap vehicle pile due to low quality, shoddy assembly, and numerous mechanical problems. Thankfully, Kia quickly initiated a review to improve this vehicle.
The last three generations of the Kia Sportage are among the most dependable SUVs the company has to offer, in addition to being inexpensive, simple to maintain, and inexpensive to repair.
The 2018 Kia Sportage has a great base 5-year or 60,000-mile brand guarantee as well as a 10-year or 100,000-mile drivetrain warranty, just like the Telluride.
4. Stinger – Kia
The mid-size Kia Stinger, which made its debut in 2017, was motivated by the Kia GT Concept. The 2.0-liter inline-four engine found in the Stinger's base model is one of two engine options available, but the 3.3-liter twin-turbo V6 with an 8-speed automated transmission and 365 horsepower is the one we advise getting.
Technically speaking, Kia advertises the 2021 Stinger as having greater power than the BMW 440i Gran Coupe, Porsche Panamera RWD V5, and Audi SS Sportback in the same modest premium class as the Mercedes-Benz C-Class and BMW 3-Series.
The 5-seater has a leather interior, Brembo brakes, and 19-inch wheels, all of which are noteworthy and are said to be inspired by the Coca-Cola bottle. The 2018 Stinger was purchased by well-known car critic Doug DeMuro, who rated it as the best Kia ever produced.
5. Forte – Kia
The Kia Forte is a fantastic option to take into consideration if you're looking for a small car with exceptional fuel efficiency. chosen as the most affordable compact car for 2021. It has a turbocharged engine and a standard 7-speed dual-clutch automatic transmission.
Forte has made some significant advancements since 2009 throughout time. Given that it offers many of Kia's top features, the base trim Kia Forte FE starts at $17,790, which is still a reasonable price.
This features a 5-person cabin with 10-way adjustable front seats, a touchscreen, lane departure warning, a smart trunk, and up to 41 mpg on the interstate. We also advise anyone interested in buying a Kia to consider this other Kia brand.

2021 Kia Sportage by Alexander Migl / CC BY-SA 4.0. Before the Telluride, Kia's SUV was the Sportage. It had a dark beginning, nevertheless, just like the Optima.
6. K5 – Kia
Kia has created something genuinely incredible for 2021. The gorgeous all-new Kia K5 has taken the place of the antiquated and aging Kia Optima.
The model name change is a blatant sign that Kia wants to fully depart from the previous Optima and provide something unique to the automotive industry.
Just now, the new K5 accomplished that. Its interior is stunning and includes a 10.25-inch touch-screen infotainment system that can be customized as well as several technological and comfort amenities.
The design is the other significant (and possibly most noticeable) upgrade. Perhaps the most notable midsize automobile to cross the Pacific is the K5. Amazingly, the 2017 Kia K5's basic price of $23,690 makes all of this possible.
7. Rio – Kia
The Kia Rio is a chic subcompact SUV and one of the least expensive vehicles that Kia offers. It also boasts admirable fuel efficiency.
This vehicle's front-wheel drive, 120 horsepower engine, and pleasant ride make it a good choice.
8. Soul – Kia
A highly regarded subcompact SUV with lots of cargo room and user-friendly electronics is the Kia Soul.
Although it is not the greatest Kia has to offer, it boasts standard safety features. However, the Soul takes great pleasure in its strong reliability ratings. In comparison to other vehicles in its class, this model also offers a generous warranty period.
9. Niro – Kia
The Kia Niro's key benefit is its fuel efficiency. All models give remarkable miles per gallon and include hybrid and all-electric variations.
All-wheel drive isn't an option for the Niro. Therefore, the Kia Niro is not the ideal option for you if you live in a rural area.
However, this model has a 10-year powertrain guarantee in addition to a five-year limited brand warranty and very robust safety measures.
10. Sorento – Kia
The Kia Sorento is renowned for its sophisticated interior, cutting-edge technology, extensive warranty period, and superior fuel efficiency.
The Sorento has a big interior and is competitively priced for a midsize SUV. It is available in front-wheel drive and all-wheel drive.
Common Kia Repair Costs and Repair Problems
However, not every Kia car is faultless. Here is a list of common Kia problems and their associated prices so you can choose your next car wisely.
1. Faulty Alternator In a Kia Sedona
Sedona has accumulated 353 complaints between the NHTSA and CarComplaints. The majority of them center on the vehicle's electrical system, with emphasis on the alternator in particular.
Numerous complaints claim that the car's alternator has a history of frying itself, and fixing it isn't cheap. The most commonly impacted model years are 2006, 2012, and 2015.
2021 Kia Stinger by Alexander Migl / CC BY-SA 4.0. The 2017 launch of the mid-size Kia Stinger was inspired by the Kia GT Concept.
Complaint by a Customer
One complaint stated, "The alternator broke after the warranty expired two weeks ago." At a Kia dealership close to my place of employment, the alternator and belt were changed for $600. Okay, I paid for the truck and had it fixed because I needed it. The story does not, however, end there. 100 mile later, the truck malfunctioned once more. To get my car to a neighboring Kia dealer, I had to call a tow truck.
Costs of Repair
An estimated $600 will be spent on the replacement alternator and labor.
2. Catastrophic Engine Failure In the Kia Sorento
Although having your engine go boom is not nice, the 2011 and 2012 Kia Sorentos experienced this problem. According to several sources, several complaints, and a recall, Kia's GDi engine is at fault.
Several parts connected to the engine failures have since been recalled by Kia, however not all the affected vehicles have been fixed.
Complaint by a Customer
One client reports experiencing engine trouble while driving down the road. "Driving to work on the same route bumpy road yesterday, thought something flew into a fan or something due to a rattle noise starting after hitting a bump," the client adds. After a few seconds, the knocking and noise increased in volume. There were no ongoing caution lights.
The vehicle fully seized and failed in a matter of seconds as I parked in a turning lane. Smoke poured out of the hood when I opened it. Smoke was coming out of the dipstick hole when the dipstick was checked. The oil had a cooked appearance. The coolant worked as expected. The tow truck and repair shop announced, "Complete engine failure."
The person went on to say, "Had to call the boss and miss a little bit of work trying to get another vehicle to get back to work." The vehicle has always had synthetic oil changes, and everything has been finished on schedule. I was targeting the recall in 2017, and everything went smoothly.
I don't know when my car will be fixed because the engines are back-ordered (according to other complaints, this back-order appears to have been an issue since at least early 2018). This could have been fatal if I had been driving on the highway.
Costs of Repair
Even though the faulty parts should be covered by the recall, many Kia owners stated that replacing the Sorento engines costs more than $5,000.
3. Knocking Engine In a Kia Forte
Engine knock is the most persistent problem on this list, having been recorded in Kia Forte models from 2010 to 2017. Customers who suffered engine bangs have filed more than 100 complaints with the NHTSA, with ignition coils being the most frequently cited culprit.
Complaint by a Customer
One client described the extent of the issue by saying, "This is the third ignition coil being replaced due to issues, for a total of five replacements." The other two were still generating issues despite being replaced as part of a recall.
Costs of Repair
The cost to fix the engine knock, according to Kia Fortes' owners, will be between $2,500 and $4,500.
Which are the Common Kia Vehicle Problems?
Although the Korean manufacturer has recently dominated the market with a blend of high quality and reasonable pricing, owning a Kia isn't always rosy and pretty.
With the development of dependable automobiles of all kinds throughout the years, Kia has established a solid name for itself. There is something for everyone thanks to the wide range of Kia models that are currently offered. With some of the top-rated cars in each of their respective sectors, Kia has you covered whether you're looking for gas-powered or hybrid vehicles.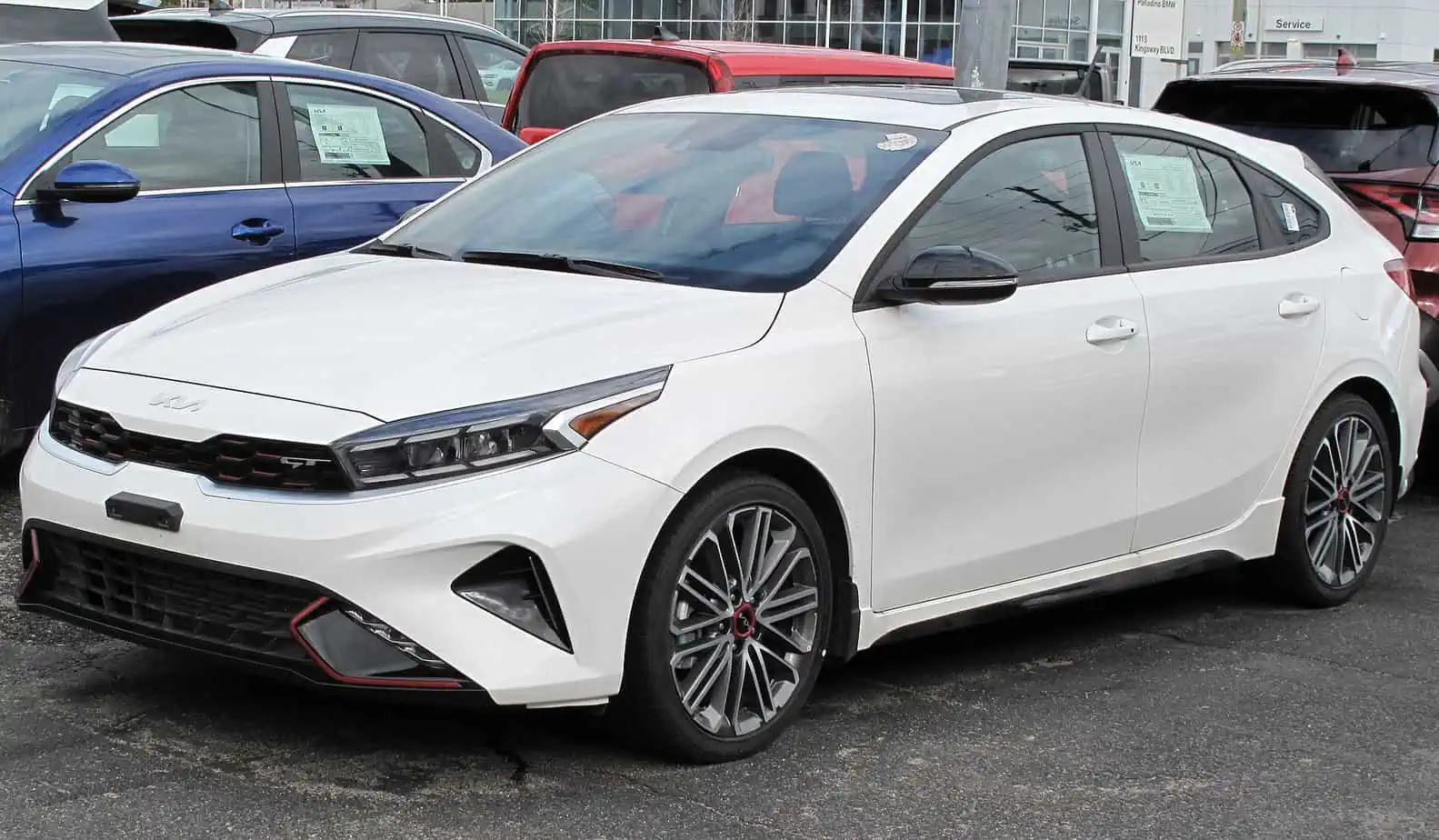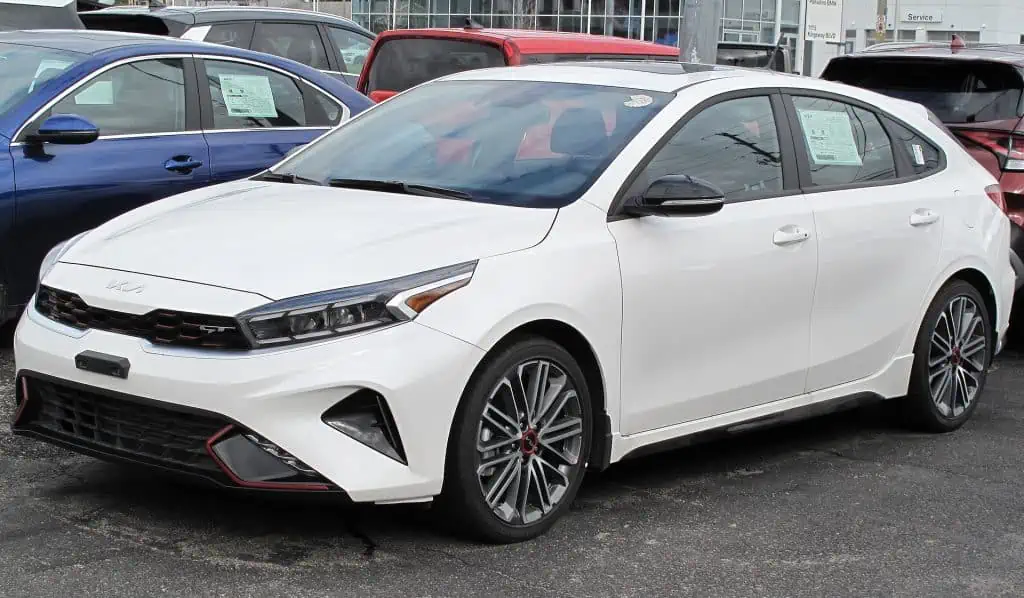 2022 Kia Forte by Elise240SX / CC BY-SA 4.0. If you're searching for a little car with remarkable fuel efficiency, the Kia Forte is a great choice to consider.
There are just as many people who are enthusiastic about the brand as there are those who are dissatisfied with their own experience because the brand has been modeled all over the world. This article is meant to give you a heads-up about what you might encounter if you decide to purchase a Kia automobile.
However, keep in mind that most of these issues aren't unique to Kia, so you might want to give the band some leeway. Following that, here are 8 obvious problems with Kia vehicles that you may not have been made aware of.
1. Steering Issues Affecting Kia Optima, Kia Soul, and Kia Sorento
Nearly 6% of all Kia owner complaints on CarComplaints.com are about steering issues, and the Optima, Sorento, and Soul from 2011 to 2017 are the most often impacted models. The 2013 Optima appears to have additional steering issues; numerous drivers have reported that their steering leans to one side, even when traveling on a straight road and after the car has been aligned.
When twisting the steering wheel to the right or left when operating a 2012 Kia Soul, it's not unusual to hear a clunking sound. As if that weren't bad enough, there are also reports of the Kia Rondo losing power steering, which may put drivers and other road users at grave risk.
2. Transmission Problems Affecting Kia Borrego, Kia Forte, Kia Optima, and Kia Spectra
Everyone can find a Kia, but the drawback of buying a Borrego, Forte, Optima, Sorento, Spectra, Sportage, or any other model you can afford is that you will almost certainly have transmission issues. Owners of Sorentos are likely to have noticed jerking when changing, especially when moving uphill at a speed of roughly 75 mph.
Kia's transmission issues, however, go beyond jerking. A 2019 Kia Forte owner from Delaware claims that, despite having less than 5,000 miles on the odometer, the transmission has already been changed twice. Similar depressing transmission-related experiences are common among Forte owners.
3. Door Lock Failure Affecting Kia Optima and Kia Rio
The majority of Kia owner complaints are related to the interior, but one particular concern that keeps coming up has to do with the door lock. Many Kia car owners, including those of the Rio, Optima, and Sorento, have voiced concerns about this door lock issue.
Georgia-based Kia Optima owner says that the door lock won't open from the inside or the outside. Even though fixing this door problem can seem like a cheap fix, it can be pricey, especially in the case of an accident or emergency.
4. Failed Airbag Affecting Kia Forte, Kia Sedona, and Kia Soul
Failure to deploy airbags may worsen an accident and endanger the lives of any passengers in the vehicle. Due diligence is necessary to guarantee that whatever Kia model you choose doesn't have airbag issues in light of this.
Kia recalled roughly 410,000 of these vehicles for airbag failure, so you might want to stay away from models including the Forte, Koup, Soul, and Sedona manufactured from 2017 to 2019. The airbags' precise issue is a result of soldering joint damage, which results in the airbag light turning on while the airbag does not deploy.
5. Engine Troubles Affecting Kia Forte, Kia K900, Kia Sedona, Kia Sportage, and Kia Soul
You can choose from a choice of potent engine options in Kia cars, but the dependability is in doubt. Up to 35% of all Kia complaints submitted to CarComplaints.com are related to engine issues. The majority of the issues are related to Kia's Sorento, Optima, and Sportage models.
The fact that engine problems frequently occur while a Kia is being driven makes the issue even more concerning. Diane, a 2011 Optima owner, claims that the car's engine failed while traveling at roughly 65 mph, almost killing two persons.

2020 Kia Sorento by Vauxford / CC BY-SA 4.0. The Kia Sorento is well known for its elegant interior, state-of-the-art technology, lengthy warranty duration, and exceptional fuel efficiency.
6. Peeling Paint And Rust Affecting Kia Cadenza, Kia Rio, Kia Sportage, Kia Sorento, and Kia Spectra
Early detection is crucial for your Kia to survive rust, much like it is for cancer. You must be aware of this to prevent rust or to halt its early spread. You may either stay away from rusted-out Kia models like the Cadenza, Rio, Sportage, Sorento, and Spectra or get ready for what's to come.
A poor paint job or prolonged exposure to the sun's UV rays can cause paint to peel. Common paint peeling issues affect Sorentos and Optimas.
7.  Bad Lighting Affecting Kia Forte, Kia Optima, Kia Sorento, and Kia Telluride
Another very affordable issue that could cause an accident is lighting, about which many Kia owners are concerned. Owners of Kia Sorento models complain about their headlights flashing, while Forte and Optima owners gripe about their headlights and taillights being too dark.
Light concerns make up roughly 5% of all Kia owner complaints, according to CarComplaints.com. For headlight issues, Kia recalled more than 3,000 K900 sedans from 2015 to 2016.
8. Brake Problems Affecting Kia Forte, Kia Sorento, Kia Optima, and Kia Sportage
You can't overlook the numerous issues Kia brakes have. Drivers, for one, express dissatisfaction with the 2019 Kia Soul's defective brake pedal. The screeching noise you hear when you stop is another thing that you could find to be very annoying.
A 2014 Kia Sorento owner reported that the noise continued even after changing the four brakes and rotating the rotors. Due to brake fluid leaks, Kia recalled a total of 463,500 2014–2015 Sorento and 2013–2015 Optima vehicles in 2020.
Is a Kia a Good Choice Given How Reliable It Is?
With many of its vehicles sharing Hyundai's foundations, Kia is a significant low-cost brand. But is purchasing a Kia a wise financial move?
Both Hyundai's sister brand Kia and have advanced significantly in recent years. With automobiles that are a little more affordable than many rivals while still attempting to be as appealing, Kia is known for emphasizing value. The seven-year warranty, which is the longest in the business, is Kia's other key selling feature.
The Kia Sportage is a crossover that sells well and is Kia's best-selling model. In addition, it offers several small cars and family vehicles, as well as the larger Sorento SUV.
Kia has made a significant push towards hybrid and electric automobiles to supplement its gasoline and diesel offerings with the hybrid, plug-in hybrid, or fully electric Niro and the electric Kia Soul EV.
What Is the Cost of Kia Cars?
Since Kia is known for its affordability, its cars are typically less expensive than those made by other companies. Similar to competitor Skoda, its prices have gradually increased compared to rivals in recent years, and the price disparity has shrunk.
The Kia Sorento, a substantial seven-seat SUV, costs about $52,400 while the Kia Picanto, the company's lowest-budget vehicle, costs about $14,100.
The entry-level Kia Ceed is the brand's vehicle, and at about $25,500, it is considerably less expensive than the Ford Focus and Volkswagen Golf, whose starting prices are approximately $27,500 and $29,500, respectively.
Starting at roughly $29,500, the well-liked Kia Sportage SUV is considerably less expensive than the Volkswagen Tiguan ($32,200) and Hyundai Tucson ($36,200). Kia frequently has tempting promotions, such as low rates on leasing and personal contract purchases.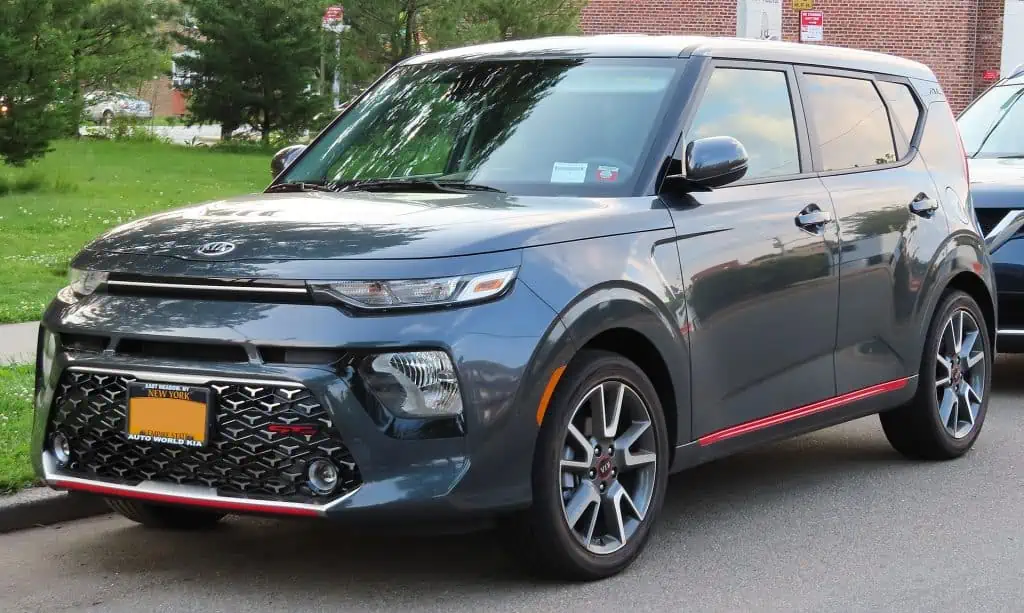 2020 Kia Soul by Kevauto / CC BY-SA 4.0. The Kia Soul is a well-acclaimed subcompact SUV with plenty of cargo space and easy-to-use technologies. It contains common safety features, however, it isn't the best Kia has to offer.
Selecting the Perfect Kia Car
The Forte from Kia is a sensible, feature-rich family vehicle that fulfills all the requirements of many purchasers. If you require a small to medium vehicle, take into consideration the Kia Rio or the Ceed medium hatchback and estate (the latter known as the Kia Ceed SW, short for sportswagon).
For those who like crossover SUV appearance, the Kia XCeed model with greater off-road capability is also an option. The Kia Ceed Sportswagon Plug-in Hybrid and the Kia X-Ceed Plug-in Hybrid are two examples of Ceed cars that are also offered as plug-in hybrids.
As a less expensive alternative to high-end vehicles like the Mercedes-Benz CLA Shooting Brake, the Kia ProCeed is a sleek coupé-style version of the Ceed with a sweeping roofline. Fans of performance vehicles should consider the Kia Ceed GT.
In the well-liked full SUV market, Kia Sportage, Kia Stonic, and Kia Sorento are all readily available. If you want a bigger car but don't want an SUV, the Kia Stinger is a fantastic option.
Kia's Electric Vehicles: The E-Niro and Soul EV
One of Kia's mid-sized SUVs, the Niro, is distinctive in that it is offered as an all-electric, plug-in hybrid, and full hybrid to compete with the Toyota C-HR (as the Kia E-Niro).
Even though the Kia E-Niro costs $44,100, it is still less expensive than many other electric vehicles, which makes it stand out. It might influence customers to choose family transportation with fewer emissions.
The Kia Soul EV, which like the E-Niro has a 280-mile electric driving range, is made for people who desire a stylish vehicle. The entire portfolio of Kia vehicles will offer more plug-in hybrid options.
Do Kia Vehicles Last?
They can accomplish this. Like any other car, truck, or SUV on the road, how well you maintain your vehicle will determine how long it lasts.
Over the past ten years, Kia's reliability has greatly increased, and it currently competes with Toyota and Honda for reliability. It's been reported that newer models can travel well over 200,000 miles.
What Makes Kias Such an Affordable Deal?
The corporate cousins of the corporation, Honda, Toyota, and Hyundai, are now priced similarly to Kias.
They still cost a little less than those, but they don't feel as inexpensive as they did when Kia first debuted. However, because their upkeep is less expensive, consumers stand to gain from them.
The Conclusion
Kia has advanced significantly in terms of dependability since the company's founding, which was about 30 years ago. The automobiles were initially cheap and badly made. Many compared them to GM's hastily constructed low-cost car brand, the new Geo, which became a laughingstock.
These days, Kias are incredibly dependable. For each model, the corporation has spent billions on research, development, and manufacturing, and the results are vehicles that are superior to anything previously produced.
On its journey to become a worldwide auto giant, Kia launched a much more dependable line-up to the market, spanning from sedans and sporty hatchbacks to crossovers and SUVs.
If properly cared for and serviced at the manufacturer's suggested intervals, Kias that were recently manufactured can travel more than 200,000 miles.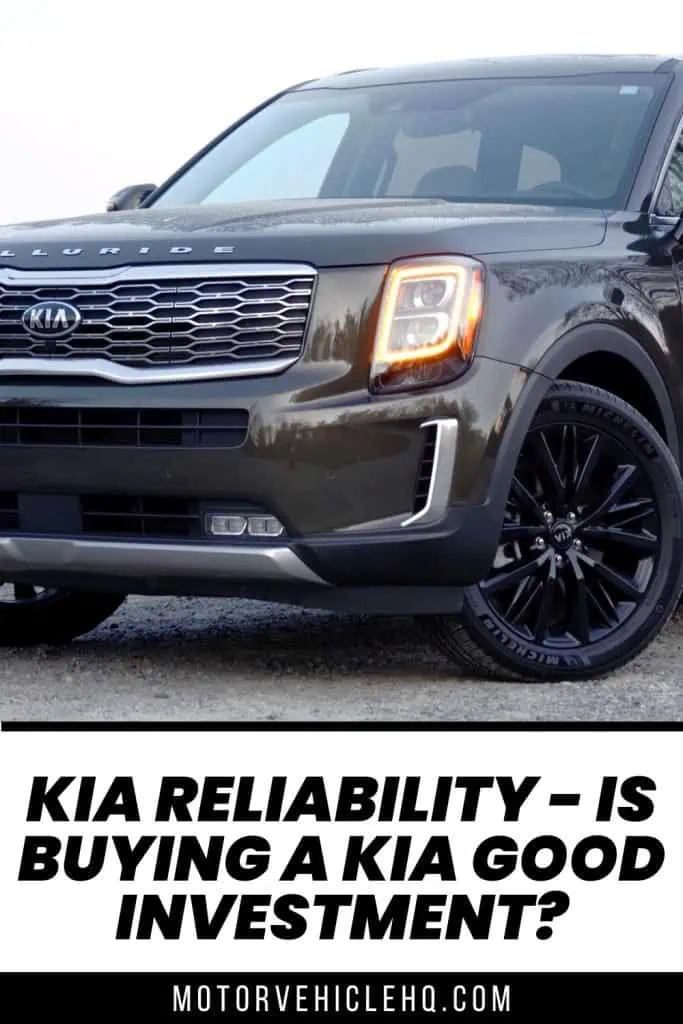 2020 Kia Telluride by Gold Pony / CC BY 3.0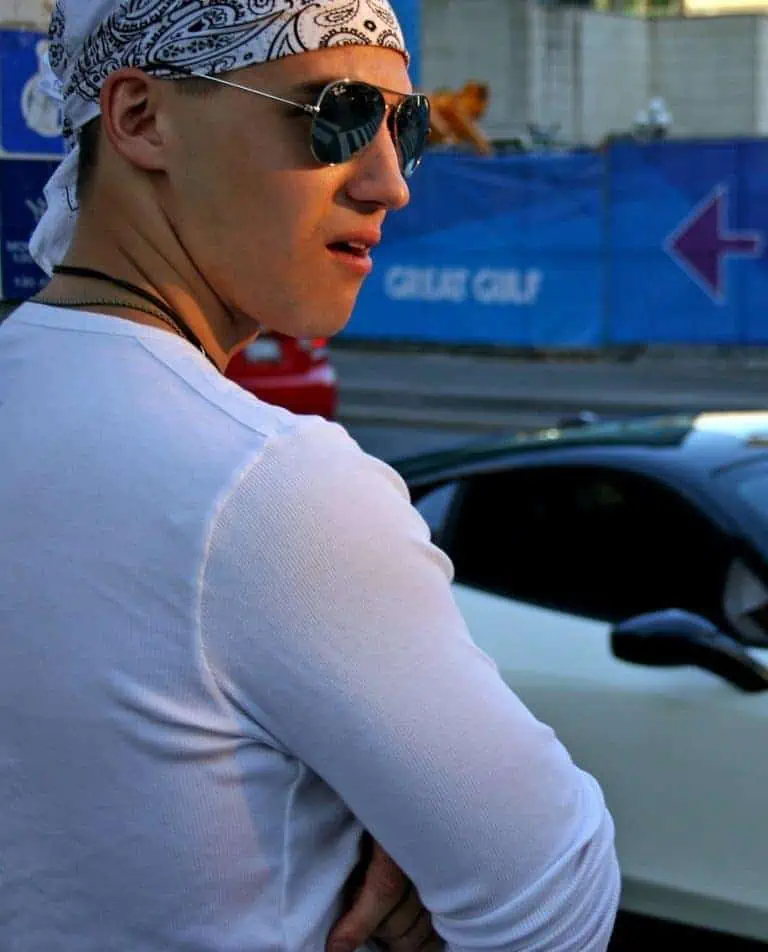 Jim Wicks is the founder of MotorVehicleHQ. With over two decades of experience in the automotive industry and a degree in Automotive Technology, Jim is a certified car expert who has worked in various roles ranging from a mechanic, car dealership manager, to a racing car driver. He has owned more than 20 cars over the past 15 years. Ask him about any vehicle you see on the road and he can tell you the make, model and year. He loves the aesthetics of all things cars, and keeps his vehicles in pristine condition.
In his free time, Jim enjoys getting his hands dirty under the hood of a classic car or taking long drives along the country roads. His favorite car? A 1967 Shelby GT500, a true classic that, according to Jim, "represents the pure essence of American muscle."