Ford's short-lived midsize sedan was known for its dependability, which makes it a desirable used car option. We examine its model years and take into account the top used Fusion cars.
Despite being a teenager in terms of age because it was produced from 2006 to 2020, the Ford Fusion was undoubtedly a mature contender to rival sedans in the midsize class. One of the leading automakers in the business created the Fusion, which has an Aston Martin-inspired design.
However, compared to some of its rivals, the Ford Fusion automobile had a brief existence and a quick demise. But because of its track record for dependability, it makes a good used car or Ford Fusion rental.
Consumer Reports and iSeeCars both frequently included the Fusion on their lists of the "Best Used Cars."
It has had a variety of different drivetrains for two generations, all of which were designed with a particular objective in mind. It has been offered with front-wheel drive and all-wheel drive (on select trims). Ford's brief 14-year production of Fusions did not shield the company from issues, recalls, or the crushing impact of the SUV industry.
However, the car proved to be durable and dependable enough to be utilized as a Ford Fusion race car in 2013 and then modified into a police car.
The Ford Police Responder Hybrid Sedan, a version of the Ford Fusion police car, was introduced in 2017. It was the first hybrid vehicle in the industry to be pursuit-rated and was one of two hybrid police cars that the business released. The pricing of the Fusion resulted in significant financial savings for the NYPD.
However, you should be aware that not all model years have the same reliability rating if you're looking for a used Ford Fusion. Additionally, there are some years that you should completely check off your purchasing list. Let's examine the Ford midsize sedan's brief existence.
Does Ford Fusion Make Good Cars?
The Fusion had good initial sales and was well-equipped. Ford sold 145,502 Fusions in its first year of production in addition to the 16,983 that were sold towards the end of 2005 when the new Fusion for 2006 was introduced.
For several years, those sales figures stayed around 140,000 units, and they only slightly increased for the 2009 facelift, when 180,581 Fusions were sold. Although admirable, it was nothing compared to the rise following the 2010 update.
Ford cracked the 200k barrier and quickly into the 300k club in the years that followed thanks to the significant changes to the body and more desirable powertrains.

A 2019 Ford Fusion Titanium Energi by Kevauto / CC BY-SA 4.0. On Vehicle History, the most recent Ford Fusion has gotten favorable real-owner ratings, scoring 4.54 stars out of a possible five.
Ford sold 306,860 Fusions in 2014, which is the peak of its mountain. Since that model year, sales have been declining, just reaching 100,000 in 2020 as the Fusion got ready for the long nap.
Although the Fusion didn't hold the top spot for very long, the clever and astute automaker is aware of market trends. Ford has made a U-turn into the SUV sector as the majority of American drivers' preference for SUVs grows.
So, how reliable is the Ford Fusion? All things considered, the Ford Fusion is a fine automobile, so if a quality sedan is what you're searching for in a used car, pre-owned alternatives are something to think about.
Although not every model year of a vehicle usually strikes the mark, some Fusion model years are better than others, and some should be avoided entirely. Recalls, complaints, frequent troubles, and other problems can occasionally make one model year less advised than another.
Notably, even though it's the final model year, the 2020 Ford Fusion has a high-reliability rating for a midsize sedan according to both automotive experts and Fusion owners. With a dependability rating of 87 out of 100, it places in the top 10 of J.D. Power's Consumer Rated Sedans class.
The most recent Ford Fusion has received positive real-owner ratings on Vehicle History, earning 4.54 stars out of a possible five. The Fusion received a 4.10 out of 5-star rating in our professional reviews from automotive critics.
We've put together this article to tell you everything you need to know about the Ford Fusion's reliability and recalls, as well as which model years to avoid due to excessive recalls, complaints, or other problems. We did this by consulting the database at the National Highway Traffic Safety Administration, the extensive knowledge base here at MotorVehicleHQ, as well as expert and customer reviews and complaints.
Volkswagen Passat, Hyundai Sonata, Subaru Legacy, Chevrolet Malibu, Kia Optima, Nissan Altima, and Mazda Mazda6 are a few vehicles that are comparable to the Ford Fusion. Additionally, the Fusion holds its own fairly well when compared side by side in terms of MSRP, standard features, and dependability.
The Ford Fusion, 1st Generation
Ford owned a portion of Mazda from 1974 until 2015, and once the Ford Contour was discontinued, the Blue Oval used the adaptable Mazda G platform chassis as the starting point for a new sedan. Mercury, Mazda, and Lincoln utilized the Ford CD3 platform as a tried-and-true chassis for a variety of their automobiles.
The first-generation Ford Fusion featured sweeping body panels, a classy three-bar grille, and other features that enhanced its refinement.
According to Ford's VP of Design, J. Mays, the 2013 Ford Fusion was designed to look more costly than it is and reflected the new face of Ford. "For Fusion, we wanted a visible, efficient design," Mays said. It conveys a clear message that it is an aspirational car.
Indeed aspirational. Ford's midsize-sedan segment maintained a young, approachable face for the majority of its run thanks to the Fusion. S, SE, and SEL were the available trim levels for the car. The Duratec 23, 2.3L I4 engine in the S model was available with either a five-speed manual or automatic transmission.
160 horsepower may be produced by the engine. If you had more cash, you could choose a SE or SEL trim, which would allow you to choose the Duratec 30, a 3.0L V6 with 221 horsepower.
The ''Fusion Challenge" of 2007
Late in 2006, Car and Driver held the "Fusion Challenge," which was afterward renamed the "Ford Challenge" and introduced as a significant marketing initiative by the Blue Oval. Ford intended to compete against Japanese automakers, who at the time dominated the midsize market, to prove its mettle.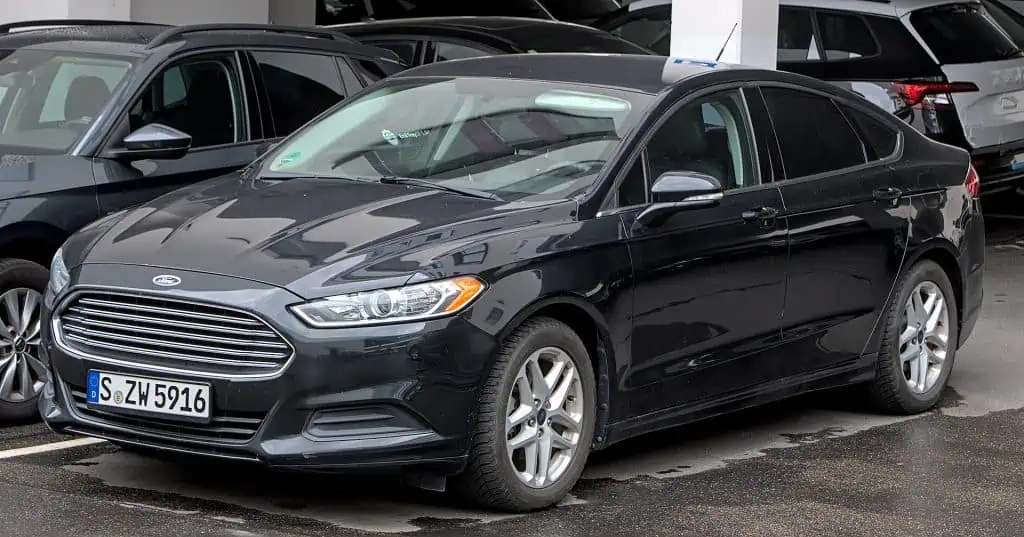 Ford Fusion (2nd generation) by Alexander Migl / CC BY-SA 4.0. Fusion received more add-on updates from 2007 to 2009, which somewhat made life easier for the average user.
Ford arranged for over 600 actual customers to test drive a 2007 Honda Accord EX-L V6, a 2007 Toyota Camry XLE V6, and a 2007 Ford Fusion SEL AWD V6 on a restricted course in Washington, D.C.
Then, they gave each car a rating based on their opinions. It was not surprising that Honda and Toyota were in the lead right first, but after buyers drove the Fusion, the field was even.
In contrast to the older, supposedly superior automobiles, the Fusion drove remarkably well. The Fusion wasn't just a gimmick Ford had up its sleeve to undercut its rivals. To reclaim their spot at the table, they were elbowing everyone in sight, and it was effective.
In 2010, Car & Driver conducted more testing on the Ford Fusion, putting it up against the Mazda 6 and Honda Accord. Although it did not receive the highest rating in the 2010 challenge, the Fusion once again proved to be a reliable and competitive vehicle on the demanding road test courses.
Ford Fusion Updates and Transformations
From 2007 through 2009, Fusion continued to get add-on updates that slightly improved life for the typical consumer. The improvements included ambient lighting, Sirius satellite radio, additional safety airbags, auxiliary jacks, tire pressure monitoring, and optional electronic stability control.
Except for a Sport Appearance package featuring 18-inch wheels, a spoiler, a firmer suspension, and other aesthetic improvements, the trim levels remained the same.
A Moon and Tune option was also offered, which provided you with a moon roof and a cutting-edge audio system for customers who want to keep their windows down and their music up.
By 2010, Ford had mostly exhausted Fusion's potential and was planning a redesign. The new model received significant front and rear body style updates as well as interior updates.
Most crucially, the 2.5L inline-four and 3.0L profile ignition pickup (PIP) V6 engines, which were also used in the Ford Escape launch at the time, received an update to their sounds. These engines, which produced 175 and 240 horsepower, would be paired with Ford's new 6F35 six-speed transmission.
Ford added two more noteworthy trim levels and kept the previous trim levels in addition to the new powertrains. The 2.5L inline-four used in the Hybrid trim, which was an add-on for the SEL trim, was assisted by an Atkinson hybrid-electric motor. This improved the Fusion's fuel economy and even saw the debut of the Eco Driving Mode, which would alert the driver to how well (or poorly) they were driving in terms of fuel efficiency.
The Entry of the Fusion Sport
The Fusion Sport was additionally included and purposefully left for last. With 18-inch wheels, a blacked-out grille, lower rocker panels, and even a rear spoiler to force the rear end to stay down when speeding down the drag strip, this solo variant upped the performance and appearance up a notch.
The 3.5L V6 producing 249 horsepower and the sport-tuned suspension were other important components. With a 0-60 time of just over six seconds, it may not win many races, but it wasn't a slouch, and everything else above made it a superb package for someone looking for the best of both worlds. Unfortunately, following that, safety issues started to surface.
The Second Major Update for the Ford Fusion
Ford was prepared to unveil what it had been working on after the 2010 redesign was completed, and it wasn't auxiliary jacks. The 2013 Ford Fusion redesign, which looked like it was created by Aston Martin, signaled the start of a new era for the venerable carmaker.
Ford was making a statement with its forceful posture, recognizable grille, and opulent accents, and the Fusion was becoming a formidable competitor.
In contrast to the first-generation double wishbone suspension, the second-generation Fusion has MacPherson struts up front and a multi-link rear suspension. Despite the general increase in car size, the trunk lost a small amount of room.
2013 Ford Fusion Energi plug-in hybrid by Mariordo (Mario Roberto Durán Ortiz) / CC BY-SA 3.0. The 2013 Ford Fusion, in the opinion of Ford's VP of Design, J. Mays, was created to appear more expensive than it is and to represent Ford's new image.
This generation's trim levels replaced the previous generation's SEL moniker with S, SE, and Titanium. Ford had been attempting to kill off the Duratec 30 (3.0L V6), and by eliminating the Sport model and only selling four-cylinder engines, they added one more proverbial nail to the coffin. Please let out a gasp.
While the Sport model would return in 2017 with a 2.7L EcoBoost V6, the alternatives available in 2013 included the well-known 2.5L, 1.6L Turbo, and 2.0L Turbo engines.
All of these engines were connected to a six-speed automatic transmission, and for the racing car driver in all of us, paddle shifters were even included. When everything was said and done, For the second-generation Fusion, Ford offered a total of five engines, including two hybrid models.
Technology for Safety
Around 2013, automotive technology started to advance quickly and capitalize on driver assistance in the name of safety. Ford didn't miss the boat on this one either, and the Blue Oval loaded the Fusion with the most recent technology on the market at the time.
Ford included Lane Keep Assist, Adaptive Cruise Control, and Forward Collision Warning using sensors, cameras, and radar.
Additionally, they introduced Active Park Assist and a Blind Spot Information System that warns the driver of oncoming traffic.
It's also important to note that the Fusion now boasts electronic power-assisted steering, which enables the car to execute fast maneuvers without significantly shaking the chassis.
Recalls & Safety Concerns for the Ford Fusion
Takata Airbag Recall: 2006–2012
Ford Motor Company was one of many automakers impacted by the extensive Takata Airbag Recall that affected Ford Fusion models from 2006 to 2012.
Brake Pedal Interference Recall: 2006-2010
There were only five recalls for the Fusion's first-year model in America, two of which involved floor mats that interfered with the brake pedal and airbag safety issues.
Additionally, a safety recall is in effect specifically for specific 2006–2010 Ford Fusion vehicles in Canada. A typically closed valve in the hydraulic control unit of some impacted vehicles may become stuck open, causing the brake pedal to travel farther than intended and possibly raising the danger of an accident.
Shifter Cable Bushings Detaching Recall: 2013-2016
About 550,000 Ford Fusions from the 2013–2016 model years were subject to a safety recall by Ford in North America in 2018 to repair shifter cable bushings. The bushing that connects the shifter cable to the transmission on affected vehicles may separate from the transmission.
A damaged shifter cable bushing that separates from the gearbox could cause the transmission to be in a different gear state than the driver's chosen gear shift position. Without receiving a notice or hearing an audible chime, the driver might be able to move the shift lever to "Park" and turn off the car while the transmission may not be in "Park."
The risk of an accident or injury is increased if the parking brake is not activated due to a deteriorated shifter cable bushing that separates from the transmission. Ford claims, however, that it is not aware of any collisions or injuries connected to this problem.
Among the affected automobiles are:
Vehicles for the 2014 Ford Fusion produced between June 18, 2013, and September 15, 2013, at the Flat Rock Assembly Plant
Ford Fusion models from 2014 to 2016 that were produced at the Flat Rock Assembly Plant between June 2, 2014, and August 31, 2015
Vehicles produced at the Hermosillo Stamping and Assembly Plant for the 2013–2014 Ford Fusion between May 15 and September 15, 2013
Vehicles produced by the Hermosillo Stamping and Assembly Plant for the 2014–2016 Ford Fusion between June 2, 2014, and August 31, 2015
A 2019 Ford Fusion Hybrid SE by Mr.choppers / CC BY-SA 3.0. Numerous safety features found on the 2019 Ford Fusion are absent from comparable versions of other cars. That ought to be sufficient to convince you to take this model into account.
A total of 549,401 vehicles are included in the recall, including 504,182 in the United States, 36,887 in Canada, and 8,332 in Mexico. 18S20 is the Ford reference number for this recall. The shifter cable bushing will be replaced by dealers at no cost to the client.
Latch Susceptible to Cracking Recall: 2014-2016
Early in 2020, a safety recall for Ford Fusion models from 2014 to 2016 was issued. Because the affected vehicles' latch pawl spring-tab design is prone to breaking and failure in hot climates, Ford Motor Company issued the recall.
Additionally, there is a chance that the door could come loose while you're driving, raising the danger of an accident.
According to Ford, there have been no reports of accidents or injuries connected to this recall. 248,912 automobiles in the United States, 19,431 in Mexico, and 4 in Canada are impacted by this action.
Among the affected automobiles are:
Ford Fusion automobiles were produced at the Flat Rock Assembly Plant and the Hermosillo Assembly Plant between November 1, 2013, and April 27, 2014.
Affected states include Alabama, Arizona, Arkansas, California, Florida, Georgia, Hawaii, Louisiana, Mississippi, Nevada, Oklahoma, Oregon, South Carolina, Texas, Utah, and Washington, where affected vehicles are currently registered or have previously been. The side door latches will be taken out and changed by dealers. 20S15 is the Ford reference number for this recall.
According to the U.S. Department of Transportation, the second-generation Ford Fusion has the most recalls, with the 2013 model amassing 17. The recalls deal with problems like doors opening accidentally and detached shift cables that cause the car to slide away while shifting into the park.
However, as time went on, there were fewer and fewer recalls for the Ford Fusion. This may be the case since recalls for more recent models have not yet been reported, but the tendency suggests that the later models are better organized.
Which are the Ford Fusion Years to Avoid?
Although it might seem like an obvious solution, we discovered that it wasn't that straightforward when we looked into the history of Fusion. There is value in the idea that you should just select the new model. Particularly if you prefer creature comforts, advanced technology, and low mileage.
We advise you to steer clear of the 2013–2014 model year if that applies to you. Ford sold the most Fusions in 2014, but they also experienced the most complaints and recalls.
Although there are undoubtedly owners of 2013 and 2014 Fusions who don't encounter these issues, we do not advise playing this lottery.
We advise the 2015 to 2020 model for commuters who are tech-savvy and fashion-forward.
Avoid the 2010 Ford Fusion if you want to buy a first-generation Fusion and are seeking a more economical option.
Even though we admire the makeover Ford gave this model year, there were 13 recorded recalls, compared to just five each for the 2006 and 2007 model years. The look will be a little more dated, but Duratec engines require very little maintenance and are significantly less likely to have manufacturing flaws that previous owners neglected to correct.
For drivers who want to perform maintenance or buy a starter automobile for a new driver, the earlier model years are better suited.
So that you can get a sense of the Ford Fusion's history, let's list the Ford Fusion years to avoid.

Ford Fusion SE 2.0 EcoBoost 2017 by RL GNZLZ / CC BY-SA 2.0. The 2017 Ford Fusion is one of the best mid-size automobiles available. The 2.0L Ecoboost engine is a great choice for anyone who wants some power but is also concerned with fuel economy.
Why Do These Years Feature In the Ford Fusion Years to Avoid List?
1. Ford Fusion 2010
One of the Ford Fusion models that have received the most complaints during its history is 2010. Many people believe it to be the worst model ever made.
The most frequent problem is power steering, which can cause the automobile to stall or quickly lose speed. The engine stalling issue is another issue that exists.
This is quite risky and may result in serious traffic collisions.
Problems with the transmission, which would also entirely fail, are among the other complaints. Nobody wants to cope with such an expensive repair.
Overall, it is not worthwhile to think about this model. It will have several problems and spend more time in the shop than at your house. Therefore, thinking about it would be a bad idea.
2. Ford Fusion 2011
I'll talk about the Ford Fusion model, which debuted a year after the last model. The 2011 Ford Fusion has a few faults that make driving it challenging.
Ford did nothing to address the majority of these problems because they existed in the prior model as well.
The car was impossible to drive since the power steering frequently broke down. This is quite risky.
Even with the child lock turned off, the doors would not open from the inside, making it difficult for anyone to exit the vehicle.
Additionally, the engine lost power, making for a risky driving situation. As you can see, these problems pose a serious threat. Make careful to stay away from this model.
3. Ford Fusion 2012
There are some severe issues with the 2012 Ford Fusion. It was a worse model to possess because there were more complaints overall than there were for the 2011 model.
Ford showed no signs of resolving the problems that plagued earlier versions even after two years.
This variant still had steering problems, and the door handles would break, making it impossible for users to access the doors from the inside.
The transmission would jolt when shifting because it would shift unpredictably.
This made this particular model difficult to own and undesirable. You should avoid this model just because of this problem.
These problems not only made the car unsafe to drive but also complicated. Avoid using this particular model. You will only experience headaches as a result, which is not worth it.
4. Ford Fusion 2013
You might want to think carefully before purchasing a 2013 Ford Fusion.
The 2013 Ford Fusion had several problems, including serious instances of the engine stalling and dying while the vehicle was being driven.
Additionally, there were reports of engine fires, which left the vehicle useless. Additionally, the transmission had sloppy shifts, which made for unpleasant driving.
2010 Ford Fusion by IFCAR. 2010 is one of the Ford Fusion models that has accrued the most grievances during its lifetime. It is regarded by many as the worst model ever created.
And as if that weren't bad enough, the fuel efficiency was also appalling. As a result, there will be more frequent excursions to the gas station.
This was the fourth consecutive model to have problems. I wouldn't suggest this model to anyone because Ford was having trouble making money.
Shockingly, the manufacturer did nothing to address these problems. That is unacceptable and incomprehensible.
5. Ford Fusion 2014
The following sedan model saw a continuation of the losing run. Unfortunately, the 2014 Ford Fusion isn't any better than the previous model.
It's the same, which is undesirable. It had numerous problems, which made the driving experience unpleasant.
When driving, the engine would lose power, which could cause a serious accident. The situation is really risky.
Additionally, the transmission had jerky shifting, which made for a bad driving experience. The infamous power steering problem was also present in this situation.
This was the fifth model in a row to have trouble with the same problems, and Ford did nothing to address or solve them.
Another vehicle that is not recommended for daily driving, unless you want to spend additional money on repairs, is this one.
Which Years are the Best for Ford Fusion?
The list you have been waiting for is finally here. Numerous Ford Fusion versions are almost flawless. Let's examine what makes them exceptional.
1. Ford Fusion 2015
Despite being an older model, the 2015 Ford Fusion is still loaded with equipment, has a stylish exterior, and has good ride quality.
In addition to all of this, the 2015 model is also very dependable. The 2014 model and its predecessors weren't nice automobiles, so this came as a surprise. Consequently, it was a sight to behold.
Due to its appealing look, great drive quality, and wealth of features, the Fusion is still a competitive contender in its class despite being an aging model.
If you are on a tight budget and don't want to spend money on a newer model, you should give it some thought. It is sufficiently contemporary to blend in with the crowd. It also has a respectable array of safety features, making it ideal for families.
2. Ford Fusion 2017
One of the top mid-size cars on the market is the 2017 Ford Fusion. For individuals who want some power but are equally concerned with fuel efficiency, the 2.0L Ecoboost engine is a fantastic option.
It accelerates fairly well, which you will appreciate. An astounding 240 HP can be produced by the engine, which is more than enough power for a sedan of this size.
Additionally, it has excellent handling and can even compete with entry-level premium vehicles! You'll have no trouble making such abrupt turns. In autos with this kind of spending limit, this is uncommon.
The 2017 Ford Fusion is a vehicle that deserves consideration because it isn't too old. It contains the most modern features and safety measures, making it enjoyable and secure to use while driving.
3. Ford Fusion 2018
The Ford Fusion from 2018 is a fantastic option. The Sync3 infotainment system, which is well-known and entertaining to use, is also included with the 2018 Fusion.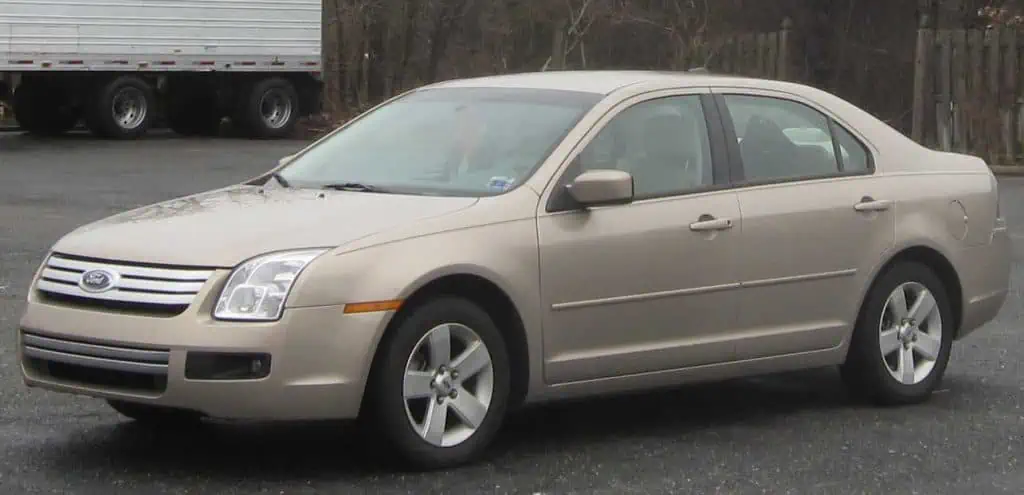 2006 to 2009 Ford Fusion by IFCAR. Sweeping body panels, a sophisticated three-bar grille, and other characteristics enhanced the first-generation Ford Fusion's elegance.
You can obtain it in the configuration you choose because it comes in a variety of trim options. Ford has also given customers a sizable trunk, which is ideal for those who need to transport cargo.
The hybrid version's fuel efficiency is very good, with a maximum of 43 mpg. That is quite outstanding, especially in light of the current spike in petrol costs. It is a fantastic choice to think about.
You receive a fantastic appearance in addition to many features. It fulfills all the requirements, making it a fantastic and reliable car. It should be the first thing you take into account.
4. Ford Fusion 2019
The 2019 Ford Fusion boasts a lot of safety features that are typically missing from comparable models of other automobiles. That should be plenty to persuade you to consider this model.
There are three different engine choices, with the top one is a V6 engine with a powerful 325 HP. For a midsize vehicle, that much power is impressive.
If you want to have looks and performance in one package, the 2019 Fusion is a terrific choice. You are getting the most recent and greatest because the 2019 model also boasts the newest shape.
Its security and entertainment features, including the Sync3 system, are wonderful additions that improve the experience.
5. Ford Fusion 2020
After years on the market, the Ford Fusion has finally realized its full potential with the 2020 generation. Although the Ford Fusion has always been a fantastic vehicle, the current version is the greatest.
The 2020 Ford Fusion offers fantastic ride quality, superb performance, excellent steering, and good handling.
It is the least frequently criticized sedan model, which makes it the ideal purchase for anyone wishing to possess its most recent and greatest model.
Driving it will be enjoyable for you. You won't have to be concerned about unforeseen problems or malfunctions. Ford stopped making it because of declining sales, which represents a loss.
People praised the Fusion for finally becoming a quality car. Great things, however, don't last forever, as the Ford Fusion proved to be.
Are Ford Fusions Prone to Recurring Problems?
Transmission issues are the most frequent ones with the Ford Fusion. In the past, complaints concerning the transmission's jerky shifting or slow gear changes have been made.
This is typically brought on by either a fault with the transmission's gears or a software issue with the transmission control module itself. This may necessitate a costly, comprehensive transmission overhaul or replacement.
The Fusions are prone to rattling and creaking, which is another typical issue. Because they were mass-produced and sold at an affordable price, these vehicles may have had some poorer parts installed, which may have caused some rattling.
However, if you find that the suspension is squeaking a lot, you should have it checked to make sure the shocks are not harmed.
The Conclusion
The Fusion had a brief but eventful life, which included being chosen in 2006 to replace the Taurus as Ford's entry in NASCAR. It's also interesting to note that the Fusion and Roush Racing collaborated to break the world land speed record for the quickest fuel cell vehicle.
Rick Byrnes, a well-known Bonneville racer and retired Ford engineer, pushed the Fusion through the salt flats at 207.297 mph in August 2007.
In 2010, the Fusion defeated other rivals to claim the prestigious Car of the Year title from Motor Trend, while the 2010 Fusion Hybrid was named Best Car of the Year at the Detroit Auto Show.
Our purpose? The Fusion has received numerous awards for its quality, and there is ample proof to support this claim. Ford is still capable of producing them.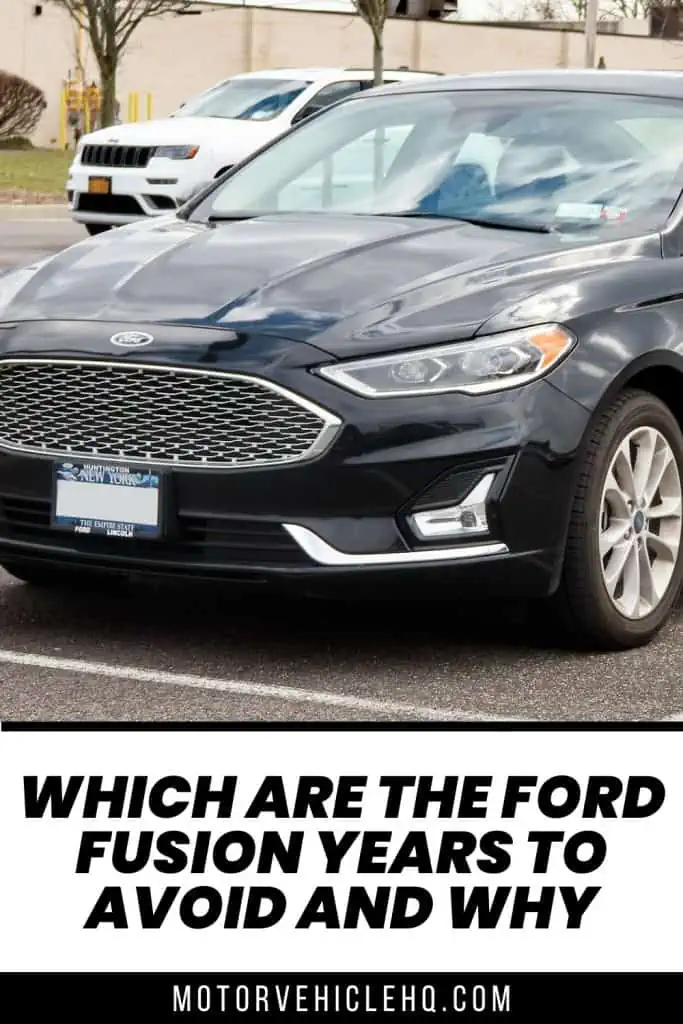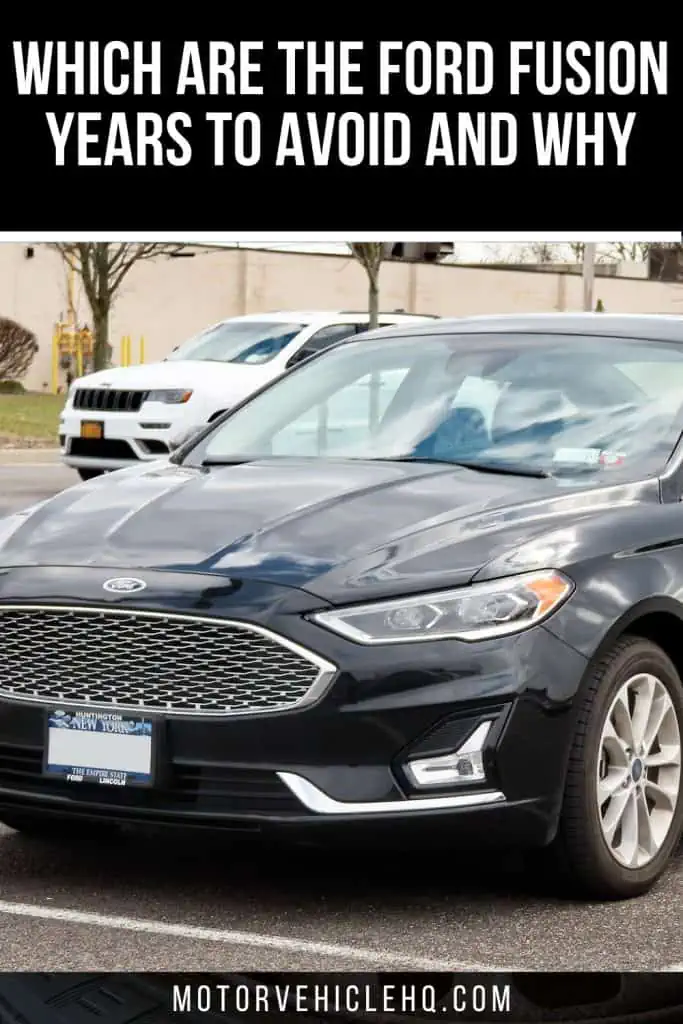 A 2019 Ford Fusion Titanium Energi by Kevauto / CC BY-SA 4.0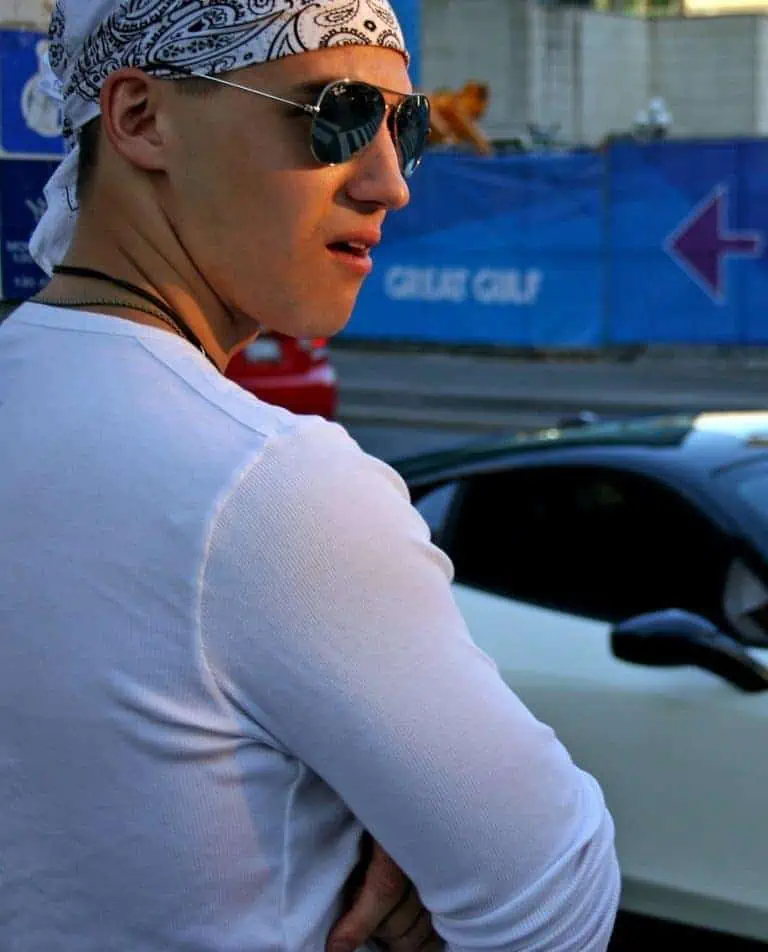 Jim Wicks is the founder of MotorVehicleHQ. With over two decades of experience in the automotive industry and a degree in Automotive Technology, Jim is a certified car expert who has worked in various roles ranging from a mechanic, car dealership manager, to a racing car driver. He has owned more than 20 cars over the past 15 years. Ask him about any vehicle you see on the road and he can tell you the make, model and year. He loves the aesthetics of all things cars, and keeps his vehicles in pristine condition.
In his free time, Jim enjoys getting his hands dirty under the hood of a classic car or taking long drives along the country roads. His favorite car? A 1967 Shelby GT500, a true classic that, according to Jim, "represents the pure essence of American muscle."