The Toyota Sequoia was introduced as a full-size SUV in 2001. The second largest SUV after Mega Cruiser, it was introduced as a replacement for the Toyota Land Cruiser and the smaller Toyota 4Runner. As with other vehicles, there are Toyota Sequoia years to stay away from if you want to purchase one.
There are Toyota Sequoia years to avoid if all you want to do is buy an SUV. There are several engines, interior, exterior, and accessory concerns over these years. 2001, 2002, 2003, 2004, 2005, 2006, 2007, and 2008 are among them. To avoid paying extra money for pricey maintenance and the replacement of necessary parts, you must avoid these years.
Early iterations of this full-size SUV had serious design and drivability flaws compared to cars produced after 2008.
In its early years, the Toyota Sequoia appears to have experienced several problems. The most frequent safety concerns are brake, body/paint, steering, engine, and suspension failure.
Which are the Toyota Sequoia Years to Avoid?
There are a few Toyota Sequoia model years you should stay away from. These mostly apply to previous versions produced between 2001 and 2008. They struggle to provide the dependability that most drivers require. The Toyota Sequoia years to avoid are listed below.
2001
2002
2003
2004
2005
2006
2007
2008
These model years' most frequent issues are with the brakes, steering, engines, body/paint, and suspension. Additionally, some models had a rear hatch handle that breaks after around 90,000 miles. As they mature, earlier Sequoias also develop serious issues.
An unpredictable VSC traction control system, transmission failure, and a damaged manifold gasket were some of the worst issues mentioned. Additionally, the engine could stop functioning and perish at just 100,000 kilometers. The 2002 Toyota Sequoia had the most issues, therefore we advise staying away from it.

2023 Toyota Sequoia by Kevauto / CC BY-SA 4.0. You can buy a Toyota Sequoia made after 2009 with significantly greater assurance. These models feature remarkable performance and the highest levels of dependability.
Let's say you drive a Toyota Sequoia from 2003, 2004, 2005, 2006, or 2007. If so, you can also encounter other issues like a broken rear window, a broken ABS brake, or a malfunctioning VCS light. In addition, problems like loss of acceleration, a failing air injection system, excessive corrosion, rear-end clunk noises, a leaking camshaft tower, or a battery that discharges quickly exist.
A handful of the issues start to appear at roughly 3,000 miles. When the Toyota Sequoia has more than 90,000 miles on it, more problems start to appear. Comparing the 2001-2004 model years to the 2005-2008 model years, fewer issues were reported.
Any Toyota Sequoia produced after 2009 can be purchased with much better assurance. These models exhibit the greatest levels of reliability and deliver exceptional performance. We advise staying away from all of the aforementioned years to be safe.
Why are These Years Included In the Toyota Sequoia Years to Avoid List?
There are specific Toyota Sequoia years to avoid whenever you wish to buy a Sequoia model. Toyota Sequoias made between 2001 and 2008 may present you with several problems, provide reduced reliability, and require frequent maintenance and replacement.
You should steer clear of these models since many previous and current owners who have used them have reported brake, steering, engine, and suspension problems.
1. Toyota Sequoia 2001
The majority of 2001 Toyota Sequoia models are notorious for having regular steering and brake issues. Customers claim that the steering occasionally fails. On occasion, the car could lurch to one side, resulting in a collision or crash. The SUV's longevity is further compromised by corrosion issues for the 2001 model year.
Additionally, traction control lights can abruptly turn on and throw drivers off. You can't rely on this automobile because it has stability assist system difficulties during the 2001 model year as well. User complaints included the following as well:
The VSC traction control starts to work without any reason
A defective rear hatch latch
You should stay away from this model year and unnecessary repair costs due to these problems.
2. Toyota Sequoia 2002
The worst model year ever was the 2002 Toyota Sequoia, which received the most complaints and recalls, according to numerous auto reviews and users. Many consumers complained that the warning lights would suddenly turn on, confusing the driver. Broken rear hatch handles are a common problem, and door handles are easily damaged.
Users also complained about a variety of engine issues, such as sudden shutdowns that result in collisions or accidents. Additional issues include;
Transmission related problems
Car brakes may engage abruptly
The VSC or VSC/Trac light illuminates without any reason
The Toyota Sequoia is at its worst ever. For whatever reason, you shouldn't put money into it.

2008-2009 Toyota Sequoia by IFCAR. When looking to purchase a Sequoia model, there are specific Toyota Sequoia years to avoid. Toyota Sequoia produced between 2001 and 2008 could have several issues.
3. Toyota Sequoia 2003
After 2001 and 2002, one would anticipate major improvements in the following model year as a result of numerous complaints. Unfortunately, the 2003 model year does not feature any enhancements. Users reported having brake and paint problems. The ABS lights would start to flash too brightly without any apparent reason, they added.
Additionally, consumers lamented handle failure, the back hatch handle, and serious brake problems. At high speeds, the brakes will abruptly quit working, leaving the driver with no way to stop the vehicle. Additional issues include;
Formation of corrosion and rust on the frame which reduced its durability
The brakes could deactivate on their own immediately after the brake light illuminates
The VSC/Trac light could illuminate abruptly
You should stay away from the 2003 model year because it is likewise dismal.
4. Toyota Sequoia 2004
There are still issues with the 2004 model year, which has left many consumers quite dissatisfied. Numerous consumers lament the rear hatch handle's unexpected detachment, which makes it challenging and occasionally impossible to access the trunk. The extreme wind noise made while driving at fast speeds is another common problem.
Power window issues occasionally plague this full-size SUV, which adds to its shortcomings. Among the other persistent issues with this model year are;
A defective traction control system
The VSC/Trac Light could illuminate abruptly
Abnormal vibrations from the steering wheel
Another model year that received negative user feedback is this one. Avoid this model year to avoid the annoyance and unnecessary repair costs.
5. Toyota Sequoia 2005
Every Toyota Sequoia from the first generation has numerous issues, which is why customers gave it poor reviews. Spark plug failure, which causes cars to halt while in motion, is a common complaint from users. According to additional research, some 2005 Sequoia vehicles had minor acceleration problems.
The gas pedal would have slack; further depressing it would have no effect at all. The gasoline system would occasionally start to malfunction occasionally without any notice from the warning lights. Owners ran into problems such as;
The brakes could stop abruptly
The traction service control light illuminated abruptly
All of the aforementioned problems materialized in 2006, 2007, and 2008. Avoid these Toyota Sequoia years at all costs. Save yourself the stress and avoid these years.
The Late Years of the Toyota Sequoia are the Golden Years!
The Toyota Sequoia has several problems in its earlier model years, but newer models make substantial improvements.

Toyota Sequoia V8 Limited 2007 by order_242 / CC BY-SA 2.0. Customers gave the first-generation Toyota Sequoia bad ratings because of its various problems. Users frequently lament the failure of the spark plugs, which results in vehicles coming to a stop while in motion.
If you're looking to purchase a new large SUV, Toyota Sequoia vehicles are among your finest choices. The most recent models include elegant interiors, roomy seats, and an intuitive entertainment system.
Several driver-aid features, including adaptive cruise control and a blind spot monitoring system, are standard on the 2017 Toyota Sequoia. Even on tough terrain, it provides a pleasant and quiet ride.
The hybrid V6 powertrain of the new Toyota Sequoia, which guarantees high towing capacity, terrific acceleration, and fuel efficiency, is its most noteworthy feature.
The dashboard and door panels, among other interior elements, are boldly and exquisitely designed. The inside is constructed to minimize wind noise. The lowest SR5 grade of the new Toyota Sequoia includes an 8-inch LCD, while other models come with a 14-inch one.
The Toyota Sequoia has numerous technologies including Android Auto, wireless device charging, and more.
Which Years of Used Toyota Sequoia Models are Safe to Buy?
The Sequoia has been in existence for roughly 20 years. It has undergone numerous modifications and enhancements during that time to become the car it is today.
As was previously mentioned, the initial models produced between 2001 and 2008 weren't very dependable.
There are still a ton of other options available, all of which offer top-notch support and dependability. Compared to owners of earlier model years, owners of these years have reported fewer issues. The following Toyota Sequoia, year models, are suggested for purchase:
2009
2010
2011
2012
2013
2014
2015
2016
2017
2018
2019
2020
2021
It is clear from the development of the Toyota Sequoia that after 2008, Toyota made several important adjustments to the vehicle to make it more dependable. The initial generation, which spanned the years 2001 to 2007, appeared to have several issues.
Significant advancements were made in the second generation, such as the addition of a rear independent suspension that enhanced ride comfort. Less complaints have been expressed about models created since 2009. The brakes and engine are generally the sources of issues.
It's important to note that there are not many complaints. Some model years hardly at all generated any complaints. Others just received one or two complaints. The majority of the vehicles that experienced issues had already traveled more than 100,000 miles. This demonstrates that the Toyota Sequoia is a dependable car that does not let you down.
2016 Toyota Sequoia: The Best of Them All!
The best model year is the 2016 Toyota Sequoia, based on feedback from customers. It is dependable and equipped with amenities like adaptive cruise control. It accelerates easily and has the excellent towing capability. The 2016 Toyota Sequoia features a roomy interior, an effective engine, and exceptional dependability.
The 5.7-liter V8 engine in this car can generate 318 horsepower and 401 pound-feet of torque, and it can reach its maximum torque at just 2,200 revolutions per minute. The 2016 Toyota Sequoia can accelerate to 60 mph in 6.7 seconds and pull cargo weighing 7,400 pounds. It is a four-wheel-drive SUV with the ability to maintain traction on uneven or slick ground.

2001-2004 Toyota Sequoia by IFCAR. Many customers are still not content with the 2004 model year because there are still problems with it. Many customers complain about the rear hatch handle's sudden detachment, which makes opening the trunk difficult and occasionally impossible.
It is a family SUV that can seat eight people, including tall individuals, comfortably and with ease on any surface. Safety features on the 2016 Toyota Sequoia include airbags, rearview cameras, and parking sensors. Each of its three trim levels, SR5, Limited, and Platinum, has exceptional features. The SR5 trim level includes features such as;
A blind-spot monitoring system
A power-folding for the third row
Features of the Platinum trim level include;
Air suspension in a variety of driving modes
The heated second-row seats
An adaptive cruise control
The rear blu-ray 9.0-inch touchscreen infotainment system
Additionally, the Platinum trim level can be upgraded to add amenities such as;
Although the 2019 Toyota Sequoia is a fantastic car, the 2016 model is still superior.
2009 Toyota Sequoia
I introduce the 2009 Toyota Sequoia, one of the top models in the lineup after the first six years, by going back a decade.
Even while the 2007 and 2008 models were excellent in their own right, they both pale in comparison to the 2009 Toyota Sequoia, which is why I opted to rank this vehicle third.
There were 3 different versions and a 10,000-pound towing limit for the 2009 Toyota Sequoia.
A power-reclining third row that was big and spacious was there alongside this.
2010 Toyota Sequoia
The 2010 Toyota Sequoia, which debuted immediately after the 2009 Toyota Sequoia, is the following model I want to talk about.
The people were given a car this year that was nearly identical to the one before. The 2010 Toyota Sequoia falls to the fourth position behind its predecessor due to this lack of innovation.
It lacks creativity, but it makes up for it with a large interior and a 10,000-pound towing capability.
The model for this year was also offered in 3 distinct trim levels and included a new 4.6 L V8 engine that improved power and speed without sacrificing driving dynamics.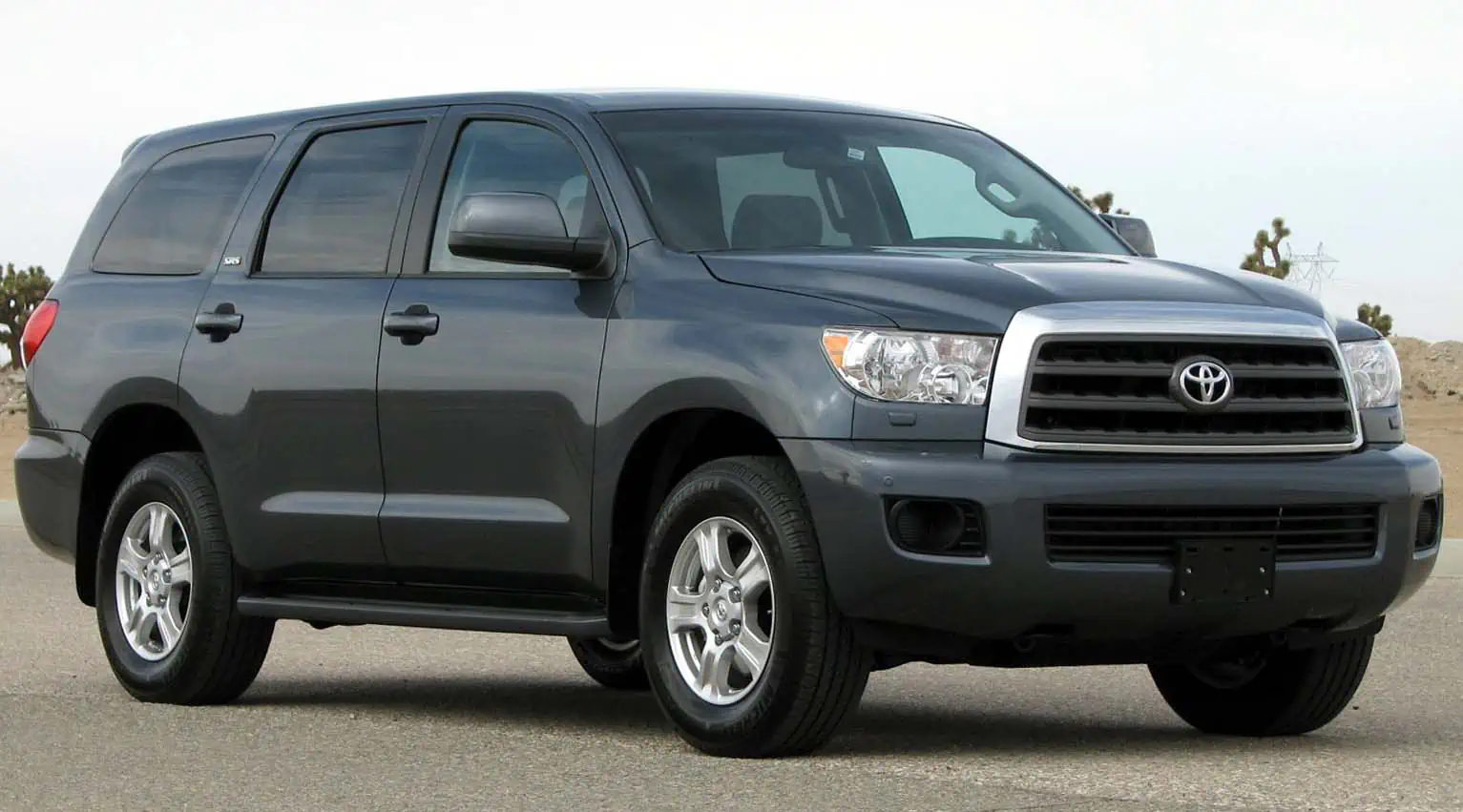 2008 Toyota Sequoia by IFCAR. A few of the problems begin to surface at about 3,000 miles. More issues start to surface if the Toyota Sequoia has more than 90,000 miles on it. Fewer problems were recorded for the 2001-2004 model years compared to the 2005-2008 model years.
2019 Toyota Sequoia
Before the 2020 Toyota Sequoia became popular, consumers had to drive the 2019 Toyota Sequoia, which was the greatest vehicle available at the time.
It would be overshadowed by the 2020 Toyota Sequoia due to a few flaws that prevented it from being at its best.
These problems were unimportant because the car was available in 4 trim levels and drove as well as a Toyota Sequoia should.
The well-known driving modes, which made driving the automobile considerably easier, were a feature of this specific year.
2020 Toyota Sequoia
Although it is still in its early stages, the community has given the 2020 Toyota Sequoia excellent reviews and recommendations.
This makes the car destined to be in the top slot on this list, together with its modern attitude and technology in place.
The 2021 Toyota Sequoia was only passed over for this position because enough time had not gone and issues tended to surface after the first two years.
This eight-seat sports utility vehicle has a strong V8 engine that will provide you with the power you need.
The automobile makes up for the engine's poor fuel economy with speed, ferocity, and a satisfying driving experience. When you take into account the car's adjustable seats and spacious interior, this is elevated to new levels. The car became a joy to drive and travel in thanks to these new basic amenities.
2021 Toyota Sequoia
However, as I already indicated, it is still too early to judge whether or not the 2021 Toyota Sequoia will continue to be an excellent vehicle.
Even though the car is still very fresh, problems start to arise around the middle of its lifespan. The 2021 Toyota Sequoia comes last on this list since it is necessary to include it.
This variant takes the 2020 Toyota Sequoia and makes a small addition to it, similar to the 2010 Toyota Sequoia. The outcome is positive because the previous model resulted in a successful year for the business.
How Reliable Is the Toyota Sequoia?
When it comes to reliability, the Toyota Sequoia excels. This gave it a reliability rating of 4.0 out of 5.0, according to RepairPal. Additionally, they claimed that a Toyota Sequoia only needs repairs 0.3 times a year on average. It only has a 12% chance that every given visit would result in severe injury.
The Sequoia is less complicated and more practical than the Land Cruiser. The Land Cruiser boasts more high-end amenities, such as a bigger engine, a more opulent cabin, and more off-road equipment, which explains why. Both have plenty of room for passengers and luggage, but the Land Cruiser costs more because of its extra features.
Sequoia will benefit from this since procuring replacement parts will be less expensive, and since there are fewer electronic features, there is less chance that components will break down over time.
The Toyota Sequoia was even referred to as one of the "most reliable SUVs nobody seems to be driving" by Motorbiscuit. According to drivers, the Sequoia may easily endure more than ten years and accumulate 300,000 miles without experiencing any serious problems. Even the greatest reliability rating from Consumer Reports went to the Sequoia and Land Cruiser.

 Toyota Sequoia in the Philippines by Captainmorlypogi1959 / CC BY-SA 4.0. There are several complaints about the Toyota Sequoia's tendency towards rusting. The truck-like chassis of the Sequoia is supported by substantial metal supports, keeping it robust.
Which are the Common Problems with Toyota Sequoia?
Even though the Sequoia is generally quite dependable, several problems are possible for owners to run into. Here are a few examples:
1. Body Rust
The Toyota Sequoia's propensity for corrosion is a widespread issue. Large metal frames support the Sequoia's truck-like chassis, which keeps it rigid. However, it's possible that Toyota didn't apply enough anti-corrosion chemicals to many of the frames of its vehicles throughout the assembly process.
After a few years of service, many Sequoias were extensively corroded as a result of this. Typically, only states where salt is frequently applied to roadways have this issue. However, owners have noted that even in cars that have spent their whole lives in garages, rust still develops.
Since they are typically the most vulnerable, the load-bearing parts of the Sequoia could get weaker as a result of the rust. The structural integrity of the car will be preserved by rustproofing the undercarriage and other vulnerable parts, which will stop rust from spreading.
Other Toyota SUV models are also affected by this issue, not only the Sequoia. Owners of the 2005–2008 Sequoia received a $3.4 billion settlement as a result of lawsuits filed against Toyota in 2016.
The settlement covers the expense of inspections, the use of corrosion-resistant materials, and in some cases, the replacement of the entire frame.
2. Oxygen Sensor Failure
The Toyota Sequoia's oxygen sensor frequently fails between 2001 and 2004. Owners claim that over a few years, the issue has often cropped up.
When the check engine light illuminates repeatedly, it can be difficult to determine if the diagnostic system or the oxygen sensor is to blame. However, by keeping an eye out for engine-related symptoms, you can tell if the problem is with the oxygen sensor.
Your engine will misfire, idle poorly, and consume less gasoline if your oxygen sensor is broken.
The cost of a Toyota Sequoia oxygen sensor replacement ranges from $50 to $150.
3. Leaking Camshaft Towers
The cylinder valves are opened and closed by camshaft towers. The camshaft towers are continuously lubricated by oil flowing around them.
The Toyota Sequoia's gaskets and o-rings, on the other hand, frequently fail prematurely, which leads to oil leaks. The Sequoia model from 2008 has this issue. Every time there is an oil leak, there is not enough oil circulating in the engine, endangering engine parts.
This could hasten wear and lead to problems like overheating. To solve this problem, all the gaskets and o-rings must be changed to stop the leaks.
4. Lower Ball Joint Problem
The Toyota Sequoia's ball joints have a problem as well, which results in their early wear. The Sequoia models from 2001 to 2008 are affected by this problem. Because some ball joints tend to survive longer than others, there is no set lifespan for ball joints.
Due to how quickly wear and tear can be accelerated by poor road conditions like potholes and salt, ball joints are often inspected during inspections. If left unattended, a worn ball joint can cause the control arm to separate from the wheel, which will cause your car to swerve erratically.
The ball joint of the Toyota Sequoia models from 2001 to 2004 is the one that is most prone to this failure due to a problem during production.
Some motorists have claimed that after hitting a bump, their ball joints failed. Others have stated that while driving, one side of their suspensions just abruptly dropped.
One owner said that the failure of the ball joint also resulted in the breakdown of his brakes, which led to a collision with the side of the road. Toyota has already recalled the lower ball joint in response to the problem.
5. Exhaust Manifold Cracks
Additionally, owners have noted ticking noises originating from the engine as a result of an exhaust manifold leak. Models produced between 2001 and 2004 have reportedly been subject to this.
The hot exhaust gasses from the engine are piped into the rest of the exhaust system through the exhaust manifold. They usually stop working when a crack develops and exhaust gas leaks out of the pipe.
Sequoia Capstone rear view by Kevauto / CC BY-SA 4.0. The 2023 Toyota Sequoia's standard MSRP is $58,300, but if you select the Limited or Platinum trim levels, the cost rises to $64,700 and $70,900, respectively.
The leak typically produces loud ticking noises because the exhaust is where the majority of engine noise is concentrated. The pipe, however, occasionally seals itself and the noise goes away when the metal heats up and expands. This problem usually manifests itself most noticeably when the SUV starts up.
Although this can be a problem that can be overlooked because it goes away, if it is not fixed, it can harm other components and lead to other problems including poor fuel efficiency, subpar engine performance, and exhaust gasses entering the cabin. Because they can harm your respiratory system and potentially be fatal, fumes that enter your cabin can be perilous.
No matter how dependable the Sequoia is, there's still a risk that it could have one of these frequent problems. If you intend to buy a Toyota Sequoia, being aware of these problems will help you keep an eye out for them.
6. Brake Issues
The most frequent and widespread Toyota Sequoia problem is the brake issue. You might spend up to $1,400 to address the problem, which first appears at about 95,000 miles. The problem became so serious that Toyota was forced to recall its 2001, 2004, and 2005 models. The typical braking issues are;
In the 2001 model year, VSC and traction control engaged without warning. Many customers complained that the Sequoia's VSC would activate while the vehicle was moving at a high rate of speed, causing the car to shake and make a loud noise when the brakes were used. Many users were forced to replace the entire VSC brake fuse, which may have cost up to $1,300, and for other users, this made no impact.
In the 2017 model year, the brake pedal had a long travel. Many consumers complained that the brakes became extremely soft and that they needed to hit it repeatedly before it would respond. The soft brake could be the result of fluid problems, a bad master cylinder, air in the braking system, etc.
Keep an eye out for any of those issues; perhaps by avoiding the model for a long time, you can completely avoid them. Don't invest in them to save money on expensive maintenance and replacement.
7.  Issues with Transmission
Many customer evaluations and comments claim that the majority of Toyota Sequoia have transmission issues. The 2002 vehicles are primarily to blame for the transmission issue. Users claim that after the vehicle reaches 97,000 miles, the problem will start.
Possible causes of the transmission issues include a malfunctioning torque converter, a damaged seal, and a bad needle bearing. The solution is to purchase a used transmission, swap out a few critical components in the outdated transmission, or replace the transmission entirely.
Frame Recalls for the Toyota Sequoia
The Toyota Sequoia frame was recalled on multiple occasions in 2016. Toyota agreed to buy back or fix several Toyota Sequoias due to the corroded frame when the recalls became so many.
The rusting frames of some 2004-2008 vehicles and some 2010 model years were a problem, and Toyota committed to fixing them by buying them back or fixing them.
The program does, however, run out 15 years from the manufacturing date.
Toyota Sequoias: How Long Do They Last?
The Toyota Sequoia can last you up to 300,000 miles, or a whopping 20 years, if you take good care of it.
If you only perform the bare minimum of repairs and maintenance, your automobile will begin to struggle after 250,000 miles.
The Toyota Sequoia's lifespan needs to be extended because poor maintenance can potentially cause the vehicle to break down before 200,000 kilometers.
How Much Does It Cost to Acquire a Toyota Sequoia?
The standard MSRP of the 2023 Toyota Sequoia is $58,300; however, if you choose the Limited or Platinum trim levels, the price jumps to $64,700 and $70,900, respectively. The base trim of the 2022 Toyota Sequoia costs approximately $50,500, whereas the platinum trim costs approximately $66,550.
The 2020 Toyota Sequoia is priced between $50,144 and $63,342. Depending on the trim level you select, the pricing for the 2017 model year ranges from $35,400 to $59,000. The price range for a 2015 Toyota Sequoia is $28,000 to $46,000, while the price range for a 2018 model ranges from $34,900 to $61,500.
The Conclusion
Although the Toyota Sequoia is one of the greatest full-size SUVs on the market and is generally quite dependable, they are not faultless. The Toyota Sequoia years to stay away from are listed in this article. Watch out for these problematic model years and avoid them at all costs to avoid annoyance.

2023 Toyota Sequoia by Kevauto / CC BY-SA 4.0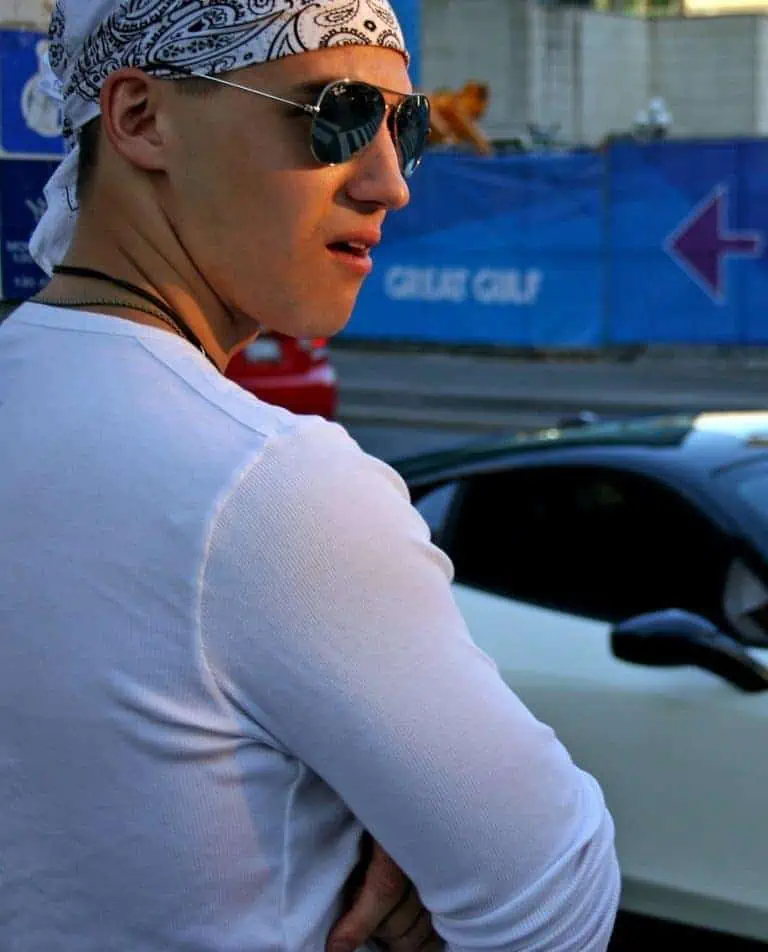 Jim Wicks is the founder of MotorVehicleHQ. With over two decades of experience in the automotive industry and a degree in Automotive Technology, Jim is a certified car expert who has worked in various roles ranging from a mechanic, car dealership manager, to a racing car driver. He has owned more than 20 cars over the past 15 years. Ask him about any vehicle you see on the road and he can tell you the make, model and year. He loves the aesthetics of all things cars, and keeps his vehicles in pristine condition.
In his free time, Jim enjoys getting his hands dirty under the hood of a classic car or taking long drives along the country roads. His favorite car? A 1967 Shelby GT500, a true classic that, according to Jim, "represents the pure essence of American muscle."