Few cars are as brilliantly useful to parents as a minivan. Sure, they've lost part of their appeal as consumers have shifted toward crossovers, but the sleek Chrysler Pacifica helps to erase the van's staid reputation.
It sets itself apart from its competitors with novel disappearing seats, class-leading infotainment, and an optional plug-in hybrid engine. The Pacifica received a 10-Best mention for 2017 because it is excellent for families or anyone looking for a spacious, comfortable, and highly capable conveyance.
In 2017, a brand-new model called the Pacifica took the place of the Chrysler Town & Country. More power and better fuel efficiency were added to the 3.6-liter V-6 engine through modifications.
Several optional comforts and safety features joined the party in addition to a more fashionable exterior and interior, such as hands-free power sliding side doors and the tailgate, a triple-pane sunroof, a rear-seat entertainment system with two 10-inch touchscreens, and a built-in vacuum cleaner.
Two separate vehicles bear the Chrysler Pacifica badge. From 2004 to 2008, it was a crossover, but as of 2017, it has been a minivan. The current Pacifica is a trustworthy minivan with top-notch equipment, lots of engine power, and agile handling.
It has numerous wonderful features and cutting-edge capabilities that ensure an enjoyable driving experience. It also retains value well. After five years, its value decreases by 54%, according to CarEdge.com.
With more than 800 complaints filed with the NHTSA for the 2017 model, Pacifica entered its sixth generation. Chrysler had to recall the Pacifica four times because of serious electrical problems that caused engine stalling and a loss of power steering.
A Short Description of the 2017 Chrysler Pacifica Features
Performance – Engine, Transmission, and Others
The 3.6-liter V-6 engine in the Pacifica generates 287 horsepower and powers the front wheels with a superb nine-speed automated transmission. The Pacifica is not the fastest minivan we've tested, but it's also not the slowest either.
The Chrysler Pacifica by Mr.choppers / CC BY-SA 3.0. The 2017 Chrysler Pacifica has an overall JD Power dependability rating of 3.5 out of 5, which denotes above-average dependability.
Around town, it has a good amount of vigor and holds its own when passing and merging on the highway. The Pacifica hybrid's upgraded 3.6-liter V-6 engine is coupled with a 16-kWh lithium-ion battery, two electric motors, and a generator to produce 260 horsepower in total.
Our tests revealed that the hybrid powertrain is fuel-efficient and has no trouble navigating city streets, freeway on-ramps, or even steep mountain slopes. A 240-volt connection can charge the battery in about two hours, whereas a 120-volt domestic outlet will take 14 hours.
The Pacifica is a smooth highway cruiser that is quiet, stable, and pleasant over long trips. It is also easy to drive for a vehicle of its size, rides comfortably, and handles well.
Cargo, Comfort, and the Interior Features
The Pacifica is light, roomy, and jam-packed with storage compartments, cupholders, slide-out bins, and connections. It also has a lot of features that minivan customers adore. Although the fit, finish, and materials are far superior to the outgoing Town & Country, a few low-quality plastic items are hidden inside the cabin.
Numerous USB connections and power outlets are available, while optional extras like heated second-row seats and two 10-inch touchscreens positioned on the backs of the front seatbacks are also available. Limited models come included with an integrated vacuum cleaner, however, purchasers of lower trims will need to use their own Shop-Vac.
With all the storage compartments and cargo space you could want, the Pacifica is the automotive equivalent of the Swiss Army knife. It also has second and third-row seats that can be folded into the floor to transform the vehicle from a people bus to a huge cargo van in a matter of seconds.
Connectivity and Infotainment
One of our favorite infotainment systems, including buttons and knobs for music settings, is Chrysler's Uconnect. The device is extremely responsive to inputs, in addition to having excellent usability and intuitive software.
A larger, 8.4-inch touchscreen is standard on the highest trim levels and available on others, while the LX and Touring trims come with a smaller, 5.0-inch touchscreen. The 8.4-inch screen is standard on hybrid devices.
Up to six USB ports, two 12-volt outlets, and one auxiliary input are all features of the Pacifica. The lone, albeit important, the flaw with Uconnect is that it does not support Android Auto and Apple CarPlay.
How Reliable Is the Chrysler Pacifica?
The minivan Chrysler Pacifica had reliability ratings that were above average. It is rated 3.5 out of 5 on RepairPal. Its average annual repair cost is, however, on the expensive side. Despite this, Chrysler aficionados continue to favor the Pacifica for its smooth ride and roomy cabin.
A properly maintained Pacifica can endure a very long period. If you adhere to its recommended maintenance and service schedule, it may drive over 200,000 miles without much difficulty.
The 2017 Chrysler Pacifica scored 3.5 out of 5 overall in the JD Power dependability ranking, which indicates above-average reliability.
Despite having a reasonably excellent dependability rating for 2017, the 2017 Chrysler Pacifica still has serious gearbox problems, which are typically quite expensive to fix.
As a result, if you intend to buy one of these cars, be ready to deal with transmission problems.
Remember that the 2017 Chrysler Pacifica has been recalled eight times, four of which are for safety-related reasons.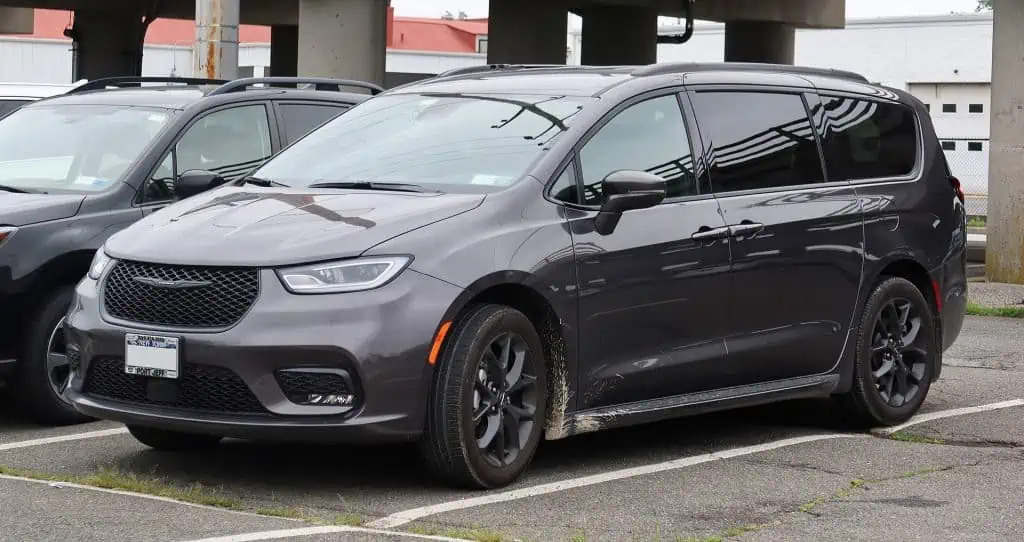 The Chrysler Pacifica by Kevauto / CC BY-SA 4.0. The 2017 Chrysler Pacifica still has major gearbox issues, which are often rather expensive to service, despite having a fairly excellent dependability rating for that year.
Therefore, become informed about these safety issues and ensure that a qualified mechanic performs a pre-purchase examination before you buy a used 2017 Chrysler Pacifica to ensure that you won't acquire a vehicle with serious issues, especially those that relate to safety.
Which are the Common 2017 Chrysler Pacifica Problems?
The Pacifica crossover and minivan have little in common. The following list will include the issues that both models encounter most frequently:
1. Defective Air Conditioning
If the 2004 Chrysler Pacifica's air conditioning issues aren't fixed right away, they can get worse. An unusual hissing sound emanating from the air conditioner that occurs every few seconds could be the first sign of the problem.
Some owners have mentioned that it can worsen and lead to the AC unit failing. The cabin could become difficult to remain in if your A/C is broken. Although there haven't been any confirmed occurrences, these A/C challenges could be caused by both component failure and electrical problems.
Electrical or wiring-related issues cannot be resolved by replacing the A/C unit. If your Pacifica is experiencing A/C issues, it is important to seek a proper diagnosis from a mechanic.
2. Incorrect Seat Features
The seat features of the Chrysler Pacifica from 2004 to 2008 may not function properly due to a wiring issue. The front power seat memory, adjustable pedals, and seat heaters may all be impacted by the static discharge emanating from its damaged wiring.
The chairs may also become caught, preventing any adjusting, according to some owners. Additionally, they mentioned that atypical ticking noises originating from the driver's seat could be the result of damaged cables.
Around 106,000 miles is often when seat issues first appear. Chrysler is aware of this problem and has suggested that replacing new seat modules may be the solution.
3.  Damaged Retaining Pin Causing Engine Noise
The engine of the Chrysler Pacifica from 2004 to 2008 has received numerous reports of malfunctions, one of which is an unusual ticking noise. Typically, it occurs at about 104,000 miles.
According to sources, the engine's front side is where the ticking sound can be heard, and it steadily gets louder over time. The damaged rocker arm shaft retaining pin is the root of this problem.
There could be a ticking sound as a result of the shaft spinning and obstructing oil flow. Damaged parts can be replaced to help remedy the problem. However, depending on part costs and labor rates, the overall cost of repairs may change.
4. Check Engine Light Coming On Because of Carbon Buildup
There is a known carbon buildup on the valves of the Chrysler Pacifica models from 2004 to 2008, which might cause the check engine light to come on. An OBD scan tool displays the error number P0420 in response to this problem.
High-mileage vehicles typically experience this at roughly 130,000 miles. Some owners have mentioned that hard starting and backfiring may also be present along with this issue. This problem is recognized by Chrysler.
It has been said that cleaning the combustion chamber will remove the carbon buildup and turn off the check engine light. However, if you don't replace the valve spring retainers, this can continue to happen.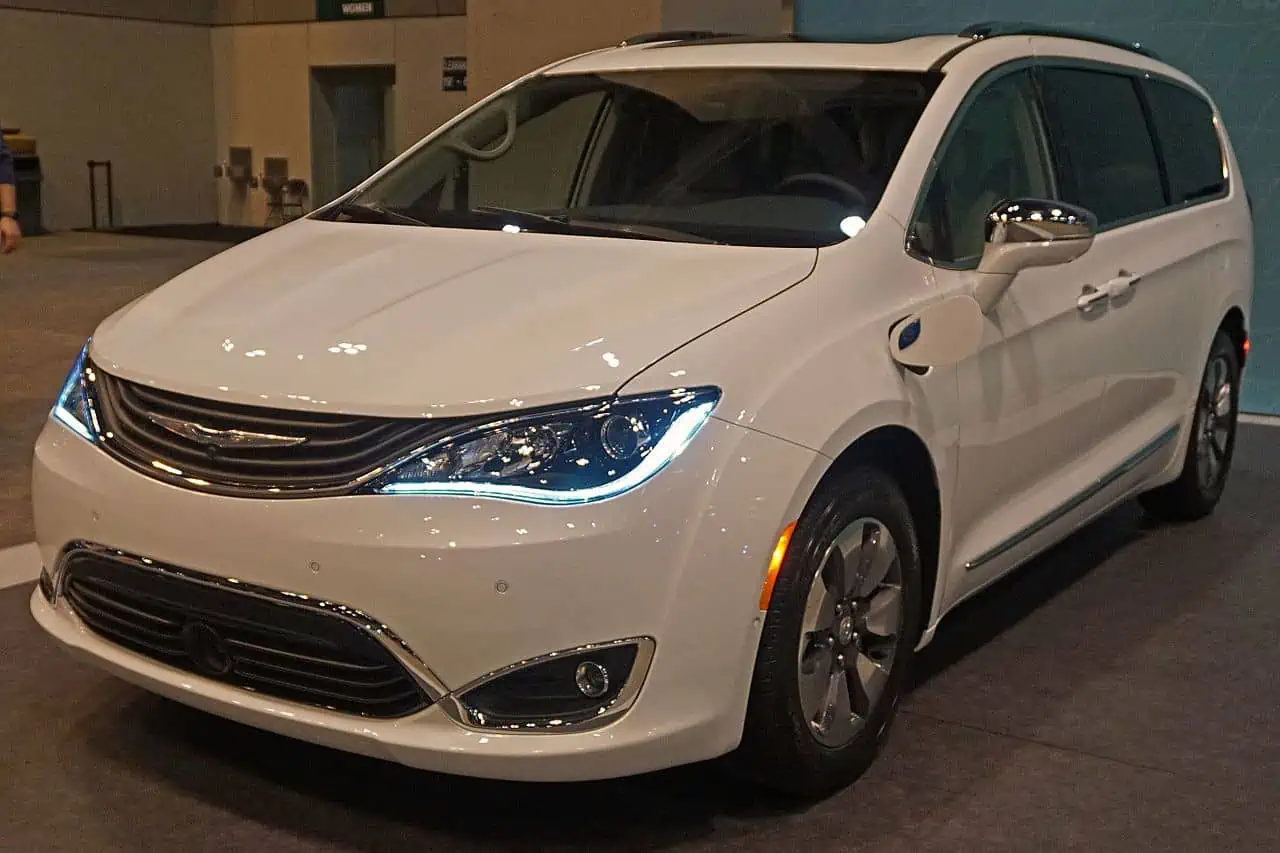 The 2017 Chrysler Pacifica Hybrid by Ryan Hildebrand / CC BY-SA 4.0. It's important to keep in mind that the 2017 Chrysler Pacifica has had eight recalls, four of which are for safety-related issues.
5. Issues with the Transmission
Transmission issues with the Chrysler Pacifica from the 2017 model year are frequent. It could display a wide range of issues, such as fluid leaks, strange noises, stalling, jerking, and complete transmission failure.
Some owners have complained that their transmissions would occasionally malfunction, suddenly propelling the minivan forward. They've also mentioned that the jerking may intensify to the point that it feels like the car has been hit from behind.
Some owners have admitted that they were forced to replace their transmissions. It's not a surefire remedy, though. Depending on the circumstances, other parts might also need to be fixed.
In relatively new Pacificas, symptoms may appear after 20,000 miles. You're not the only person who may be experiencing transmission issues. If you experience any transmission problems, consult your mechanic right away to avoid any more harm. Some of the transmission-related problems include;
a.) Hard Shifting Problems
There are serious problems with the 2017 Chrysler Pacifica transmission's harsh shifting, according to at least 34 customer complaints.
Regrettably, repairs were expensive and necessitated the replacement of some pricey parts. For instance, while some customers only simply replace the valve body or reset the adaptive transmission, others require the complete transmission to be replaced.
Customers have in certain cases updated the transmission control module to fix problems.
For any owner of a 2017 Chrysler Pacifica, the average cost of hard shifting repairs is roughly $3350, which is regarded as a relatively expensive repair cost.
According to the 34 complaints sent to carcomplaints.com, hard shifting typically started happening around 24,000 kilometers.
b.) Vehicle Hesitation Issues
The 2017 Chrysler Pacifica transmission issues caused car stuttering for vehicles with about 36,000 miles on them, according to many complaints.
Unfortunately, there was no information on repair charges in any of the complaints. This might be the case because the issue was not fixed, or because some people might be covered by an extended warranty.
c.) Complete Transmission Failure Problems
Customers who recently purchased a 2017 Chrysler Pacifica surprisingly reported dealing with a full transmission breakdown after only 1000 miles!
The majority of these clients ultimately decided to install a completely new transmission to fix the issue. Though they made no mention of repair expenses, it appears that the issue was resolved by the extended warranty.
Failure of the transmission did not occur immediately. Customers reported that the fault was intermittent and that the transmission started to slip or not engage at lower speeds. Most transitional problems were sporadic.
The customers weren't too concerned about taking the car to the shop with a completely broken transmission.
d.) Issues with No Shifting
At least four consumers complained that their brand-new, with 6000 miles, 2017 Chrysler Pacifica has serious problems with no shifting.
Either the car wouldn't start, or it would start slowly and take some time.
The Chrysler Pacifica by Karrmann / CC BY-SA 3.0. The typical cost of hard shifting repairs for any owner of a 2017 Chrysler Pacifica is about $3350, which is regarded as a relatively high repair cost.
Most consumers who brought these cars into the dealership said the issue was with the transmission. For the 2017 model year, some of these buyers hoped Chrysler would recall these transmission-related faults.
e.) Noisy Transmission Problems
Numerous complaints revealed that the transmission of the 2017 Chrysler Pacifica makes extremely loud noises. These sounds often stop at 25,000 kilometers.
Customers neglected to mention the cost of repairs despite the importance of this issue. In several documented cases, consumers were forced to return the cars or junk them to fix the issue because there was no workaround.
6. Rusting and Paint Peeling
The 2017 Chrysler Pacifica's defective paint, which bubbles and prematurely peels off, is one of the most prevalent faults. Rust can form on exposed metal surfaces as well. This often occurs at 34,000 miles.
The fact that some owners' relatively new Pacificas were already flaking and rusting irritated them. According to accounts, damage frequently begins at the bonnet of the minivan and progresses from there.
Some claim that a fresh coat of paint can fix the problem, but depending on where you get it done, it might be expensive.
However, some owners have mentioned that they were successful in getting their dealerships to cover repairs. It is advisable to check with your dealership to confirm the scope of coverage since it may vary.
7. Incorrect Cruise Control
The malfunctioning cruise control feature in the 2017–2018 Chrysler Pacifica is one of the model's most noticeable issues and could malfunction as a result of poor wiring.
A short circuit could prevent the cruise control from disengaging, messing up the speed and acceleration control on your Pacifica and raising the possibility of crashes. This led to a significant recall in 2018 that affected more than 4.8 million automobiles.
The cruise control feature was not to be used, owners of the affected Pacificas were advised. According to Chrysler, free diagnostics and repairs will be provided for all impacted vehicles.
8. Serious Electrical Issues
Chrysler issued four recalls for electrical system issues with the 2017 Pacifica. The first recall concerns vehicles with 3.6L motors that may stall as a result of defective engine control software.
The failure of the cruise control to deactivate, which increases the risk of a collision, is the subject of the second electrical system recall.
Software updates provide a solution for both issues.
A rollaway issue also caused the recall of certain Pacifica models from 2017 to 2018. However, the most recent recall only applies to vehicles having an engine stop/start system. Engine stalls and sporadic loss of power steering assistance could also be brought on by a loose ground connection.
9. Harsh Engine Idle
In regards to 2017 Pacificas with a rough engine idle, Chrysler recently issued a technical service bulletin (TSB). There may not be enough balancing holes bored into the crankshaft of the 3.6L V6 engine featured in these vehicles.

The Chrysler Pacifica by Alexander Migl / CC BY-SA 4.0. Surprisingly, customers who recently bought a 2017 Chrysler Pacifica reported having a full transmission fail after only 1000 miles!
The main revolving part of the engine is the crankshaft. Direct attachment to the crankshaft is made via pistons and connecting rods. The crankshaft revolves and the pistons rise and fall as combustion occurs inside the engine.
The crankshaft is a crucial part of an engine. Additionally, replacing it requires a lot of labor. But if the crankshaft has an incorrect number of balancing holes, it is precisely what needs to be done.
10. Failure of the Power Inverter Module
A hybrid contains an inverter, which transforms DC voltage into AC voltage. This is required since the electric motors utilize and produce AC electricity, while the hybrid battery supplies DC voltage.
The 12-volt battery is charged and the 12-volt system is powered using a DC-to-DC converter, which is typically housed inside the inverter assembly. A conventional alternator is replaced by a DC/DC converter.
The power inverter module is the name of the inverter assembly on the Chrysler Pacifica hybrid (PIM). The PIM, which directly controls the hybrid motors, is the brain of the overall hybrid system.
The PIM has been recalled because it contains diodes that could malfunction and cause an overvoltage condition. When this occurs, the car won't move forward under its power, raising the possibility of an accident.
Recently, Chrysler unveiled a campaign to address the problem. Reprogramming numerous onboard computers, including the PIM, is part of the repair process. The PIM must also be changed in vehicles with fewer than 700 miles.
11. Defective Seat Belt Buckles and Ineffective Anti-Lock Brakes
Due to seat belts accidentally coming undone, Chrysler had to recall over 50,000 2017–2018 Chrysler Pacifica cars with the eight-passenger seating option in 2017.
Chrysler also admitted that the second-row and third-row occupants would be unable to utilize the seatbelts if the center overhead seat belt stow clasp were to shatter.
Two further recalls deal with cracked rear pinion brackets that could cause wheel wobbles and crossed rear brake lines that render the rear anti-lock brake system ineffective.
However, less than 900 automobiles in total are impacted by these two problems.
12. The Brake Pedal Becomes Soft and Hesitant to Respond
Another frequent issue with the 2017 Pacifica is with the brakes, which have been reported to make a hissing noise while applying the brakes and fail to stop the car effectively.
The brakes allegedly failed to stop the car on several instances, according to certain owners. Others claimed that after applying firm braking pressure, the minivan rolled forward.
At least eight owners informed the NHTSA that they had accidents as a result of this problem.
The majority of the time, replacing the brake booster resolves the issue, claims Car Complaints. Owners of 2017 Pacificas reported paying an average of $800 for brake repairs.
13. Software Errors
To upgrade the engine software, Chrysler recalled an estimated 153,859 Pacifica minivans. Select 2017 model-year vans may stall under certain conditions due to a programming error in the engine control module.
The automaker, based in Auburn Hills, Michigan, claims that stalling has mostly been observed by owners when the car is being started, idling, or being driven "at low, steady speeds."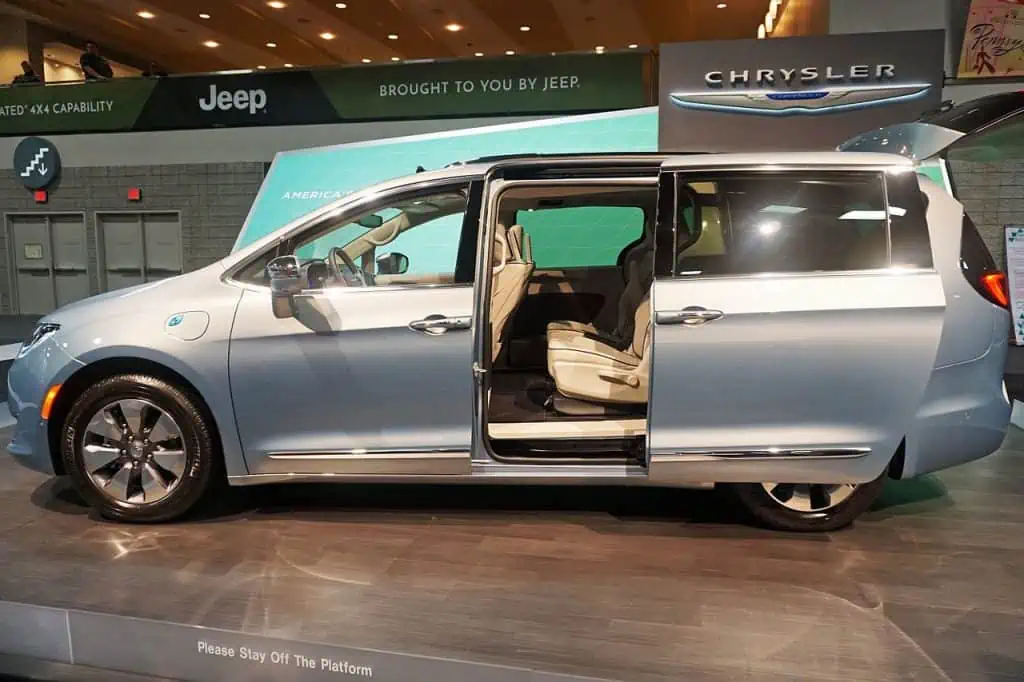 The Chrysler Pacifica Hybrid by Mariordo (Mario Roberto Durán Ortiz) / CC BY-SA 4.0. One of the most frequent issues is the 2017 Chrysler Pacifica's faulty paint, which bubbles and prematurely peels off. On exposed metal surfaces, rust can also develop. This typically happens at 34,000 miles.
The problem, according to Chrysler, only happens "under a rare set of conditions," and "most were singular events that occurred over thousands of miles of travel." it adds. According to Chrysler, damaged automobiles can be restarted immediately.
2017 Chrysler Pacifica vans with gas engines were the only ones subject to the recall; the plug-in hybrid version of the Pacifica van was not included.
On impacted models, updated engine control software will be installed at no cost by Chrysler dealers.
Additional Pacificas in the action total 7,457 for the Canadian market, roughly 1,000 for Mexico, and 245 for other nations.
The 2017 Chrysler Pacifica: How Long Can This Car Last?
The top-rated Toyota Sienna has an estimated lifespan of 200,000 miles, compared to the 2017 Chrysler Pacifica's 100,000-mile shorter lifespan. According to data from Repair Pal, regular yearly maintenance expenditures for this minivan are $478 greater than those for other minivans.
When a Chrysler Pacifica reaches 100,000 miles in age, some parts will need to be replaced, so buyers should be ready for that. They cost $800 for the A/C condenser, $275 for the drive belt idler pulley, and $500 for the engine coolant temperature sensor.
Does the 2017 Chrysler Pacifica Have Any Recalls?
There were only eight recalls for the 2017 Chrysler Pacifica, according to repairpal.com. Although transmission difficulties are the most common complaints regarding the 2017 Chrysler Pacifica, these recalls were related to transmission problems.
For instance, seat belt overheating problems were the subject of frequent recall. The crossover of only the rear brake lines when the vehicle accelerates is the subject of another recall. Additionally, a 2017 Chrysler Pacifica recall was issued due to an issue with the engine stopping while the vehicle was being driven, which is the sole significant issue.
Can You Get a Good Deal On a 2017 Chrysler Pacifica?
No, the 2017 Chrysler Pacifica is not a good value because it has some pricey issues. Priced between $16,775 and $24,500 according to Bluebook, it is less expensive than a Honda Odyssey and comparable to a Dodge Grand Caravan. The revised pricing of the product was between $28,995 to $42,895. Compared to other vans, it depreciates more quickly, losing 15% of its current worth every year.
Reliability Ratings for the 2017 Chrysler Pacifica
7/10 for overall rating: The Chrysler Pacifica had a poor year in 2017 due to numerous mechanical issues, which decreased its overall rating. Owner reviews bemoan door problems, AC system breakdowns, and exorbitant repair costs.
9/10 for interior, comfort, and cargo: Compared to other minivans, the interior materials are more upscale, the seats are quite comfy, and the cargo room is excellent.
6/10 for reliability: The 2017 Chrysler Pacifica has some pricey engine and gearbox issues. Avoid models from 2017–2018; safer options are from 2019–2022.
7/10 for performance: The Chrysler Pacifica's performance is faster than that of comparable minivans, but it's still not a sports car.
9/10 for safety: The 2017 Chrysler Pacifica received a flawless 5-star rating in government crash tests, making it a secure minivan. Rearview cameras are a given. A surround-view camera, adaptive cruise control, blind spot monitoring, forward collision warning, and other safety features are available.
7/10 for gas mileage: The 19-gallon tank may provide 418 miles of range at up to 22 MPG fuel economy. At $237 per month, gas expenditures are $33 less than the national average.
6/10 for value: The Chrysler Pacifica has affordable prices, but its costly mechanical issues make it pricey to own over the long term.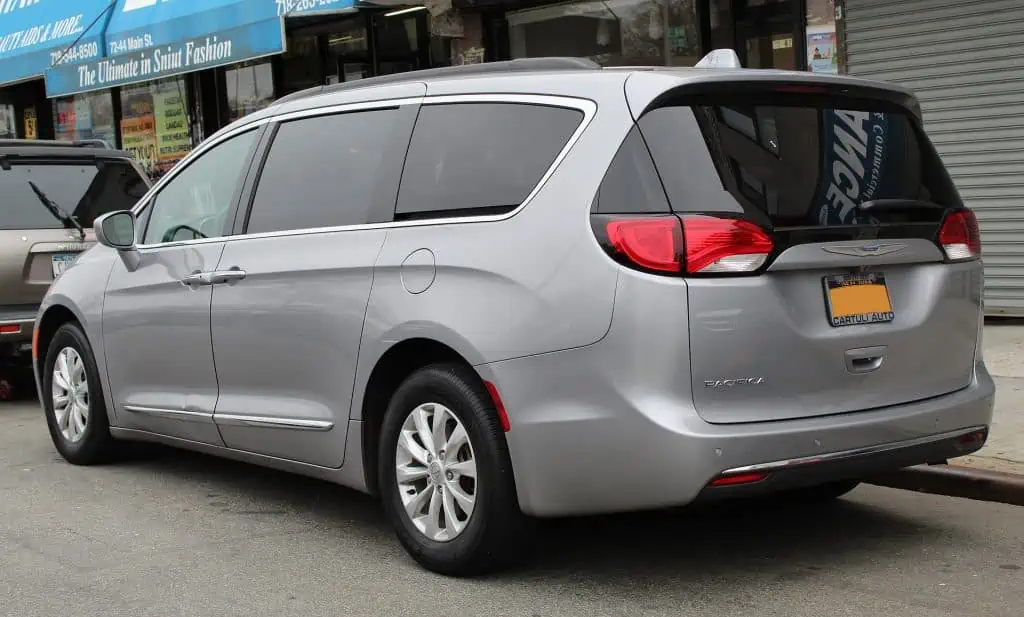 The Chrysler Pacifica's rear view by Kevauto / CC BY-SA 4.0. According to numerous complaints, the 2017 Chrysler Pacifica's transmission problems led to stuttering in cars with around 36,000 miles on them.
Does the Value of Chrysler Pacifica Remain Stable?
You should consider a car's depreciation before making a purchase. How do you envision your life in ten years? How many miles do you currently drive each year, and what will those figures look like in 2030?
After five years, a Chrysler Pacifica will have a 54% depreciation and a $20,724 resale value. Nevertheless, depending on how many miles you drive each year, this is undoubtedly speculative. These figures are based on data from CarEdge.
These figures are based on an annual driving average of 12,000 miles. These figures simply indicate that you may sell your car and receive 54% of the price you paid for it.
What Is the Lifespan of a Chrysler Pacifica?
Without a doubt, the Chrysler Pacifica is a stylish minivan. When purchasing a new car, it's important to consider how long it will endure. With the right care, most modern automobiles may travel 200,000 miles or more. This is also true with the Chrysler Pacifica.
It should have no trouble traveling 200,000 miles or more when kept up properly. The automobile should endure more than eight years with 12,000 miles of driving per year on average.
Nevertheless, there can be some unavoidable problems along the way. So let's look at a few of Chrysler Pacific's frequent problems. Although not every Pacifica will experience problems, it is still a good idea to be informed of other customer issues.
Premature front brake pad degradation that may necessitate replacement before 100,000 miles is a typical Chrysler Pacifica complaint.
Because of a mistake in technical design, north-south braking can induce metal-on-metal friction, which quickly degrades brake pads.
Although this ought to be covered by warranty, some drivers have stated that their vans were totaled in collisions caused by defective brakes and subpar Chrysler support.
The back air conditioning on older Chrysler Pacifica cars frequently malfunctions, which is another popular complaint. Even though this may seem like a minor issue, on a hot summer day, it can be uncomfortable for you and your children.
Ask your dealership about any potential issues because sometimes it's difficult to predict how long repairs will take or how an AC problem would affect other elements of the car.
Last but not least, Chrysler Pacificas are known to have problems with deteriorating transmission lines that can result in leaks or even total system failure when they fail, just like other cars in the minivan industry.
The Conclusion
Have you already decided on a Chrysler Pacifica model? Is it the more recent minivan or the dated crossover? In any case, some model years might have their fair share of faults, but if you are aware of these issues beforehand, you won't be caught off guard.
The model year you are interested in should be researched, and its maintenance and service schedule should be noted. Before deciding, make sure to work out all the details with the vendor.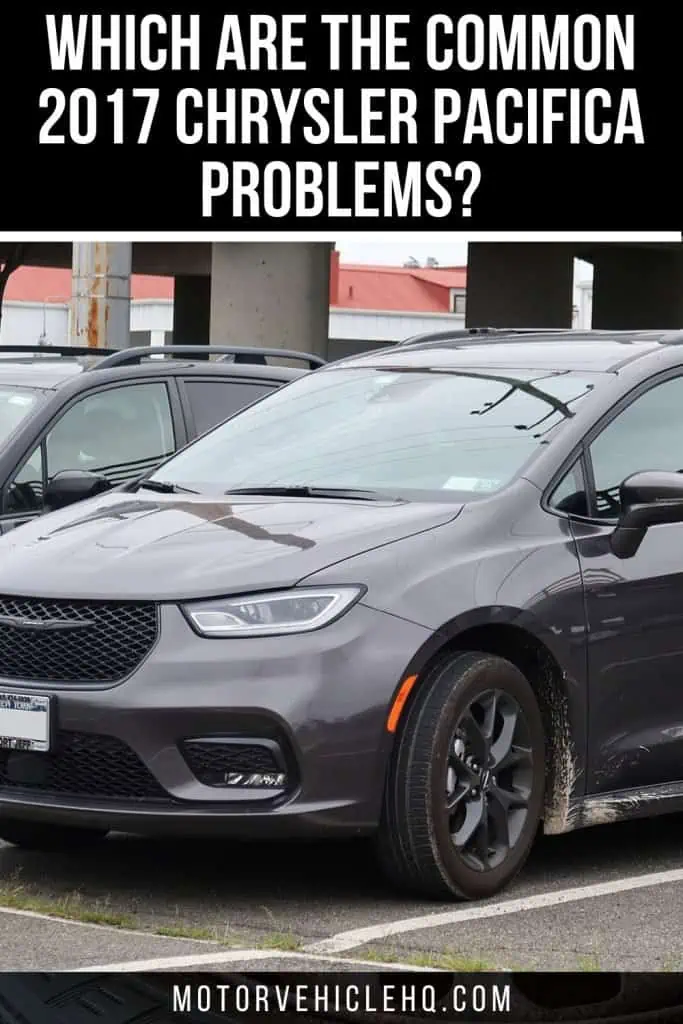 The Chrysler Pacifica by Kevauto / CC BY-SA 4.0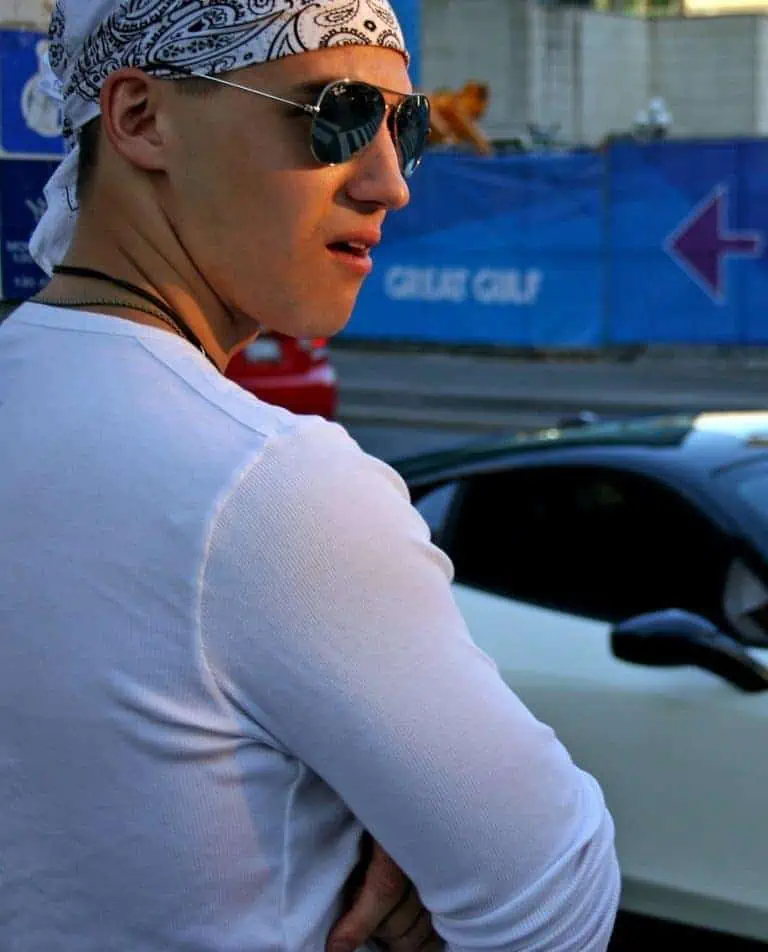 Jim Wicks is the founder of MotorVehicleHQ. With over two decades of experience in the automotive industry and a degree in Automotive Technology, Jim is a certified car expert who has worked in various roles ranging from a mechanic, car dealership manager, to a racing car driver. He has owned more than 20 cars over the past 15 years. Ask him about any vehicle you see on the road and he can tell you the make, model and year. He loves the aesthetics of all things cars, and keeps his vehicles in pristine condition.
In his free time, Jim enjoys getting his hands dirty under the hood of a classic car or taking long drives along the country roads. His favorite car? A 1967 Shelby GT500, a true classic that, according to Jim, "represents the pure essence of American muscle."