Are you looking for a capable off-roader and curious about which of these vehicles is the best choice for you? If so, the Jeep Wrangler is probably at the top of your list, and you probably want to know which Jeep Wrangler model years you should stay away from. If so, get comfortable because we have a lot to talk about.
The key to avoiding getting yourself into a money pit full of issues is to properly educate yourself about a vehicle before you make a purchase. You can save a lot of money in the long run by simply reading an article online about the Jeep Wrangler years to avoid.
Understanding the problems will also enable you to determine which models are the best and which ones are not. There are many cars out there that offer a lot and look quite nice, but appearances can be deceiving. However, they have problems inside as well.
And believe me when I say you don't want to be the guy who spends the weekends at the mechanic's shop rather than with their family. However, you shouldn't worry because we'll take care of you.
We will discover what the Jeep Wrangler is and its background in this article. Then, we'll discuss the last three Wrangler generations, including their specifications, key features, important details, problems specific to each generation, and Jeep Wrangler model years to steer clear of. Therefore, without further ado, let's begin.
The Jeep Wrangler: What Is It?
The Jeep Wrangler is most likely a vehicle that tops many people's lists when it comes to off-road vehicles. And for that cause. Because the Wrangler has established itself as a solid and trustworthy off-road vehicle that can handle anything thrown in its path over these many years of production.
Visually, the Jeep Wrangler is strikingly similar to the Willys Jeep. For those who are unfamiliar, the Willys Jeep is the compact Jeep that helped the Allies win World War II by defeating the Germans. All of the allies used it because it was so effective and capable on all fronts. In and after the war, the Willys Jeep was a true legend.

2018 Jeep Wrangler Sahara by Vauxford / CC BY-SA 4.0. When Jeep presented the 2018 model with stronger axles and locking differentials, it proved that it had overcome all of the challenging years.
Following the war, Willys, AMC, and Kaiser-Jeep began building the Jeep CJ, a civilian version of this World War II-era Jeep. The CJ was a line of vehicles that began with the CJ-3 and progressed over time to include the CJ-5, CJ-6, and the CJ-7, which served as its apex. One of the most notable 80s icons was undoubtedly the CJ-7.
From 1976 to 1986, when the CJ series was succeeded by the Wrangler, this model was manufactured.
The CJ DNA is still present in the Wrangler. The Wrangler, however, is quite a little vehicle and it is pretty good when it comes to the duty of conquering hills and having other adventures with it, unlike the full-size off-roaders that are popular.
The Wrangler is currently in its fourth generation, and with each iteration, its popularity grows. We will learn more about these generations and the Jeep Wrangler years to stay away from in the ensuing chapters.
Which are the Jeep Wrangler Years to Avoid?
2012 won when comparing the Jeep Wrangler models that performed the worst. Its problems included nine recalls, which makes it the worst for Jeep.
Given that there have been 10 and 9 recalls for the 2007 and 2008 Jeep Wranglers, respectively, those years are not too far away. Even though these may have experienced the greatest number of recalls, there have been numerous problems over the years that buyers and drivers should be aware of.
There are several relatively recent Jeep Wrangler years to stay away from, including the
These models and years frequently experience oil leaks as well as a "death wobble" brought on by worn-out suspension components.
We'll look at a few model years to sort of show you which ones to stay away from. All cars have issues, but the way we research cars helps reduce the likelihood that your Wrangler will have a significant issue. Our next goal is to outline what to look for in a Jeep Wrangler that might be about to experience mechanical issues.
We have researched the NHTSA, searched websites like CarComplaints, and spoken with some owners to find out which Jeep Wranglers to avoid and why.
Why Do These Years Feature In the List of Jeep Wrangler Years to Avoid?
Any driver will want to avoid the biggest problems, which include unplanned maintenance. Unexpected expenses can seriously deplete your time and finances, especially since a Jeep Wrangler is typically used as a daily driver. Safety is also important, in addition to your bank account. We will also talk about some potential safety concerns with the Jeep Wrangler.
2007
The fact that 2007 was slightly superior to 2008 is strange in and of itself, as it suggests that despite numerous reports of issues, the vehicle's body and engine were unchanged.

2018 Jeep Wrangler Unlimited by Kevauto / CC BY-SA 4.0. Overall, the Jeep Wrangler has an above-average dependability rating. It ranks 25th out of 26 small SUVs on RepairPal with a dependability rating of 3.5 out of 5.0.
The "Death Wobble" was reported almost as frequently in 2007 as well. In one crucial area, the 2009 Wrangler has an advantage over the 2008 model: fewer engine issues. Although it may seem strange to find something positive about this issue, it is true.
Despite having more than a decade to report a problem, CarComplaints receives far fewer reports of engine issues. But compared to other makes and models, 2007 received more complaints about suspension and engine issues. An engine repair costs about $4,400 when it happens, which seems like a total replacement price to us.
It's not great that the 2007 Jeep Wrangler had a total of 10 recalls for issues ranging from brakes to airbags. This year, we would stay away!
2008
Even though this Jeep Wrangler may be too old for you to consider buying, Jeep had a lot of issues with this particular model year.
The worse news is that neither 2007 nor 2008 improved upon the issues that were present in the preceding year.
The "Death Wobble" is the most prevalent issue with the 2008 Jeep Wrangler. The unfortunate reason for the moniker is that when a Jeep hits a pothole while moving over 45 miles per hour, the entire vehicle begins to shake dramatically, and some drivers claim to have felt like they were going to die.
The most frequent causes of these issues were wear and tear in the suspension or a lift that was improperly installed. The issue could also be brought on by less serious but more serious issues like incorrect alignment and uneven tire pressure.
Although those who experienced the "Death Wobble" found it to be terrifying, it wasn't the issue that CarComplaints users reported the most.
That unfortunate distinction goes to the "Totally Integrated Power Module" malfunction, which affects many of the Wrangler's electronics and results in serious electrical problems. The issue was fairly frequent and typically cost a Wrangler driver who was out of warranty $1000 to fix.
In 2008, there was also a problem with the engine using too much oil, which could easily result in a serious problem with the engine being severely damaged without oil.
Though they weren't as significant or frequently reported as others, there were also a smaller variety of issues reported with the air conditioner, heater, and transmission.
2010
The 2010 Jeep Wrangler had to arrive a little before 2012. There were not many problems in this situation. Although fewer reports are made than in previous years, in 2010, electrical issues still exist.
A bigger issue is that the transmission could fail before the Jeep Wrangler reaches 100,000 miles, necessitating a major repair that could cost several thousand dollars in labor and parts.
A literal transmission failure isn't something that happens to many cars, so there aren't many listed either. It's important to note that Jeep, unfortunately, comes in dead last in Consumer Reports reliability rankings for this range of Jeeps.
2012
We will give Jeep some credit for 2012 because there were significantly fewer reports of the "Death Wobble" by that year. Historically, Jeep has had trouble fixing issues quickly and frequently ranks poorly in customer satisfaction surveys. In its place, some of the same issues cropped up, such as a failure in the power module that supplies the rest of the car's electrical system.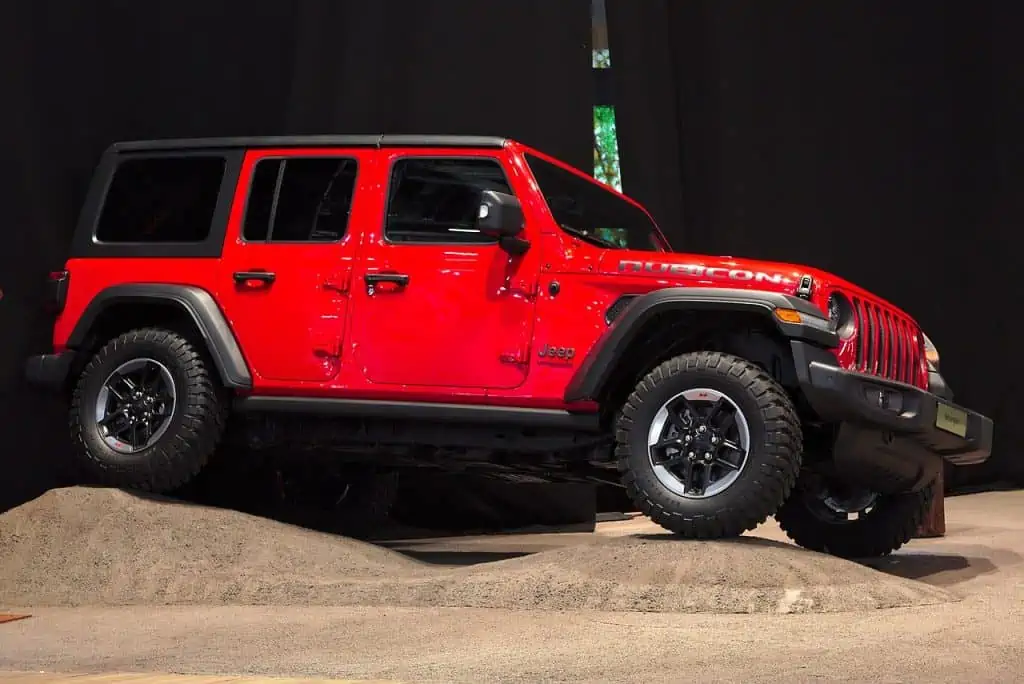 Jeep Wrangler Rubicon by Alexander Migl / CC BY-SA 4.0. Since 2016, a considerable drop in Jeep-related complaints has been seen. This might be a result of the fact that some of these drivers are still protected by warranties or as a result of a shift in Jeep's quality standards after it joined the FIAT Chrysler group.
For this model year, electrical troubles are by far the most prevalent issue. Most of these issues are related to the power module, although some have also been associated with the electrical system stalling out while driving.
Even though the engine has improved, it still has several issues. The necessity to replace the cylinder heads was noted by many drivers. A small bit of good news: Considering how challenging it is to solve the issue, there are significantly fewer reports of excessive oil usage.
Unfortunately, Jeep continues to get several complaints, including issues with inside components as well as body and paint, including water leaks into the car, which is not good for an off-road vehicle.
2013
Thankfully, this one just barely made it into our list. In comparison to other faults on our list, the 2013 engine has some issues with misfiring cylinders and the progressive deterioration of spider gears, which can be fixed for $600.
Failures of the Jeep's water pumps and other water-related issues from 2013 could cause it to overheat. These appear to occur early on, with warranties and dealers covering the expense.
2014
Thankfully, this is one of the few Jeep Wrangler models to experience problems in recent years. But these problems are not minor ones. Both oil leaks and the oil housing spewing oil are issues with the 2014 Jeep Wrangler. This is not a good thing because oil is a vital component of the engine and is necessary for its life.
Sadly, a large number of users on CarComplaints are having the same issue. Because the filter may crack or come loose, a significant amount of the engine's oil may suddenly flow out, making the oil problem a little more temperamental. Even though an engine oil light is conceivable, it might not come on quickly enough.
It's not like the "Death Wobble," which seems to affect worn-out suspensions and subpar lifts, as several users have reported; rather, this can affect people who have otherwise taken good care of their Jeep.
A Better Future for Jeep Wrangler!
The number of Jeep-related complaints has decreased significantly since 2016. This could be because some of these drivers are still covered by warranties, or it could be because Jeep's quality standards have changed since it joined the FIAT Chrysler group after being owned by General Motors until the late 2000s.
Which are the Jeep Wrangler's Golden Years?
There are happy years where the model performed over expectations, just like there are Wrangler years to avoid. Contrary to popular belief, some of the best Jeeps are older model years. We'll explain why.
The YJ and TJ Generation
The strongest and most durable Jeeps are those from the 1980s and 1990s. The models were specifically created between 1987 and 1995. The new and better quality, which included roll bars, greater safety measures, and improved suspension, was one of the reasons the vehicles from these years fared so well.

The most common problem with the 2008 Jeep Wrangler is the "Death Wobble." The bad reason for the nickname is that a Jeep shakes violently when it strikes a pothole while traveling more than 45 miles per hour.
These Jeeps were still going strong and are still going even at increased mileage. The ones that are still in use now are still operating properly albeit perhaps needing some parts updated. However, with regular maintenance, these Jeeps may last a lifetime because of the robust frame and well-built overall structure.
The Jeep Wrangler for 2019
Jeep managed to pull itself together despite all the difficult years when it unveiled the 2019 model, which featured stronger axles and locking differentials. Additionally, there was a significant upgrade to the safety features, including a stronger roll cage and a better airbag system, which helped to restore the brand's reputation.
Why are Older Jeep Wranglers Not Included In the List?
Most people use lists like this to educate themselves while others use them to determine the best Jeep Wrangler year to purchase. While the Wrangler had some pretty fascinating issues in the early 2000s as well, it's doubtful that many of them are available for purchase with decent mileage. Those that are still running have either undergone significant repairs or are still operating efficiently.
Are Jeep Wranglers Reliable, or Should You Avoid Them Completely?
Sincerely, no. Jeep products are known for their stylish design and off-road capability that is combined with comfort.
Every manufacturer's car portfolio has the drawback of being constructed with cost-effectiveness in mind, and occasionally attempts at engineering and cost-effectiveness don't work out as expected. Fortunately, Jeep appears to have addressed many of its problems recently and hasn't received nearly as many complaints.
The Jeep Wrangler has an overall reliability rating that is above average. It receives a reliability rating of 3.5 out of 5.0 on RepairPal, placing the vehicle 25th out of 26 compact SUVs. The average cost of annual maintenance for a Wrangler is $694, and there are very few repairs that need to be made.
With a Wrangler, you can normally travel 280,000 miles before serious issues arise. Wranglers could last you more than 20 years and over 400,000 miles with proper care and maintenance.
If I Have a Jeep Wrangler Year to Avoid, How Can I Avoid Problems Associated with Them?
The simple solution is routine maintenance. By giving your suspension and tires frequent maintenance, you may eliminate the deadly wobble. If you see an oil stain on the ground underneath your Jeep, go take care of it.
If you don't rotate the tires or get new ones as they wear out, even a well-known, dependable Toyota Camry will start to have problems with its drivability.
However, it's also true that some issues, such as a cracked oil filter, might appear out of nowhere. Asking the dealer or technician to look at concerns with the oil filter and see if they can repair it before they become a problem is one possible solution to this issue.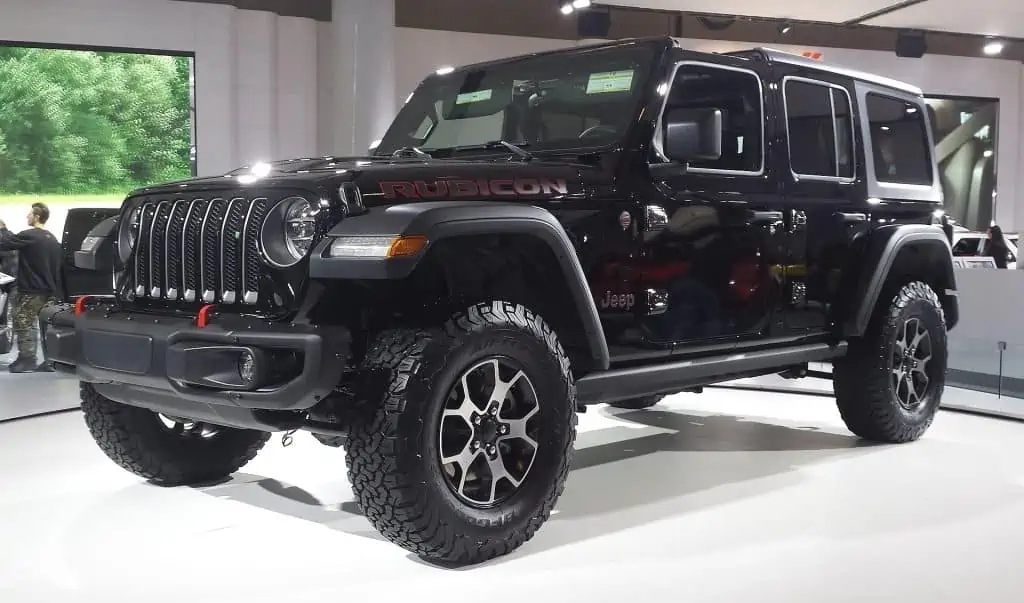 Currently, in its fourth generation, the Wrangler's appeal increases with each iteration.
Otherwise, go use your Jeep for the purposes for which you purchased it. Jeeps are known for being difficult and challenging, so have fun and venture off the established road.
Are Jeep Wrangler Years to Avoid Costly to Repair?
No, not in contrast to other models, I'll be honest. Jeep is a member of FIAT, a considerably bigger organization that also owns Dodge and Chrysler.
Their parts are reasonably priced. Watch out for labor costs at dealerships and shops because they may be slightly higher for extensive repairs that require someone to disassemble the car for hours to find the issue.
Which are the Common Problems with Jeep Wranglers?
There are many problems with the Jeep Wrangler. As a well-known brand, there will undoubtedly be occasional issues because no company can make products that are 100% perfect. The following are a few of the most prevalent reported problems that buyers should be on the lookout for:
1.  The Famous "Death Wobble"
Among Jeep owners, the death wobble may be the most well-known problem. It affects more than just the 2007 Jeep Wranglers. NHTSA reports indicate that despite its name, nobody has passed away. The problem is characterized by a steering wheel that shakes and vibrates ferociously when a bump is encountered at high speed.
According to reports, the shaking is so intense that it is quite challenging to control the steering wheel. Affected drivers are understandably anxious for their safety as well as the safety of their passengers, even though the problem usually goes away if the vehicle slows down or stops altogether.
The FCA is being sued because it fails to recognize the potential risks brought on by the fatal wobble. The lawsuit further asserts that FCA allegedly refused to remedy the problem, claiming that any car with a solid front axle is susceptible to death wobble.
Thankfully, FCA has finally devised a solution as of August 2019 that entails swapping the outdated steering damper/stabilizer for a new/redesigned part that would reduce vibrations generated by the front suspension. Customers of FCA have received notices about this campaign.
2. The Wireless Controls Issues
The electrical fobs are a different problem. This system frequently needs repairs or replacement because it wears out too quickly or stops working. When the automatic start is engaged, the Jeep occasionally refuses to start, which may be very frustrating until it is finally rectified and functional again.
3. Defective TIPM
The car may be unable to start due to a malfunctioning Integrated Power Module (TIPM), which can also interfere with the proper operation of key functions (i.e., headlights, fuel pump, and windshield wipers). Simply put, a malfunctioning TIPM may give the motorist the impression that their car is possessed.
Failure of the TIPM is a typical issue with 2008 Jeep Wranglers. Numerous thousands of FCA vehicles, including third-generation Wranglers, built from 2007 to 2015 have this ongoing issue (2007-2015).
Repairing a defective TIPM normally costs between $900 and $1300, but depending on how serious the problem is, the cost may be much more. Due to a class action lawsuit brought by affected owners, FCA has resolved the issue with the malfunctioning TIPMs in Wranglers and other models.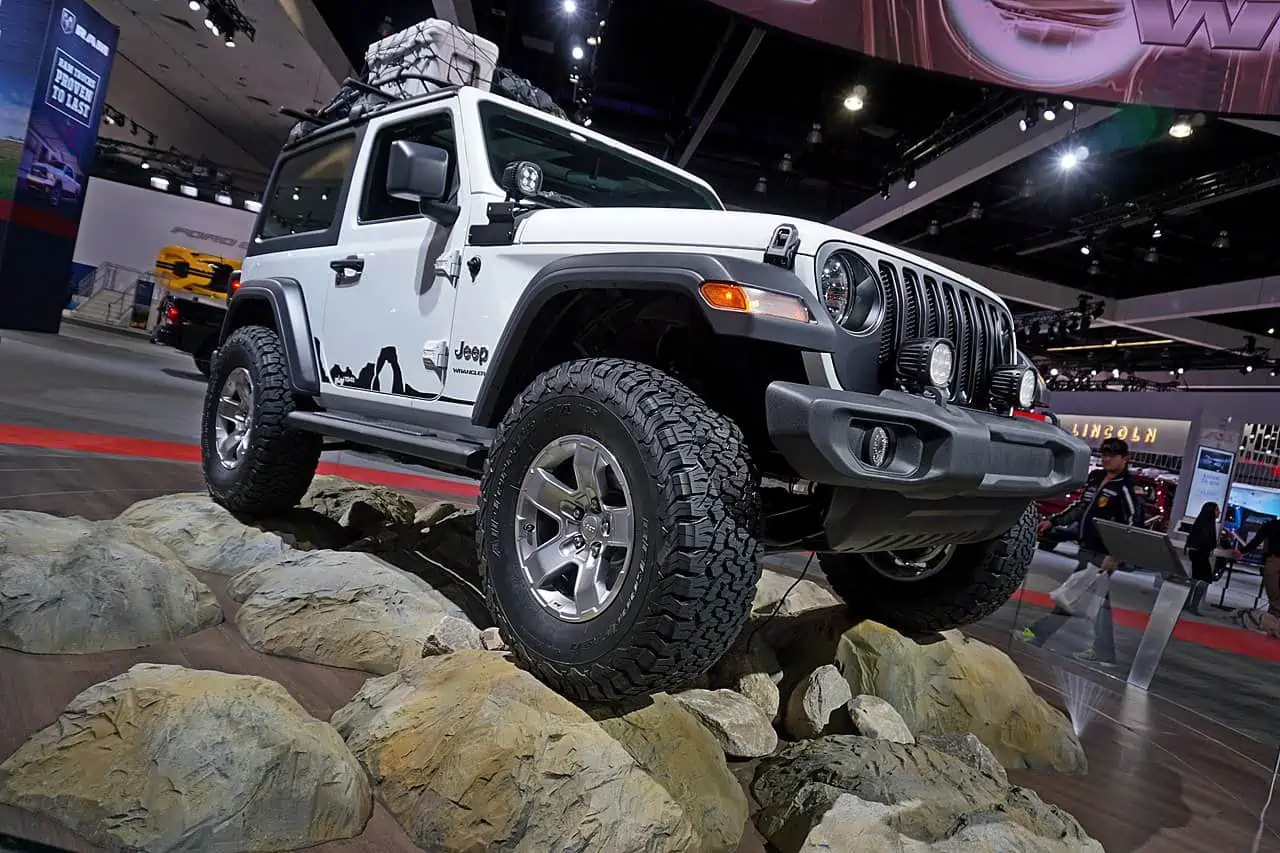 A 2018 JL model Jeep Wrangler by Steven Walling / CC BY-SA 2.0. You can typically drive a Wrangler 280,000 miles before experiencing major problems. If you take care of your Wrangler, it might last you more than 20 years and 400,000 miles.
To fix the TIPM problem with their vehicles, FCA issued several recalls. They released a recall in July 2007 that was exclusive to the 2007 Jeep Wrangler and Dodge Nitro. The fundamental cause of the stalling in the affected vehicles was found to be a timing mistake in the TIPM.
The recall made it possible for the dealership to reprogramming of the TIPM for impacted owners. Sadly, the recall was limited to 2007 Wranglers.
4. Leaking Oil Housing
Owners of the 2014 Jeep Wranglers claim that the oil filter housing would break and degrade in their cars. This frequently caused leaks to spread to the transmission housing and the engine. This poses a severe fire risk and is a highly dangerous situation. The problem is normally solved by replacing the oil filter housing, which can run you anywhere from $114 to $122.
Jeep hasn't yet conducted a recall for this particular issue. For the 2014 Jeep Wrangler, they did issue a technical service bulletin (TSB #SB-10058301-5939). This bulletin explains what steps to take in the event of oil loss, low oil, oil weep, or oil consumption before doing standard diagnostics.
Jeep also published a Technical Service Bulletin (TSB) (#S1809000007) on engine oil leaks and consumption on March 31, 2021, but the National Highway Traffic Safety Administration (NHTSA) has not yet posted the report online. However, owners of the 2014 Wrangler can ask the service department of their nearby Jeep dealer for a copy of this bulletin.
5.  The Jeep Wrangler's Side Doors Drip Water
Water coming into the Jeep Wrangler from the upper corner of both the driver and passenger side doors is a common complaint from owners of the car. The main problem is that a lot of water enters the house and collects on the flooring, sometimes up to two inches thick. Water usually seeps down the A-pillar and inside the car.
There seems to be a persistent issue with Jeep Wranglers. Some customers claim that although Chrysler is aware of the problem, no fix has been provided. Repair businesses are fixing the seal around the doors to appease irate clients who are sick of their floors being damp and smelling like mildew.
6. Exhaust Manifold Cracks
Older Jeep Wrangler models frequently suffer from cracked manifolds. The engine is said to be making a ticking noise, according to drivers. To prevent risky driving situations, the manifolds must be replaced right away.
Owners complain about low gas mileage, a persistent knock, and issues starting the engine. Most customers discover that fixing the issue involves switching to an aftermarket stainless steel exhaust manifold.
7. When Driving, the Engine Stalls or Dies
Some 2013 Jeep Wrangler owners have complained that when driving, their cars jerked and lost power. Because no trouble codes were generated by this error, many of the impacted drivers were forced to attempt to identify and resolve the issue on their own because some shops were unable to do so.
While the majority of reports claim that the problem's cause was never discovered, a few owners have reported success in replacing their crankshaft position sensor. There is no TSB or recall for this exact problem from Jeep.
8. Cylinder Head Problems
The necessity to replace the cylinder head is one of the more serious 2012 Jeep Wrangler issues. Cylinder misfires and an abrupt loss of power have both been noted by several owners.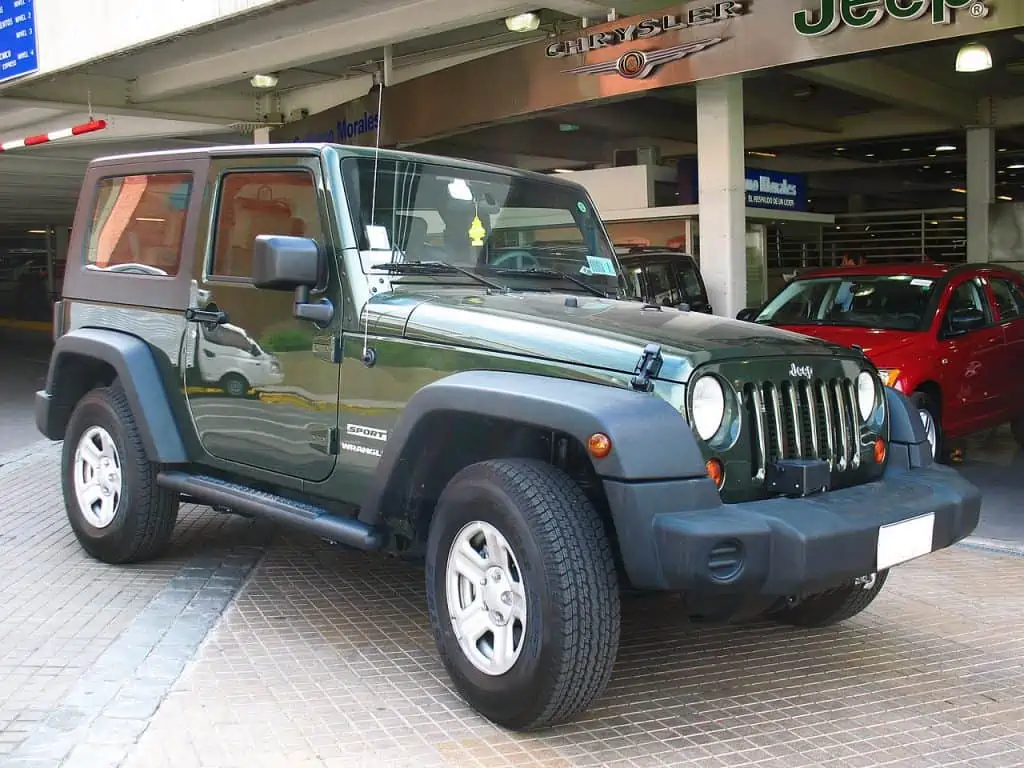 2010 Jeep Wrangler Sport by order_242 / CC BY-SA 2.0. The gearbox failing before the 2010 Jeep Wrangler hits 100,000 miles would be a greater problem and would require a significant repair that may cost several thousand dollars in labor and components.
Many of the affected owners have spent thousands of dollars on repairs because the problem seems to be ongoing and recurrent. For the Jeep Wrangler, aftermarket cylinder head replacements can cost anywhere between $200 and more than $600.
To solve the issue, several owners were compelled to replace their whole engines. The problem is said to be brought on by faulty cylinder heads' compression leaks.
On December 15, 2014, Fiat Chrysler vehicles (FCA) issued a TSB (09-002-14 REV. B) recommending a cylinder head replacement to address this problem. According to the notice, owners who are affected may be eligible for compensation under the terms of their car warranty.
9. Engine Blowing
Another important problem, especially for the 2011 Jeep Wrangler, as it necessitated very pricey repairs When this problem occurred, many of the afflicted owners did not report an illuminated check engine light. They claim that their car started making strange noises all of a sudden. They found that the oil levels in their cars were dangerously low.
Some people discovered the problem too late, resulting in serious engine damage that required engine block replacement.
On February 6, 2013, FCA released a TSB (09-001-13) that detailed a technique for determining whether the gas engines on some of their vehicles need maintenance or replacement.
The manual provided professionals with step-by-step diagnostic instructions for handling unusual oil consumption and engine noise. This list featured the 2011 Jeep Wrangler, the 2012 and 2013 model years, as well as other FCA-branded vehicles.
NOTE: You can choose wisely while buying your own Jeep Wrangler if you are aware of any potential issues you can run across. As a result, if you're seeking to purchase a used Wrangler, be sure to conduct extensive research on the model year you're considering. Before you sign the contract, ensure sure the seller has fixed any broken pieces.
The Conclusion
We have spoken a lot about the Jeep Wrangler in this essay. First, we discovered what the Jeep Wrangler is and its unique qualities. We briefly discussed the origins and background of this model.
Then, we discussed the Wrangler's four generations, where we learned more about the specifications. How many engines and gearboxes they had, as well as how safe they were.
The issues with each of these generations were then discussed, along with the Jeep Wrangler years to steer clear of. Since not all Jeep Wrangler models have the highest levels of quality and performance,
Finally, we talked about Wrangler's alternatives. If you can't find the ideal Wrangler, there are lots of other choices.

A 2018 JL model Jeep Wrangler by Steven Walling / CC BY-SA 2.0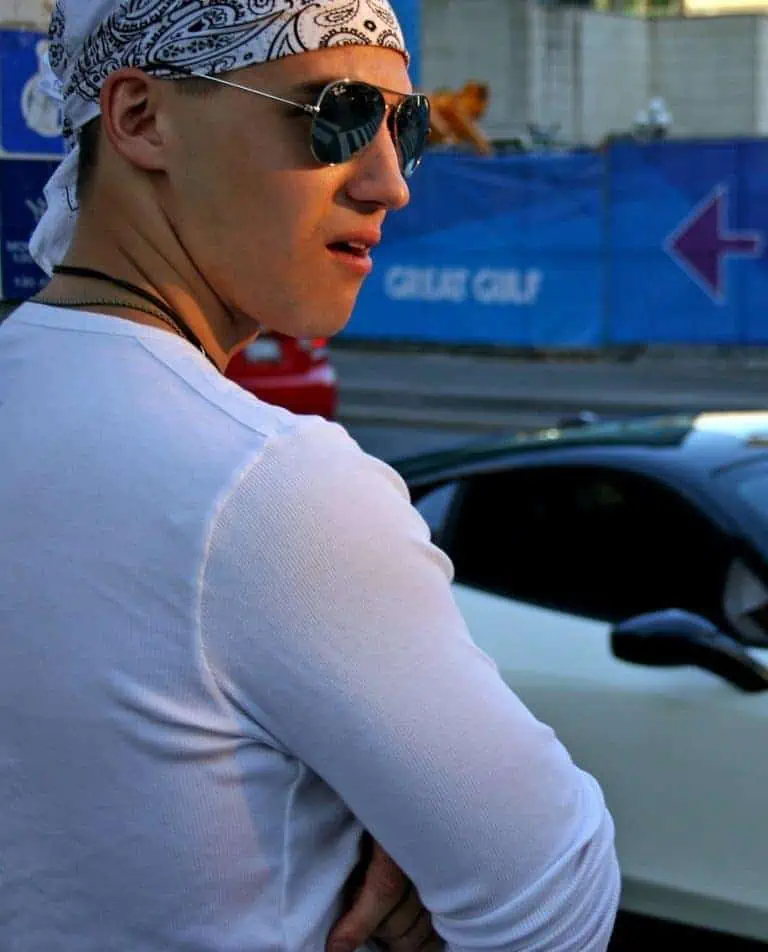 Jim Wicks is the founder of MotorVehicleHQ. With over two decades of experience in the automotive industry and a degree in Automotive Technology, Jim is a certified car expert who has worked in various roles ranging from a mechanic, car dealership manager, to a racing car driver. He has owned more than 20 cars over the past 15 years. Ask him about any vehicle you see on the road and he can tell you the make, model and year. He loves the aesthetics of all things cars, and keeps his vehicles in pristine condition.
In his free time, Jim enjoys getting his hands dirty under the hood of a classic car or taking long drives along the country roads. His favorite car? A 1967 Shelby GT500, a true classic that, according to Jim, "represents the pure essence of American muscle."