A fan with $10,000 in their wallet might not even be able to come close to purchasing an exciting sports car, but is that the case?
To put things in perspective, the least expensive car now available on the North American market costs $14,395, while many reasonably priced sports cars cost twice as much. What about the used goods market, then?
A few years ago, $10,000 would have bought you a lot of value, and 15-year-old sports vehicles were little more than intriguing used-performance specials near the bottom of their depreciation curves.
After a few years, all those neglected treasures developed into collector classics and saw yearly price increases. Additionally, fascinating old cars aren't losing value as quickly as they previously did, making it more difficult than ever to find a cheap sports car.
Although the situation appears dire at first, you may still have fun and a speedy car by making a small concession.
Here are our picks for the best sport cars under $10K:
1. The Ford Mustang GT
Since its introduction in 1964, America's Sweetheart has been associated with an affordable sports vehicle, so it's no surprise that the used market is flooded with V8-powered Mustangs as well.
You most likely purchase a coupé or convertible early fifth-generation S197 Mustang GT for $10,000. You may find these vehicles with both manual and automatic transmissions, and the typical mileage ranges from 100,000 to 150,000.
In addition to the most obvious alternative, other choices include late-model fourth-generation Mustangs. Still, even third-generation 5.0 Fox Body Mustangs are a good fit because they can be purchased for $8,000 and are in good condition. The S197 seems like a more rational choice if you want a daily sports car, while the other two are more suited as weekend vehicles and wise investments.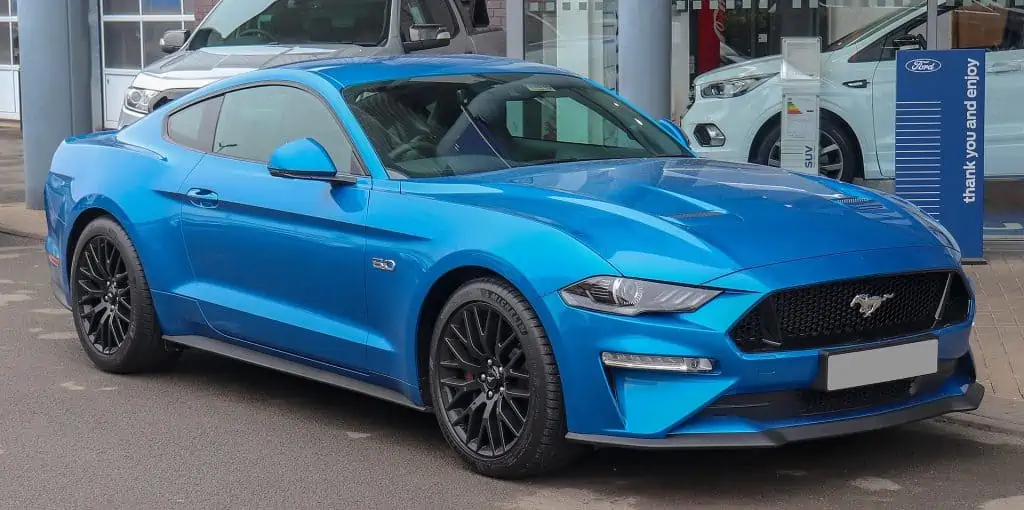 2019 Ford Mustang GT by Vauxford / CC BY-SA 4.0. These cars typically have between 100,000 and 150,000 miles on the odometer and are available with both manual and automatic transmissions.
2. The Miata Mazda MX-5
The Mazda Miata, the vehicle that redefined the roadster, must be included on any list of genuinely inexpensive and sporty vehicles. The Mazda MX 5 is a great buy for an entry-level enthusiast car and one of the greatest sports cars under $10,000 because of the big Miata market and the sizeable and supportive community.
When it comes to purchasing the ideal example, the used market offers you virtually unlimited trim level possibilities, ranging from completely stock vehicles to elegantly and communally approved customized ones. The first three generations, NA, NB, and NC, are the only ones available for less than $10,000, so your best bet is to inquire around and peruse local Miata forums for classified ads.
3. The Pontiac Solstice GXP
Before GM finally decided to discontinue Pontiac in 2010, it was a mere shadow of what it once was during the heyday of the muscle car. However, Pontiac had two intriguing vehicles before the farewell: the Solstice and GTO.
The Solstice, a small roadster developed on GM's Kappa chassis together with the Opel GT and Saturn Sky, is an option for our fictitious enthusiasts on a budget even though the GTO is beyond their price range.
With a concept car-like look and the GXP trim you should be pursuing, the Solstice is unquestionably the most interesting of the three. With a 5-speed manual or 5-speed automatic transmission, the 2.0-liter turbocharged inline-four engine in this underappreciated classic delivers 260 horsepower to the rear axle (260 Lb-ft torque).
As of now, the Solstice GXP is still available for less than $10,000, but Pontiac's final prices are sure to rise soon, so if you don't move quickly, you might miss the last bus for this future classic.
4. The BMW Z3 3.0i
Pierce Brosnan's driving of the affordable BMW 007-approved roadster gained notoriety in the GoldenEye movie. But in actuality, it was only moderately powerful, at least until BMW decided to give it a boost by passing the roadster its recognizable inline-six.
The Z3 went from being merely a pretty face in that way. A Z3 3.0i with a 228-horsepower M54B30 engine and a 5-speed manual transmission should be your target vehicle. It can accelerate from 0 to 60 mph in 5.6 seconds and has a top speed of 155 mph.
The Z3's appeal is that you are not enclosed like in a contemporary open-top automobile. Instead, when the windows are down, your entire upper body will be above the door line, and the straight-six engine offers more than enough power and a lovely symphony for thrilling drives.
As of right now, the Z3 3.0i roadsters, which come with leather seats, can easily exceed $10,000, but you can still find one that needs some work.
Alternately, you could choose the 2.8i or perhaps come across the quirky and endearing "clown shoe" Z3 Coupé, although your odds of finding one under $10,000 are already slim.
5. The Fiat 124 Spider
The US-market Fiat 124 Spider wasn't much of a looker in comparison to its svelte European cousin because of its federal bumpers, side markings, and uncomfortable raised stance to meet with the required height of the headlamps.
On the other hand, it was still a stylish European convertible and later models had a fuel-injected 2.0-liter twin overhead cam engine, a five-speed transmission, rear-wheel drive, and four-wheel disc brakes.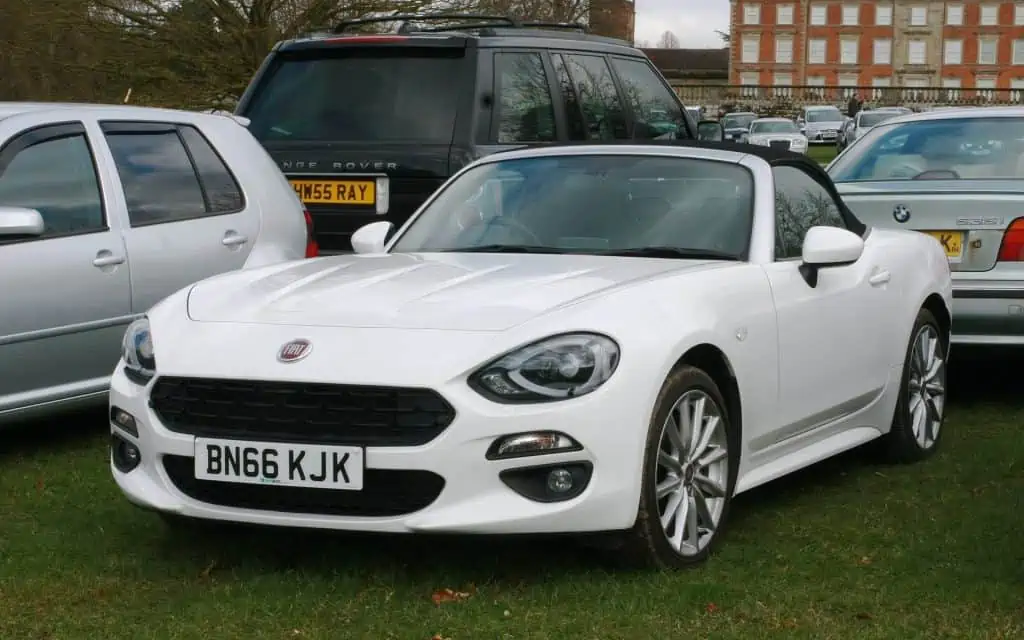 Fiat 124 Spider (2016) by Charles01 / CC BY-SA 4.0. The Fiat 124 Spider can be the right vintage sports car for you if you don't mind doing some maintenance yourself.
Well-maintained versions of historic cars can be purchased for between $8,000 and $10,000 nowadays, so if you don't mind performing some maintenance work yourself, the Fiat 124 Spider might be the ideal vintage sports car for you.
6. The Volkswagen Golf GTI
The Volkswagen Golf GTI, which made its debut in 1975, marked the beginning of a change in the market for affordable performance vehicles. Soon, hot hatchbacks supplanted tiny coupes and roadsters as the preferred choice of young people who crave speed.
Many excellent hot hatchbacks have been removed from the North American market, but the Golf has been available since the beginning.
The Mini Cooper S and Golf GTI were our top finalists for hot hatchbacks under $10,000, but since the latter was a vehicle that defined its class, we chose Volkswagen for one of the greatest sports cars under $10,000.
You may purchase a fifth- or sixth-generation Golf GTI with a 2.0-liter inline-four turbocharged engine producing 197 or 208 horsepower for amounts close to $10,000. These models are available in 3-door or 5-door body configurations.
You can choose between a 6-speed manual or 6-speed DSG dual-clutch automatic transmission for either vehicle, depending on which setting best suits you.
7. The Honda CRX
Thankfully, the classic 1980s tiny 2-seater made it to the American market and went on to become one of the most significant imports of the 1980s and 1990s.
Due to its lightweight and innovative engineering, this nimble front-wheel drive coupé, based on the Civic, combined advantageous fuel economy with an exhilarating driving experience.
These adorable little Hondas underwent decades of numerous modifications and engine swaps because of their enormous potential and affordability, which increased the cost of completely stocked cars.
If you're lucky and persistent, you might be able to find a good, unmolested first-generation 1.5-liter CRX Si (Sports Injection) with a 5-speed manual transmission for between $7,000 and $10,000.
Last but not least, if you want one, act immediately because there aren't many of them available and the cost will keep rising.
8. The Abarth 500
As hot hatches are essentially econoboxes with a power bump, bigger brakes, and stronger suspension, they typically lack style compared to historical sports vehicles like coupés and roadsters. Italians, on the other hand, are responsible for the retro-modern 500 Abarth subcompact.
Fiat's ambitious return to the US included the Abarth 500, and it's reasonable to say that it was also the most successful endeavor.
With decades of involvement in all types of racing, the Abarth has a legendary history among auto aficionados in Europe. The 500 Abarth is still an odd but stylish performance option for Americans.
The Abarth is the most fun you'll have in a modern subcompact with sporty looks, and the irate noises it makes are mesmerizing, so don't let the tiny 1.4-liter deceive you. Yes, you can get this example of Italian love for less than $10,000.

2009 Abarth 500 by Vauxford / CC BY-SA 4.0. In Europe, the Abarth has a storied past among enthusiasts of automobiles. The 500 Abarth continues to be an unusual yet fashionable performance choice for Americans.
9. The Chrysler Crossfire
The Chrysler Crossfire is one of the intriguing vehicles that came from the brief union of Daimler AG and the Chrysler Corporation. The Crossfire, which was marketed as a coupé and a convertible, used Mercedes-Benz SLK internals.
Although its American cousin was only available with a 3.2-liter M112 V6, either naturally aspirated in ordinary or supercharged in SRT-6 type, unlike the baby Benz, which had a variety of engines.
The Crossfire can now be obtained in both coupé and roadster guise for between $8,000 and $10,000, with numerous low mileage examples. The Crossfire is currently the last reasonably interesting Chrysler model, and whether you like it or not, that's likely to stay the case given the brand's poor odds of regaining its previous glory.
10. The Mitsubishi 3000GT VR4
The 3000GT VR-4 was unquestionably an emblem of the Far East during the 1990s when Mitsubishi had considerable sway in the world of sports cars. The potent 3.0-liter twin-turbocharged V6 engine in the Japanese sports car produces 300 horsepower.
The Mark IV Toyota Supra, Nissan GT-R, Honda NSX, Mazda RX-7, and Subaru SVX are some examples of other JDM flagships that it can proudly stand beside thanks to technologies like active aerodynamics, four-wheel steering, and electronic suspension.
The 3000GT VR4 is a high-end Japanese coupé from the 1990s that is still reasonably priced because it avoided the recent price increase some of its JDM performance vehicle rivals experienced.
If you're lucky, you might be able to get an early model fantastic car with a 5-speed long ratio manual transmission for $10,000, however, it probably won't be in its signature red and will have more incredible mileage.
11. The Porsche Boxster
Initially a contentious Porsche, it eventually gained a reputation as one of the best sports cars for the money on the planet.
A well-balanced, two-seater mid-engined roadster with a reliable Porsche engine that delivers respectable performance for the money.
Over the years, we've been fortunate to have a variety of Boxster variations, and for $10,000, you may choose between the original 986 and the 987 from the middle of the 2000s.
If you're considering the 986, we suggest going with the 3.2 Boxster S. It was introduced in 1999 and features a robust 3.2l engine with about 250 horsepower.
Whichever Boxster you choose, you can be sure you're getting a lot of cars for the money. The 987 is a wonderful option if you're looking for something a little newer and more practical.
Additionally, if you choose the proper Boxster, you can find that its value increases over the years.
12. The Nissan 350Z
The 350Z, which replaced the famed 300ZX as the fifth vehicle in the Nissan "Z" lineage, was introduced in 2002. It was a two-seat sports automobile that was produced for seven years and was available in a coupe and convertible body styles.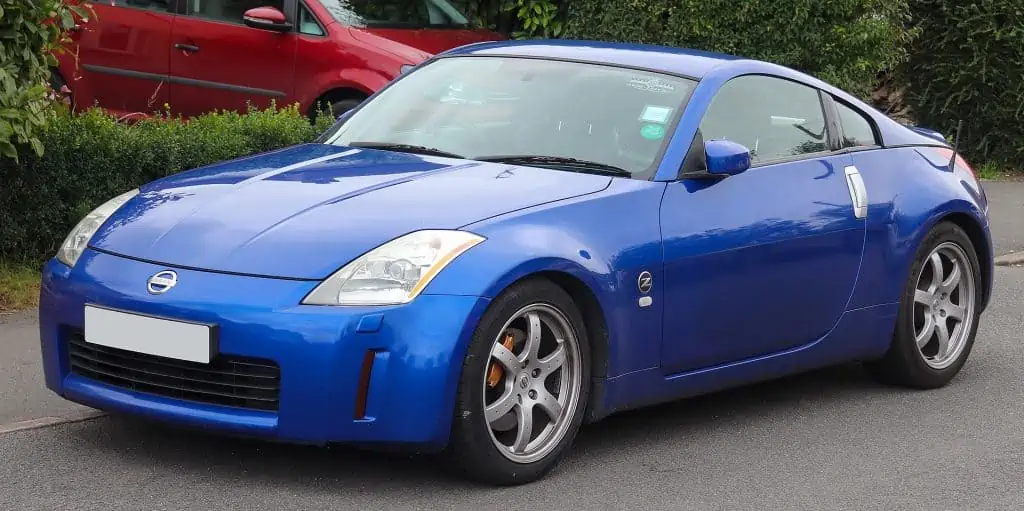 2004 Nissan 350Z by Vauxford / CC BY-SA 4.0. In 2002, Nissan unveiled the 350Z, which took the place of the renowned 300ZX as the fifth car in the company's "Z" lineage.
The 350Z is a very capable sports car, as you would expect from a Nissan Z vehicle. It has a 3.5l V6 engine that generates 276 horsepower while still managing to be very useful daily.
For less than £10k, you will have a good selection of models with extremely low mileage, but because some of them will be close to 20 years old, you should use caution when purchasing as they can be quite expensive to operate, particularly if changes have been made in the past.
Overall, though, the 350Z continues to be a fantastic value and, with a 0-60 mph time of 5.6 seconds, can still compete with many of the sports cars we see on the market today. In our opinion, a true steal!
13. The BMW 6 Series (E63)
The 6 Series was a serious piece of equipment when it was returned to the market in 2003 and is still today.
Over the years, the high-end coupe has been equipped with a variety of engines. In 2006, the 650i, the top model, was introduced with a 4.8l naturally aspirated V8 engine. If we exclude the M6 for this piece under £10k, it was the icing on the cake for the 6 Series!
With 362 horsepower and a 0-60 mph pace of about 5 seconds, the 650i is the fastest car on this list. It almost had enough power to compete with some supercars of its era.
The 6 Series is no different from other high-performance BMW sports vehicles in that it is not cheap to maintain them, thus prospective buyers should exercise caution. Do your homework before you buy because maintenance charges could cost you a fair penny.
If you enjoy the feel of the wind in your hair on a warm day, the 6 Series was also offered in convertible form. If you just can't bring yourself to buy the 650i, there are lots of other smaller engines with plenty of power.
14. The Audi TT
A post-2010 Mk2 Audi TT is certainly within your reach if you're looking for something slightly more modern that yet performs nicely.
It makes perfect sense that the second-generation TT would be worth considering if you have a somewhat bigger budget since the first-generation model was prominently included on our list of the finest sports cars under £5,000.
When the Mk2 was introduced in 2006, it had a less bulbous form than the renowned Mk1. Additionally, the onboard technology and driver conveniences are significantly superior to those of the previous model.
The Mk2 was available with a variety of engines, from the entry-level 1.8l turbocharged inline-4 to the sporty 3.2l V6. It's little surprise that TT has dominated the UK's market for inexpensive sports cars for so long given its exceptional performance and handling.
There are several TTs available for under £10,000, and you can easily find one with fewer than 70,000 kilometers on the odometer. There is still a lot of life remaining in these cars because they were made to last.
15. The Mercedes SL
The 300 SL "Gullwing" was the first model in the long and illustrious Mercedes SL lineage, which dates back to 1954. With the R230 SL, which was manufactured between 2001 and 2011, you may purchase your piece of history for less than £10,000.
There are several different engine options available for the SL, but the most popular models at this price point are the SL350 with a 3.5l or 3.7l V6 or the SL500 with a 5l V8.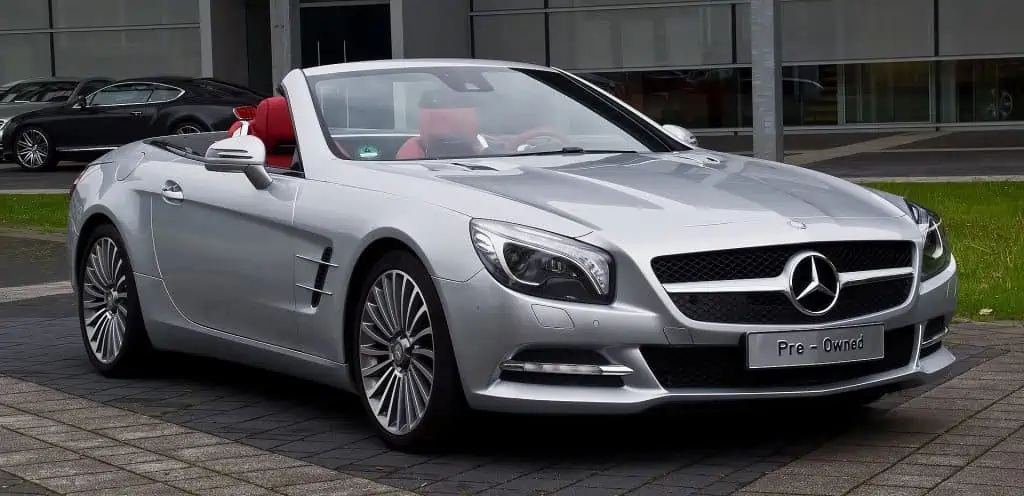 Mercedes-Benz SL 350 by M 93 / CC BY-SA 3.0 de. There are a variety of engine choices for the SL, but the SL350 with a 3.5l or 3.7l V6 or the SL500 with a 5l V8 are the most popular versions at this price point.
The German cruiser includes all the gadgets and technology you'd anticipate from a high-end sports vehicle from the 2000s, as well as a foldable hard-top cover.
You might hope to get a mid-2000s model with a good history and low mileage, possibly under 70,000, for £10,000 or less.
The SL is a fantastic prospect, but as you can anticipate, maintaining it may be expensive. You will pay a good sum for any visit to a Mercedes-Benz dealership, and parts are not inexpensive.
Make sure the SL you're considering has been meticulously maintained; otherwise, you risk having to pay exorbitant fees to get your new vehicle roadworthy.
Numerous aged electronics could malfunction, and retractable roofs have a history of springing leaks, especially with earlier models.
The SL is a superb car at a great price, but, providing you're okay with the recurring payments.
16. The Honda S2000
The S2000 is a true sports car for enthusiasts. It has a 2l VTEC engine with a maximum rev limit of 9000 rpm, which is paired with a six-speed manual transmission. You can accelerate to 60 mph in just 6.2 seconds thanks to its 237 horsepower.
Amazingly, this car was introduced in 1999. Over 100,000 vehicles were produced throughout its ten-year production period, and although many of them are still in use today, prices have been rising for some time.
Honda did a great job creating a beautifully balanced and finely refined sports car, as evidenced by the prices of today, but we still believe the S2000 represents outstanding value.
There are still a ton of options available on the used automobile market today, with about 8,000 of the manufactured cars making it to British roads. Although their upkeep is rather inexpensive, be aware of bodywork rust.
The S2000 will undoubtedly become a classic automobile in the future, so your money will probably be safe with this one.
17. The Jaguar XK
The Jaguar XK (X100) was first produced in 1996 and continued in production until 2006 when it was superseded by the X150, the second generation.
The XK8 model, which had a naturally aspirated Jaguar 4l V8, was the first to go on sale. A short while later, the XKR, a supercharged version, started making waves in the market for premium sports cars.
Amazingly, both of these cars are still available today in a coupe and convertible forms for less than £10,000. Although we usually suggest avoiding the lowest end of the market, a small number of X150s have gone below the £10k threshold.
We would choose the XKR X100 out of the group. You get more cars for your money if you can find an updated XKR (from 2003 onwards). A 4.2l V8 engine was added, and it was improved to produce about 400 horsepower.
The XK is already a classic, but servicing and upkeep will cost more than a typical Japanese sports vehicle. Any increased maintenance expenses can be balanced against the likelihood of future value growth.
18. The BMW Z4
The Z4 was a high contender on our list of the best sports cars under $10K but that was the first E85 generation. A second-generation, post-2009 E89 is an option at £10,000.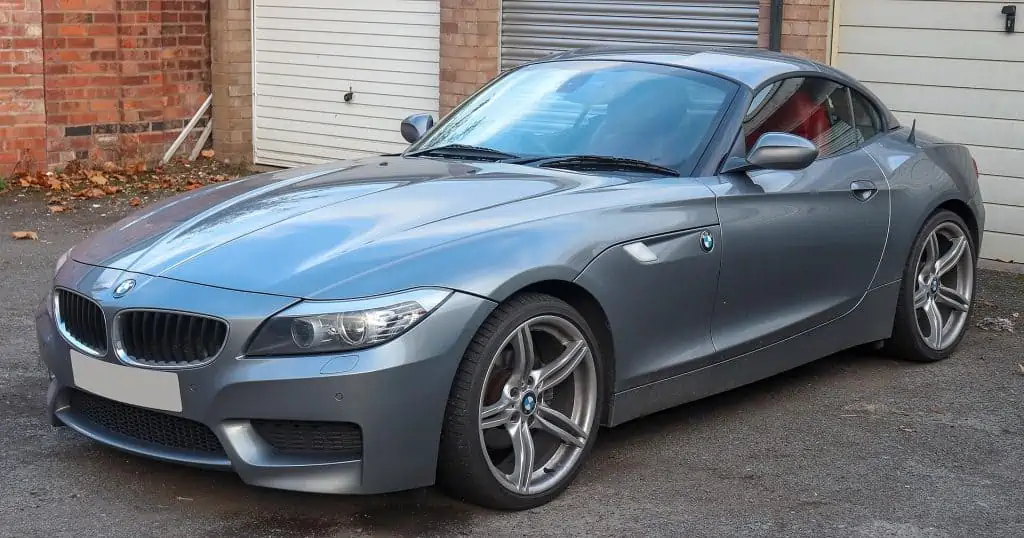 2011 BMW Z4 by Vauxford / CC BY-SA 4.0. Although that was the first E85 generation, the Z4 was a strong contender on our list of the best sports cars under $5,000. For £10,000, a second-generation E89 from after 2009 is an option.
The E89 Z4 was available until 2016 and had a variety of engines and a foldable hardtop cover. To stay within our allocated budget, you'll probably need to choose an earlier E89, but don't let that deter you.
The top-of-the-line 3l twin-turbo model is the one that appeals to us the most because we think you get more cars for your money with it, but the smaller engines are also a fine alternative.
The E89 has some cutting-edge technology, such as keyless entry, directional lighting, and electronic damper adjustment, to help enhance the ownership experience despite being well over a decade old.
The model did get a makeover in 2013, although decent examples of those might be a bit out of reach financially right now. Even yet, the previous versions offer far better value for the money.
19. The Alfa Romeo GTV
Jeremy Clarkson of Top Gear once remarked that you can't truly qualify as a petrolhead until you've owned an Alfa Romeo. So now is your chance.
One of the best and most affordable Italian sports cars in a generation, the GTV and its roofless twin, the Spider, were introduced in the mid-1990s and continued to be produced until the mid-2000s.
The car was designed to return Alfa-Romeo to its sports heritage, and in addition to having outstanding on-road performance, it also had astounding aesthetic appeal. Like a true Alfa should be.
Although there aren't many of these vehicles still on the road today, you can purchase a late facelifted model (2003+) for £10k with one of the more sought engines, namely the 3.2l V6.
Alfa Romeo has been ridiculed and teased for its reliability over the years, but the GTV is surprisingly dependable. Additionally, prices are rising as its potential for becoming a classic seems likely. What better justification do you need to buy a vintage Italian sports car?
20. The Dodge Neon SRT-4
For about $6,000, you can have this used sports car with thrilling amenities like power windows and locks, a tilt wheel, dual airbags, a rear spoiler, and alloy wheels.
It also has front-wheel drive, a five-speed transmission, and an excellent power-to-weight ratio.
In addition to this, the Dodge Neon SRT-4 boasts a 230 horsepower turbocharged four-cylinder engine and a sleek boy racer design.
21. The Chevrolet Corvette C4
The 5.7-liter V8 engine in this pre-owned sports car generates 340 horsepower and 335 pound-feet of torque when combined.
Its engine is mated to a four-speed automatic transmission, and it has 24.8 cubic feet of cargo space. Additionally, it has good fuel efficiency, getting 18 mpg in the city and 27 mpg on the interstate.
For about $8,000, one can get a Chevrolet Corvette C5, which also has a nice interior and exterior and a sizable trunk.
22. The Chevrolet Corvette C5
It has a fiberglass-leaf rear suspension, an overhead-valve, 5.7-liter V8 engine, and produces 345 horsepower more than its rival's boastful performance.
The 19 mpg city and 28 mpg highway fuel efficiency of the Chevrolet Corvette C5 is also rather impressive. It was merely $7000.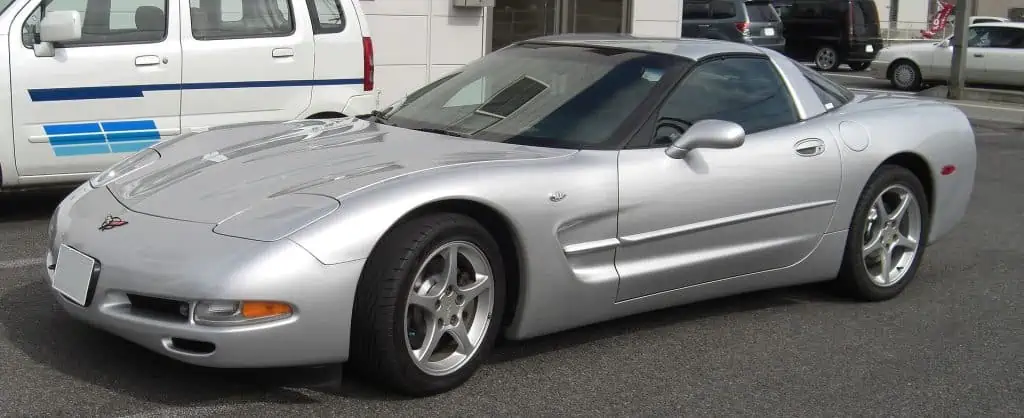 Chevrolet Corvette C5 by TTTNIS. The Chevrolet Corvette C5's fuel efficiency of 19 mpg in the city and 28 mpg on the interstate is also rather excellent. It only cost $7000.
23. The Pontiac GTO
The practical 6.0-liter V8 engine in the Pontiac GTO muscle vehicle produces 400 horsepower and 400 pound-feet of torque while achieving good fuel efficiency of 17 mpg in the city and 25 mpg on the interstate.
The Pontiac GTO sports a six-speed automatic transmission, excellent handling, a fashionable look, and a cargo area that is around 7 feet cubic.
You may acquire the Pontiac GTO for a terrific deal if you have $9,000 to spend.
24. The Audi S4
This sports vehicle was a formidable competitor in the bazaar thanks to its gorgeous naturally aspirated 4.2-liter V8 engine, which generates 340 horsepower and 302 pounds-feet of torque.
Additionally, it has a six-speed automatic or manual transmission and gets 15 mpg in the city and 23 mpg on the interstate, which is good fuel economy.
This sports vehicle handles well, cruises easily, and has a solid dependability rating. The Audi S4 costs between $7,000 and $9,000, making it one of the greatest sports cars under $10,000.
25. The Lexus SC400
This sports car has a 4.0-liter V8 engine with plenty of power, producing 260 horsepower and 270 pound-feet of torque. Additionally, it has a respectable fuel efficiency of 18 mpg in the city and 23 mpg on the highway.
Both a five-speed manual transmission and a four-speed automatic transmission are available for its powerplant.
This sports car's power steering adjusts to the pace at which the vehicle is traveling, and it offers sporty, accurate handling that is encased in an insulated feeling.
A double-jointed hinge on the car door swings the door out from both ends. It is now simpler to enter. Butter-soft leather seats and an automated steering wheel that telescopes toward you can be found inside the Lexus SC400. It is available for about $7,900.
The Conclusion
You don't have to spend a fortune to acquire the luxurious car you want if you need a fantastic new sports car but have a tight budget.
Simply look through this list to see which car suits your needs and is within your price range.
It's also vital to become familiar with some of these cars' drawbacks and assess your ability to maintain sports cars.
To buy exciting secondhand sports vehicles, you don't need to pay a lot of money. There are several possibilities on this list for the finest sports cars under $10,000.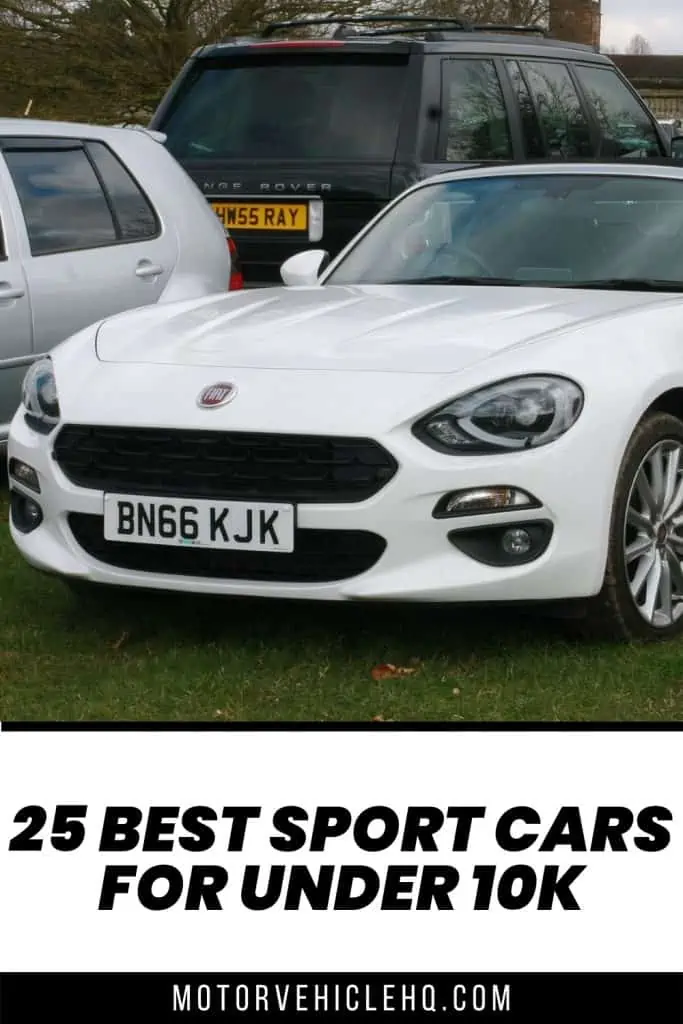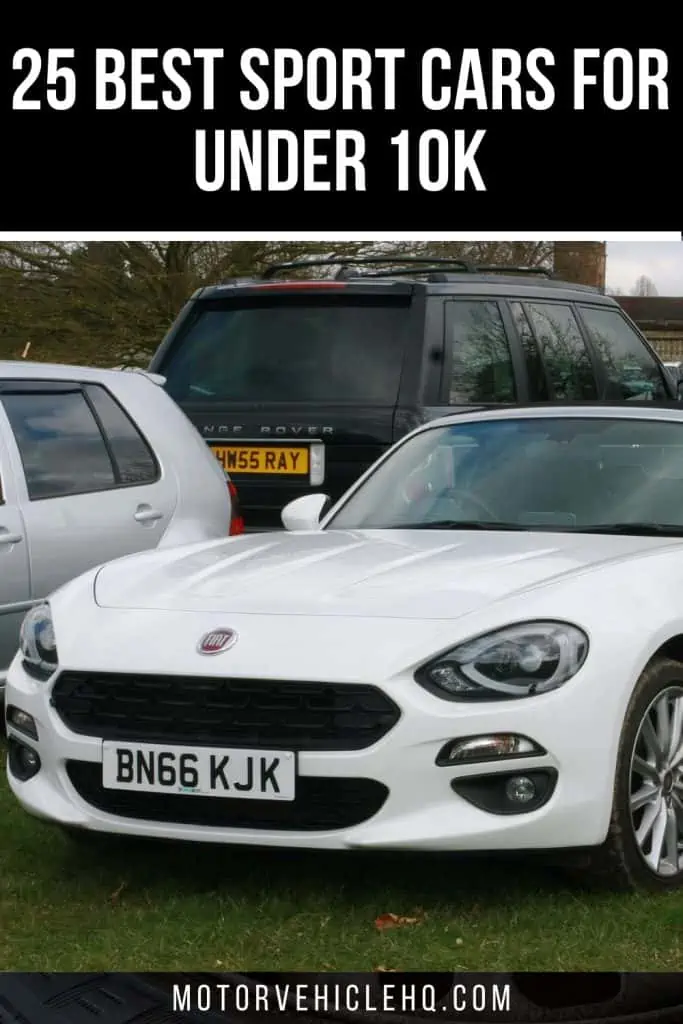 Fiat 124 Spider (2016) by Charles01 / CC BY-SA 4.0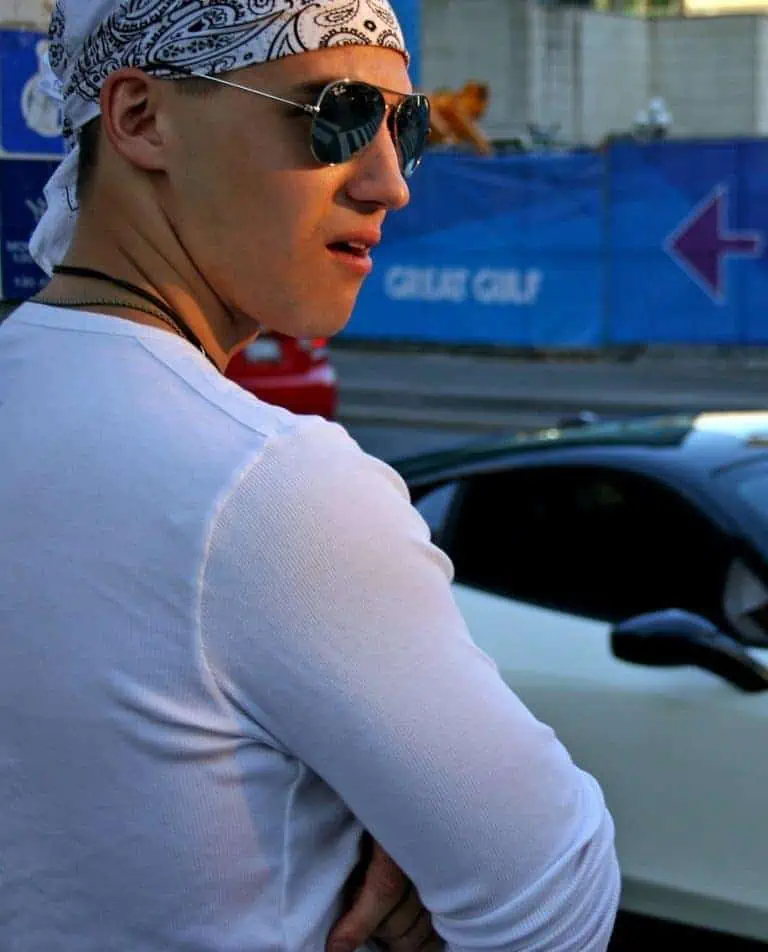 Jim Wicks is the founder of MotorVehicleHQ. With over two decades of experience in the automotive industry and a degree in Automotive Technology, Jim is a certified car expert who has worked in various roles ranging from a mechanic, car dealership manager, to a racing car driver. He has owned more than 20 cars over the past 15 years. Ask him about any vehicle you see on the road and he can tell you the make, model and year. He loves the aesthetics of all things cars, and keeps his vehicles in pristine condition.
In his free time, Jim enjoys getting his hands dirty under the hood of a classic car or taking long drives along the country roads. His favorite car? A 1967 Shelby GT500, a true classic that, according to Jim, "represents the pure essence of American muscle."