Looking for sports cars under $50k? Every year, new models and proposals are added to the sports car lineups on the global market. The possibilities are still many and thorough even though some nameplates are being phased out of the market to create room for others.
If you're shopping for a sports automobile, you have many options to consider. The issue is that most of the time, the new models are becoming progressively out of reach for fans. Fewer options and potentially less remarkable performance are available with smaller budgets than with larger ones for sports cars.
Despite this, if you know where to look, you may still discover a sports automobile that will give you the feelings you desire without spending a fortune.
We are therefore updating our list of the top new sports and performance cars available for $50,000 or less to provide you with a fast overview of what is available at this price point.
Hyundai Veloster N – 2022
Base Price: $32,500
With its distinctive appearance, the Hyundai Veloster N is a hatchback that stands out from the competition. Furthermore, it is a stylish and useful sports car thanks to its three doors, exterior lines, and performance package. This Hyundai is the product of the brand's growth in the motor industry.
The Hyundai Veloster N's 2022 model is a part of the second generation, which was unveiled in 2019. A six-speed manual or an eight-speed wet dual-clutch automatic transmission are both options for the Veloster. The car was "refreshed" with lightweight, athletic seats that add to its sporty appearance.
A turbocharged 2.0-liter four-cylinder engine with 275 horsepower and 260 lb-ft of torque powers the Veloster N. With this force, the vehicle can accelerate from 0 to 60 mph and top out at 155 mph.
The steering wheel on the Veloster N allows you to choose between Normal, Sport, and Sport Plus, three programmable driving modes.

Hyundai Veloster N by Ki hoon / CC BY-SA 4.0. The Hyundai Veloster N is a hatchback that separates it from the competitors because of its unique look. Its three doors, exterior lines, and performance package also make it an attractive and practical sports vehicle.
Volkswagen Golf R – 2022
Base Price: $44,090
Volkswagen has computed the millimeter-level evolution of the complete Golf lineup throughout the years. The Golf R for 2022 is no different. But if we compare the technical sheet to its previous iterations, we can certainly claim that, at least on paper, its development has been modest.
It still features an all-wheel-drive 2.0 TSI engine with 315 horsepower and 295 pound-feet of torque, a manual transmission, or DSG. The real improvement, though, lies in its driving experiences.
The 4Motion traction system is a crucial component of its evolution and balanced driving. On the one hand, it enables the vehicle to accelerate from 0 to 60 mph in 4.6 seconds without slipping. On the other hand, it introduces a Drift driving mode that concentrates all the torque on one rear tire to tip the car and make donuts with ease. As a result, the 2022 Golf R's top speed is 172 mph.
Audi TT Coupe – 2022
Base Price: $50,000
For fans of pure Audi design, the TT Coupe is a design icon par excellence. This vehicle offers a driver-focused interior with superb infotainment and technology integration while yet performing like a true sports car.
The Audi TT comes with a 7-speed S tronic transmission, Quattro drive, and a 2.0 TFSI engine with 228 horsepower and 258 lb.-ft. of torque, and Audi Drive Select. The TT can go from 0 to 60 mph in 5.5 seconds, and it can reach high speeds of 130 to 155 mph.
Since Audi upgraded the standard equipment, increased horsepower, and refined the look for 2022, the TT's personality was highlighted even more. The virtual cockpit, Audi Drive Select, inside LED lighting kit, and multifunction steering wheel are now available on the TT.
The Audi TT RSHeritage's 2022 model year will be its last year on the American market as a high-performance, two-door sportscar of compact dimensions.
Subaru BRZ – 2022
Base Price: $27,995 for Premium
Toyota and Subaru revealed a new version of the well-known GT86/BRZ relatives a little more than a year ago.
The 2022 Subaru BRZ is not a radical departure from the previous version in terms of design.
Although it has a more curved front end and smoother lines, particularly its new headlights, which are more contemporary, its profile is essentially the same. The result is quite similar to the new Toyota 86's appearance (or GR86).
The main draw of this BRZ and its cousin, though, was its mannerisms and mechanics. The engine is a brand-new, 2.4-liter, four-cylinder Boxer block that uses natural aspiration and now produces 231 horsepower and 184 lb.-ft of torque.
Interestingly, there will now be two distinct transmission options for this BRZ. Six-speed automatic or manual transmissions are offered as standard.
Subaru BRZ by Michael Gil / CC BY 2.0. In terms of design, the 2022 Subaru BRZ doesn't much differ from the model it replaces. Its profile is virtually the same despite having a more curved front end and smoother lines, particularly its new, more modern headlamps.
The 2022 BRZ can accelerate from 0 to 60 mph in 6.6 seconds and has a top speed of 140 mph. It also includes an automatic transmission.
Chevrolet Camaro LT1 – 2022
Base Price: $35,395 for a six-speed manual
The Chevrolet Camaro LT1 is a classic American muscle car, to put it simply. With a total output of 455 horsepower and 455 lb-ft of torque delivered to the rear wheels, it has Chevy's renowned small block V8. Its tremendous low-end torque and linear power delivery translate into acceleration that makes your chest squeeze.
The new Camaro LT1 can therefore accelerate by itself from a stop to 60 mph in 4.0 seconds. That was incredibly swift. Chevy claims that it can do 190 mph.
The 2018 Camaro offers sporty handling, just like any decent sports car should, without sacrificing ride comfort. The Camaro could yet stand to be improved in a few areas, such as load capacity. Additionally, the back seats serve only as ornamentation. Additionally, the interior quality is inferior to that of certain rivals.
The standard six-speed manual transmission and other features will still satisfy purists, but a ten-speed automatic with manual shift mode is also offered for North America.
Honda Civic Type R – 2022
Base Price: $38,450 for Touring
With the new Civic Type R, a car with strong performance and handling that translates into exceptional track capabilities, Honda pushes its sportiness to the limit.
With its distinctive aesthetics, extremely practical aerodynamic design, and race car-inspired cockpit that contributes to the high-performance experience, the 2017 Type Civic R sends a strong message both inside and out. Even by hot-hatch standards, this 2017 Civic elevates its crazy appearance to a new level.
The body of the Honda Civic Type R has a substantial aerodynamic package, giving it an aggressive and appealing look. You'll experience increased stability to the fullest when combined with a reinforced lightweight chassis and specifically developed suspension.
A 2.0L inline-4-cylinder engine producing 306 horsepower and 295 lb-ft of torque can be found under the hood. This otherwise five-door family hauler can go from 0 to 60 mph in less than 5.8 seconds and reach a top speed of 169 mph using just that amount of power. In keeping with its minimalist philosophy, the only transmission offered is a six-speed manual.
Mazda MX-5 – 2022
Base Price: $31,150 for Club
The Mazda MX-5 gets an update for 2022 to maintain the popularity that has made it the best-selling two-seater roadster—with well over one million copies sold since its introduction in 1989.
Some of the intriguing new features have an impact on the Miata's dynamic behavior and styling, which are two of this Japanese sports car's key distinguishing features. Mazda did not, however, make any changes to its powertrain lineup for 2022.
With 132 horsepower and a maximum torque of 112 lb.-ft., the 1.5-liter naturally aspirated engine is on a lower rung and is coupled to a six-speed manual gearbox, which transfers all of the power to the rear axle.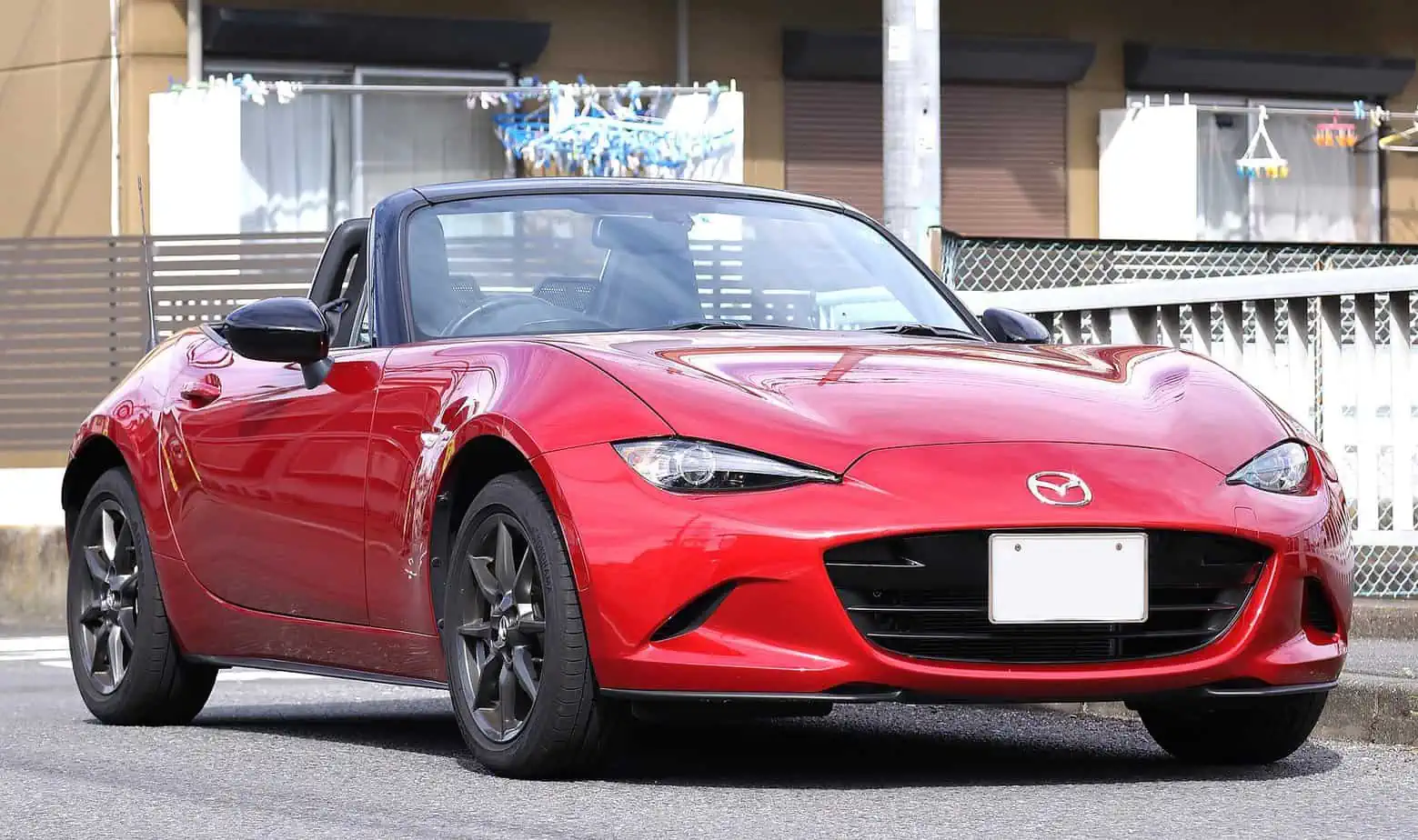 Mazda MX-5 by 根川大橋 / CC BY-SA 4.0. With well over a million units sold since its release in 1989, the Mazda MX-5 receives an update for 2022 to preserve the appeal that has made it the best-selling two-seater roadster.
The Miata Touring, the model with the best performance and a naturally aspirated 2.0-liter four-cylinder engine, also has this transmission. The MX-5 can go from 0 to 60 mph in 6.5 seconds and reach a top speed of 136 mph with this engine's 184 horsepower and 151 lb.-ft of torque.
Toyota Supra – 2022
Base Price: $43,190 for GR 2.0
The global sports car market has demonstrated that there are still accessible vehicles catered to the most ardent purists, such as the 2022 Toyota Supra. The GR Supra, however, has been limited for Europe due to the recently adopted Euro6 emission rules.
With a substantial market position in the automotive sector and the integration of numerous models and market divisions, Toyota is one of the most adaptable car companies out there. However, it is important to note that the 2022 Supra does not differ significantly from the design of the previous year.
Rear-wheel drive, an eight-speed automatic transmission, and a 3.0-liter turbocharged 6-cylinder engine with 382 horsepower and 369 pound-feet of torque are standard on the 2022 Supra. Its power is unquestionably positioned as its most entertaining attribute, creating a sports car that is quick and exhilarating.
From 0 to 60 mph, the 2022 Toyota Supra accelerates in 4.3 seconds. If you wish to drive this car to a track day, it will make you grin because of the quick response and accurate steering of the Turbo.
Dodge Challenger R/T Widebody Scat Pack – 2022
Base Price: $50,150
Given the buzz that the Hellcat's coupling to the SRT Demon powerplant created, the SRT Hellcat Redeye caught attention when Dodge unveiled its 2019 Challenger lineup. Even though we are staunch supporters of American muscle vehicles, especially those with 800 horsepower, we were concerned that adding another package may be overlooked amidst all the applause.
The Challenger gained an even more aggressive appearance with the introduction of the R/T Scat Pack Widebody, but it also became cheaper than the Hellcat Widebody.
An intriguing blend is produced by the R/T Scat Pack Widebody arrangement. A 6.4-liter naturally aspirated V8 Hemi engine with 485 horsepower and 475 lb.-ft. of torque is hidden behind the hood.
With the eight-speed automatic transmission and the 305mm Pirelli P Zero tires, which are among the highlights of the package, the Challenger can reach a top speed of 170 mph and accelerate from 0 to 60 mph in around four seconds.
BMW M240i – 2022
Base Price: 50,950 for M240i Convertible
The BMW M240i defies conventional acceleration norms while being inspired by BMW's M vehicles and designed for everyday use.
Its six-cylinder gasoline turbocharged engine propels the car from 0 to 60 mph in 4.7 seconds. The M sport suspension also enhances the driving experience by translating the car's excellent performance.
This high-performance athlete is completed with the unique M Performance design characteristics of the M240i. The inline-six gasoline engine in the M240i is one of the finest performers in the $50K category thanks to its 3.0-liter displacement, which produces 382 horsepower and 369 pound-feet of torque.
BMW M240 by Alexander Migl / CC BY-SA 4.0. The BMW M240i defies accepted acceleration standards while drawing inspiration from BMW's M lineup and being built for regular use. Its gasoline turbocharged six-cylinder engine accelerates the vehicle from 0 to 60 mph in 4.7 seconds.
Additionally, the BMW M240i's distinctive sound dispels any aural doubt that it has one of the best engines in its class.
Like no other automobile, the M240i combines exceptional performance with unmatched agility and excellent daily usefulness. Additionally, its remarkably quick reaction, substantial torque even at low engine speeds, and broad usable rpm range are striking examples of its superior performance.
Nissan 370Z Nismo – 2022
Base Price: $48,965
The Nissan 370Z Nismo is a sports automobile designed for ardent admirers of the Z line from the Japanese manufacturer. It is notable not for being cutting-edge or technologically advanced, but rather for its vintage appearance and a driving manner that is evocative of bygone sports cars.
The Nissan 370Z Nismo is a classic sports car that offers exhilarating driving experiences marked by a quick acceleration and accurate steering.
With its angular profile and design cues, the Nissan 370Z Nismo stays true to its aesthetic roots. The 370Z Nismo hasn't seen many significant changes since the sixth generation was introduced in 2009, yet it still boasts a distinctive and sophisticated appearance.
Its simple design, which exudes a sense of fluidity and dynamism, is mostly to blame for this.
A 6-speed manual transmission is paired with a 3.7-liter V6 engine that has 350 horsepower and 276 pound-feet of torque under the hood. With a top speed of 155 mph, it has a 0-60 time of 5.7 seconds.
Subaru WRX STI – 2022
Base Price: $39,000
The Subaru Impreza, which replaced the Leone in 1992, competed in the World Rally Championship the following year wearing the recognizable livery of the State Express 555, complete with gold alloy wheels, a bonnet scoop, and a rear spoiler.
Over the years, this rally-winning sedan, which is a road-going version of the WRX, has developed a cult following. Its sportier STI version is also one of the most popular among car aficionados.
The well-known sedan has just received the Subaru Tecnica International (STI) treatment for 2022. It is referred to as the fifth-generation WRX, even though we're talking about the second iteration without the Impreza brand. Nevertheless, X-Tomi Design, a virtual reproduction expert, created this; Subaru did not.
Given Subaru's modest size and constrained R&D budget, the STI's 2.5-liter turbocharged flat-four engine will receive minor modifications. Although there are no official figures yet, some predict a power of between 315 and 320 horses.
Infiniti Q60 – 2022
Base Price: $41,750 for Pure
The 2022 Infiniti Q60 coupe is a standout vehicle thanks to its sophisticated styling and potent and thrilling performance. It has all the features you'd anticipate from a luxury vehicle with a sporty twist to produce a driving experience that meets its requirements.
The new Q60 model stands out for its exceptional blend of luxury and power. A 3.0 liter V6 twin-turbo 24-valve engine with an aluminum-alloy block and heads, a water-cooled air charging system, and a 7-speed automatic transmission with adaptive shift control power the Infiniti Q60.

Infiniti Q60 by Kevauto / CC BY-SA 4.0. The stylish 2022 Infiniti Q60 coupe stands out from the crowd thanks to its powerful and exhilarating performance. With a sporty twist, it has all the features you'd expect from a premium car to deliver a driving experience that satisfies your needs.
It has a constantly variable valve timing control system that optimizes the opening of the intake valves on its double overhead camshaft with four valves per cylinder. The rear wheels receive 295 lb.-ft of torque and 300 horsepower from this engine. With that much power, the Q60 can accelerate from 0 to 60 mph in 5.4 seconds and peak out at 155 mph.
Ford Mustang GT – 2022
Base Price: $38,670 for GT
The Ford Mustang is currently the best-selling sports car in the world, and it maintains this position year after year with little challenge. The fact that many aficionados view the Mustang as the ultimate American muscle car is therefore not unexpected.
The Mustang GT has stayed faithful to its ideology over its several versions, visually expressing it. The model for 2022 is no different. The Mustang remains a large four-seat sports car with this fastback-style coupe body and convertible options.
The only available engine for the 2017 Mustang GT is the legendary and traditional 5.0-liter naturally aspirated V8 block. Additionally, a six-speed manual transmission or Ford's brand-new ten-speed automatic transmission are both options.
The rear axle receives 450 horsepower and 390 lb.-ft of torque (only 10 horsepower less than the Mustang Mach 1). Its top speed is 155 mph, and acceleration from 0 to 60 mph takes 4.6 seconds.
Genesis G70 3.3T Sport – 2022
Base Price: $42,100
Some people might not be aware of this, yet Genesis makes a reliable sports sedan worth considering. Its model number is G70 3.3T Sport. This is by no means a powerful and expensive limousine because it is supported by a platform that is no bigger than a Toyota Camry. Instead, the G70 has handling that is comparable to a BMW and is incredibly fast.
This car is more enjoyable to drive and provides better value for the money than many models in the $50K+ price category because of its powerful 3.3-liter twin-turbo V6 engine, which generates 365 horsepower and 376 lb-ft of torque.
The G70 3.3T Sport has an AWD system and can reach a top speed of 167 mph in 4.4 seconds from 0 to 60. Its precise shifting is handled by an eight-speed automatic, and the power and torque shove you back into the seat like an old-school V8.
The G70 has a silky-smooth ride because of its perfectly balanced ride and handling characteristics, and it maintains its composure in corners because of its adjustable dampers, accurate and enjoyable steering feedback, and several driving modes.
Tesla Model 3 Long Range – 2022
Base Price: $46,990
The Model 3 Tesla. Before making the move to attack the rivals, the lurking electric vehicle in the corner stealthily surveys its surroundings and cools its batteries.
The rear-wheel-drive Model 3 extended range is nonetheless quicker than a Miata, Q60, and Veloster N while achieving 85MPGe in real-world testing thanks to quiet acceleration, which can reach 60 mph in just 5.1 seconds. (Tesla's figures change.)
Model 3 Tesla by Kevauto / CC BY-SA 4.0. Tesla's Model 3. The hidden electric vehicle in the corner silently scans its surroundings and cools its batteries before moving to attack the competition.
The vehicle is quiet, spacious for weekend excursions, safe, and has a very low center of gravity because of the low-mounted battery packs. In actuality, this makes the Tesla Model 3 one of the safest vehicles on the road right now, if not the safest.
With one exception: Americans want their power now and don't want to wait 30 minutes for their Tesla to charge at a supercharging station, so we still haven't developed a great long-range solution for these cars.
To be the devil's advocate, is the time difference worth releasing so much carbon dioxide if it only takes you 30 minutes to charge as opposed to 10 minutes to fill up your car with gas? The Tesla comes equipped with Autopilot, night vision, and driver aids as standard features, making your road trip considerably less stressful in one of these cars.
The Tesla Model 3 Long Range manages to compete in terms of performance with the rest of the fleet here, with the only drawbacks being range and the capacity to cover vast distances rapidly.
Lexus IS 350 F Sport – 2022
Base Price: $45,375
Gratitude to Lexus. To beat the Germans, we need a fantastic sports sedan with Toyota influences. Although we are glad it is still around, we need the new one! Since this chassis has been in use for the past five years, it is starting to age.
With its 311 horsepower engine's glacial 5.6 seconds to 60 mph, it is outperformed by the competitors (Audi, BMW, and Genesis), and at roughly $50,000 with the bare minimum of options, it scarcely offer the same value as the average buyer as Lexus formerly claimed.
While many auto enthusiasts like Toyota and Lexus are lagging, therefore we hope they have a game-changing product ready by 2023.
Cadillac CT5-V – 2022
Base Price: $48,690
In a cozy, domestic package, Cadillac's wildcard offers 360 horsepower and over 400 lb-ft of torque.
The 2022 Cadillac CT5-V offers a bigger touch screen, 5 comfy seats, driver-adjustable magnet-ride dampers, and speakers in the back that simulate an engine. The majority won't hear the false sounds, but vehicle fanatics would, and they might shop elsewhere if there is a better deal on more performance.
Although the power and acceleration (4.6 seconds to 60 mph) indicate quite a bit of performance, they do not account for everything. Cadillac may have erred in choosing to focus on the CT5-V as their sole "sports car" model rather than the growling, Corvette-powered beast that is (was?) the CTS-V.
Although beggars cannot choose, given the recent longevity of GM vehicles, would you choose a Cadillac?
Toyota 86 – 2022
Base Price: $27,060
Despite reports of a revamp, the vivacious homage to the AE86 Hachiroku of the 1980s hasn't changed much for 2022. Even yet, if speed isn't your only consideration when purchasing a sports car, it's still a terrific deal.
Although the 86 (or its identical Subaru BRZ) doesn't excel at acceleration, it nevertheless happens in 6.4 seconds, lifting the 2,800-pound featherweight to a top speed of 140 mph. The 2022 Mazda Miata can drive faster and have better gas efficiency than the other vehicles in our comparison, but it won't be able to carry as much weekend gear.
Toyota 86 by Vauxford / CC BY-SA 4.0. The vibrant homage to the AE86 Hachiroku of the 1980s hasn't changed much for 2022, despite rumors of a redesign. Even so, it's still a great deal if speed isn't your sole concern when buying a sports car.
Because let's face it, the 86/Subaru BRZ needs 50 more horsepower to compete with the current sports car offers, I won't be like the majority of other journalists and dismiss the power disparity in favor of the chassis. It has a responsive chassis and a clean transmission; all it needs is a turbo to be great!
Alfa Romeo Giulia – 2022
Base Price: $39,400
Audi, did you say? According to Alfa's PR department, I believe that means "Overweight Chicken" in Italian.
Stage left welcomes the Alfa Romeo Giulia. The artisan-molded bodywork, the flared fenders, and the athletic appearance of this Italian sports sedan command the attention of the front row.
The Giulia RWD (rear-wheel drive) has an efficient 2.0-liter 4-cylinder engine that produces 280 horsepower, and it can accelerate you from 0 to 60 mph in just 5.5 seconds. Yes, it is the same as a Miata, but you will be traveling in comfort while listening to a slight burble from the sports exhaust system.
Are your in-laws as well? They are indeed still in the backseat, but they are now speaking Italian, which is somehow much better.
Audi S4 – 2022
Base Price: $49,900
Where do I start when it comes to Audi? You can now flog the persistent, peasant road-sharers at every stoplight with the supreme, distinguished, opulent, prodigy of the automotive world's latest luxury vehicle.
The 349 hp turbo V6 is quicker than a 370z with a 0-60 time of 4.3 seconds and can transport your in-laws in perfect approval and silence.
Putting jokes aside, the Audi gives you a sense of importance and sometimes makes you aware that there is a turbocharged, fire-breathing monster clawing at the pavement in front of you. You put in a lot of effort, so why not reward yourself with a luxurious sedan that can dominate almost anything on the road right now?
It offers adequate stability on both freeways and city streets, despite not having optional 4-wheel steering like its larger siblings.
The Conclusion
For a variety of reasons, compiling a comprehensive list of the finest automobiles under $50,000 is difficult. First of all, since everyone has different tastes, I'm sure some of you won't approve of my selections.
Second, if I included every single sports vehicle under $50,000 and offered an unbiased assessment of each, it wouldn't be a "list." With this list, I wanted to narrow down all the options into a selection of extremely exciting vehicles that I would like to park in my garage.
I sorted through all of this data using my observations and experiences with these autos. This list is legitimate in my opinion because I endorse them based on the nice interactions I've had with them over the years.
I don't just come up with concepts as a 10-year-old based on what I (and my limited experiences) deem to be "cool."
Last but not least, just because I didn't list your favorite vehicle doesn't mean I don't believe it deserves to be considered among the top vehicles under $50,000.
If I have any remarkable encounters with other automobiles that I haven't had the opportunity to try yet, I'm likely to come up with a somewhat different list in a year. The fun of being a car guy is that tastes and preferences vary over time (or gal).

Mazda MX-5 by 根川大橋 / CC BY-SA 4.0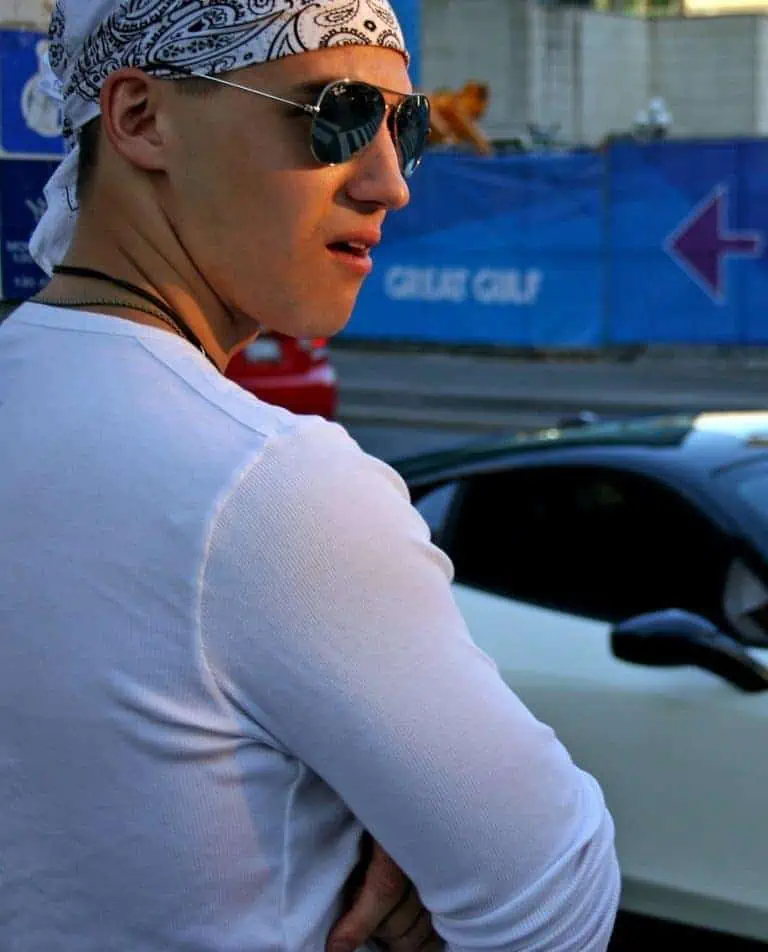 Jim Wicks is the founder of MotorVehicleHQ. With over two decades of experience in the automotive industry and a degree in Automotive Technology, Jim is a certified car expert who has worked in various roles ranging from a mechanic, car dealership manager, to a racing car driver. He has owned more than 20 cars over the past 15 years. Ask him about any vehicle you see on the road and he can tell you the make, model and year. He loves the aesthetics of all things cars, and keeps his vehicles in pristine condition.
In his free time, Jim enjoys getting his hands dirty under the hood of a classic car or taking long drives along the country roads. His favorite car? A 1967 Shelby GT500, a true classic that, according to Jim, "represents the pure essence of American muscle."