The contest between Nissan vs Toyota is legendary. Nissan and Toyota have both been making vehicles for more than 80 years at this time. There aren't many businesses that you can name that was established in the 1930s and are still operating successfully today.
Because of this, you may be sure that Nissan and Toyota will both be trustworthy businesses. They typically produce reliable, reasonably priced, and attractive vehicles.
However, simply knowing that they are high quality doesn't enable you to choose which is ideal for you. To help you choose which brand is ideal for you, we'll take you through a head-to-head comparison between Nissan vs Toyota.
There are many excellent alternatives available when it comes to vehicle brands, making it all the more crucial to choose the one that is best for you. Both Nissan and Toyota are practical and suitable for the majority of customers, but there are a few significant distinctions you should be aware of.
Both Nissan and Toyota are significant participants in the car sector. Each manufacturer has been in business since 1933, and each sells millions of vehicles annually around the globe.
Choosing between the two brands might be difficult. There are many things to think about if you're debating between Nissan and Toyota for your future vehicle. A useful comparison of specific models from the two brands is also possible.
In this brand comparison, we're going to look at the significant performance differences in numerous important areas. Instead of focusing on specific models, we're examining how the brand performs overall, allowing you to determine which brand is best for you and go on from there.
Let's examine the main variations and which manufacturer is preferable for certain customers.
Quality and Reliability
Even though both companies produce very dependable cars, Toyota has emerged as the most dependable over time. Compared to Nissan vehicles, its models can survive more than three years and maintain their worth.
Toyota Tacoma by Alexander Migl / CC BY-SA 4.0. Over time, Toyota has shown to be the most dependable. When compared to Nissan vehicles, its models have a longer lifespan and preserve their value.
An example of a Toyota vehicle that preserves its value is the Toyota Camry. In the past three years, it has retained 49% of its initial worth. After the same year, the Nissan Altima model will lose 41% of its initial worth.
If you compare JD Power and Associates evaluations for dependability, Toyota comes out on top. Nissan loses when you consider a professional's reliability rating.
Additionally, Toyota offers ToyotaCare for every one of its cars, which includes free maintenance for two years or 25,000 miles.
Speaking about quality, Toyota has outperformed Nissan in terms of producing high-quality vehicles. For instance, a Toyota Tundra truck may go more than 1 million miles with its original engine and automatic transmission.
Performance
If, for instance, you want to make your choice entirely on performance, both Toyota and Nissan can be the greatest option for you.
Depending on your desire and the needs of your vehicle or truck, both businesses offer several engine alternatives.
Nissan cars provide a sporty model with a variety of upgrades, including bigger wheels, a rear spoiler, and others. In comparison to Toyota vehicles, they are also far more competent and thrilling performance machines. But when it comes to fuel efficiency, Toyota vehicles frequently set the standard.
NISMO technology packages and stronger, better-handling pickups are also available for Nissan vehicles.
The Toyota Supra, which can accelerate from 0 to 60 mph in 4.1 seconds and reach a top speed of 155 miles per hour, is the closest competitor when it comes to performance. The 2020 Nissan GT-R NISMO model can accelerate from 0 to 60 mph in just 2.48 seconds and reach a top speed of 205 miles per hour. If performance is your only concern, the 2020 Nissan GT-R NISMO variant is the best option.
When taking into account the aforementioned qualities of the Nissan models, Nissan defeats Toyota in terms of performance.
Comparison of Price
Because of the wide variety, it is quite difficult to compare Toyota and Nissan on affordability. It is not surprising that the pricing difference is wide given that there are almost 20 distinct Toyota models. The base price of the 2020 Toyota Yaris is $15,650. The basic variant of the 2020 Toyota Land Cruiser is priced at $84,765, which is at the high end of the scale. If you add all the options, you'll spend more than $91,000.
At $14,730, the 2020 Nissan Versa is affordable. As a comparison, the high-performance 2020 Nissan GT-R Nismo starts at $215,535. That is an astounding price range that will fit any budget.
Nissan and Toyota are direct rivals with similar vehicle ranges. However, Nissan offers more variants at a cheaper MSRP for the base model. For instance, the Toyota Camry costs $500 more than the Nissan Altima.
Nissan cars are also given at greater discounts than Toyota models, in addition to having a cheaper beginning MSRP. This is because Toyota is in high demand due to its solid reputation.
Toyota Camry by EurovisionNim / CC BY-SA 4.0. The Toyota Camry is an illustration of a Toyota vehicle that maintains its value. It has held about 49% of its original value during the last three years. The Nissan Altima model will lose 41% of its original value after the same year.
Toyota offers more models than Nissan, which broadens the pricing range for prospective buyers.
And because Nissans are more inexpensive whether new or used, Toyota vehicles should be much more costly than Nissans because they retain their worth better than Nissans do.
But instead of choosing Nissan, which is inexpensive but has significant maintenance costs, you should choose Toyota because of its reliability and the fact that it is cheaper in terms of maintenance costs.
Nissan Vs Toyota: What Safety Features Do They Offer?
Both the Nissan and Toyota brands prioritize safety and make sure that their cars are reliable. Nissan's safety shield regulations are solely used in the development of Nissan cars, though.
The Nissan Intelligent Safety Shield technology represents Nissan's approach to safety, which entails monitoring, acting, and protecting. Among these security features are;
Toyota models lack Toyota's safety shield's monitoring capabilities for rear automatic braking and rear cross-traffic warning.
Toyota also offers a wide range of security measures, such as;
Dynamic cruise control with radar.
In contrast to Toyota cars, Nissan vehicles are safer. Compared to Toyota Safety Sense, which only offers a few responsive safety shield features, it offers more responsive features.
Interior Entertainment Features
This section lists the standard and technology features that may be found in both Nissan and Toyota vehicles. This assists you in determining which characteristics suit your requirements and may affect your decision between a Nissan and a Toyota.
1. The Technological  Features
No other dash-mounted system, not even the Toyota Entune System, is designed to mix entertainment, security, and navigation in the ways that the Nissan Connect does.
Only a brand-new Nissan vehicle may be found with the following technological attributes.
SiriusXM satellite radio, Pandora and iHeartRadio, Bluetooth audio streaming, and Travel Link.
Emergency Response Services powered by SiriusXM is a Nissan Connect service that is available.
Google provides the navigation system in Nissan Connect.

Toyota Mirai by Alexander Migl / CC BY-SA 4.0. Despite Nissan models having cheaper MSRPs, Toyota remains the most cost-effective brand to purchase. This is because Toyota vehicles are more dependable, lose value more slowly, and have better gas mileage.
2.  The  Standard Features
Nissan relies on things other than durability to help their vehicles sell, thus their models come with a greater choice of standard equipment.
For instance, since many used Toyota vehicles lack connection capabilities like Apple CarPlay and Android Auto, which Nissan vehicles provide, a package like Nissan Intelligent Mobility offers more functions compared to the Toyota Safety Sense.
Nissan Vs Toyota Cost Of Ownership
Depreciation, dependability, and maintenance costs are just a few of the variables that determine a car's cost of ownership.
Although Nissan models may have lower MSRPs, Toyota is still the most affordable brand to buy.
This is because Toyota cars are more dependable, depreciate less quickly, and have higher gas mileage.
Nissan Vs Toyota Power and Size of Engines
Both the Nissan and Toyota brands provide a wide range of engine options. With identical sizes and numbers of cylinders, the basic engines only differ in raw horsepower by 4 units.
In addition to having an edge over the Toyota Camry due to its higher horsepower rating of 182 vs. 178, the Nissan Altima also boasts a superior fuel efficiency rating of 27 mpg in the city and 39 mpg on the interstate.
The Camry is still efficient but far behind to make a difference with 25 mpg in the city and 35 mpg on the interstate.
The Toyota Camry manages 31 mpg and 268 horsepower compared to the Nissan Altima's 32 mpg and 270 horsepower after both cars have been modified.
Some specific driving techniques can compensate for the disparity in efficiency and power, bringing their average performance close to parity.
Which are the Available Model Options?
Apart from having Standard and Technology Features, Toyota, and Nissan have got a few model selections. Additionally, consider sector models such as subcompact SUVs, compact SUVs, large SUVs, compact cars, midsize cars, and midsize SUVs while making your choice. Compact pickup trucks, hybrid and electric SUVs, and subcompact vehicles.
1. The  Sub-Compact SUVs
The 2020 Nissan Kicks and The 2020 Nissan Rogue Sport ranks 4th and 11th position respectively, coming ahead of the 2021 Toyota C-HR which ranks 14th.
The Nissan 2020 Kicks' numerous standard amenities, generous luggage room, and excellent gas mileage help it to rank in the top third of Subcompact SUVs.
The 2020 Nissan Rogue Sport isn't a bad option for those who seek a ton of luggage room along with technology and safety features. The Nissan Rogue, however, has got several flaws which include; a weak engine, bad handling, and low-rent inside materials.

Toyota Hilux by Vauxford / CC BY-SA 4.0. Because of their good reputation, Toyota models are the least costly vehicles on the market in terms of monthly maintenance costs.
The 2021 Toyota C-HR's shortcomings include a 144-hp engine that is underpowered, a tight back seat, and a tiny luggage capacity. Although it may not be the greatest Subcompact SUV, it delivers a solid selection of security and tech features.
2. The Compact SUVs
Out of 16 small SUVs, the 2021 Nissan Rogue is ranked fifth, surpassing the 2021 Toyota RAV4, which is ranked sixth. The Rogue 2021 Nissan's airy, pleasant inside is the primary factor in this; as a result, it ranks in the top half of compact SUVs.
The 2021 Nissan Rogue comes with several amenities, including a plush cabin, generous cargo room, and decent gas efficiency. Additionally, it could feature a quieter gearbox, quicker acceleration, and a cheaper starting price.
While the 2021 Toyota RAV4 delivers superior comfort with features like roomy seats, an attractive interior, more standard amenities, and the greatest gas efficiency at 28 mpg in the city and 35 mpg on a small highway.
3. The Large SUVs
In our list of big SUVs, the 2020 Nissan Armada comes in at number five, slightly ahead of the Toyota Sequoia, which comes in at number six.
In contrast to the 2021 Toyota Sequoia's potent 381 horsepower, the 2020 Nissan Armada offers a potent 390 horsepower engine. The Nissan Armada also offers a luxurious interior with supportive, sporty seats.
The 2021 Toyota Sequoia has many flaws, including obsolete looks, antiquated electronics, and subpar gas efficiency.
4. The Subcompact Cars
The 2020 Toyota Yaris is placed fourth among subcompact vehicles, earning 7.9 out of 10, surpassing the 2020 Nissan Versa, which came in fifth with 7.7.
The 2020 Toyota Yaris is equipped with many features, such as responsive handling, a chic interior, simple-to-use amenities, and excellent fuel economy, achieving 36 mpg in the city and 39 mpg on the highway.
The redesigned Nissan Versa, which has a decent interior and is enticing due to its safety rating and list of standard amenities, falls flat due to its weak engine, sluggish touch screen infotainment system, and constrained second-row seat.
5. The Compact Cars
The Nissan Sentra came in lowest, getting 6.9 out of 10, while the 2021 Toyota Corolla model placed sixth out of 12 cars, earning 8.1 out of a possible 10.
Android Auto and an infotainment system are included as standard equipment on the 2021 Toyota Corolla. Additionally, it provides a smooth ride, efficient fuel consumption, high anticipated dependability, and achieves roughly 29 mpg in the city and 36 mpg on the highway.
The Corolla model's cons include a smaller trunk, a subpar basic engine, and a stiff handle.
6. The Midsize Cars
In this segment, the 2021 Toyota Camry comes out on top, while the 2021 Nissan Altima comes in sixth.
The 2021 Toyota Camry is more athletic than the less sporty Nissan Altima and has impressively safe features, a comfortable ride, and user-friendly technology.

Nissan Titan by Kevauto / CC BY-SA 4.0. Nissan vehicles provide a sportier design with many improvements, such as larger wheels, a rear spoiler, and others. They are also significantly more capable and exhilarating performance machines when compared to Toyota vehicles.
7. The Midsize SUVs
Toyota and Nissan both have quite comparable grades and standings in this class.
For instance, the 2021 Toyota Highlander and the 2021 Toyota 4Runner are ranked 12th and 20th, respectively, while the 2020 Nissan Murano and the 2020 Nissan Pathfinder are ranked 15th and 21st, respectively.
The Toyota Highlander offers a comfortable ride in a modern interior, but a cramped third row and an engaging driving experience.
On the other hand, the Nissan Murano suffered from an outmoded appearance, substantial body roll in the corners, and poor steering feel.
Nissan loses to Toyota because the 2021 Toyota Highlander rates were higher than the 15th-place 2020 Nissan Murano.
8. The Compact Pickup Trucks
Comparing the 2021 Toyota Tacoma against the 2020 Nissan Frontier, it performs better in this sector.
The interior of the 2021 Toyota Tacoma model is of exceptional quality and filled with modern amenities like Apple CarPlay and Android Auto. Additionally, it boasts superb off-roading skills.
If not for the Toyota Tacoma's weak 159 horsepower engine, it could have scored considerably better.
While the Nissan Frontier is pleasant to drive and has 310 horsepower, it also has above-average hauling and towing capacities compared to other vehicles in this class.
There are no driver assistance features in the vehicle, and the interior is loud and old.
9. The Large Cars
The 2020 Nissan Maxima comes in fourth place in the list of big vehicles, while the 2021 Toyota Avalon, which boasts a contemporary interior with plenty of standard amenities and delivers a smooth ride with a powerful 205 horsepower V6 engine, ranks No. 2.
The Maxima boasts a lot of interior comforts, a strong V6 engine, and a superb safety rating, but it also has some drawbacks, including a short trunk, limited headroom, and a dull handle.
10. The Hybrid And The Electric SUVs
In this class, the Toyota Highlander Hybrid comes out on top, with the Toyota RAV4 coming in third.
The 2020 Toyota Highlander Hybrid model has undergone a complete facelift and now features Android Auto and Amazon Alexa integration. Along with numerous basic and technological capabilities, it also offers luxury cabin features.
Its powertrain is effective, with a four-cylinder engine and two electric motors that together provide 243 horsepower, and it gets 35 mpg in the city and 34 mpg on the interstate.
On the negative, the third row is cramped and the beginning price of this hybrid is costly.
Since Nissan doesn't sell any of these models, Toyota is declared the winner of the category for the Best Hybrid Electric SUV Family in 2020.

Nissan owners spend about $500 a year on maintenance, but when the warranty expires, even basic repairs can quickly become $1400. The car is covered by the Nissan warranty, which is valid for up to 8 years and 120,000 kilometers.
Nissan Vs. Toyota Maintenance Cost
The most crucial factor to take into account when buying a new vehicle is car maintenance. Setting up a maintenance budget and accumulating money to cover out-of-pocket expenses for vehicle repairs is a financially responsible decision for vehicle owners.
Therefore, it is essential to get an extended warranty that includes coverage for the cost of a certain unforeseen repair.
Toyota models are the least expensive cars on the market in terms of yearly maintenance expenses because of their solid reputation. For instance, the yearly maintenance expenditures for a Toyota Corolla are about $350.
ToyotaCare covers all factory-scheduled maintenance expenditures for Toyota owners for two years and twenty thousand miles.
The owner of a Nissan pays roughly $500 per year for maintenance, but once the warranty has expired, even a minor repair may rapidly cost over $1400. The Nissan warranty lasts for up to 8 years and 120,000 miles, and it covers the car.
Warranties Offered
Nissan and Toyota both take great pleasure in their new car warranties. The same plan, with limited vehicle coverage for 36 months or 36,000 miles and restricted powertrain coverage for 60 months or 60,000 miles, is offered by the two Japanese manufacturers.
In contrast to Toyota, which provides roadside assistance for 24 months or 25,000 miles, Nissan provides roadside assistance for 36 months or 36,000 miles.
Nissan Vs Toyota Fuel Economy
Fuel efficiency is a close race between Nissan and Toyota when comparing identical models and years in their lineups. Because both car lines are created to appeal to comparable consumers, their fuel efficiency is comparable as a result of the manufacturers' shared desire to provide effective vehicles.
However, Toyota appears to have a very minor advantage in this area. In most places, their vehicles only achieve a few more miles per gallon, with certain Nissan models doing much worse depending on the power.
That's partially true since Nissan makes sportier-styled cars, which can reduce fuel economy.
Are They Worth Buying?
Toyota and Nissan rank among the top five most popular Japanese brands worldwide. The leading brand is without a doubt Toyota, while Nissan completes the top five.
With over 44 million units sold over its existence, the Toyota Corolla is the most popular vehicle of all time. Since Sentra's introduction, Nissan has sold almost 16 million of them. These two producers have established themselves as leaders in the field.
Toyota has won several awards throughout the years, including Green Car of the Year, Best Resale Value from Kelley Blue Book, and numerous more.
Nissan also has a sizable collection of honors, including the Nissan Leaf's JD Power and Associates reliability award and other top safety selections.
You'll find that both the Toyota and the Nissan have their advantages and can wind up being a good investment if you compare everything, including dependability, performance, cost, and more.

Nissan Leaf by Marruciic / CC BY-SA 4.0. Nissan also boasts a substantial number of accolades, including the JD Power and Associates dependability award for the Nissan Leaf and other top safety picks.
To say that one of these brands is not worth the money you spend on them would be unjust. Which models are superior to the others? Absolutely. But regardless of how well they are paired, it will hold for any two vehicles.
Which One Is the Most Superior Choice?
Industry giants Nissan and Toyota are. Both of them give a large selection of cars and trucks that may deliver strength and speed, dependability and safety, affordability, and strong resale value. What will be the better choice if we are tied?
While we won't outright state that Nissan is a bad choice, it's very obvious when you compare data and specifications that Toyota outperforms the competition in almost all categories.
Toyota simply outshines Nissan when comparing model availability or available features in a certain model class. As we've seen, Nissan does have its shining moments.
Without a doubt, the Nissan Titan full-size truck beats the Toyota Tundra in quality. However, we can't just rely on one car going up against another one. Toyota will thus be a superior choice for you in light of that.
Contrast of a Few Car Examples
Both Nissan and Toyota provide a large variety of vehicles. It's beneficial to assess how some of the best-selling products from each brand compare to one another.
The 2021 Toyota Tacoma Vs The 2021 Nissan Frontier
The 2021 Titan and the 2021 Tundra both appear a little antiquated in comparison to some of the other full-size pickup trucks available today. But the two trucks are still good choices, particularly the Tundra, which has a high J.D. Power predicted reliability rating.
Although the Nissan Titan has slightly more horsepower (381 hp vs. 401 hp), the Tundra has a higher towing capability (9400 lbs vs. 9350 lbs).
In many ways, the two vehicles are equivalent. But the Tundra, with its impeccable dependability record, must take home the prize.
The 2021 Toyota Tacoma Vs The 2021 Nissan Frontier
The Toyota Tacoma is a steadfast favorite in the midsize truck segment, making it difficult to compete. Tacoma continues to get accolades for dependability and resale value every year.
Even though J.D. Power gave the 2021 Nissan Frontier a high expected dependability grade, it wasn't enough to put it on par with the 2021 Tacoma. The Frontier hasn't had a makeover in 16 years, and it shows.
The winner in this comparison is the far more contemporary Toyota Tacoma, which underwent a makeover just five years ago.
The 2021 Toyota Rav4 Vs The 2021 Nissan Rogue
The Nissan Rogue has undergone a thorough makeover for 2021 with changes including a better cabin and more standard equipment. The 2019 makeover of the Toyota RAV4 is carried over into the 2021 model.
Both vehicles are equipped with a ton of amenities and technology, despite the Rogue being a little more contemporary than the RAV4. The difference between the two SUVs is predicted dependability.
The Rogue has experienced expensive continuously variable transmission (CVT) issues for a long time. It is advised to stay away from any Nissan vehicles with CVTs until the manufacturer can demonstrate the problems have been resolved.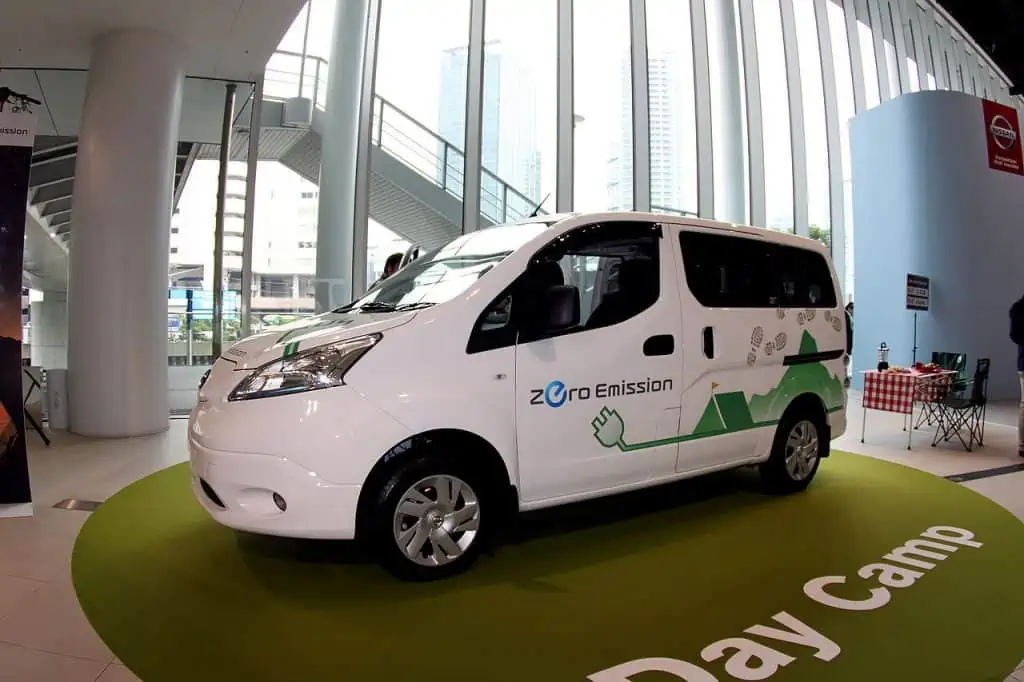 Nissan eNV200 by Bertel Schmitt (BsBsBs) / CC BY-SA 3.0. Nissan performs better than Toyota in some categories, like the SUV category, but it is clear that Toyota is at the top of the heap in almost all other categories.
The 2021 Toyota Corolla Versus The 2021 Nissan Sentra
The Toyota Corolla is the most popular vehicle of all time in large part due to its unfailing dependability. The longtime favorite now has the Toyota Safety Sense 2.0 package of ADAS and a first-rate infotainment system as standard equipment for 2021.
The 2021 Sentra has a long range of remarkable standard features as well. However, because the Nissan Sentra has experienced CVT issues in the past, similar to the Rogue, it doesn't have Toyota's exemplary dependability record.
The Conclusion
Nissan outperforms Toyota in several categories, such as the SUV category, but it is evident that Toyota is at the top of the heap in almost every other category.
Despite dominating most categories, Toyota just marginally outperforms Nissan. Each of these companies has distinctive strengths that draw clients and industry professionals back repeatedly.
Toyota looks toward the electric future while Nissan concentrates on its strategy in the SUV category. Both Toyota and Nissan have their merits and can be worth your money when dependability, performance, cost, safety, and other factors are taken into account across the board.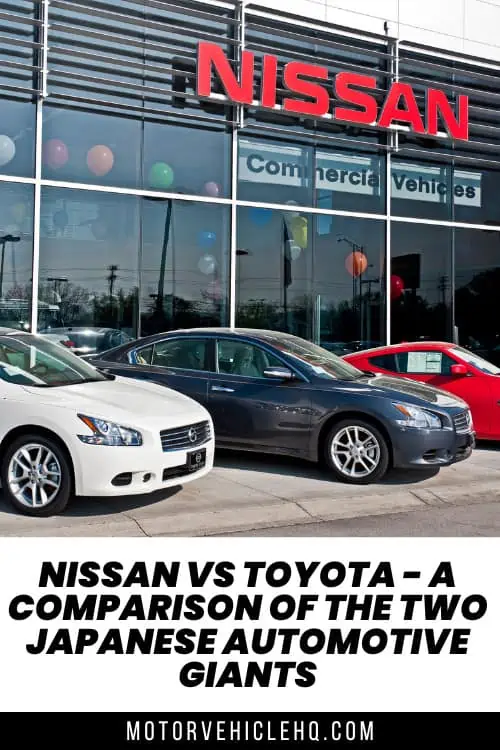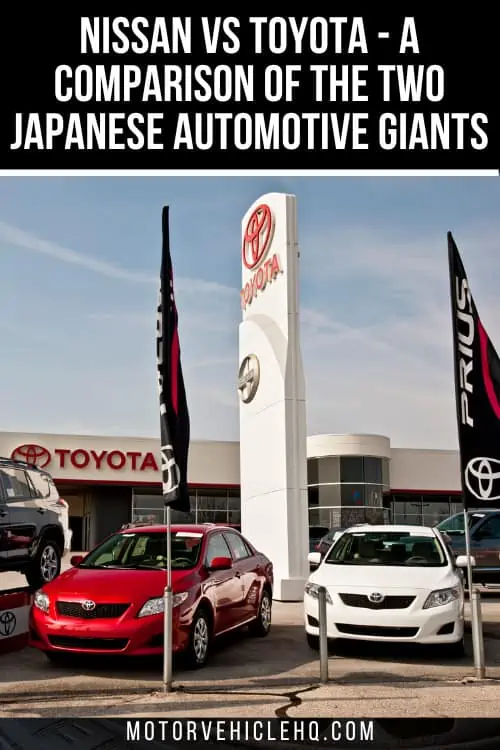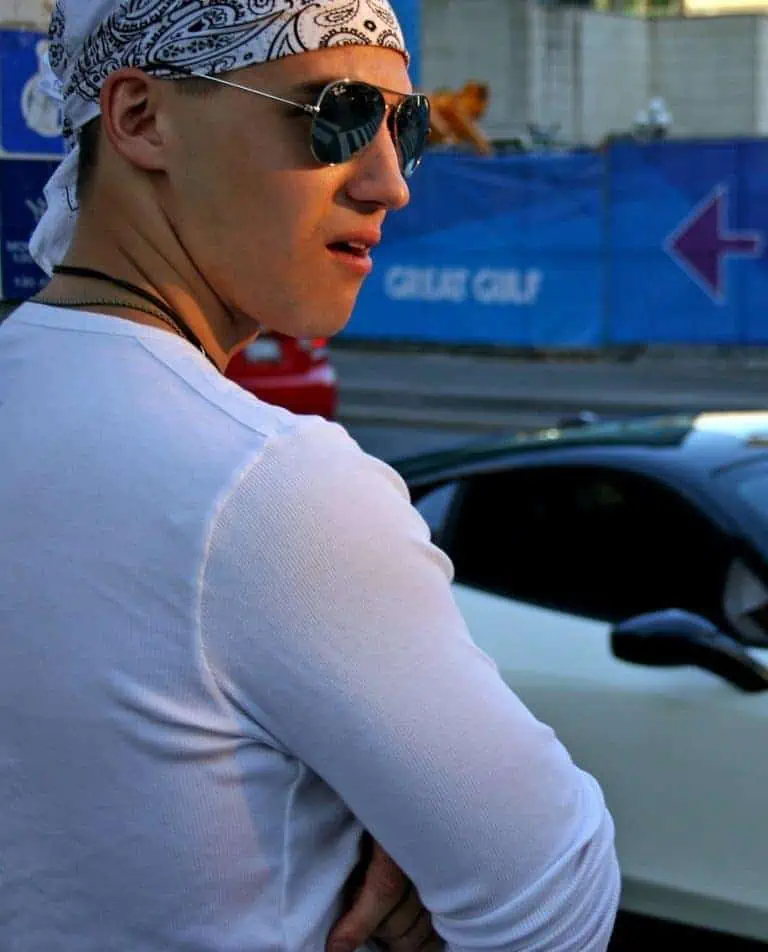 Jim Wicks is the founder of MotorVehicleHQ. With over two decades of experience in the automotive industry and a degree in Automotive Technology, Jim is a certified car expert who has worked in various roles ranging from a mechanic, car dealership manager, to a racing car driver. He has owned more than 20 cars over the past 15 years. Ask him about any vehicle you see on the road and he can tell you the make, model and year. He loves the aesthetics of all things cars, and keeps his vehicles in pristine condition.
In his free time, Jim enjoys getting his hands dirty under the hood of a classic car or taking long drives along the country roads. His favorite car? A 1967 Shelby GT500, a true classic that, according to Jim, "represents the pure essence of American muscle."