Want to purchase a Kia Sorento? Recently, Kia has seen a rise in its dependability rating. However, some bad model years are more reliable than others, just like any other type of vehicle. What Kia Sorento model years should you avoid?
First, some background information on the Sorento. The seven seats that come standard on this mid-size crossover SUV from Kia make it ideal for large families. Despite being launched in 2003, it wasn't until 2006 that it was put up for sale in the US.
In 2009, Kia unveiled its second generation, which is likely the one you are most familiar with. Available in front-wheel drive or all-wheel drive, and powered by either a 2.4L or 3.3L V6 engine.
These days, you can get one for roughly $8,000, and they often have 120,000 miles on the odometer.
The third generation was then released by Kia in 2015. It offered five or seven seats, much like the previous model. The third generation, however, was larger and provided back passengers with more room than previously. The grunty V6 engine is the one you want, and the engine selections remain the same. They cost about $14,000 on the open market.
However, we prefer the current fourth generation (2021) the best. The interior quality and features of earlier models were inadequate. Additionally, safety ratings were below average, even though the 2017 model year was awarded "Top Safety Pick" by the IIHS.
The Sorento is available from Kia in eight distinct model levels, two engine choices, and two drivetrain configurations (FWD and AWD). The EX trim is where it's at. It has a turbocharged 2.5L four-cylinder engine with 281 horsepower that starts at roughly $35,000.
Along with other amenities, this trim package includes a power liftgate, wireless phone charging, heated 10-way power seats for the driver, and Highway Driving Assist. Even the second-cheapest Sorento (the "S" trim) comes with a ton of goodies as standard, thus the only difference between this trim and others is the engine upgrade. Oh, and if you want AWD, the EX model also has that option.
This article will cover all the Kia Sorento model years to steer clear of, dependability rankings, typical issues, and more. By the conclusion of this article, you'll know which Kia Sorento years to avoid and be able to locate the ideal Sorento for you, whether you want to buy brand-new or used.
Which are the Kia Sorento Years to Avoid?
The aforementioned Kia Sorento model years should easily accommodate your family's demands and every day driving requirements. You need a dependable vehicle in addition to one with excellent handling, a luxurious interior, and plenty of attractive amenities. Here, we go into further detail on the model years that don't cut.

2020 Kia Sorento by Vauxford / CC BY-SA 4.0. The 2020 Kia Sorento models are top-notch, but their interiors are composed of inferior materials.
The following are the Kia Sorento years to avoid: 2004 / 2006 / 2011 / 2012 / 2013 / 2014 / 2016
These model years frequently experience issues with their engines, electrical systems, lights, seat belts and airbags, and body and paint. These affect everyone, and several users have noted concerns that are essentially the same.
You should steer clear of the 2011 Kia Sorento the most. It tops the list for having the most owner complaints. It is most likely to experience brakes issues, drivetrain issues, airbag and seat belt issues, and engine issues.
An engine failure at 77,000 miles cost the most money of all issues reported for the 2011 model year. Fixing this issue will cost $4,600. Other serious issues include an airbag problem that cost $2,000 to fix at 92,000 miles and a door issue that cost $400 to fix at 94,000 miles.
The 2016 Kia Sorento is another vehicle you should completely avoid. In comparison to comparable models with lower mileage, it has more issues and costs more to fix. The most common issues are with the engine, then the steering, body/paint, and lighting.
The engine has experienced the worst reported failure at 62,000 kilometers. Repairing this cost $6,100. Other owners reported having to pay up to $600 to fix wiring that rats had gnawed. At 22,000 miles, one user's vehicle stalled while accelerating.
Customers have experienced several issues with the Kia Sorento since it has been advertised and sold by Kia. These models share costly issues. The following model years should be avoided: 2004, 2006, 2011, 2012, 2013, 2014, and 2016.
Common difficulties include those with the engine, the electrical system, the airbags, the seat belts, the lights, and the body or paint.
Engine failure is the most serious problem that these Kia Sorento vehicles have. When most customers have traveled an average of 62,000 miles, something happens. They might end up costing you more money in repairs, so we advise avoiding them.
Why Did These Years Feature In the List of Kia Sorento Years to Avoid?
Below are the main reasons why these years are featured in this list.
Kia Sorento 2004 Issues
Numerous issues from Sorento's first year persisted throughout the next year, 2004. This year's mode was also affected by the crankshaft pulley problem that sparked a legal dispute. Since they were all first generation, the headlight and air conditioning problems were still present this year.
Many drivers complained of rubbing and grinding noises while driving, which were signs of a problem requiring a new driveshaft in its entirety.
Amazingly, Kia had made no changes to the ratings from the year before, and once again, the driver's side hits performed horribly with a higher risk for leg and torso injuries.
2013 KIA Sorento by Greg Goebel / CC BY-SA 2.0. Engine failure complaints decreased in 2013 compared to the previous two years, but there were still plenty of them, many of which occurred before the vehicle had traveled 32,000 miles.
Kia Sorento 2006 Problems
The class action lawsuit filed by Kia over that significant and serious crankshaft pulley issue only applied to this year. Another complaint from 2006 Sorento owners was the lack of air conditioning. Either the compressor would break down or the air conditioning would just cease functioning.
Problems with the inside lights and malfunctioning gas cap sensors were among the more minor concerns. Additionally, several drivers noticed that the gearbox may be harmed if they didn't use Kia-approved transmission fluid.
The Sorento had bad ratings in driver's side and rear collisions for the fourth consecutive year while having a satisfactory overall crash test rating.
Kia Sorento 2011 Issues
2011 saw the release of the second-generation Sorento, which was the first Kia vehicle to be produced in the country. 2010 was the only model year in Korea. Many drivers found the 2011 model year to be a major lemon despite the shift in manufacturing, and websites like CarComplains.com would strongly advise against purchasing one of these vehicles.
The 2011 year not only brought about new engine issues that weren't present in prior years but also puzzling new ones. The inability of the doors to be opened from the outside was a common complaint from drivers.
Recalls for the 2011 model year covered the brake light issue from earlier model years, electrical shorts that might cause fires, and the car accidentally shifting out of the park.
Numerous reports of stalling and strange sounds were among the engine problems. Ironically, this was the year that the Sorento finally received good overall crash test results. All in all, Sorento had a challenging year.
Kia Sorento 2012 Issues
The 2012 Kia Sorento was significantly poorer than the 2011 model. It has been dubbed the worst model year ever. This model year was unsuccessful due to widespread and severe engine failure. In many situations, a total engine replacement or rebuild was the answer, albeit we've already discussed how expensive this may be.
There was a recall in connection with bearing wear that led to seizures in engines, but it was only one instance and didn't cover the whole range of engine issues. The problem was fixed for more than $5,000.
In the end, you must categorically avoid purchasing a Kia Sorento from the 2011 or 2012 model years. They simply aren't worth the possible difficulties.
Kia Sorento 2013 Problems
Even while there were fewer engine failure reports in 2013 than in the previous two years, there were still enough of them, many of which happened before the car had covered 32,000 miles, to make it unwise to take the risk.
The 2013 model year was also subject to the same bearing wear recall as the previous year, as well as a separate recall for brake-shift interlock devices that were chipped or cracked. The effect was that the vehicle would abruptly shift out of park and roll.
Kia Sorento 2014 Issues
Due to a problem with the front axle that may have resulted in the axle breaking, Kia was forced to recall many 2014 Sorento vehicles. This was in addition to the major engine problems that have been a long-standing, widespread problem for Kia.
Concerns about the 2014 Sorento's electrical system included reports that the battery would discharge after sitting for a long time and that the power door locks occasionally failed to function.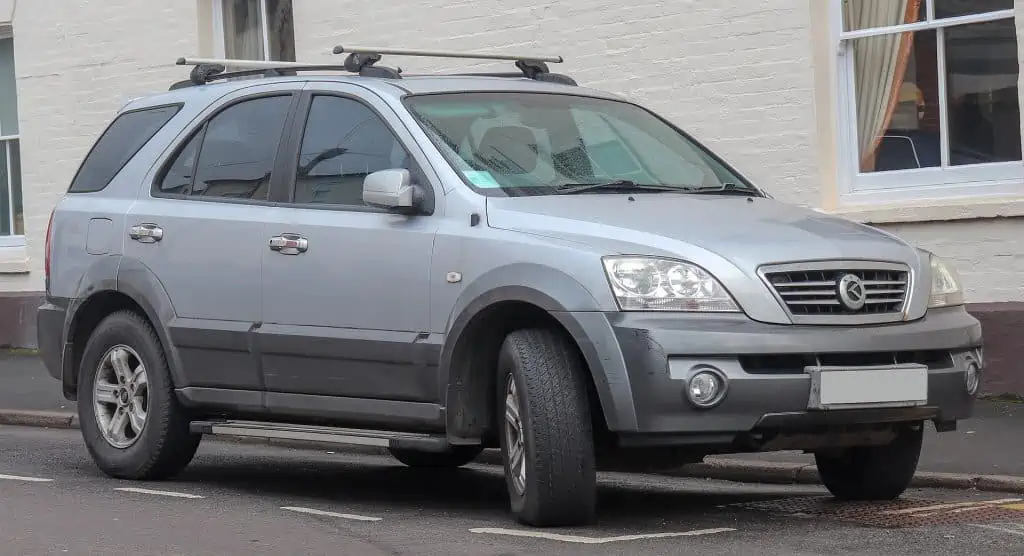 2005 Kia Sorento by Vauxford / CC BY-SA 4.0. The year  2005 is among the safest Kia Sorento model years to purchase. It had very few mechanical problems.
Kia Sorento 2016 Issues
Even though there were many recalls for this model year, engine failure is still a problem in 2016. Due to a defective bracket welded in the suspension that might enhance collision risks, over 8,000 Sorentos had to be recalled. Additionally, there was a recall due to faulty seat belt latches and structural welds surrounding the rear seat. There was also a recall due to acceleration problems and trailer brake lights that remained on even when the brakes were not applied.
Additionally, Kia advised certain owners not to use cruise control when going up or down hills since the engine appeared to be attempting to stop on its own in those conditions. In general, 2016 experienced more problems than 2015, but less than the years prior.
Which are the Best Years of the Kia Sorento?
Production of the Kia Sorento has been going on for approximately 20 years. Not all of the models that are released, like many other vehicles in their market class, are flawless right out of the factory. Some people have flaws. Despite this, you have a selection of others. This is particularly true if you wish to stay away from those already listed.
The following list of reliable Kia Sorento model years includes:
The years 2003, 2005, 2007, 2008, 2009, 2010, 2015, 2017, 2018, 2019, 2020, and 2021 are among the safest Kia Sorento model years to purchase. Compared to the preceding stated model years, these have minimal complaints.
The worst issues with many of them were engine issues, a broken air conditioner compressor, electrical issues, light issues, and AC/heater issues. Most of them are also inexpensive to fix minor problems. However, they constitute a small minority of vehicle owners.
The worst vehicle troubles in early generations include crankshaft problems, frequent lighting system failures, and damaged parts. It's important to remember that these issues only occur in cars with more than 90,000 miles on the odometer.
A few owners are also affected by the problems. It's less probable for them to arise in a Sorento that's well maintained and has minimal mileage. The models from 2007 to 2010 and 2015 to 2021 are the least troublesome. It is not as dependable as the others in the following years, except for 2016.
Which are the General Problems with the Kia Sorento?
What's remarkable about the Kia Sorento is that most of the frequent issues we're about to mention are for the troublesome model years 2011 to 2016. Other than that, they are generally trouble-free.
Even if there are complaints, they appear to be little and unimportant. Anyway, the following lists the typical Kia Sorento issues along with the impacted model years:

Kia Sorento models from 2011 are particularly deficient. Regarding transmissions, it gets the most criticism. The price of upkeep is likewise quite costly.
1. Failure of the Entire Engine
Because of the prevalent engine problem, you should completely avoid the model years 2011 to 2016. Furthermore, they frequently just fully seize, rather than just one component failing to cause the check engine light or a misfiring engine. Both the 2.4L and 3.3L V6 models offered in the US are impacted by this issue.
The issue appears to be a quality control issue where metal shavings from the engine are not removed during manufacture. As a result, the engine's oil flow would be restricted by the metal shavings, depriving many of its components of the oil.
The primary function of engine oil is to lubricate moving parts, preventing them from overheating and minimizing wear and tear from constant friction. Metal shavings like the ones stated above may deprive the connecting rod bearings of oil, resulting in rapid wear and failure as early as 85,000 miles.
If you are unfamiliar, the connecting rod joins the engine's piston and crankshaft. It contains bearings to decrease friction between the rod and the crankshaft during operation. The bearing will ultimately crack if it doesn't obtain oil, which will result in an engine failure in its entirety.
Since Kia and Hyundai are sister firms and share engines and other components, this issue also affects many Hyundai vehicles. It is best to stay away from any Kia and Hyundai vehicles from this era since repairs will be costly. At least $3,500 will be needed to repair an engine, and many owners report having to spend $6,500 to replace their engine.
2. Risks of Fire Outbreak
Your Kia/Hyundai engine from 2011 to 2016 might catch fire if it doesn't malfunction. Yes, they are not only prone to malfunctioning but there have also been several cases of their engines catching fire. Therefore, you'll probably need to replace the engine in your 2011 to 2016 Kia, whether it's due to a spinning bearing or a fire.
There are two potential reasons for this. The first one appears to be due to contamination in the Antilock Brake System (ABS) control module of the vehicle. As a result, there is an electrical short that eventually leads to an engine fire. A fire can also be started by other broken hydraulic electrical control components.
If it doesn't accomplish it, perhaps the engine will. It appears that the spinning bearing can cause significant engine block fractures. Due to this, heated engine oil spouts over the vehicle's exhaust system and ignites a fire. Free advice: simply stay away from any Hyundai and Kia vehicles from this era.
3. The Doors May Fail to Open
The models from 2011 to 2016 still have a problem. Since the majority of the issues appear to have occurred during this time, it appears that Kia was still getting its quality control procedures down pat.
The issue this time, though, is with doors that wouldn't open from the outside. Although the exact cause is unknown, because changing the door handle is the most popular fix among owners, it appears that malfunctioning door handles are to blame.
This is a major hassle if you need to drive someplace quickly or if you forgot to take notes at an essential meeting. However, at least it opens from the inside, allowing you to still escape in the event of a fire.
In any case, replacing the door knobs would be the solution. According to some owners, labor and replacement door handles can run you about $300 each.
4.  Issues with Crank Pulleys
Inside the car's engine is a crankshaft which is the rotating shaft that turns the reciprocating action of the pistons into a rotational motion. It then transmits this power to the wheel via a set of gears. On the other end of the crankshaft, though, there is a pulley as well.
2015 Kia Sorento by Vauxford / CC BY-SA 4.0. The least problematic models are those from 2007 to 2010 and 2015 to 2021. Except for 2016, it is not as reliable as the others in the next years.
A belt is attached to this pulley that protrudes from the engine. This is the drive belt, also known as the serpentine belt, which drives the alternator, which in turn powers several electrical equipment and recharges the battery in the vehicle.
The crank pulley is secured in place by bolts, and it appears that with the 2006 model, the bolts holding the crank pulley tend to fall off easily. The best-case scenario is that the belts fail and the car eventually stalls out because the alternator is unable to provide the ignition.
The worst-case situation is that the engine completely shuts off, causing damage to several parts. Thankfully, there is no risk of fire. Depending on the severity of the damage, repair prices might vary, but many owners report spending $900 or less to replace the bolt and pulley.
Thankfully, it appears that this is a one-off problem. There are very few complaints about this, and they seem to exclusively apply to the 2006 model year, which we already advised you to avoid.
5. The Transmission Jerks
Model years 2011, 2015, and 2016 are also prone to gearbox difficulties in addition to engine troubles. The most typical complaints are a jerking gearbox and hard shifting, especially while the engine is still cold. But even when the engine reaches operating temperature, downshifting problems frequently still exist.
The 2011 version is especially subpar. It receives the most complaints about transmissions. Additionally, several owners claim that Kia sent them to repair estimates that were in the hundreds of dollars.
They didn't go into detail about the repairs, but given the cost, we figure either a rebuild or a replacement is involved.
For the 2015 and 2016 models, some owners claim changing the gearbox temperature sensor was the remedy. The original sensor appears to have been flawed, which prevented the gearbox from functioning correctly when the engine was still cold. This should cost roughly $350 to replace.
6. Steering Concerns
The continual mention of issues with the model years 2011 through 2016 seems pointless. But it's uncommon to come across a car that has as many issues as to make us want to rave about it. Unexpectedly, Kia's reputation wasn't ruined.
Anyway, it's a relief that there aren't many people who have issues with the steering. It appears to mostly affect the model years 2011 to 2013, while other model years could be impacted.
Many owners complain that the steering occasionally seems "sticky" and sluggish. It almost seems as though there is a lag between turning the wheel and the wheel reacting. The problem appears to be related to the steering column.
The Sorento has an electronic power steering system that distributes the effort you exert on the steering wheel to the front wheels through a series of gears. The column seems to be malfunctioning, producing a delay between you moving the wheel and the system reacting to your input.
The column has to be replaced, which RepairPal estimates might cost up to $1,500. Some owners, nevertheless, claim that the problem eventually goes away.
7. Issue of Paint Peeling
Even while a poor paint job isn't a safety risk, it's nonetheless bothersome. Additionally, poor paint jobs can result in rust rather fast since the paint was probably improperly treated with anti-corrosion chemicals.
In any case, the issue seems to mostly affect models from 2014 to 2016. Many owners complain that the paint readily chips and sometimes even completely peels. Particularly weak points are the front doors, hood, and A-pillars.
2017 Kia Sorento by Makizox / CC BY-SA 4.0. The model year 2017 is among the safest Kia Sorento model years to purchase.
The strangest part about it is that it only seems to happen in Sorentos with White Pearl paint. In the same time frame, we've also seen images of a Hyundai Santa Fe with the identical problem.
Either the application was flawed, or this specific paint was of poor quality. It won't be attractive either way. And to rectify this, the entire panel will need to be painted. You should budget between $300 and $700 for a high-quality repaint job for each panel.
How Reliable is the Kia Sorento?
Reliability is crucial, regardless of the sort of vehicle you choose. Even more so with a crossover SUV as you'll probably use it every day. So, how trustworthy is the Sorento?
Briefly, it's about average. The current Sorento receives a dependability rating from RepairPal of 4 out of 5 stars, which is typical for the sector. J.D. Power, meanwhile, awards a score of 77 out of 100, which is similarly regarded as ordinary.
The scores of earlier generations are uneven, ranging from average to slightly below average. There aren't any horror stories, which is wonderful news, especially for the younger generation. But there are years that you should avoid:
Major Recalls
It's a good idea to be aware of any vehicle recalls before you purchase a used vehicle. By doing so, you may find out from the owner whether they've submitted the car for the recall; if not, you can find out from a dealership whether you would still be covered by the recall if you were to purchase the car.
Knowing this will enable you to make an appointment with the dealer to assist avert future issues if you previously purchased the car. The Kia Sorento recalls listed below are important to be aware of:
Recalls of the ABS control module for cars from 2014 to 2015.
Engine recall to lower fire risk for vehicles from 2012 to 2013.
Recalls of the fuel system for cars made from 2012 to 2017.
For the model year 2021, there is yet another fuel system recall.
Recalls involving engine oil supply pipes for the 2022 model year.
Recalls for the 2018 model year airbags and steering columns.
Please take note that not all model year units are affected. Request the vehicle's VIN from the seller if there is a specific item you are interested in (VIN). Then, you may check it out on the NHTSA website to see whether a recall is possible.
The vendor ought to be pleased to provide you with the VINs because they are not private information. If they refuse to do so, it's advisable to walk away and locate another seller.
Is It a Good Car?
Yes, the Sorento is a reliable vehicle in general. The interior components of earlier generations are subpar, and the first and second generations' safety ratings aren't great. However, other than that, it's a fantastic crossover SUV and generally dependable.
One of the greatest SUVs for the money is the current version if you're looking at it. There aren't many better SUVs available for the money.
2021 Kia Sorento by Kevauto / CC BY-SA 4.0. For the Kia Sorento model year 2021, there is yet another fuel system recall.
How Much Does a Kia Sorento Cost?
Starting at roughly $27,000, a new Kia Sorento goes up to about $43,000 for the top variant. The EX model, which starts at about $35,000 before dealer markup, is the sweet spot. Older versions often range in price from $8,000 to $15,000, depending on the model year. Newer models with lower mileage may cost approximately $20,000.
What Is the Average Lifespan of a Kia Sorento
Kia Sorentos can travel between 150,000 and 200,000 miles before requiring significant powertrain repairs, excluding the troublesome 2011 to 2016 model years.
To get the most out of your Sorento, you'll need to do routine maintenance and replace damaged or worn-out components.
Is Kia Pricey to Maintain?
Kia's average yearly repair costs, according to RepairPal, are about $470, considerably less than the industry average of about $650. Since 2008, Kia vehicles have also included a 10-year/100,000-mile powertrain limited warranty.
The Conclusion
In conclusion, the model years 2006 and 2011 to 2016 of the Kia Sorento should be avoided. You may purchase a Kia Sorento that is dependable and won't have any potentially deadly flaws by avoiding these model years. Just steer clear of the model years from 2011 to 2016 for the love of all that is sacred.
The Kia Sorento appears to be quite dependable aside from them. Although they lack the legendary dependability of Toyota or Subaru, they are generally regarded as being quite dependable and trouble-free.
Getting a Sorento that is still fairly new, is our advice. Although the models from 2017 to 2020 are excellent, their interiors are made of subpar materials. Additionally, lower-end trims are sparsely equipped with extras. The situation is worse among older generations.
The modern Sorento is the best option if you can stretch your money. Even the basic engine still provides enough power, and even the lower-end trims are nicely equipped. This Kia Sorento tutorial should have been beneficial for you. Good luck in your search for the ideal Sorento.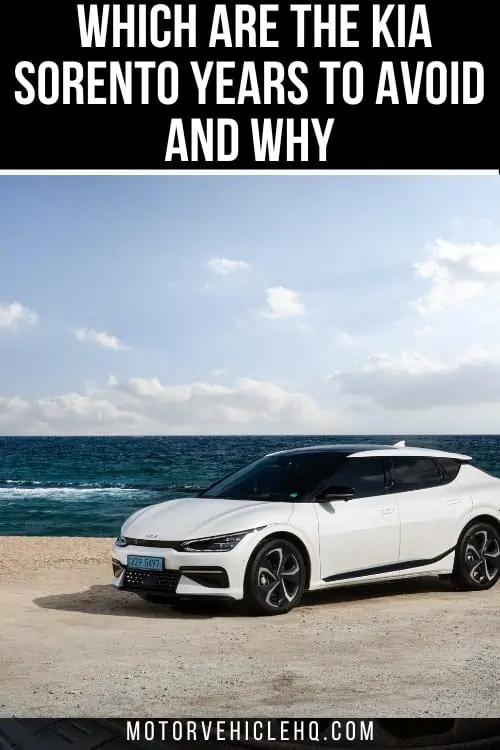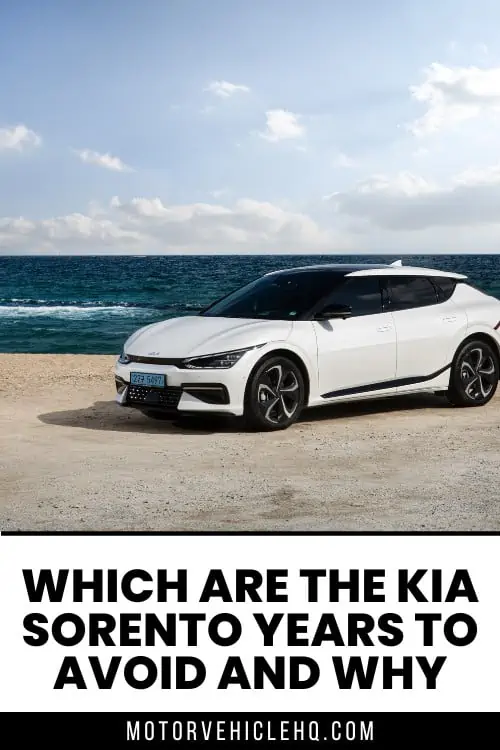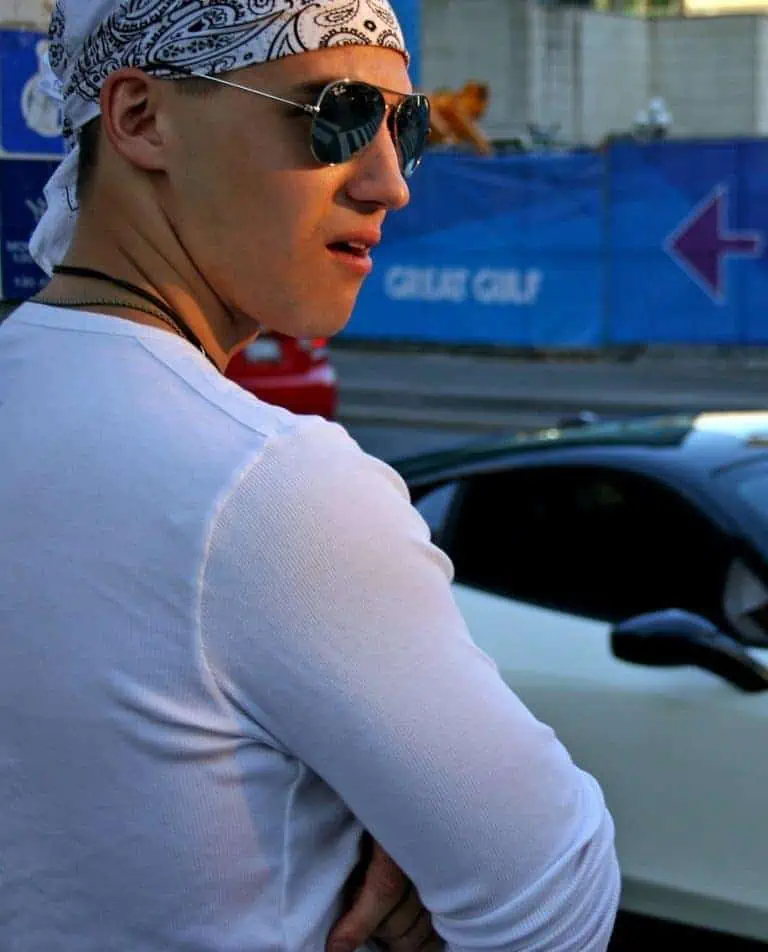 Jim Wicks is the founder of MotorVehicleHQ. With over two decades of experience in the automotive industry and a degree in Automotive Technology, Jim is a certified car expert who has worked in various roles ranging from a mechanic, car dealership manager, to a racing car driver. He has owned more than 20 cars over the past 15 years. Ask him about any vehicle you see on the road and he can tell you the make, model and year. He loves the aesthetics of all things cars, and keeps his vehicles in pristine condition.
In his free time, Jim enjoys getting his hands dirty under the hood of a classic car or taking long drives along the country roads. His favorite car? A 1967 Shelby GT500, a true classic that, according to Jim, "represents the pure essence of American muscle."