Are you wanting to learn about the Porsche Cayenne years to avoid when purchasing a used Porsche Cayenne? If so, you've come to the right spot since this article is all about the Cayenne and will teach you all you need to know about this particular model.
The best course of action is to conduct research, especially when it comes to outrageously pricey vehicles like the Porsche Cayenne. Even common automobiles have seen major price increases in recent years. Not to mention expensive SUVs like the Cayenne.
Simply said, you don't want to make errors since they may be rather costly. Particularly when it comes to luxury SUVs, where repair costs can soar to such heights that you'll blame yourself for spending your money on one.
Particularly the older vehicles, which tend to break down frequently and spend more time in the shop than on the road. And this is the reason we're going to assist you.
We will first discover what the Cayenne is. Then, we'll analyze the fuel efficiency and safety ratings, go over the three generations of this vehicle, and understand some of its specifications.
Along with the typical issues, dependability, the finest years, and the Porsche Cayenne years to stay away from. So, keep reading if you want to discover more.
What Is A Porsche Cayenne?
Before we learn more about the Porsche Cayenne years to avoid and its generations? Let's first examine the Cayenne in its overall context. This will be very helpful for readers who wish to understand the fundamentals of this automobile but are not yet familiar with the model.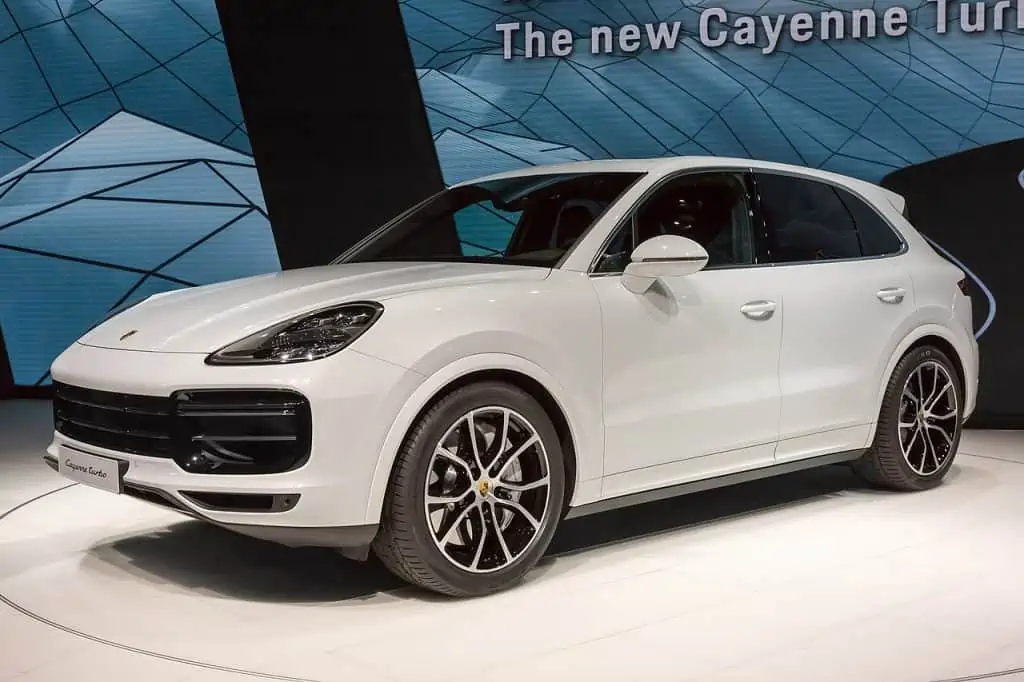 Porsche Cayenne Turbo by MB-one / CC BY-SA 4.0. The Porsche Cayenne has been in production for over 20 years, and most of the year versions are more than safe to buy without worrying about deal-breaker flaws.
So what exactly is a cayenne? The Cayenne, however, is a mid-size premium crossover SUV produced by Porsche since 2003. This vehicle catalyzed the current luxury SUV frenzy.
In particular, the early 2000s saw a rise in the SUV market. Porsche wanted to broaden its product line, thus in addition to producing sports vehicles, it also wanted to create something fresh and novel. Nevertheless, a Porsche.
Cayenne was conceived in the same manner. Even though this design was mostly based on the Touareg. Because of its engines and all the racing technology Porsche has, it is still technically a Porsche. Because of this, it behaves somewhat differently from other SUVs of its kind.
Even though this is a premium SUV, the sensation from the vehicle still has a sporting feel to it. Despite having poor handling, mostly because of the large chassis.
But even so, the Cayenne was king at the time since the Turbo S was capable of producing 542hp. This was before high-performance luxury cars like the BMW X5M were produced.
What about avoiding the Porsche Cayenne years, though? We'll talk about that in greater detail later. First, let's talk about the various generations.
The Porsche Cayenne's Important Information
The Porsche Cayenne, which debuted in 2002, is one of the best and most expensive cars ever produced by the company. This midsize luxury crossover SUV was given new life in 2008 when the model's engine started using direct injection technology. It is one of Porsche's few off-road vehicles.
Motorvehiclehq's role is to assist and guide you in the proper route because not all Porsche Cayenne year models have been constructed to last. We'll tell you which year models are safe to drive and which ones you should stay away from.
Although the majority of pre-owned Porsche Cayennes are secure to buy, you should stay away from the 2004 and 2011 versions.
There have been multiple reports of cooling systems, powertrain, and electrical issues with the 2004 Porsche Cayenne. You'll probably have to spend more than $3,000 to have one of these problems corrected.
The worst model to buy is from the 2011 year, as it has several engine issues that manifest very early in the life of the vehicle. There have been cases of engines failing at less than 40,000 miles, brakes wearing out too soon at about 20,000 miles, and engines overheating at 15,000 miles.
Avoid the 2011 Porsche Cayenne at all costs since it has the worst engine failure of any model from that year.
Which are the Porsche Cayenne Years to Avoid?
We advise avoiding the 2004 and 2011 versions of the Porsche Cayenne because there are so many other safe year models available. These have more serious complaints overall and a bigger quantity than in prior years.
Electrical, cooling, and powertrain issues plague the 2004 Porsche Cayenne. Plastic coolant lines have broken on many autos, and driveshaft center carrier bearings have also failed.
Even the less serious complaints are a hassle and may be rather expensive to fix in certain cases, costing upwards of $3,000 in some cases. Some complaints have been as bad as the car just refusing to start.
The model for 2011 is considerably worse. The same amount of consumer complaints have been made, although they are more serious than those for the 2004 model. It has allegedly overheated after only 15,000 miles and completely failed after less than 40,000.

One of the greatest and most costly vehicles the business has ever made is the Porsche Cayenne, which made its debut in 2002. The introduction of the model's direct injection engine in 2008 gave this midsize luxury crossover SUV fresh life.
Another well-known problem is premature brake wear, which may start as early as 21,000 miles and can cost $3,000 to replace. Overall, due to the extra stress, the 2004 and 2011 year models may bring you compared to other models, we advise avoiding them.
Why are These Years Featured In This List of Porsche Cayenne Years to Avoid?
The following are the reasons why the 2004 and the 2011 years have featured in our list of the Porsche Cayenne years to avoid.
1. Problems with the 2004 Porsche Cayenne
The Cayenne has been produced by Porsche for approximately 17 years. The Cayenne consistently draws a sizable number of patrons attracted by its performance and first-rate amenities.
Not every model year of a car in the automobile business is perfect, and this model year is no exception. Data from their website was evaluated by CarComplaints.com, which found that the Cayenne model year 2004 was the most troublesome.
Permit me to now explain why this is the case:
Carcomplaints.com rated the 2004 model as the worst version available due to the elevated maintenance costs and the severity of issues this year presented, particularly given the lesser mileage.
There were several significant problems with the 2004 Porsche. They include some of the following:
The worst issue that owners ran into was with the drivetrain. The center bearing fractured often, which caused the car to have several issues.
The intense heat in the engine area would cause plastic cooling tubes to crack. The amount of damage would determine whether coolant was dripping or flowing out of the pipes.
A few owners have experienced other electrical problems.
Porsche was aware of the small porch issues since they later provided replacement kits, so owners had to pay for aluminum repair kits to correct them.
Since it was an issue that many drivers faced, a lawsuit was brought against the corporation. Porsche consented to reimburse customers who had already paid for the tubes and to pay for a portion of their replacement in 2014.
2. Problems with the 2011 Porsche Cayenne
A 2011 model should not be purchased due to the numerous engine issues that have already been reported. Brakes have prematurely worn down after 20,000 miles, engines have overheated after just 15,000 miles, and engines have perished after only 40,000 miles.
A check engine light warning is being experienced by drivers, followed by a loud noise that forces the engine to shut off.
Customers claim that their 2011 Cayennes camshafts frequently broke. This is not something that Porsche or the businesses that provide extended warranties are accepting responsibility for. and it will cost many thousand dollars to replace the current fasteners. The engine might need to be entirely replaced in exceptional cases.

2005, 2006, 2008, 2009, 2010, 2014, 2015, and 2016 models are our best-recommended Cayennes. Very few faults have been reported for any of them; they all seem to appear after 80,000 miles on average and are rather easy to fix.
Avoid the 2011 Porsche Cayenne because it has the worst engine failure issue of any model year.
Owners of Porsche Cayennes most frequently report the following issues:
Early tire wear, early problems with the coolant lines, early brake pad/rotor wear, and dead engines. While many of them can be remedied at home, some call for expert help.
There are several things to watch out for if you are the happy owner of a Porsche Cayenne.
The brittle nature of plastic makes coolant pipes vulnerable to piercing or breaking, especially when subjected to the heat of a vehicle engine. Owners of Porsche Cayennes commonly complain about this feature of their cars. New pipes can be used to fix coolant leaks.
What Porsche Cayenne Model Years are Safe to Buy?
The Porsche Cayenne has been around for almost 20 years, and the majority of the year models are more than safe to purchase without being concerned about deal-breaking issues.
You want to be sure you can trust this luxury crossover SUV since it will provide you with a comfortable ride whether you're on city streets or off-road. The used Porsche Cayenne models listed below are safe bets and won't cause you any difficulty.
2003
2005
2006
2007
2008
2009
2010
2012
2013
2014
2015
2016
2017
2018
2019
2020
None of the Porsche Cayenne models from this year have major issues, thus they are all safe to buy. Your best bets are the 2003, 2007, 2017, 2018, 2019, and 2020 versions because they have zero complaints.
Next, we suggest the models from the years 2005, 2006, 2008, 2009, 2010, 2014, 2015, and 2016. All of them have had a very small number of issues noted; they typically surface after 80,000 miles on average and are somewhat affordable to address. Costs range from around $1,000 to $2,000.

2007 Porsche Cayenne Turbo by The Car Spy / CC BY 2.0. All of the 2018 Porsche Cayenne models are safe to purchase since they have no significant problems. 2003, 2007, 2017, 2018, 2019, and 2020 models are your best chances because they have no complaints.
The 2013 and 2014 Porsche Cayennes are still recommended, although they aren't nearly as dependable as the models from the aforementioned years. Under 40,000 miles, they could experience one or two problems that require repair, although these are minor flaws.
Which are the General Porsche Cayenne Issue?
Since 2002, the Porsche Cayenne has been produced continuously, and it is currently in its third iteration.
Its model years have, however, varied in terms of how trustworthy they are. Certain issues could manifest more frequently depending on the year.
According to a model year comparison by CarComplaints.com, the 2011 Porsche Cayenne had the most complaints.
The worst model year, according to the website, is the 2004 Cayenne, which has issues that manifest earlier than usual. The majority of them cause severe damage that needs expensive repairs.
The following are the most typical Porsche Cayenne issues that your SUV could encounter:
1. Problems with the Cooling System
The 2004 model year Porsche Cayenne (produced from 2003 to 2010) has an adequate amount of engine power. Its strong engine needs an effective cooling system to prevent overheating.
Sadly, several Porsche Cayenne owners from 2004 have claimed that the plastic coolant pipes could not withstand high temperatures. These pipes go through the engine and are situated above the starter.
The plastic may melt in an exceptionally hot engine, crack, and leak as a result. The engine will be far more prone to overheat and sustain damage as a result of the consequent coolant loss. Additionally, the ignition component may be harmed if the leaky coolant reaches the starter.
This issue is typically resolved by swapping out plastic coolant pipes for heat-resistant metal tubing. Always examine the cooling system of a secondhand Porsche Cayenne to see whether it has metal or plastic pipes.
In other model years, the same problems might appear. Numerous complaints were also made concerning the plastic coolant pipes on the 2006 and 2013 Porsche Cayennes melting and spilling coolant.
2. Drivetrain Issues
The power produced by the engine is transferred to the wheels by the Porsche Cayenne drivetrain. The transfer case, driveshafts, or other drivetrain components may malfunction, causing the vehicle to move in an unpredictable and unmanageable manner.
The transfer case on the 2012 Porsche Cayenne has been known to fail suddenly, according to many drivers. It is expensive to replace, and a second replacement may result in the new component breaking.
The 2004 Porsche Cayenne driveshaft losing its center carrier bearing is a different potential issue that has been reported in some vehicles. Even if the remainder of the driveshaft is in good condition, if the bearing fails, the entire component becomes worthless and needs to be replaced.
The driveshaft of the 2008 Cayenne failed after only 30,000 miles, according to several owners. This problem may make driving one of their SUVs hazardous.
Their car groaned, shook, and squealed loudly as they increased the speed. Most owners found that repairing the damaged driveshaft fixed the problem.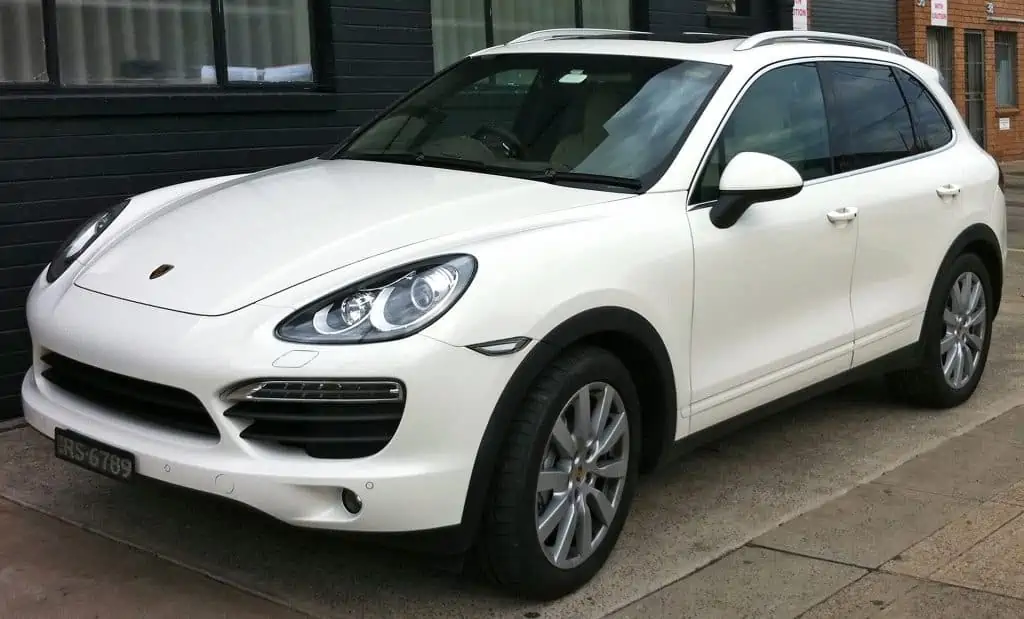 There have been several complaints from 2011 Porsche Cayenne owners regarding the engine dying in the middle of a drive. Periodically, the check engine light would illuminate to let them know that something was wrong.
3. Engine Issues
In 2011, the Porsche Cayenne underwent a significant overhaul. Because it was the first of a new generation, many of its units experienced issues with the engine and other essential components.
Many 2011 Porsche Cayenne owners have voiced issues about their vehicle's engine failing in the middle of a trip. The check engine light would occasionally come on to alert them that something was amiss.
Before the engine completely fails, this is typically followed by the engine producing loud noises for many minutes. An accident might occur if the engine fails before the driver can safely maneuver the Cayenne out of traffic.
A variety of Porsche Cayennes may have additional engine issues. Many 2010 model-year SUV owners have claimed that the engine frequently shut off by itself. There was no warning. Additionally, several of them claimed that the wheel would freeze up and move erratically.
4. Failure of the Spark Plug or Ignition Coil
In many Porsche engines, an early ignition coil or spark plug failure is typical. Consequently, this issue is not just related to a certain Cayenne.
High-voltage electricity is required by spark plugs to generate the "spark" that starts engine combustion. The lower voltage power that the battery supplies to the ignition coils is converted into the higher voltage that the spark plugs require.
The two major causes of the ignition coil and spark plug failure are standard wear and tear and engine modifications. When an engine is modified to produce greater power, the coils and plugs are subjected to increased heat and stress, which frequently results in a number of them failing right away.
Misfires will occur in the particular cylinder with the defective coil or plug when they do fail. The majority of spark plugs and ignition coils SHOULD last 60,000 miles or more. However, some have lasted 5,000 miles while others have gone 80,000 miles.
5. Fuel Pump Problems
Older low-pressure fuel pumps and more recent high-pressure fuel pumps, often known as HPFPs, are both referred to when we talk about fuel pumps.
While recent 958/9YA Cayennes have an HPFP (or high-pressure fuel pump) because of direct injection, older 955 Cayennes have two low-pressure (in-tank) fuel pumps.
While HPFPs are normally positioned on the left side cam, low-pressure fuel pumps are housed in the fuel tank. Fuel is provided to the engine via a fuel pump, which draws it from the fuel tank. The direct injection system of a modern Cayenne is pumped with high-pressure fuel by an HPFP.
Because the pump itself is prone to overheating and shutting off, low-pressure gasoline pumps frequently fail. The HPFP frequently fails because a component inside the pump disassembles or the pump's top valve malfunctions.
The engine sputters, misfires, and subpar engine performance are to be expected when one fails. In the course of a vehicle's life, fuel pumps often malfunction at least once.
6. Thermostat Malfunction
Similar to the ignition coil and spark plug failure, thermostat failure is a typical occurrence in many other Porsche engines. A thermostat regulates how much coolant is cooled by the radiator before recirculating and how much coolant goes back into the engine.

2015 Porsche Cayenne V6 Diesel Triptonic by Makizox / CC BY-SA 4.0. The Porsche Cayenne is thought to be below average in terms of dependability. RepairPal gave the Porsche Cayenne a dependability rating of 1.5 out of 5.0, making it the least dependable of 14 high-end midsize SUVs.
A thermostat may malfunction for several reasons, including sticking open, sticking closed, or gasket failure. If it does fail, the high engine temperatures will cause the engine to overheat.
7. Epoxy or Plastic Coolant Line Failure
Porsche opted to use plastic coolant pipes in the Cayenne engines for some unknown reason. There is a lawsuit filed against Porsche specifically for all model years 2011 to 2019 V8 958 Cayenne.
Coolant is moved through coolant pipes from the radiator to the engine's hotter area and back to the radiator to cool before repeating the procedure.
The area below the intake manifold, where the coolant lines are located, is not the coolest location for plastic parts. Due to prolonged exposure to heat, epoxy, and pipes frequently break.
If any of these fails—the epoxy or the pipes—steam will probably start to come out of the engine, and the engine may then shut off.
8. Failure In Transfer Case
Although the 2012 Cayenne model year is the most often affected, it's not the only one to encounter transfer case failure. This is frequently encountered on 4WD Cayennes.
In a 4WD vehicle, the front and rear drive axles are connected by a transfer case that links the transmission and transfers torque from the transmission to the axles.
Due to regular wear and tear, they fail before they should. When they malfunction, the target wheel speed and the actual wheel speed are calculated incorrectly.
Due to the severity of the problem, Porsche decided to prolong the factory transfer cases' warranty duration. Despite several fixes, the problem persists with the defective transfer cases. Normally, during a vehicle's life, transfer cases shouldn't fail at all.
9. Ineffective Camshaft Actuator
In 958 Cayennes with a V8 from 2010 to 2012, camshaft actuator failure is frequent. The nuts holding the timing chain sprockets in place are the issue, not the camshaft actuator itself.
The pace at which the poppet valves open or close is controlled by a camshaft actuator at the end of the camshaft, allowing for more accurate engine timing. The camshaft actuator is fixed in place by the camshaft actuator bolts.
Engine timing is thrown off and the engine will run quite rough if the camshaft actuator bolts fail. Any engine today shouldn't have a bolt break at all. The bolts were such a concern that Porsche decided to recall the Cayenne from 2010 to 2012.
NOTE: Become familiar with the issues that may arise with the Cayenne model year that you currently own or want to purchase. Learn about the components that are most likely to break quickly and how to address them. You can increase the dependability of your Porsche Cayenne with prompt repairs and maintenance.
Are the Porsche Cayenne SUVs Reliable?
In terms of dependability, the Porsche Cayenne is regarded as below average. The Porsche Cayenne was rated the least reliable of 14 premium midsize SUVs by RepairPal, receiving a dependability rating of 1.5 out of 5.0.
The Cayenne requires maintenance more frequently than comparable SUVs, which results in high ownership costs. It frequently develops significant issues that are expensive to repair. Despite Cayenne's poor dependability rating, many owners of the SUV have positive things to say about their SUVs on forums.

2018 Porsche Cayenne V8 Turbo Tiptronic by Vauxford / CC BY-SA 4.0. For whatever reason that is now unclear, Porsche decided to employ plastic coolant pipes in the Cayenne engines. A lawsuit has been brought against Porsche especially for all V8 958 Cayenne model years 2011 to 2019.
Regardless of the model year, if you take proper care of your Cayenne, it will live much longer than its service life. Follow the maintenance plan and never ignore malfunctioning Porsche Cayenne components.
How Much Does the Porsche Cayenne Ownage and Maintenance Cost?
Driving a Porsche around Alameda might be a lavish ownership experience, but maintaining a Porsche Cayenne won't break the wallet. The Porsche Cayenne SUV's projected five-year maintenance cost is $11,826, according to Edmunds' True Cost to Own.
In addition, $8,760 is the expected cost of repairs over five years. For your Cayenne, the following is a breakdown of Porsche maintenance costs:
Costs of Porsche Cayenne maintenance:
The First-Year Costs: $203
The Second-Year Costs: $3,593
The Third-Year Costs: $2,577
The Fourth-Year Costs: $1,219
The Fifth-Year Costs: $4,234
Costs of Porsche Cayenne repairs:
The First-Year Costs: $1,120
The Second-Year Costs: $1,716
The Third-Year Costs: $1,840
The Fourth-Year Costs: $1,927
The Fifth-Year Costs: $2,112
The price of maintenance and repairs can vary based on where you live. The cost of Porsche maintenance will also differ based on your driving style and how well you adhere to Cayenne's maintenance plan, among other things.
Additionally, because each trim will require different maintenance, you should expect your Porsche Cayenne maintenance prices to vary depending on the trim.
How Can You Reduce the Porsche Cayenne Maintenance Expenses?
Be careful to heed the following advice to minimize your maintenance and repair costs:
1. Count on the Porsche Specialists
Your Cayenne will be maintained by Porsche-certified mechanics when you bring it into a Porsche dealership, giving you peace of mind that your car is in capable hands.
This is so that Porsche experts can properly service your vehicle. By bringing your Cayenne to a different dealership, you run the danger of having untrained mechanics work on your expensive vehicle.
2.  Select OEM Parts
Genuine OEM components, in contrast to aftermarket parts, are promised to be of excellent quality and created especially for your specific model. Genuine Porsche components thereby prolong the lifespan of your car's flawless operation.
3.  Keep Your Schedule of Maintenance
To keep the components and systems of your Cayenne SUV functioning properly, regular maintenance is essential. Regular maintenance will help you avoid future, more expensive issues.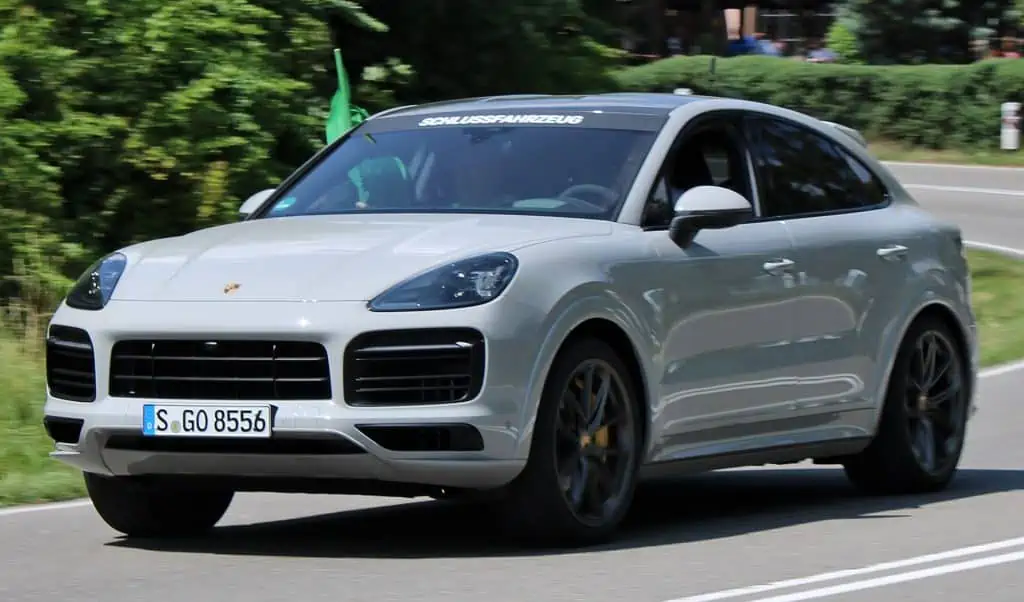 Porsche Cayenne Coupé S at Solitude Revival 2019 by Alexander Migl / CC BY-SA 4.0. Regular maintenance is necessary to keep your Cayenne SUV's systems and parts operating correctly. You can prevent more costly problems in the future by doing routine maintenance.
The Conclusion
The Porsche Cayenne is a mid-range luxury SUV that was introduced in 2002. This car comes in many different year models, each with its combination of advantages and disadvantages.
Although customers reported several flaws with the 2004 and 2011 Porsche Cayenne models, it is safe to buy, and the majority of the issues that Porsche Cayenne customers reported can be fixed. The manufacturer typically knows about the problems since it regularly runs free recall campaigns.
We have spoken about the Porsche Cayenne quite a bit in this post. We started by introducing ourselves to the subject and learning more about this approach and its underlying principles.
The last three Cayenne generations were then discussed. We quickly discussed the specifications, typical issues, ideal years, as well as Porsche Cayenne years to stay away from.
Your best bet would be to steer clear of buying the first one or two model years of each generation because those years are almost typically plagued by greater issues.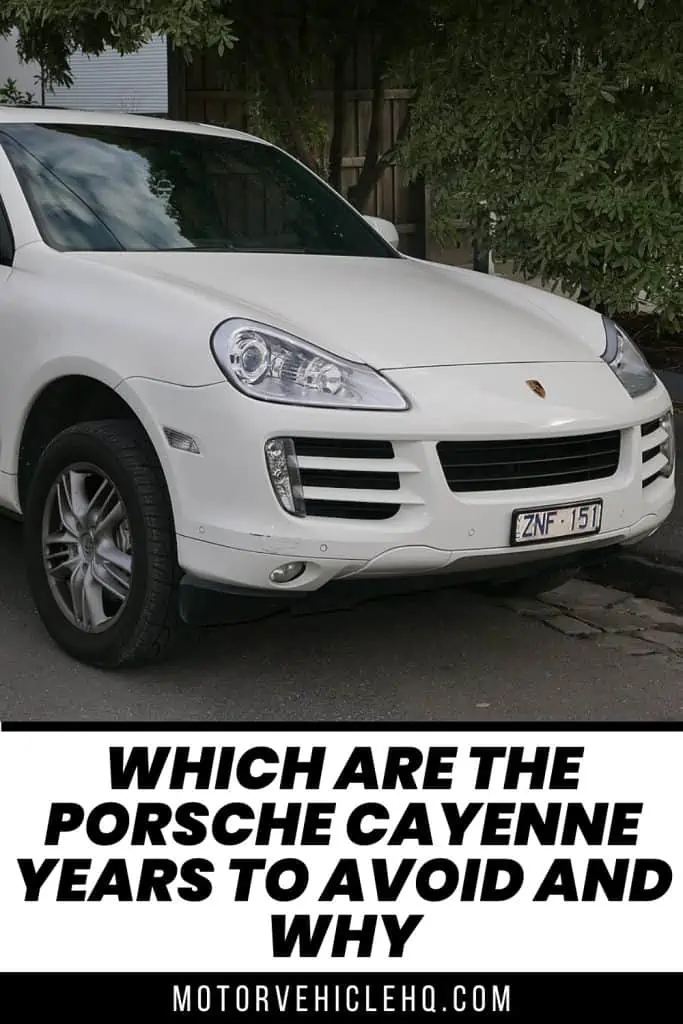 2009 Porsche Cayenne (9PA MY09) 3.6 wagon by OSX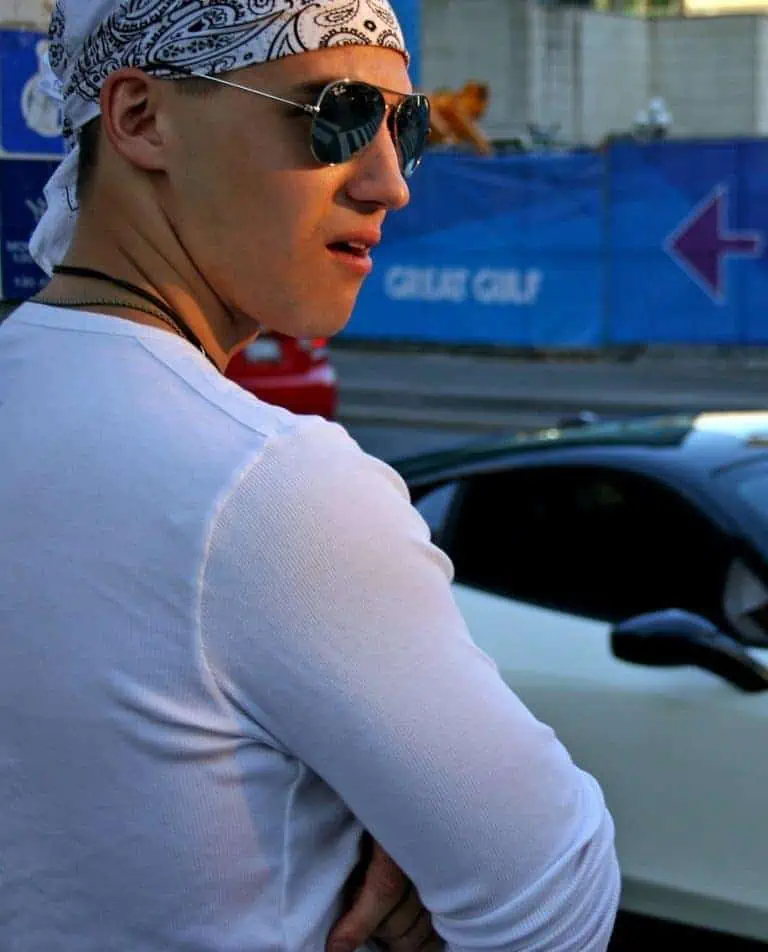 Jim Wicks is the founder of MotorVehicleHQ. With over two decades of experience in the automotive industry and a degree in Automotive Technology, Jim is a certified car expert who has worked in various roles ranging from a mechanic, car dealership manager, to a racing car driver. He has owned more than 20 cars over the past 15 years. Ask him about any vehicle you see on the road and he can tell you the make, model and year. He loves the aesthetics of all things cars, and keeps his vehicles in pristine condition.
In his free time, Jim enjoys getting his hands dirty under the hood of a classic car or taking long drives along the country roads. His favorite car? A 1967 Shelby GT500, a true classic that, according to Jim, "represents the pure essence of American muscle."